Managers, coaches, players and writers in just about every sport are fond of saying how wins in (enter the last month of the regular season of whatever sport is being discussed here) mean more than wins in any other month. Frankly, I find that notion ridiculous in reality because the only time it is really true is when a team didn't take care of business over the first few months of the season.

Like it or not, we can play our cards right in fantasy football and still end up being wrong. While we can play matchups every week and make the smart play in every situation, our ability to win fantasy games often depends on catching the right opponent on the right week and not the wrong opponent on the wrong week. Sometimes, in fantasy, a team's record accurately reflects the kind of team it is. More often than not, however, a fantasy team is hovering around .500 at this point simply due to circumstance. Did you face the lucky soul who started Matt Asiata out of pure desperation on either one of his two three-touchdown days or run into either one of Ben Roethlisberger's history-making six-score efforts? Congrats, there are likely at least one or two losses your team probably shouldn't have. Maybe you faced Russell Wilson is Week 5 or 7? There's another setback. You get the picture…

For the fortunate few, the final four weeks of the fantasy regular season mean very little, outside of managing their team well enough so they can potentially take home the points title in their league. For the other 9-to-11 teams (in a 12-team league), November is typically the month in which a 4-5 or 5-4 fantasy team needs to make a run in order to qualify for the postseason. In fact, eight of the 12 teams in my most important league sport one of those two records. In another one of my leagues, every team in a division is 4-5.

With four weeks to go until the start of the fantasy playoffs (assuming they start in Week 14, as most of them do), most owners need their teams to win at least two of their remaining games to have any chance at qualifying for the postseason and three to feel pretty good about it. This week, I'm going to take a shot at projecting the top players at each position between now and the end of Week 13. I assure each of you this will not be a rehashing of your league's top scorers at each position; in fact, you might be surprised that a name or two at each position may actually still be available on the waiver wire. Let's get started:

Note: PPR scoring should be assumed, where applicable

Quarterbacks

1. Andrew Luck

Through his first two NFL seasons, Luck averaged 37.4 pass attempts. In 2014, he's averaging 43.6 – a pace that would allow him to end the season with just under 700 (697.6 to be exact). Even if we shave off a couple and give him 695, it would put Luck in second place all-time behind Matthew Stafford's 727 from 2012 and give him nearly a full game's worth more attempts that Peyton Manning had during his record-breaking season last year (659). There's really no reason the Colts are going to slow that pace down anytime soon regardless of opponent, so with three home games coming out of the Week 10 bye – including two plus-matchups against Jacksonville and Washington – Luck should have no problem remaining atop the leaderboard.

If anybody is going to make a run at Luck before December, it will probably be Manning. (Shocking, I know.) The FFToday Strength of Schedule tool suggests that Denver has three negative matchups (out of four) before the fantasy playoffs, but nothing about Oakland, St. Louis or Kansas City scares me when it comes to Manning or any of his passing–game playmakers. Perhaps Denver uses November as a time to prove itself as a physical running team that can run the ball between the tackles, but 300-plus yards and three (or more) touchdowns is a pretty good bet for Manning on a weekly basis this month.

It's hard to believe that Rodgers is getting overshadowed, but with Luck and Manning operating at such a high level and players like Ben Roethlisberger breaking NFL records in recent weeks, Rodgers isn't getting a lot of pub lately. With rookie WR Davante Adams beginning to emerge as a viable threat and an enviable second-half schedule, it would be stunning if Rodgers doesn't continue carrying his teams into the postseason. New England (Week 13) is about the only remaining opponent – before or during the fantasy playoffs – that would give me any pause about not recommending Rodgers as a top-three weekly option.

People need to understand that while Big Ben's sudden meteoric rise up the quarterback leaderboard has something to do with the rise of playing time to rookie WR Martavis Bryant, Roethlisberger has largely benefited from a fair amount of good fortune. The Colts lost top CB Vontae Davis early on in Roethlisberger's first six-score game and the Ravens didn't have top CB Jimmy Smith at all during his second six-TD contest last week. The main reason I believe he'll continue carrying teams in November is because his next two opponents will be the Jets and Titans.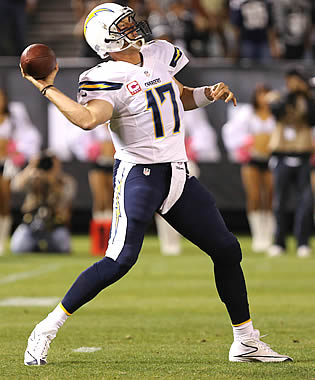 Week 9 was a disaster but Rivers' owners should feel good about their quarterback down the stretch.
Owners can lament about the Chargers' shutout loss against the Dolphins during San Diego's bye week, but Oakland (Week 11) and St. Louis (Week 12) should provide a chance for Rivers to rebound in a big way. And if Jimmy Smith is still missing from the Ravens' secondary in Week 13, Rivers could have yet another huge fantasy day.
6. Drew Brees
The first half of the season has been a bit of an odd one for Brees, who is on pace for his fourth consecutive 5,000-yard passing season. However, some probably view him as a disappointment thus far because he is only on pace for 30 touchdowns through the air, which would be his lowest total since 2007. Three home games beginning this week should help his cause in that regard, as should three consecutive matchups against neutral pass defenses.
7. Tom Brady
Reputation and a healthy Rob Gronkowski are the only reasons I'm willing to put the "resurgent" Brady this high. Throw out the six-TD game in which the Colts lost their top corner and one could easily make the case that none of Brady's next three opponents (Colts, Lions and Packers) are favorable matchups. Of the quarterbacks on this list, I think it is safe to say that Brady has the most challenging pre-playoff road ahead of him.
8. Mark Sanchez
A year ago, Sanchez's appearance on any top-10 quarterback list (outside of perhaps one that ranked the best bloopers) would have been unthinkable. My crystal ball doesn't allow me to see months into the future, so I will not predict whether or not I believe he will be the Eagles' quarterback in 2015 or not. What I will tell you is that I spent $40 of my remaining $65 (out of $100 to begin the season) on picking up Sanchez in my dynasty league, one in which I already have Jay Cutler and Tony Romo. In my redraft leagues, I intend to spend as much as $200 of my remaining free-agent budget (we begin each season with $1000) for him. I'm not thrilled with the fact I like Sanchez going forward, but what I do like is any Philadelphia quarterback facing the likes of Carolina, Tennessee and Dallas in three of the next four weeks. The Eagles' running game should be clicking in each of those contests, but I'm not worried about the passing-game volume. Before his Week 9 injury, Nick Foles (fractured clavicle, out 6-8 weeks) attempted at least 34 passes in every game. I don't expect that to change with Sanchez, who will operate an offense that trails only the Colts (76.2) for the most plays run per game (74.1).
Based solely on November's schedule, betting on Stafford is going to take a bit of a leap of faith. Fortunately, he should have one of the game's premier offensive weapons back near full health to do that in Calvin Johnson. Stafford should be as good as it gets against Arizona (Week 11) and Chicago (Week 13), while Miami (Week 10) and New England (Week 12) could trip him up a bit if he doesn't start out each game red-hot. Still, I'll take my chances on Johnson and Golden Tate making Stafford look good and the running game doing just enough to make his next eight games better than his first eight.
10. Matt Ryan
Believe it or not, I think it is a bit riskier to put Ryan here than it was to place Sanchez at No. 8. However, I'll throw caution into the wind because I'm not entirely certain any of the Falcons' next four opponents have the resources to consistently take advantage of Atlanta's woeful offensive line, which has played a large role in Ryan's somewhat average season. While the Browns (Week 12) have done a reasonable job against opposing quarterbacks in recent weeks, the Bucs, Panthers and Cardinals all have bit lit up through the air for the better part of the season.
11. Jay Cutler
There really is no way to get around how maddening Cutler can be to own in fantasy. It seems as if only Cutler could be on a career-best pace (in terms of TD passes and fantasy points) and still be considered something of a disappointment. The ex-Bronco has rarely ever fared well against Green Bay (Week 10), but I feel confident Minnesota (Week 11) and Tampa Bay (Week 12) don't have the personnel necessary to stop all of Chicago's passing game weapons.
12. Carson Palmer
Were it not for difficult games versus Detroit (Week 11) and Seattle (Week 12), Palmer would probably slot in behind Brady on this list. In leagues in which passing touchdowns are worth six fantasy points, Palmer has exceeded 20 fantasy points in all five of his starts. The level of competition he was able to mount those numbers against can be questioned, but his current supporting cast is as good as any one he has played with in his career.
Running Backs
1. Matt Forte
Can we really bet against any player that has a very realistic shot at becoming only the third player in league history to go over 1,000 yards rushing AND receiving in the same year? With multiple scores in two of his last three games, at least five receptions in all eight contests thus far and upcoming matchups against the Vikings and Bucs, Forte is a very good bet to continue posting huge fantasy totals.
Congrats to Murray, who has already surpassed his career highs in attempts (225) and rushing yards (1,133). His workload has dipped to more manageable levels over the last two weeks (19 carries and four catches in each game), making it a more realistic possibility he is able to complete his first 16-game season as a pro. Of Murray's next three games, only the Eagles (Week 13) give me any pause and that was before ILB DeMeco Ryans was lost for the season last week. The only reason Murray ranks behind Forte is due to the latter's heavier involvement in the passing game.
3. Le'Veon Bell
While Roethlisberger is setting the world on fire, Pittsburgh hasn't rushed for a touchdown since proving Carolina no longer had a good defense. In short, the Steelers have scored 21 touchdowns since that Week 3 victory and 20 of them have come via the passing game (the other score was a pick-six against the Colts). Is that sustainable? Probably not, especially as the weather gets colder. With some of the league's worst run defenses coming up (particularly during the fantasy playoffs) and given his involvement in the passing game, I think Bell trails only Forte in terms of the fantasy back I'd want more during this critical stretch and, by the time Week 14 rolls around, I'm not sure there will be any back I want on my team more than Bell.
Perhaps sensing I had no intention of dropping Peterson in two of the three leagues in which I drafted him, fate must have decided it was time for his legal team to ask for a plea bargain the same week in which I was forced to drop him due to the bye-week crunch (when I had every intention of picking him back up this week). Personal rant aside, while there has been no hint of a timetable for his return, the odds of Peterson returning to the field before the fantasy playoffs are growing more favorable by the day. Reports suggest his attorney has said Peterson is hopeful he will be playing as soon as Week 11. Whether he does or not, Peterson's absence now needs to be treated almost as nagging injury that has been slow to heal, but will be just fine once he is cleared to play. And let's assume for a second he makes it back by Week 12: he'll get to face two of fantasy's top-10 friendliest run defenses in the Packers and Panthers. There are still many unknowns about if and when AP will make it back this season, but it is entirely possible he will determine many more fantasy titles this season than Josh Gordon.
5. Arian Foster
Let's be clear: if someone could guarantee me a healthy Foster the rest of the season, I'd have no problem making him No. 1 on this list. With the recent promotion of QB Ryan Mallett into the starting lineup, defenses are going to have to respect the deep ball (not that Foster needed more room to run to begin with). Assuming his groin pull has healed sufficiently by the time Houston comes out of its Week 10 bye, the Texans conclude November with Cleveland, Cincinnati and Tennessee – all of which are among the 12 friendliest fantasy run defenses.
Chiefs HC Andy Reid has conveniently "forgotten" about his top playmakers from time to time throughout his coaching career, although that has not been the case with Charles since his return from injury in Week 4. Just about any back can be at least moderately productive with 20-plus touches, but Charles is one of the few that can be very productive with that workload against any opponent. As a result, I'm not exactly scared off by the fact he must face Buffalo, Seattle and Denver this month.
7. LeSean McCoy
Anyone who owned McCoy last year doesn't need to be reminded as to why he needs to be started every week. His 2014 owners might be wondering what all the buzz is about since he now has Darren Sproles taking away some of his targets in the passing game and Chris Polk stealing some of his carries. Be that as it may, November is setting up very nicely for McCoy, who faces three of the 14 weakest fantasy run defenses over the next games and a Dallas defense in Week 13 that is starting to resemble the unit many of us expected in the preseason. The Eagles are also starting to get some important pieces on the offensive line back from injury as well, meaning McCoy's current 3.9 YPC could see a dramatic increase by fantasy playoff time.
It is probably safe to consider Bradshaw as a more explosive, higher-floor, higher-ceiling back than Fred Jackson – comparable in the sense that both players will be limited to roughly 15 touches and do much of their damage in the passing game. The Colts' unwillingness to exceed 15 touches (and rightfully so, given his injury history) with Bradshaw is going to put a cap on his fantasy potential, but very few owners have a right to complain about a back that has produced double-digit fantasy points every week thus far. Better yet, November has Indianapolis hosting New England, Jacksonville and Washington – none of which have a linebacker capable of keeping track of him all game long – after its bye week.
Outside of Peterson's speculative status, I feel reasonably good about where I have the top eight backs and their chances to finish in or around that area. Beginning with Ellington, however, I have concern(s) about everyone else. Ellington has two less-than-desirable matchups and two pretty good ones this month, but my problems with him are his ability to hold up (25 or more touches in each of the last four weeks) and Arizona's reluctance on using him consistently as a goal-line back.) Regarding the workload, it isn't so much his smallish frame that bothers me as it is his injury history.) It's also concerning to me that he is averaging 3.8 YPC behind what was supposed to be a much-improved offensive line from last year.
10. Ronnie Hillman
I might be one of the few that doesn't believe Hillman has locked up the Broncos' running back position. If I'm wrong about that, then feel free to move him up to No. 7 on this list. At some point, Denver is going to want to run the ball up the middle and I sense the Broncos don't want to (or believe they can't) do it consistently with Hillman. What I do not question is that he is locked into an important passing-game role in the high-powered Denver offense for the rest of the season, meaning he has a great chance at living up to this pre-playoff ranking even if he is splitting carries by the end of the month.
11. Fred Jackson
A year ago, Buffalo running backs combined for 1,995 rushing yards and 14 total touchdowns. This season, they are on pace for 1,476 and eight, respectively. Those are troubling numbers for any fantasy owner dealing with a committee backfield, but the reason to believe in Jackson upon his return is the fact the Bills don't really have another jack-of-all-trades back like him. Even after missing Week 9, the 33-year-old is on track to finish with a career-high 66 receptions. Add in the fact that C.J. Spiller isn't coming back anytime soon and the Bills' apparent reluctance to give Bryce Brown a meaningful role (yet?) and there is reason to believe Jackson will be a better fantasy player than he was before his injury. His November slate is not easy to say the least, but 15-plus touches (with roughly 40 percent of them coming in the passing game) in an offense that has a dynamic weapon in Sammy Watkins emptying out the box is a good recipe for 75-plus total yards and a touchdown on a regular basis.
12. Denard Robinson
Yeah, I did it. It was easy to write off Robinson's Week 7 starting debut as a bit of a fluke against a soft run defense in the Browns, but another 100-yard day against what is quickly becoming a very formidable defense in the Dolphins and 94 more rushing yards versus Cincinnati should effectively eliminate whatever doubt Jacksonville had about committing to "Shoelace" the rest of the season. However, past performance is not the reason that Robinson should be a key part of many fantasy teams' stretch run; his November schedule is. The Cowboys, Colts and Giants don't exactly constitute a formidable stretch of foes capable of shutting down many running games.
13. Lamar Miller
It's sacrilegious to put Miller behind Robinson at this point, I know. However, I try not to concern myself with public or popular opinion and focus more on instinct and experience. With that said, there is one simple reason why Robinson gets the nod over Miller in November: the upcoming schedule. In terms of fantasy run defenses, the easiest one Miami faces this month is Detroit in Week 10. (For what it is worth, the schedule is the very reason why I didn't include Ryan Tannehill in the quarterback section above, although I believe both he and Miller can be solid assets in the playoffs.)
14. Eddie Lacy
There's been a bit of optimism regarding Lacy recently, suggesting that he is starting to "come on" and has a favorable schedule ahead of him (which he does, certainly through November anyway). My only concern – outside of his inconsistent willingness to run between the tackles – is that Green Bay has been pretty stubborn about getting James Starks his touches. We didn't see a great deal of Starks in Week 8, but I'm not taking that as a sign Lacy has the backfield to himself yet. Lacy has huge TD upside and is more than capable of carrying a running attack. With only one game over 15 carries thus far, however, I don't think Green Bay has any intention of letting him do that anytime soon.
15. Marshawn Lynch
It's only because I have a so much respect for Lynch that I'm even going to put him in the top 15. The offensive line is beat up, the commitment to the running game seems to be inconsistent and there always seems to be a looming threat that Christine Michael and/or Robert Turbin are going to eat into his carries. I suppose I could overlook most of that, if it weren't also for the fact that Seattle also has three negative matchups after hosting the Giants this week.
Note: with a favorable run-game schedule and a strong commitment to the rushing attack, I would have no problem putting a Cleveland Browns' running back at No. 10. Unfortunately, the Browns seemed committed to making sure Ben Tate gets chance after chance to prove he is worthy of being a starter while Terrance West (more complete back with less talent and explosiveness than Isaiah Crowell) and Crowell (most talented and explosive back of the group, but has ball security issues and some concerns in the passing game) take turns looking better than Tate in game action.
In the interest of full disclosure, I have West in two of my four money leagues and Crowell in another, so I'd like to see West win the job outright. In the interest of what is best for the Browns and their fans, I believe Crowell should probably lead the team in carries the rest of the way.
Wide Receivers
I'm not really sure matchups even matter anymore to Brown, who has seen double-digit targets in every game since Week 1 and caught 68.9 percent of them (71-of-103 overall). The fact that he faces the Jets and Titans in the next two weeks before the bye further solidifies him as my favorite to dominate November.
The same things that I just said about Brown pretty much apply here, with the one exception being that Thomas' threshold for targets has been nine or more in all but one game. Denver faces Oakland, St. Louis, Miami and Kansas City in November, which shouldn't instill much fear in Thomas's owners. Although he doesn't always score, Thomas seems to be the one receiver in the Broncos' offense that will get his targets sooner or later in just about every game, regardless of the score or situation.
Johnson's name probably appears thousands of times on fantasy rosters of the 5-4 and 4-5 teams I spoke of earlier, assuming those teams are even doing that well. For those that waited out his high ankle sprain, the reward for your patience should come shortly and in large amounts. I'd be absolutely stunned if Megatron doesn't just run roughshod in November as he attempts to make up for lost time. Miami (Week 10) and New England (Week 12) aren't great matchups, but who do the Dolphins have to match up with Johnson's size and athleticism? Similarly, those afraid of Revis Island should know the Patriots haven't used him to shadow many receivers this year. And strictly from a size standpoint (if New England chose to employ shadow coverage), Revis should be paired up more often against Golden Tate while Brandon Browner should follow Johnson. The Lions' other two November games are against Arizona and Chicago; I don't see Megatron struggling in those contests.
4. T.Y. Hilton
Even with New England first up after the bye, I don't expect Hilton to slow down much – if at all – in November. The third-year wideout isn't quite in Brown or Thomas' neighborhood when it comes to targets, but he is close and there is plenty of volume in the Indianapolis offense this year. I pity the unfortunate owners that have to face Hilton in Weeks 12 and 13, when the Colts host Jacksonville and Washington.
5. Jordy Nelson
Owners simply looking at recent box scores and target totals might get the sense Nelson is on the decline when the actual story is that three blowouts (two wins, one loss) and the combination of tight coverage by Saints CB Keenan Lewis and Aaron Rodgers' hamstring injury in Week 9 have contributed to a very odd last four weeks for the seven-year pro. I anticipate another dominant stretch for Nelson in November as the schedule has three home games against teams with offensive firepower (Chicago, Philadelphia and New England), two of which have beat-up or below-average secondaries.
Maclin's targets over the last three weeks: 3-16-7. His PPR fantasy-point totals over that same time: 3.6, 42.7 and 33.8. Let's be clear that Maclin has really taken advantage of two plus-matchups over the last two weeks, but let's also understand we probably should have seen this recent explosion coming with double-digit targets in each of his first five games. I don't anticipate any kind of drop-off with Sanchez taking over a quarterback, although it is notable that Maclin saw only four targets from Sanchez after Foles departed at the end of the first quarter last week. I hesitate a bit on the Missouri product for two reasons – his injury history and Jordan Matthews – although neither appears to be overly legitimate concerns thus far in 2014. Assuming that last statement is correct, then Maclin should dominate this month in much the same way that he did the last two weeks against Carolina, Green Bay, Tennessee and Dallas.
7. Dez Bryant
It is almost laughable what Bryant should be able to do against Dallas' remaining opponents. The Jaguars (Week 10), a shorthanded Giants' secondary (Week 12) and the overmatched Eagles' defensive backs in Week 13 should ensure a smooth November run for the Cowboys' top receiver. The only reason I am ranking him this low is because his production – as we saw in Week 9 – is tied to the health of Tony Romo.
In the Manning-led offensive machine, at least two receivers (or tight ends) are going to explode most weeks while the other two main options typically have to wait a week or two before Manning makes it up to them. Demaryius Thomas is the one player that Manning seems intent on appeasing every week and since Julius Thomas hasn't been involved much in recent weeks, I'd expect Sanders to take a bit of a hit in November as "Orange Julius" reminds us why he is on a 20-touchdown pace. As discussed above with Demaryius Thomas, the Broncos should provide owners with plenty of fantasy points with the weakest part of their schedule coming up.
9. Randall Cobb
Cobb doesn't care about things like regression to the mean or unsustainable touchdown rates. After six weeks of mostly ho-hum receiving totals accompanied by a plethora of red-zone touchdowns, he has been able to add efficiency (yards per catch, in this case) to his game without seeing much of an increase in targets. I'm not going to claim I know whether or not the emergence of Davante Adams hurts Cobb (or Nelson, for that matter) or helps them both. One could easily make the case that a bigger-bodied receiver like Adams would eventually steal some of Cobb's red-zone targets at some point, although I highly doubt there any of the Packers' receivers experience much of a drop-off from their first-half production.
10. Sammy Watkins
How great of a talent is Watkins? Kyle Orton took over the starting job in Week 5 and is generally ranked somewhere around 10th among fantasy quarterbacks over that span, depending on league scoring. (Orton was last serviceable as a fantasy quarterback in 2010.) Just under a quarter of Orton's throws (35-of-141) have been thrown in Watkins' direction since his promotion and that includes a game in which New England gave Watkins a heavy dose of Revis. The No. 4 overall pick isn't going to see another matchup like that until Week 14 (Denver) and should be more than capable of whipping the Jets and Browns in Weeks 12 and 13 while also posting at least WR2 numbers against Kansas City (Week 10) and Miami (Week 11), assuming his groin injury doesn't linger.
11. Julio Jones
Given my earlier concerns about the Falcons' offensive line, I feel Jones' ranking on this list is probably the shakiest one of the bunch. He hasn't scored in five straight games and only posted WR1-caliber numbers once over that time. There is no denying his talent, but even the most gifted receivers can see their production stunted by a lack of a running game and/or poor offensive line play. The only reason Jones gets a nod for November is because Atlanta enjoys one of the most favorable schedule for opposing receivers: Tampa Bay, Carolina, Cleveland and Arizona. Perhaps the last two teams will have their pass defense in order (both have made some strides in that area in recent weeks) by the time they meet the Falcons, but the Bucs and Panthers should allow Jones to remind us why he was drafted as one of the top five receivers in just about every league.
12. Josh Gordon
Based on what I saw in the preseason, owners expecting the same Gordon that ended 2013 will be in for a big disappointment. For a player that likely knew he wasn't going to play for a while, I was surprised by the lack of urgency and effort he showed in August. Maybe his 10-game suspension helped him mature and maybe being around the Browns' facility every day will allow him to hit the ground running, but I'm sure not expecting top-five numbers from him at any point in 2014. What I do expect is a player capable of posting high-end WR2 numbers shortly after he returns to the field in Week 12 against a favorable schedule, with WR1 production a possibility against a favorable schedule during the fantasy playoffs.
13. DeAndre Hopkins
Every year, a team makes a change at quarterback and the new signal-caller shows favoritism toward a different receiver than the one the previous starter did. Although Hopkins was more productive than Andre Johnson with Ryan Fitzpatrick, the savvy veteran held a sizable lead in targets (82-64). I could easily see Ryan Mallett closing that gap, although I honestly wouldn't be all that surprised if both receivers saw their fantasy values increase thanks to Mallett's big arm. Houston probably isn't going to evolve into an offensive powerhouse before the end of the season, but the Texans' remaining schedule is, in a word, favorable.
14. Kelvin Benjamin
Given Cam Newton's play in Week 9 versus the Saints, I understand it is going to take a fairly big leap of faith to trust any Panther at the moment. I'm quite certain we can chalk most of Newton's poor play to a number of small issues that I believe will get ironed out over the next few weeks. However, the thing that struck me the most in that game was how religiously he targeted Benjamin in the red zone. The rookie's hands are every bit as inconsistent as I stated in his draft profile back in May, but it is obvious Newton has no problem going to him time and time again inside the 20. That's going to pay off more times than not and it just so happens that Carolina has two poor pass defenses to face in its next two games: Philadelphia and Atlanta. Be aware that while the Panthers' methodical offensive pace caps Benjamin's upside, the presence of Greg Olsen and the threat of Newton running means the rookie should have a number of one-on-one battles down the field.
15. DeSean Jackson
I'm not overly crazy about ending this list with such and up-and-down fantasy contributor, but since I'm using fantasy points per game as my basis, I'll wrap up this position group with Jackson, who has produced about as much as any owner could expect a receiver to produce given the fact he has played with three different quarterbacks over the last three games. He has posted four 100-yard efforts in five weeks despite the chaos under center and is even stepping forward in below-average matchups. Looking ahead after Washington's Week 10 bye, it is hard to make a case against Jackson versus Tampa Bay or even San Francisco.
Tight Ends
It's hard for me to wrap my mind around how a player that has undergone as many surgeries to key parts of his body as Gronkowski is able to perform at the level he does. Brady trusts him implicitly and so should his fantasy owners. Enough said.
2. Jimmy Graham
Although he isn't as insanely productive as Gronk, he is close. And owners should continue to expect his production to rise as his shoulder continues to heal. Like Gronk, matchups really don't matter with Graham.
The last three weeks have been something of a buzzkill to owners who spent a second- or third-round pick on Thomas. Despite that, "Orange Julius" is somehow still on a record-setting TD pace for a tight end despite three relatively unproductive games in a row. I have a pretty good feeling a fantasy-point explosion is coming soon.
4. Kyle Rudolph
Whether or not Peterson returns to the field in 2014, I cannot imagine a scenario in which a healthy Rudolph doesn't have a sizable impact in fantasy. OC Norv Turner cannot seem to consistently work Cordarrelle Patterson into the game plan and Greg Jennings is more of a second option at this point of his career, leaving the door wide open for Rudolph to assume the same slot duties that allowed Jordan Cameron to dominate in 2013 on a less-talented offense (with a less-talented quarterback). Rudolph should immediately become the team's top red-zone option in the passing game and is a reasonable bet for 5-6 catches per week.

5. Martellus Bennett
In PPR leagues, Bennett is the second-highest scoring (and third-most targeted) tight end. Can it continue? I believe for that to happen, it would mean that Brandon Marshall and Alshon Jeffery would not experience a second-half resurgence. I don't think there is any question Bennett is going to set career highs across the board when all is said and done in 2014, but I also have to believe much of the Bears' bye week was spent figuring out how to direct more passes to the receivers and fewer to Bennett and Forte. Bennett's relatively low ranking (at least compared to where he sits now) on this list has very little to do with his upcoming schedule and is rooted primarily in my belief Chicago is going to change how it attacks defenses.
6. Dwayne Allen
Allen is one of the more complete tight ends in the NFL today, which helps his cause when it comes to playing time. However, his blocking ability also keeps him in-line a lot, giving teammate Coby Fleener a number of opportunities he may not have on many other teams. What Allen has going for him is Andrew Luck's attention near the goal line. If most owners are happy with a touchdown and a bit of yardage from their tight end each week, Allen has delivered seven times in nine tries. That doesn't figure to change anytime soon either. The Colts' upcoming schedule appears to be quite hospitable to opposing tight ends, meaning Allen's owners should expect him to continue producing at his current rate.
Gates has been mostly feast this year, but when he has been famine … he has really been famine. Ranking Gates high than this going forward suggests that he can maintain the 16-touchdown pace he is on (and stay healthy for 16 games for the first time since 2010 to boot). I do not foresee either occurrence happening and certainly not both. If we look at the Chargers' November schedule, we can see that all three of their opponents (Oakland, St. Louis and Baltimore) have been stingy against tight ends. With a renewed emphasis on the ground game likely given Ryan Mathews' return, it wouldn't be surprising to see Gates' numbers fall off considerably when San Diego comes out of its Week 10 bye.
8. Greg Olsen
Occasionally, owners must go against what the numbers say and follow their instinct on a player. Cam Newton was about as wild as I've ever seen him in Week 9 and the Panthers' upcoming schedule versus tight ends is full of negative matchups, so this ranking is based solely on my belief that Newton's problems are correctable and in Olsen's ability. Olsen has seen a combined seven targets in the last two weeks after recording at least that many targets in six of his first seven games. Expect the Panthers to correct that oversight sooner than later.

Suggestions, comments, about the article or fantasy football in general? E-mail me or follow me on Twitter.

---
Doug Orth has written for FF Today since 2006 and has been featured in USA Today's Fantasy Football Preview magazine since 2010. He has hosted USA Today's hour-long, pre-kickoff fantasy football internet chat every Sunday over the past two seasons and appears as a guest analyst before and during the season on Sirius XM's "Fantasy Drive" as well as 106.7 The Fan (WJFK – Washington, D.C). Doug is also a member of the Fantasy Sports Writers Association.