I never meant to cause you any sorrow
I never meant to cause you any pain
I only wanted to one time to see you laughing
I only wanted to see you
Laughing in the purple rain
- Prince (from the song "Purple Rain")
For many, rain is depressing, not unlike the news of Prince Rogers Nelson's passing earlier this year. Prince was a proud native of Minnesota, which cannot seem to shake a much different kind of sadness lately: the reality of losing so many key players so early in a season in which it had Super Bowl aspirations.
As entertaining and enjoyable as fantasy football can be, it can also be an extremely sobering hobby as well. While many of the players' off-field indiscretions can be at times mindboggling, I am referring only to what seems to happen at least once every year on the field. Almost without fail, the injury epidemic spreads like wildfire throughout the league without warning, often forcing owners to go into scramble mode before they really even know what kind of team they have. The epidemic does not concern itself with a player's age, position or status; the only guarantee seems to be is that it will strike at least once and leave teams - real and fantasy - in its wake to pick up the pieces.
Last week was one of those kind of weeks in the NFL.
Using my last updated PPR Big Board that I built for my drafts with Fuzzy's Fantasy Football, already nearly a quarter of the players in the top 20 percent (10 of my first 41 players) have yet to play, left last week due to injury or already out for the season. Much of the carnage came this past weekend: Adrian Peterson, Brandon Marshall (although he missed relatively little time in Week 2 with what looked to be a devastating injury at first), Sammy Watkins (aggravation of his foot injury?), Donte Moncrief, Doug Martin and Danny Woodhead. Extending past my top 41, other highly drafted players to suffer injuries of varying significance in Week 2 included the likes of Thomas Rawls, Arian Foster, Jonathan Stewart, Rashad Jennings, Ameer Abdullah, Doug Baldwin and Tyler Lockett.
Many skeptics and/or critics will suggest this wave of injuries happens every year. (They're right, thus the introduction…) However, observing a problem and figuring out how to survive or even thrive in the aftermath are two very different things.
As a result, this week's column will take on a bit of a waiver-wire column theme, simply because two weeks into a season is rarely enough time to convince owners - especially those in some highly competitive or high-stakes leagues - to seriously begin trade talks. (As always, it depends on the league. For example, September trades are very rare in the bulk of my leagues.) The difference is going to be I will go into a bit more detail (shocker) and predict how these injuries will affect other playmakers on the team as well. I'm going to focus primarily on the ones I believe will have some kind of impact going forward, meaning players such as Jimmy Garoppolo (Tom Brady will return in Week 5), Doug Baldwin and Tyler Lockett (both are expected to play Week 3) will not make the cut. We already knew Watkins' foot could be an issue when Buffalo eased him along as long as it did in the preseason. He is expected to play through his soreness, however, so I have elected to leave him out of the discussion as well.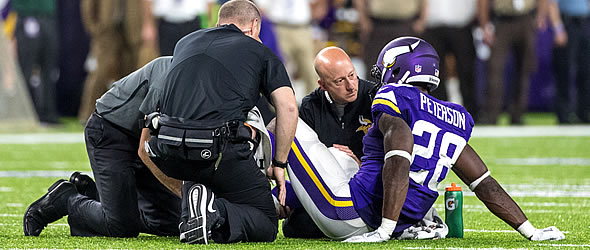 The ripple effect of Adrian Peterson's knee injury could lead to RB2 value for Jerick McKinnon.
Adrian Peterson
The injury: Torn meniscus and reportedly torn LCL (expected to miss the regular season)
The replacements: Jerick McKinnon, Matt Asiata, Ronnie Hillman
Moving forward: Although I can't imagine too many people were hoping Peterson's potential final season in Minnesota would end this way, there are plenty of folks who have been patiently waiting for McKinnon to take on a more substantial role. They're going to get that chance now, even if Asiata receives a few more touches than anyone outside of the Minnesota coaching staff wants to see him get. As we saw in Week 2, the Vikings are prepared to take on a more balanced approach if necessary as opposed to the run-heavy attack we saw in 2015. Peterson's absence means defenses are probably going to play the Vikings more straight-up for now, meaning Stefon Diggs can probably expect more safety help than he has seen in his brief NFL career. The loss of LT Matt Kalil - although he has not played well for some time - further increases the possibility that opponents will attempt to take away Diggs first and foremost. Minnesota's most likely counter to Kalil's departure will be to utilize TE Kyle Rudolph more as a blocker, especially given QB Sam Bradford's durability issues
As such, I fully expect Norv Turner to eventually shift to more of a quick-hitting, short-passing game in which slot receiver Adam Thielen, McKinnon and Asiata see plenty of opportunities. I'm probably one of the few who believe McKinnon could eventually get a shot at taking over as the featured back, but his success will have to come quick and extend over multiple weeks because the Vikings trust and like Asiata. While some want to compare this situation to the one Minnesota encountered during Peterson's suspension in 2014, McKinnon is no longer a rookie making the transition from FCS option quarterback and has proven himself to be a viable threat in this league, certainly as a receiver anyway. Starting out, a 60/40 or 65/35 timeshare seems like a reasonable expectation. This time around, however, if McKinnon thrives and Asiata does not, I don't think the Vikings will hesitate to expand McKinnon's duties and leave Asiata to function as nothing more than a goal-line back who will eventually fight for non-red zone scraps with Hillman. McKinnon has low-end RB2 upside assuming Turner is willing to bend his vertical passing game a bit as I suggested earlier. His floor is probably a matchup-based flex if Minnesota remains stubborn with a committee approach. As if it wasn't clear from above, I expect Rudolph to take the biggest hit in fantasy value, followed by Diggs and then Bradford. The good news here is Diggs should see a slight bump in overall targets if Rudolph stays in to block more often, so he could still very well keep moving towards cementing his WR2 status.
Danny Woodhead
The injury: Torn ACL (out for the season)
The replacements: Melvin Gordon, Dexter McCluster, Kenneth Farrow
Moving forward: Given how strongly Gordon has come out of the gates, he is going to be given every chance to carry the load, or at least as much as San Diego will allow it to happen. The Chargers haven't had a true feature back in the Woodhead era and their signing of McCluster earlier this week suggests they like the idea of having a "space" back remain a big part of their offense. Still, 20 touches for Gordon going forward should become the norm. McCluster, who is already quite familiar with OC Ken Whisenhunt from their days together in Tennessee, makes sense as the player most likely to pick up part of Woodhead's receiving slack, although I highly doubt he will be see more than a handful of snaps inside the red zone - unlike his predecessor. Farrow is an interesting stash in dynasty leagues and a candidate to make McCluster somewhat irrelevant down the road, but it is unlikely he comes into redraft value this year barring an injury to Gordon. Then again, given San Diego's recent luck with injuries, that may be enough reason to pick up Farrow now. Losing Woodhead puts even more onus on Travis Benjamin, Antonio Gates and Tyrell Williams to carry the passing game, while rookie Hunter Henry will probably be fast-tracked into the offensive game plan over the next couple of weeks.
Doug Martin
The injury: Foot (expected to miss 2-3 weeks)
The replacements: Charles Sims, Jacquizz Rodgers, Peyton Barber
Moving forward: Much like McKinnon, owners have been waiting for a while to see what Sims could do in a more expansive role. The good news is Tampa Bay doesn't have to change its offense. Also working in Sims' favor is that he is an all-purpose back and the best runner and receiver of the remaining healthy bodies in the backfield. The bad news is Tampa Bay faces the Rams, Broncos and Panthers before the bye, after which time Martin is expected to return. With that said, a hamstring "strain" that carries a three-week period of recovery with it is a pretty significant strain, so this may not be the only time Martin is going to be sidelined by either this injury or one in which he hurts himself trying to compensate for it. HC Dirk Koetter let it be known in the offseason he believes Sims can be a featured back and it seems likely he'll get his chance to operate in that fashion since Rodgers hasn't proven to be anything more than a league-average complementary back, although he did play for Koetter in Atlanta. To that end, Rodgers told ESPN's Jenna Laine on Wednesday (Sept. 21): "All I know is, when Chuck gets tired, that's when I'm gonna go in. So if he (doesn't) get tired, I probably won't go in." While Laine noted Rodgers laughed after the first part of the statement, it's a good bet he's not far off from telling the truth. Whereas McKinnon is a bit of a dice roll as a RB2 at the moment, Sims was already on that borderline in PPR leagues prior to Martin's injury. Given the level of competition he'll face over the next few weeks, his short-term battlefield promotion probably won't do much to spike his fantasy value. Thankfully, Sims is as adept as a receiver as he is as a runner, so a handful of dump-offs plus 40-50 yards rushing is probably all he will need to be a solid every-week starter until Martin returns. That kind of weekly expectation was the norm for him in a part-time role towards the end of last season, so it is perfectly reasonable to expect a repeat of that now.
Ameer Abdullah
The injury: Foot (placed on IR, out at least eight weeks)
The replacements: Theo Riddick, Dwayne Washington
Moving forward: Much like McKinnon and Asiata, Riddick and Washington figure to have fantasy value now for the remainder of the year. Unfortunately for Detroit fantasy owners, Riddick is a much less talented version of McKinnon and Washington hasn't been around long enough to prove he is worthy of the same kind of trust Asiata has earned, even if he is a better overall player. In short, this is one of those rare situations in which a committee approach is not only a good solution, but also the right solution. There will be those that tell you that Riddick is the new No. 1 runner for the Lions, but I can easily see Washington absorbing Abdullah's role sooner than later while also keeping his goal-line responsibilities. In the short term, Riddick is the player of the two to own and Detroit's offense will almost certainly be even more pass-heavy than it has been already (80:47 pass-to-run ratio) in order to cater to Riddick's strengths as well as its solid receiving corps. Golden Tate has pretty much been an extension of the running game for most of his time with the Lions, so he could see a slight bump in targets. The same could be said for Anquan Boldin as well. Looking down the road (and assuming Abdullah is done for the season), I would fully expect Washington to lead the team in carries and serve as a mini-LeGarrette Blount while Riddick moves into the same kind of Dion Lewis role of sorts. (Need I remind you Detroit's new general manager - Bob Quinn - came over from New England?)
Brandon Marshall
The injury: Knee, foot (uncertain for Week 3 … for now)
The replacements: Eric Decker, Quincy Enunwa, Jalin Marshall
Moving forward: Nearly seven days after one of the scariest "sprained knee" injuries most of us have ever seen, we still don't really have an official diagnosis on Brandon Marshall. HC Todd Bowles refuted reports his top receiver has a sprained MCL early this week, but the Jets placed him on Wednesday's injury list with a knee and foot injury. He has yet to practice, but that isn't all that uncommon for a veteran player of Marshall's status who could use some time to heal. A DNP on Thursday (Sept. 22) would be the first real sign Bowles thinks he will be a game-time decision. For the sake of looking ahead, let's assume he misses the trip to Kansas City in order to give him roughly 2 1/2 weeks to recover. In such a scenario, it would be reasonable to believe Decker would be a near-lock for 10 targets and the same probably goes for Enunwa. Given Matt Forte's workload through two weeks, he's unlikely to see more touches, so Bilal Powell could play more of a role than he has so far.
Donte Moncrief
The injury: Fractured scapula (expected to miss 4-6 weeks)
The replacements: Phillip Dorsett, Quan Bray, Chester Rogers
Moving forward: Dorsett would seem to be the biggest beneficiary here, but I'm not sure he takes all that big of a leap given that he is a bit of a T.Y. Hilton clone. Hilton, who is already averaging 11.5 targets thus far, is already Andrew Luck's most trusted weapon and could see that number swell to 13 or 14 on a fairly regular basis. Moncrief's absence leaves a huge void for a big and physical receiver - something Dorsett, Bray and Rogers cannot fill - so Luck could focus his attention even more on TEs Dwayne Allen and Jack Doyle. Why is that a big deal? Indianapolis ranks near the bottom of the league in three-wide sets so far, which means the Colts have already been giving significant playing time to Allen AND Doyle at the same time. Moncrief's injury should not only lock both players into even more snaps, but their presence will be even more necessary now in order to move the ball over the middle of the field. Both players figure to benefit in fantasy as a result, and it wouldn't be terribly surprising if Frank Gore sees more action in the short term, especially considering the questionable defenses of San Diego, Jacksonville and Chicago are next up on the Colts' schedule.
Arian Foster
The injury: Groin strain (could miss Week 3)
The replacements: Jay Ajayi, Kenyan Drake, Damien Williams
Moving forward: Remember the good 'ole days when Ajayi was going to be one of the few feature backs in the league? Yeah, that's not going to happen, even if Foster sits out this week versus the Browns. Somewhat surprisingly, it was Ajayi who starred as a receiver last week, while Drake ran it in for a score from 7 yards out. The Dolphins have attempted only 36 runs as a team thus far, 11 of which belong to QB Ryan Tannehill. In other words, an investment in the Miami backfield requires a belief the team will do something it has not yet done yet (commit to the run) with personnel ill-suited to do it (C Mike Pouncey may not play Week 3, while a college tackle and former NFL tackle are manning the fort at guard) with a player it doesn't seem to trust (Ajayi) and another that can't seem to stay healthy (Drake). For what it is worth, Drake probably has the highest floor of the two simply because the Dolphins can be expected to throw all day against the Browns, and the rookie was taken in the third round primarily because of his abilities to make plays in the passing game. If/when Foster is sidelined again for more than a week, don't be surprised if Williams or Isaiah Pead begin to emerge as a low-end flex option.
Jonathan Stewart
The injury: Hamstring (expected to miss 2-4 weeks)
The replacements: Cameron Artis-Payne, Fozzy Whittaker, Mike Tolbert
Moving forward: An absence from one of the game's few true feature backs seems like it should always be considered a big deal, but that really isn't the case here. Volume is not a problem in Carolina, as Panthers' RBs have totaled 57 touches, including 50 carries. However, meaningful touches are a problem. When Cam Newton isn't calling his own number at the goal line, he's feeding Kelvin Benjamin. In other words, if Stewart isn't all that valuable with his workload, it is extremely unlikely Artis-Payne and Whittaker will change that splitting the workload. The Carolina offense should be expected to remain exactly the same, except for the possibility that Newton runs the ball slightly more often on read-option plays.
Thomas Rawls
The injury: Leg bruise/strain (expected to play Week 3)
The replacement: Christine Michael
Moving forward: By all accounts, Rawls will play this week. That is about the only thing working in his favor at the moment. Michael is averaging five yards per carry, while the rest of the team's backs have combined for 23 yards on 22 carries. Likewise, C-Mike is averaging 2.32 yards after contact (fourth among 45 qualifying players), while Thomas Rawls is averaging 0.21 (last). Although Rawls hasn't come close to looking like his 2015 self, owners need to cut him a bit of slack; the Central Michigan product missed most of camp and the preseason and saw only two carries in the final exhibition contest. Michael has been so good, however, that Seattle should seriously consider letting Rawls continue working his way back. There's a very good chance the Seahawks decide to opt for a "hot-hand" approach at the position (the mere typing of that phrase bothers me more than you will ever know), but if I had to bet on one of the two right now, my money would be on Michael. Regardless of how Seattle chooses to utilize playing time in the backfield, it won't affect the other playmakers on the team nearly as much as Russell Wilson's ankle or the quality of the offensive line. As long as either one or both are in the shape they are currently, the entire offense might be compromised.
Rashad Jennings
The injury: Thumb (expected to play Week 3)
The replacements: Shane Vereen, Orleans Darkwa, Paul Perkins
Moving forward: Based on Week 2 usage, it appears new HC Ben McAdoo is more confident about Vereen's ability to be a lead back - at least over a short period of time in the event of injury to Jennings - than he is in the player who supposedly won the backup job in the preseason (Darkwa). As expected, Vereen mostly disappointed with a hefty workload in what was supposed to be a plus-matchup. Like many other teams across the league in recent years, the Giants' run-blocking has been sub-par at best early this season, especially considering the competition (Dallas and New Orleans). Jennings is expected to play with his thumb/hand wrapped this week against Washington, but upcoming games against Minnesota, Green Bay, Baltimore and Los Angeles don't exactly scream huge run-game production, so expect a heavy dose of Eli Manning, Odell Beckham Jr., Sterling Shepard and Victor Cruz. While Perkins has been inactive for the first two weeks and is a longshot to produce this season, there are few players with his talent that have relatively very little standing in their way. Stashing Perkins is only for owners in the deepest of leagues with deep benches at the moment, but it is a move that could pay off in a big way come fantasy playoff time.
Corey Coleman
The injury: Hand (no timetable as of Sept. 21)
The replacements: Terrelle Pryor, Andrew Hawkins, Josh Gordon (beginning in Week 5)
Moving forward: Cleveland has been called "The Factory of Sadness" by some in the media and it is hard to argue with that assessment even if the Browns have taken the novel approach of turning over their roster in order to accelerate their rebuilding project. Just over a week after facing the quarterback it could have had at No. 2 had it chosen to stay at that spot in the draft (Carson Wentz), Cleveland's actual first-round pick broke his hand in practice. Coleman's outlook was already pretty grim for the foreseeable future since rookie Cody Kessler doesn't possess near the arm strength Josh McCown or even Robert Griffin III does, robbing the rookie of his potential to create huge plays downfield. While his status is up in the air at the moment, it seems logical to believe Coleman is going to miss a few weeks, which creates an opening for Pryor to take over as the lead receiver for two games before presumably passing the baton over to Gordon. The problem is all the players mentioned so far are better vertical threats than possession receivers, which doesn't bode well for their ability to produce with Kessler. Thus, it seems very likely Hawkins and Duke Johnson can make the strongest cases to be somewhat relevant in fantasy while McCown recovers from his shoulder injury.

---
Doug Orth has written for FF Today since 2006 and been featured in USA Today's Fantasy Football Preview magazine since 2010. He hosted USA Today's hour-long, pre-kickoff fantasy football internet chat every Sunday in 2012-13 and appears as a guest analyst on a number of national sports radio shows, including Sirius XM's "Fantasy Drive". Doug is also a member of the Fantasy Sports Writers Association.