With the NFL Draft behind us, dynasty leaguers are starting to prepare for their rookie drafts and because this class has little clarity at most positions the more mocks we can do the more prepared we will be. Before the NFL Draft, version 1.0 of my mock was based on player study, multiple rankings, and perceived draft value. Now that we know the landing spots of all the players involved we can get a better idea of where they will land in most rookie drafts.

Once again, this mock is based on standard leagues (no superflex) with traditional scoring setup.

1.01 N'Keal Harry, WR, New England
Mock 1.0: 1.01

Harry is the only player to not change from my previous mock and while others will have him lower than this, I tend to value wide receivers higher in dynasty leagues due to their relative longevity. By being just one of two receivers selected in the first round of the NFL Draft, Harry solidified his value with strong draft capital and an excellent landing spot with the Patriots. Harry will fit in perfectly, running short and intermediate routes using his run after catch skills to gain extra yardage. As one of the biggest targets currently on the team, Harry should also be an instant red zone threat and could reach 8+ touchdowns as soon as his rookie season. With no Gronk, Julian Edelman on the downslope of his career, and Josh Gordon's future unclear, Harry could conceivably be the team's top option at some point during the 2019 season. Given how murky this WR class is, Harry is the clear top option of the group and therefore worthy of the top rookie pick.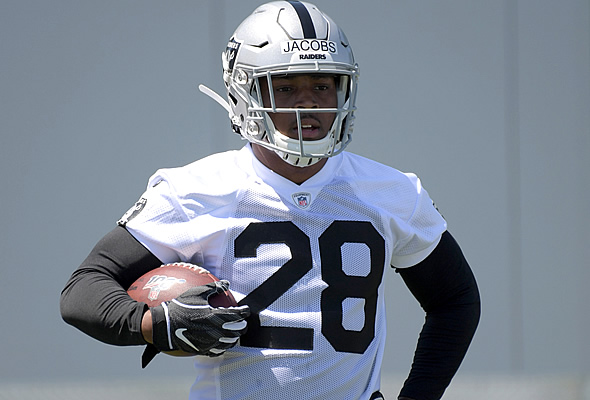 Rookie Riser: Running back Josh Jacobs is walking into a lead back role with the Oakland Raiders.



1.02 Josh Jacobs, RB, Oakland


Mock 1.0: 1.05



Jacobs was the only RB selected in the first round of the NFL draft and this alone should move him up rankings, if he wasn't already towards the top to begin with. In Oakland, Jacobs should compete to be an every-down back right away, with his only real competition being Jalen Richard or perhaps the return of Doug Martin given Isaiah Crowell's recent Achilles injury. The Raiders have a solid offensive line and some real playmakers at receiver including newly signed Antonio Brown and Tyrell Williams. With Jacobs having that three-down skillset, game script shouldn't matter too much as he could do damage in both catch-up mode and clock-killing time. With Jon Gruden having an extensive history of bellcow backs having fantasy success, Jacobs should find himself in the top 20 conversation right away and potentially higher for dynasty rankings. Of course Jacobs never had ultra-production in college but the skills are certainly there. He has the size of a traditional load-carrier and still has a lot of tread remaining on his tires.

1.03 Miles Sanders, RB, Philadelphia


Mock 1.0: 1.06



The hype train really started for Sanders after the NFL Combine, where his numbers forced everyone to pay attention. Since then it seems his stock was rising each week and the NFL certainly took notice, with the Eagles drafting him in the second round. Many folks will argue that Philadephia has been using a committee at RB position the past few seasons so Sanders is a risky pick this early. I would argue that they have not had anyone near as talented as Sanders since LeSean McCoy, so they were forced to use multiple backs as a result. With the rest of the RBs on the roster being in the final year of their contract, I look for Sanders to be a long-term solution but can also make a significant impact in year one. Much like Jacobs, Sanders has the skills of a three-down back but unlike Jacobs he is a near elite athlete for the position, potentially making his ceiling a bit higher. I would not be afraid to select Sanders with a top 5 pick in any fantasy football format based on draft capital, landing spot, and talent.

1.04 David Montgomery, RB, Chicago
Mock 1.0: 1.11

Montgomery is very similar to both Jacobs and Sanders in that he has the skills to be an every-down back in the NFL. I have him ranked just below the other two because: First, he is less of an athlete, as seen at the combine with him putting up average numbers in most drills. Second, he has a lot of miles on his legs comparatively speaking and we all know the career of an NFL back is already very short. Finally, unlike the other two backs, I see Montgomery's competition - Tarik Cohen - as a player that could take away significant snaps from Montgomery. With all this being said, Montgomery is still an excellent player with solid draft capital in an offense that should feature him and be in a lot of close games. I wouldn't hesitate to take him right after Jacobs and Sanders are off the board, as the next best dynasty RB. After Montgomery, there is a significant drop at the position, so be happy if you can come away with him at your draft.

1.05 D.K. Metcalf, WR, Seattle
Mock 1.0: 1.04

Metcalf moves back a spot compared to the pre-draft mock, and honestly I could see him swapping with probably any of the other remaining receivers in this round, but I like his upside more than the others so I think this is a good spot for him. Metcalf, once projected to go in the top 15 picks of the draft, fell all the way to the end of round two, being selected at the very end by Seattle. Shortly after his selection word came out that Doug Baldwin may be forced to retire with injuries so this pick made a lot of sense and certainly boosted Metcalf's potential. In Seattle Metcalf will have the luxury of getting the ball from one of the league's elite Quarterbacks in Russel Wilson, and therefore, even if the volume isn't there right away, the efficiency and potential for big plays should be. While I still expect Metcalf to take a backseat to Tyler Lockett in year one, his dynasty arrow should be pointing up as a potential alpha-dog in the Seahawks offense which will have Wilson throwing to him for many years. While Metcalf certainly has bust potential, his landing spot has helped lessen that likelihood, while his potential remains sky high.

1.06 T.J. Hockenson, TE, Detroit
Mock 1.0: 1.07

I know some people have an issue with a tight end going this high in a normal rookie draft but I stand by the ranking, as Hockenson should be an elite talent at the position and there are very few sure things in this rookie class. Hockenson not only was selected as a top 10 pick, but he also landed in a spot with a solid quarterback in an offense that is trying to replicate the Patriots system thanks to Matt Patricia. Can anyone guess which position flourished in the Patriots system the past eight-plus+seasons? Ding ding ding! Tight End is the correct answer! Now, I am not saying Hockenson will instantly (or ever) turn into Gronk, but on paper he is very similar - an elite blocker with soft hands and above average athleticism. While everyone knows tight ends can take a while to develop I would be shocked if Hockenson wasn't the starter come Week 1, playing a significant role. While he may not light up the stat sheet, he should be good enough to finish as a low-end TE1 with the potential for much more in the future. It may not be necessarily a sexy pick, it is a very safe choice here with some sexy upside in future seasons.

1.07 Kyler Murray, QB, Arizona
Mock 1.0: 1.08

Some will argue with taking any quarterback this high in a rookie draft but I see Murray as a high-ceiling player whose team not only invested the No.1 overall pick in him, but also selected three wide receivers for him to throw to. His detractors believe he has a high bust potential thanks to his lack of size, while I see a transcendent athlete at the position who combines Lamar Jackson's legs with Russell Wilson's arm. Add that to an offensive scheme that should be quarterback friendly with a bevy of pass-catchers to throw to and you have the makings of a top 12 fantasy quarterback from day one. Don't let the naysayers dissuade you, Murray is a special talent that could revolutionize the position, making him easily worthy of a top 8 pick in rookie drafts this season.

1.08 Noah Fant, TE, Denver
Mock 1.0: 1.09

Much like Hockenson, Fant is an elite prospect at a position that has become very thin in the NFL ranks, boosting his value even more and making him worthy of a pick in the first round of rookie drafts. With first round draft capital and a tight end friendly quarterback, Fant increased his fantasy stock after the NFL draft and could quickly become one of the league's better pass-catchers at the postion. Fant should see action right away as the tight end depth chart in Denver is riddled with injury-ridden players and marginal talents. While the wide receivers have some skills (Sanders, Sutton, Hamilton) they are either old and coming off injury (Sanders), unproven and raw (Sutton) or limited in their upside (Hamilton). It's hard to imagine Fant as the go-to guy as a rookie, but it's not outside the realm of possibilities, as a frequent Fant comp Evan Engram did just that in his rookie year after Beckham went down with injury. Fant's upside could be limited if the Broncos misuse him in a blocking role but chances are good that they did not select him this high in the draft without wanting to make him a key player in the passing game. With the position slowly aging out and becoming watered down, Fant represents a real chance to become part of the new group of elite players at the position, making him a nice choice at this stage of the first round.

1.09 Deebo Samuel, WR, San Fransisco
Mock 1.0: N/A

I liked Samuel before the NFL draft but didn't think he would get enough draft capital to warrant a first round selection. I was obviously wrong, as San Fransisco chose him early in the second round, causing him to rocket up rookie draft boards. With that kind of investment from a team shallow at the position, Samuel should be given the chance to start right away. Jimmy Garropolo is coming back from injury and coach Shanahan will now have his full set of toys back in the mix, which could make the Niners offense sneaky good this season. The only real competition Samuel should face is from Dante Pettis who is similar to Samuel but less athletic. With George Kittle taking a lot of the defenses focus, Samuel could find himself in favorable matchups and could be especially valuable in PPR leagues. While Samuel might not have the upside of Harry or D.K. Metcalf, he appears a very safe selection who you should be able to start right away as a WR3 with upside.

1.10 Mecole Hardman, WR, Kansas City
Mock 1.0: 1.10

No other player in fantasy football jumped higher up rookie rankngs after the NFL draft than Hardman. The Chiefs traded up in the second round to grab him, signaling they are coming to realize that Tyreek Hill is likely out the door leaving a gaping hole at the position. They needed to get someone with field-stretching ability and Hardman fits the bill perfectly. Hardman would have gone earlier but his college production left a lot to be desired, albeit as part of an offense with minimal pass volume. As an athlete, Hardman compares favorably to Hill with both possessing elite speed and quickness capable of being a difference maker as a returner. While it is ridiculous to assume Hardman will duplicate or even come close to Hill's numbers this year, the fact remains that the Chiefs will throw the ball a lot and Patrick Mahomes will be staring at a group of pass-catchers that is not very exciting after Travis Kelce. All Hardman has to do is earn snaps as one of the team's top 3 receivers and he should see his share of big fantasy days potentially as soon as Week 1. While consistency and bust potential will surely be Hardman's biggest risk, his upside is drool-worthy making him a solid option towards the end of round 1.

1.11 Marquise Brown, WR, Baltimore
Mock 1.0: 1.12

I don't totally get the love for Brown but it is impossible to ignore him past this point in the first round, as he was the first receiver taken in the NFL draft and he certainly has the playmaking ability to be a fantasy factor at the next level. As for Brown's landing spot, the risk is obvious, as Lamar Jackson is shaky at best as a passer and the team seems determined to be a run-first offense. Add this to the fact that Brown is crazy small (5-9, 166) for just about any NFL position and you could certainly see him turning out poorly as a fantasy asset. On the bright side, Brown possesses elite playmaking ability, speed, burst, route-running… basically everything (except size) that you could ask for in a receiver. If Jackson can take a step forward as a passer, Brown should be the biggest beneficiary, for a team very shallow at the position. Even if Brown does not get the volume, he (like Hardman) only needs a few targets per game to make a fantasy impact. If you like to gamble, this seems like the right spot in the first round to go all in on one of the leagues' most exciting players.

1.12 Parris Campbell, WR, Indianapolis


Mock 1.0: N/A



Campbell is another fast riser due to his landing spot where he will be catching passes from Andrew Luck for the next few seasons. Evaluators seem split on Campbell who had just one dominant season in college and recorded an extremely low average depth of target (4.5). On the other hand, Campbell is a near elite athlete at the position with adequate size and excellent explosion. In Indy, he will face competition from T.Y. Hilton, Devin Funchess, Eric Ebron, Jack Doyle, and both Marlon Mack and Nyheim Hines out of the backfield. Could Campbell be as good or better than all these other guys? Absolutely. Could he be just a gadget player or occasional big play threat? Also yes. I wouldn't reach for Campbell much earlier than this in rookie drafts but for teams that can afford to be patient, Campbell could pay off in a big way once some of his competition clears out, probably in 2020.

The Dropouts
A.J. Brown, WR, Tennessee (1.02) - Awful landing spot but could sneak into late 1st.
Hakeem Butler, WR, Arizona (1.03) - Poor draft capital and heavy competition.
Kelvin Harmon, WR, Washington (1.10) - Terrible draft capital.