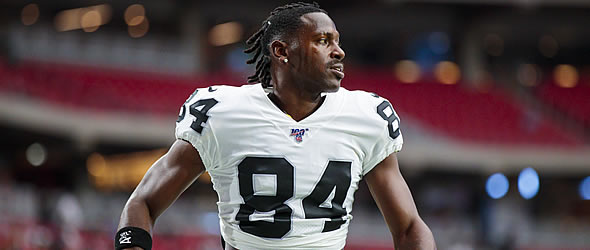 Last Week's Question: What were your best and worst fantasy calls of 2019?
In Week 7, I asked readers to share their best and worst fantasy calls of 2019. No analysis was required, but some readers (like TomJ) opted to take us through their thought processes and disappointments:
I love the humble-bragness of this week's question. One of my leagues is a keeper league, no draft-related restrictions on who you can keep. You like a player, you can keep that player. (Restrictions on number, obviously.) We declare keepers a week before the next year's draft. In that league, I've had Antonio Brown since 2014.

I made the decision to cut him loose last January. And I have never, not for a single moment, regretted it. Not when he left Pitt, not when he went to the Raiders, not when he went to NE, not when he played that one game. And obviously not now. I asked myself back in January under what conditions I would regret not keeping him, and I decided that it would be A) if he played a full slate of games and B) went over 1000 yds with 8+ TDs. But I considered that combo to be pretty unlikely. So I'll pat myself on the back there.

[However, the player I kept instead of AB] is Baker Mayfield. Hasn't quite panned out (yet) as I'd hoped. I don't necessarily regret that decision--given our keeper rules, my only other reasonable options would have been Curtis Samuel or Cam Newton. Mayfield is currently "not who we thought he was", but he can still turn it around. Might just be a slump. Still better than keeping AB would have been. But a miss so far. You don't keep someone so they can ride your bench.
Yikes. I think TomJ deserved a better return on that AB call than he's likely to get from Mayfield, but this is a perfect illustration of the kinds of calls I was looking for.
Mark covered more players with a succinct approach that emphasizes the draft value (by round) of the players concerned:
Best picks – Matt Breida (7), Royce Freeman (8), Lamar Jackson (11), and Carlos Hyde (12).

Worst Pick – Damien Williams in the 5th. It's not that I thought he'd be a bellcow, but I only had Kamara at that point and I went with the phantom upside. Our league is so competitive that it's hard to find a lot of value, particularly at RB.
I'm less interested in the stunning value on Jackson and Hyde than the crushing disappointment associated with Williams. In one league, I congratulated the guy who snagged him in the 5th for getting a steal. He cut Williams a few weeks later. I picked him up on waivers and now wish I hadn't wasted my waiver priority on him.

In superflex leagues, it's important to get your QBs right. Steve seems to have done just that (despite waiting on the position):
Best: Waiting on QBs (Wilson & Rivers) & grabbing McCaffrey & Chubb early.

Worst: Believing Duke Johnson would become a bell-cow.
Stinkfoot was the yet another reader to single out Mayfield as his worst call--and the first of multiple readers to celebrate his faith in Darren Waller:
My best: Darren Waller - owned on every team I have and drafted late.

Worst: Baker Mayfield.
MKrip shares Waller-fever and is perfectly content with the way things have worked out in Tampa:
One of my best decisions was to forgo Mike Evans at the 2/3 turn and targeting Godwin 2 rounds later. Picking up J. Brown and Gallup late helped my bench big time. Also, grabbing Waller with one of the last picks was another steal.
James spoke for a lot of folks who expected Jameis Winston to be more effective in Bruce Arians' offense:
Worst decision: waiting to draft a QB and thinking I was ok when I settled for Jameis Winston.

Best decision: believing Austin Ekeler would earn a weekly fantasy role and keep it regardless of how long the Gordon holdout would last.
James had some nice foresight on Ekeler (whose staying power in PPR leagues seems much more secure than anyone anticipated in August). RBs are a sore spot for a lot of owners this year. Jrokh swung rightly on one reliable RB and wrongly on another:
I was all over Nick Chubb preseason and that looks pretty good so far. I whiffed badly in the second round going with Davante Adams over Dalvin Cook, as the latter's injury history scared me off, irony…
Another reader (mb78) covered another popular RB in this discussion (Leonard Fournette) among numerous other good and bad calls. I only asked readers to review their very best and very worst calls, but I'll share George's whole list because it's filtered through a dozen leagues and 2 decades of fantasy experience:
I have 20 years [of playing fantasy] with 12 teams ... 4 dynasty, 5 keeper, 3 redraft. I have these guys at least 4 times except the whiffs I passed on or traded away.

Best Calls:

1) Chris Godwin as the #1 in TB

2) Michael Gallup (camp reports kept using the words "blistering" and "sizzling" ... these jumped out at me as different than usual praise ... considering Cooper's history, I'm of the mind Gallup could also become their #1 ... after last Sunday's so-so results I'm intensely watching this week ... 8 leagues!)

3) D.J. Chark (bought him everywhere this offseason in dynasty ... other owners claim I got lucky ... sure)

4) Terry McLaurin (well, this was a bit lucky ... he fell to me and I gambled that he was the only possible #1 on that team)

5) Matt Breida (stay healthy)

6) Leonard Fournette (see above)

7) Will Dissly (damn ... see above for opposite reason)

8) Daniel Jones (eye test ... just looked damn good to me ... bought him in dynasty a lot)

9) Mark Andrews

10) Mark Ingram (#7 on my board ... got laughed at again)

11) Todd Gurley (sold him in three dynasty ... didn't even ask for too much)

Worst Calls:

1) Baker Mayfield (oops ... drank the Koolaid ... embarrassed to admit who I took him over)

2) Christian McCaffrey (passed on him twice in redfraft)

3) Joe Mixon (O line injuries)

4) Corey Davis (TEN please trade him)

5) Russell Wilson (traded him away twice ... regret both)

6) Jarvis Landry (see #1)

7) Trey Burton (my dynasty TEs are trash)

Jury Still Out:

1) Tyler Boyd

2) A.J. Green (trend ... that O Line damn ... I think he is delaying on purpose)

3) Josh Oliver (all four dynasty teams ... could save my bacon someday)

4) Devonta Freeman (very mixed feelings)

5) Dak Prescott (still a believer ... had him #5 on my board ... see Gallup)
Some folks may be a bit cooler on Daniel Jones than they were last week (when I heard from mb78), but this list of good calls includes an astonishing number of pleasant surprises. As for the comment on Mayfield, a lot of people are embarrassed to admit who they took him over. He may not be the biggest bust of the season, but he received far more negative attention in the responses than anyone else.
My thanks to everyone who wrote in.
This Week's Question: What if every team in your league advanced to the playoffs?
A reader named Mark had a belated response to my question about waiving transaction fees that challenges a lot of assumptions about how leagues should be structured:
First, we collect $100 from every team upfront and don't have transaction fees anymore precisely for the reasons you outlined. Each team gets a corresponding FAAB of $100 to spend on pickups since we do a blind auction on Wed. and then waivers after that. This virtually eliminates the waiver order and makes the process more balanced based on need and willingness to spend instead of arbitrarily allowing the worst team to get the top available player. This is our 26th season and we've learned a thing or two over that time.

Second, we are trying something new and allowing every team to make the playoffs this year. This means that no one is out of it and everyone is encouraged to keep making their team better in hopes of a late run. The top 4 teams get a first round bye and the other 8 play their way in so there is still an advantage to doing well in the regular season. We also increased the percentage we pay the regular season winner to reward that team's effort over 12 games. We already pay weekly high scorer $10 so an owner who has had injuries or maybe some bad schedule luck can still get a return on their investment. This year that could also include getting healthy for a playoff run.
The idea of allowing all teams to advance to the playoffs is as extreme an anti-tanking measure as I've ever heard about in a fantasy league, so I want to commend Mark's league for this outside-the-box thinking.

I'm sure some people will hate the idea and say that it makes the regular season pointless. I disagree. In most leagues, the use of seeding (and of playoff byes) would be sufficient incentive to keep owners at the top of their game from the day they draft until they're eliminated from the championship tournament. I might raise the stakes a little by adding more 1-week byes to the playoff mix as well as two 2-week byes for the very best teams in the regular season. But then again, taking 2 weeks off from managing your juggernaut fantasy squad could easily feel like more of a punishment than a reward for a season well played.

In any case, I love the way that this approach emphasizes riding a hot streak at the very end of the season, which is exactly when it matters most in the NFL. It sounds like Mark's league is in for a blast, and I hope to hear back from him after his playoffs are underway.

So what do you think about inviting all the teams in your league to the big dance at the end of the season? Please comment below (or email me) so that I can feature your thoughts in next week's column.

I had another belated response on transaction fees (from George) that some readers may find helpful, so I'll squeeze it in here:

I am our league commissioner. Our league has a rule that once an owner is three games out of 4th place, or eliminated from the Playoffs, he will receive a free waiver for a player on IR. Same scenario, if that team has a "inactive" player for a game, not on IR, he can pick up a free waiver for that game only. If he chooses to keep that player for additional weeks he must pay the waiver fee. Our waivers are $15.
Pricey waiver transactions seem to warrant special rules in all sorts of leagues.
Survivor Pool Picks (courtesy of Matthew Schiff)
#3 Saints over Cardinals (6-1; PHI, BAL, SF, lar, NE, WAS, GB)

The Saints have done a beautiful job of winning games with Teddy Brdigewater in Drew Brees' absence, and they should be even better if Brees is back under center this week (as he expects to be). He probably doesn't want to miss the game, which, thanks to a visit from the struggling Cardinals on the day he is poised to return, is likely to feel as much like a "homecoming" contest for Saints fans as an NFL game can. It's hard to see how the inexperience of both Kliff Kingsbury and Kyler Murray can overcome the veteran savvy of Brees and Sean Payton.

#2 Vikings over Redskins (4-3; HOU, BAL, NE, ind, kc, lac, SF)

You didn't pick the 49ers last week because they were undefeated. You picked them because they were playing against the reeling Redskins. This week, you're not picking the Vikings because they're 16-point home favorites in an interdivisional contest. Those would ordinarily be excellent reasons to pick them, but they are secondary considerations in Week 8. The primary consideration is that they are playing against the reeling Redskins.

#1 Steelers over Dolphins (6-1; NE, SEA, DAL, LAC, PHI, dal, BUF)

The Steelers are only 14.5-point home favorites against Miami (an interdivisional rival), so some readers may conclude that Pittsburgh is a weaker pick than Minnesota. However, the important thing to remember about the Dolphins is that they are even worse than the reeling Redskins (who beat them in Week 6).
---
Mike Davis has been writing about fantasy football since 1999--and playing video games even longer than that. His latest novel (concerning a gamer who gets trapped inside Nethack after eating too many shrooms) can be found here.