It has been called "dress rehearsal" week over the years as Week 3 of the preseason typically features extended playing time by the starters. Some teams stick to that mantra and play starters most if not all of the first half, while others take a more cautious approach. It's the former that we'll focus on in this final review of preseason action. We begin with the Saturday night news that rocked the fantasy football landscape …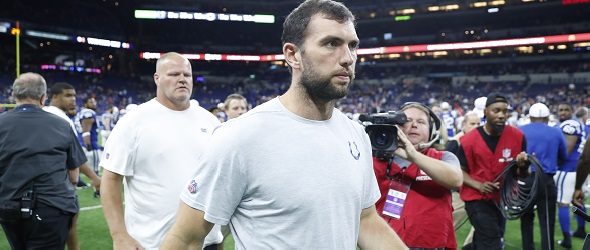 1. Fantasy Football Via the AFC South is Forever Changed
No, it didn't happen on the field, but Andrew Luck's retirement announcement sent shock waves throughout NFL circles and into the alternate world of fantasy football as well.

We learned last week that the Colts are capable of moving the ball up and down the field without Luck (at least during the preseason), but I think the Colts of 2019 will still resemble who they were last season more than the disastrous year of 2017. Why? Two words: Frank Reich.

Reich didn't get enough credit for Luck's remarkable comeback last season and his offensive scheme simply runs circles around anything Chuck Pagano ever implemented. Will T.Y. Hilton's value dip a bit? Sure. Is Marlon Mack going to be the same productive player with Luck gone? Probably not. But, don't turn your back on the Colts altogether. There is one player who I think will suffer most and we'll get to that in a minute.

Meanwhile, back on the field, the Texans lost Lamar Miller for the season with a torn ACL. The fallout will likely be a free agent signing (Jay Ajayi maybe?) and an increased role for Duke Johnson. More than that, it probably means more throws per game from Deshaun Watson. After a fairly pedestrian preseason in terms of news, these two events from Saturday night really resounded.
2. The Best Man for the Job in San Francisco May Have Been There All Along
Anyone that got to see Matt Breida play last season for the 49ers was left to wonder at times "Why don't they just feature this guy all the time?" Instead, San Francisco used the past two off-seasons to try to find a different lead back. Jerick McKinnon was signed in 2018 followed by the signing of Tevin Coleman this spring.
McKinnon is currently nursing injuries and Coleman touched the ball 10 times Saturday night for a meager 21 yards. In the meantime, Breida was…well, Breida. As in 75 total yards on just 9 touches including a touchdown reception courtesy of Jimmy Garoppolo.
I think when the dust settles, assuming the 49ers don't let preconceived notions interfere, Breida will end up as the best RB to own this season in San Francisco. He's no change of pace back…he's the real deal…and he should be climbing in your rankings as your draft day approaches. As for the aforementioned Garoppolo, his performance on Saturday (14-20-188, 1/0) was encouraging, too.
3. Plenty of Undervalued Wide Receivers Ready to Strut Their Stuff
Sticking with the positive, it was hard not to notice how some of the WRs being drafted in the middle rounds looked really good this past weekend. We'll give you three to watch as you look to formulate your team.
First, consider bumping Dede Westbrook up in your pre-draft rankings. Westbrook is a precise route runner and demonstrated chemistry with Nick Foles on a drive that produced four receptions and a TD.
Also of note was the long completion from Sam Darnold to lead WR Robby Anderson on Saturday vs. New Orleans that resulted in a TD shortly thereafter. Anderson is probably getting less love than he deserves because we've become accustomed to downgrading Jets because they're…well, the Jets. Don't fall for it. Anderson is going to be targeted a ton this season with the Jets still looking to find their WR2 and missing TE Chris Herndon for the season's first four games.
Finally, Russell Wilson engineered an early TD drive for Seattle vs. the Chargers that included 50 yards of receiving by newly minted WR1 Tyler Lockett. With no other experienced receivers to lean on including tight ends, Lockett is going to be Wilson's go to guy. For our money, he, Anderson, and Westbrook are all examples of guys being drafted too late.
4. Nice Debut for Guice
Last week, we talked up Adrian Peterson and I still believe Peterson has more gas in the tank than people realize. That being said, Derrius Guice toting the ball 11 times for 44 yards this past weekend was a big deal. It means he's ready to start contributing right off the bat for a team that must run the ball well to stay competitive this season. Look for a timeshare between the two ball carriers with a little Chris Thompson sprinkled in on passing downs. But, make no mistake: Guice looks healthy and has the same kind of upside as Miles Sanders in Philadelphia. You can select him around the sixth round of redrafts without fear of getting little return on your investment.
5. Bad Quarterback Play in Tampa: What Does it Mean?
In the Friday game between Cleveland and Tampa Bay, both Baker Mayfield and Jameis Winston completed less than half their passes and failed to get their teams into the end zone despite 45 combined pass attempts. Does this mean it's time to downgrade both heading into your Labor Day weekend drafts? Nope. Yes, Tampa Bay's offensive line is suspect and yes, Mayfield has to be careful not to buy into his press clippings too much after a solid performance the week before, but while many teams used Week 3 as a dress rehearsal, these two teams did not. No Mike Evans. No Odell Beckham Jr. No starting caliber running backs. Simply put, both quarterbacks did underachieve, but neither was operating with a full arsenal. Both possess two of the most talented receiving corps in the league. Some would say the best two. As such, take it with a grain of salt and keep both QBs stationary in your rankings.
6. Ebron's Career Year is Now Officially In the Rear View Mirror
Earlier, we told you not to panic as an owner of Hilton or Mack. But, if you're an Eric Ebron owner, you need to understand that Ebron's production from last season won't be returning any time soon. Luck's absence will have something to do with that as will all the wide receiver additions (Devin Funchess, Parris Campbell).

Beyond that, there's a guy named Mo-Alie Cox who is poised to become a real weapon in Indy's offense. Reports during the offseason suggested that no other Colt demonstrated the rapid growth/progress shown by Alie-Cox and his 36-yard reception over the weekend served as a reminder of what he can be. If you're operating in a keeper or dynasty league, you might want to invest in Alie-Cox late in your draft. Ebron will still put up decent numbers during the season's first half, but could get overtaken no later than November.
7. The Giants May Be Savvy After All
They say where there's smoke, there's fire. Well, three consecutive plumes of preseason smoke have us convinced that Daniel Jones may eventually evolve into the Real Deal in the Meadowlands. Jones' three-game cumulative totals amount to 25-30 passing (over 80% completion percentage), 349 yards, and two touchdowns versus zero interceptions.
It's fairly clear that if the Giants want to keep pace with other teams, Jones will eventually have to become the answer. I'm not saying Jones should be drafted in your fantasy league. Nor am I saying he's the second coming of Patrick Mahomes (who looked great in limited preseason action this weekend by the way). What I am saying is that the ridicule New York received after making Jones the No.6 overall pick is looking very much unjustified. Guys like Sterling Shepard, Golden Tate, and Evan Engram may have greater value during the second half of the season assuming Jones eventually takes the reins. Keep that in mind before dismissing them on Draft Day due to the Eli factor.
8. A Worse Offense Than Washington May Exist Deep in the Heart of Florida
Hey, at least the 'Skins can run the football. The Miami Dolphins are looking like a ship without a rudder on the offensive side of the ball and as of this article going to press, a starting QB for the team has still not been chosen.
The running back moving up draft boards this summer (Kalen Ballage) managed only 17 yards vs. the Jaguars on Friday night despite getting a decent amount of work (12 carries).
The tendency is to remember what Ryan Fitzpatrick did in Tampa Bay last season and translate that to the team on the other side of the Florida coast, but remember: Tampa had Mike Evans, DeSean Jackson, Chris Godwin, and O.J. Howard. Miami doesn't have anyone that talented and the rumor over the weekend was that they're shopping Kenny Stills.
No matter who the signal caller ends up being, staying away from Miami on draft day is very much in order. They are Washington South, but without the two solid running backs to fall back on.
9. Minnesota Is a Hard Team to Figure Out
On paper, the Vikings look like an offense that's built for speed. Two experienced wide receivers who are clearly above average in every category and a quarterback with a propensity for volume. And yet, in a true dress rehearsal for the season opener, Kirk Cousins was 3-13 passing the ball for less than 3 yards an attempt. And, that came against a defense (Arizona) that was absolutely shredded by the Raiders the week before.
What Minnesota should be from week-to-week and what they are remain at odds and the preseason has only served to reinforce that. What they can draw as encouragement is an 85-yard gallop to glory by third-year RB, Dalvin Cook. If that's the kind of burst Cook can exhibit this year, perhaps the rest of the offense will get its act together. If not, expect a lot of inconsistency in Minnesota for a team that may be more of a paper tiger than the genuine article.
10. Preseason Legends Abound
Finally, as the preseason draws to a close, one final shout-out to guys that have made a name for themselves during the month of August. This week, it was Jakobi Meyers (again), J.J. Arcega-Whiteside (WR- Philadelphia), and KeeSean Johnson (WR-Arizona) that fit the bill.
Together, the trio combined for 22 catches for 263 yards and a TD. Meyers and Johnson are worthy of selection very late in drafts while Arcega-Whiteside is just trying to crack the 53-man roster. Still, production is production and no three wide-outs did more to help their respective teams in rehearsal week than this group.
The fourth week of preseason doesn't yield much in terms of fantasy insight, so next stop is Packers-Bears one week from Thursday. Much to the delight of fantasy football enthusiasts September is on its way.