We've recently been featuring the star QBs, RBs, and WRs most likely to fall from the Top 10 ranks this coming season. Now we turn our attention to those who seem best equipped to replace them. Historically, I've included a mix of both obvious and not-so-obvious names and, as you're about to see, 2020 is no exception.

A quick reminder of the Top 10 fantasy QBs from last season…

Note: All rankings are based on FFToday's Non-PPR league scoring.


Quarterbacks Most Likely to Rise in 2020:
Tom Brady, TB: I kicked off this article with Tampa's quarterback last year too, though it certainly wasn't this one and a lot has happened since last August. Jameis Winston did indeed catapult into the Top 10, authoring one of the craziest statistical seasons on record—5,109 yards, 33 touchdowns, and 30 interceptions—but was also so wildly inconsistent that the Bucs couldn't envision a path forward with the 26-year old at the helm, instead opting to woo a 42-year old free agent to Cigar City.

The list of hugely successful, 40+ QBs playing for new teams is incredibly brief (Brett Favre and maybe Warren Moon), but Tom Brady is no ordinary 40+ QB free agent. First off, he'll be 43 by the time the season starts and maybe even before you read this. Second, he's indisputably the most successful signal caller in NFL history and still very much performing at the top of his game, having captured his sixth Super Bowl title just two seasons ago. Last year wasn't a typically terrific Tom Brady campaign, but he also wasn't playing with a terrific WR corps.

He will be this year. With apologies to Randy Moss and Wes Welker, Brady might be tossing footballs to his most talented pass-catching duo ever in 2020. Chris Godwin and Mike Evans both posted Top 10 digits in 2019 and are in the primes of their careers. Brady also gets to steer Bruce Arians' offense, a QB-friendly scheme that made Jameis Winston a fantasy darling and Carson Palmer successful into his late 30s. I haven't even mentioned the fact Tampa's defense, which surrendered over four TDs per game last year, didn't undergo significant renovations. The future HOF'er may not end up QB2 in 2020, but he'll be no worse than QB5 if he remains healthy.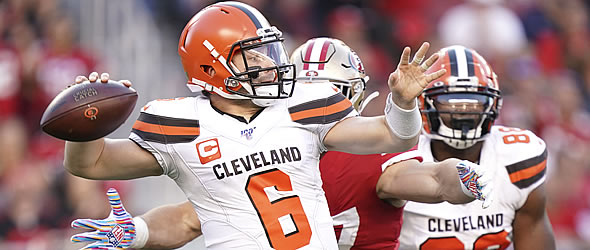 Baker Mayfield, CLE: QB5 seems like a pipe dream for Mayfield, especially just a year after he turned in a highly uneven, Winston-esque campaign featuring 22 TD tosses v. 21 picks. The former Heisman winner simply didn't take that expected step toward stardom many thought he would, myself very much included (he's a repeat Top 10 Newcomer). Mayfield has to own some of that—inaccuracy, failure to develop chemistry with receivers, maybe overconfidence—but a couple external factors working against him in 2019 look to be already remedied for this coming season.

For starters, Cleveland significantly bolstered a sorry offensive line that was especially weak at the two tackle spots. Mayfield, generally pretty nifty with his feet, suffered 40 sacks in 2019, tied for seventh in the league. Enter Jedrik Wills Jr., the Browns' first pick in April's draft (No.10) and presumed LT, and Jack Conklin, a former No.8 overall draft selection who will man the RT spot he locked down in Nashville the last four years. This duo instantly turns a team weakness into a team strength and affords Mayfield the pocket comfort he didn't have last year, which should do wonders for his confidence and accuracy.

Additionally, the team also moved on from its disastrous Freddie Kitchens experiment, hiring former Vikings offensive coordinator, Kevin Stefanski, to run the show moving forward. Stefanski will almost certainly look to leverage Cleveland's strengths, a now solid O line and one of the league's best running back 1-2 punches (Nick Chubb and Kareem Hunt). In theory, this should take some pressure off Mayfield and allow him to work play-action magic with his two star receivers, Odell Beckham Jr. and Jarvis Landry, and his shiny new TE target, free agent signee Austin Hooper. It's official: Mayfield and the entire Browns organization are about fresh out of excuses.

Matthew Stafford, DET: It went largely unnoticed everywhere outside Detroit, presumably, but Matthew Stafford had a real shot to eclipse career highs in yards and touchdowns last season had he not (literally) broken his back. The injury was only fitting, perhaps, since that's pretty much what he'd been doing, idiomatically speaking, for an aimless Lions organization going on over a decade now. Stafford's 25.9 FPts/G in eight games of action were, surprisingly, good enough for third overall at the position, trailing only Lamar Jackson and Jameis Winston. Imagine if he'd played all 16 games!

The good news for those looking to spend modestly in 2020 is that recency bias will likely depress the market for Detroit's main man, despite the fact he hadn't missed even one game the previous eight seasons. The better news is that he was producing at a career-high pace while not also throwing a career-high number of passes. Not even close, in fact. Stafford averaged 26.5 FPts/G back in 2011 but needed 663 attempts to do it. The next year, he launched an all-time NFL high 727 passes, a record that still stands. Conversely, he was only on track to throw 580 or so in 2019.

A more efficient Stafford, not surprisingly, made for a couple of ridiculously efficient WRs, Kenny Golladay and Marvin Jones. The former led the position in TD receptions (11) while the latter tied for third (9). This despite neither receiver ranking in the Top 25 for total receptions nor, of course, even getting to play with Stafford half the season. Someday, the Lions will land on another superstar RB and maybe someday is already here (D'Andre Swift). Until I see it for real, though, there aren't many safer fantasy bets than another Georgia alum, Mr. Stafford.