Production, and consistent production at that, is the key to the game at a position that turned in the top 12 players in fantasy points per game in 2021. Thatís right, twelve QBís scored higher than Cooper Kupp and more than Derrick Henry or Jonathan Taylor. What does that mean? It means, just like in the NFL, you canít whiff on your QB. If you jump too early on the wrong guy, it can ruin your draft. But if you find the late round value it can completely transform your roster.

Last week we took a look at the fantasy tight end group in terms of value as it relates to their ADP for the 2022 draft season. This week, here are the QBs I expect to outperform their ADPs and which I expect to fall short.
Undervalued
Tom Brady, Tampa Bay Buccaneers
ADP: 8.03, QB12
The Case for Brady Being Undervalued: Brady has averaged over 26.0 fantasy points per game over the last two seasons, ranking 10th among QBís in 2020 and 2nd in 2021.
The Case Against Brady Being Undervalued: Rob Gronkowski is retired and top possession receiver Chris Godwin could miss the beginning of the season. The loss of center Ryan Jensen is a bigger deal than most people realize.
The Verdict: Iím not sure what else Brady has to do to gain the respect of fantasy owners and draftniks. In addition to ranking 2nd in fantasy points per game in 2021, he led the league in attempts, completions, yards, and passing TDís. He has averaged at least 20.0 fantasy points per game every year since 2014 and finished top 10 among QBís in five of those seasons. He loses Gronk and likely a good chunk of Godwin. But the Bucs still have Mike Evans, theyíve added Russell Gage and Julio Jones to the roster, and have a whole stable of reliable wide receivers in Scotty Miller, Breshad Perriman, Tyler Johnson, and Cyril Grayson. Leonard Fournette is also back. He ranked 3rd among RBís in 2021 in targets and receptions, and was 4th in receiving yards. Brady has plenty of weapons at his disposal, and the departure of Bruce Arians only tightens Bradyís grip on the controls of this offense, which means more short and intermediate passes that work as an extension of the run game.
If thereís a concern, itís the loss of starting center Ryan Jensen. The Buccaneersí pivot is aggressive and attacks interior defenders, giving Brady the clean pocket he needs to step up and execute his passing attack. If Tampaís o-line canít keep defenders away from Bradyís legs it will hurt his production, but not enough to make him QB12, which is where heís being taken these days.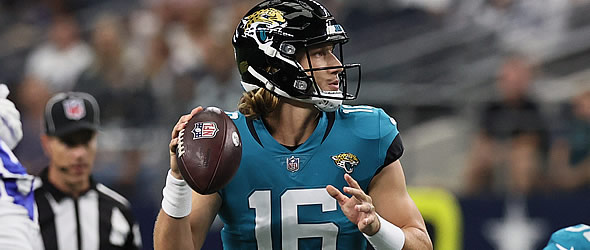 Trevor Lawrence, Jacksonville Jaguars
ADP: 13.09, QB22
The Case for Lawrence Being Undervalued: Lawrence got 600 pass attempts and passed for over 3,600 yards as a rookie in one of the most dysfunctional offenses and team environments in recent memory.
The Case Against Lawrence Being Undervalued: The former Clemson star had a league-worst 12 TD and 17 INT in 2021.
The Verdict: It looked really bad at times last season. Thereís no denying that. And maybe more concerning is that things seemed to get worse for Lawrence as the season went on. But youíve probably all heard the coachís mantra about players making their biggest jump as a pro from year one to year two. Lawrence is too gifted to not make that jump this year. He got an awful lot of playing time and experience last year, and heís now being guided by Doug Pederson, who has had his share of success with QBís, both as a coordinator and a head coach.
The Jaguars have also done the right thing around their QB. WRís Marvin Jones, Laviska Shenault, Laquon Treadwell, and Jamal Agnew all return. They added Zay Jones and the underrated Christian Kirk who has the potential to be a gamebreaker out of the slot, and the healthy return of Travis Etienne to pair with James Robinson in the backfield gives this offense a different dynamic and another playmaker. They also bolstered Lawrenceís offensive line, drafting a new starting center in Luke Fortner, who should help keep Lawrence clean.
He's being drafted as QB22. He may not be ready to grab fantasy starter status, but I think this season will see him finish much higher on the list than where heís slotting in now.
Jared Goff, Detroit Lions
ADP: 14.06, QB24
The Case for Goff Being Undervalued: Over the last five games of 2021, Goff completed 72% of his passes, threw 11 TDís and just two INTís, and had a 107.1 passer rating.
The Case Against Goff Being Undervalued: Goff averaged less than 20.0 fantasy points per game for the first time in his career in 2021.
The Verdict: Rams HC Sean McVay turned Goff into a whipping boy two years ago in LA, and that has carried on through his first year in Detroit. But for those who care to hear the other side of the argument, Goff may have actually played himself into a long-term job with the Lions. He proved to be efficient, completing a career-best 67.2% of his passes and producing a 91.5 passer rating in 2021, and while his season average of 6.6 yards per attempt was not particularly good, he averaged 8.72 over the five-game stretch mentioned above.
This is definitively a run-first attack under hard-nosed HC Dan Campbell, but Goff actually improved when Campbell took over play calling duties late in the season. Adding veteran free agent D.J. Chark and 1st round pick Jameson Williams to Josh Reynolds and Amon-Ra St. Brown in the receiver room is a plus, and TE T.J. Hockenson is an emerging pass catcher in his own right. Also lost in the Lionsí losing season is the fact that RB DíAndre Swift ranked in the top 5 among RBís in targets a year ago.
This is an emerging offense on a team turning the corner, with a quarterback who has played in a Super Bowl. Donít be surprised to see Goff slide into the top half of the leagueís QB standings this year.
Overvalued
Kyler Murray, Arizona Cardinals
ADP: 5.09, QB7
The Case for Murray Being Overvalued: Murray has never passed for 4,000 yards in a season and has averaged 11 INTís per season over the first three years of his career. Heíll be without Hopkins for the first six games of 2022.
The Case Against Murray Being Overvalued: Despite missing two games due to injury, Murray posted career highs in completion percentage (69%), passing yards per game (270.9), and passing yards per attempt (7.9) in 2021 and ranked 5th among NFL QBís with 25.5 fantasy points per game.
The Verdict: In an age when fantasy owners seem to care as much, or more about quarterback rushing stats than passing stats, itís worth noting that Murray had seven games of at least 300 total yards in 2021. However, only three of them came after Week 4. In the ten regular season games that followed that season-opening four-game hot streak, Murray rushed for at least 50 yards just three times, but had five games where he ran for less than 25 yards, including three games in single digits, and had just six yards in the playoff game against the Rams.
Yes, he had an ankle injury, and kudos for trying to play through it. But, news flash, NFL defenders are getting bigger, stronger, and faster every year, and what I see on film is that opposing DCís have figured out how to limit Murrayís ground game.
Yes, he lost his top receiver. But heís going to be without that same receiver for the first six games this year. Over the last five games of 2021, without WR1 DeAndre Hopkins, he threw just 5 TDs and averaged less than 6.0 yards per attempt and rushed for at least 50 yards just once in that span. And for everyone who wants to tell me about Marquise Brown, save it! Iíve had Lamar Jackson as my quarterback the last two seasons. Marquise Brown is no DeAndre Hopkins. I like Rondale Moore, but Christian Kirk is gone, A.J. Green is 100 years old (not really Ė heís 34), and Zach Ertz didnít really find his legs in this offense the second half of last season. Iím not seeing a stellar group of skill players here.
Murray be dynamic and can not only make plays with his legs but extend them in the passing game. But heís also likely to try to do too much and make costly mistakes. Remember, heís been a double-digit INT passer every year of his career. Given the chance to draft him as their starter most owners are going to pull the trigger. I get it. I just have him more in the range of 10-15 on my board, not QB7.
Trey Lance, San Francisco 49ers
ADP: 8.12, QB13
The Case for Lance Being Overvalued: Since his breakout redshirt freshman season in 2019 at North Dakota State, Lance has started exactly three games. Three. And he wasnít particularly good in any of them.
The Case Against Lance Being Overvalued: You canít find an NFL scout anywhere that isnít in love with Lanceís skill set. Big, with a strong and accurate arm, and elite running ability, he is the prototypical dual threat quarterback that every NFL team is looking for.
The Verdict: Everything weíre being sold on Lance is based on two things, ability and potential. It has nothing to do with production because, well, he hasnít played. In the one game he played in 2020 against an FCS opponent, he was average. In two starts as a rookie last year, same story. Against a borderline playoff team in the Cardinals, he barely completed 50% of his passes, for less than 200 yards and a 6.6-yard average, with zero touchdowns and an interception. Later, against a bad Texans team, he was a little better with a 70% completion rate on 249 yards and two touchdowns and an interception. He averaged less than 4.0 yards per rush in that game.
Will Lance flash? Iím sure he will. Heís what they call a tool-sy player Ė fast, athletic, big, strong, and accurate. Heíll make plays. But heís essentially a rookie and will also struggle. I donít care how well he runs around. People need to slow their roll. Thereís no way Lance is a borderline QB1 out of the box.
Jalen Hurts, Philadelphia Eagles
ADP: 5.05, QB6
The Case for Hurts Being Overvalued: The Eagles were one of the most run-heavy offenses in the NFL in 2021, passing on less than 45% of their offensive snaps. When Hurts does throw, heís not terribly accurate, especially on downfield throws, and not very productive, passing for just 3,100 yards and just 209 yards per game.
The Case Against Hurts Being Overvalued: Hurts led all NFL QBís in attempts and rushing yards in 2021 with 784 yards on 139 carries and scoring ten times to give him 26 combined TDís. He ranked 10th among NFL QBís with 24.0 fantasy points per game.
The Verdict: Hurtsí unquestioned ability as a runner helped lead the Eagles to the playoffs a season ago and certainly boosted his somewhat pedestrian fantasy value in the middle of the season. But the mobile quarterbacks who bring consistent fantasy value are ďdual threatĒ QBís. Think of guys like Josh Allen, Patrick Mahomes, Lamar Jackson, Dak Prescott, and Russell Wilson. Hurts isnít in that group because he falls short as a passer. In 2021, eight of his 15 games featured a completion percentage below 60%, and he averaged less than 7.0 yards per attempt in seven games. Running ability is a plus, but you canít be one dimensional.
Many will point to the Eaglesí ďimprovedĒ receiving corps for the coming season. I donít see it. It remains largely the same. DeVonta Smith is still a work in progress, Quez Watkins, Zach Pascal, Jalen Reagor, and Greg Ward will flash from time to time, but none provide consistent production. A.J. Brown is a talented, big-bodied possession receiver, but has struggled with injuries the past couple years, and another run-heavy offense in the Titans just essentially gave his job to a rookie. I wonder why that is? Maybe they didnít see the value.
Hurts raised his game in 2021, but he is playing with a supporting cast that has TE Dallas Goedert as possibly their most consistent receiving threat, in an offense that prefers to run the ball. Some think that will change this season. I donít. Not until Hurts can show that heís raised that part of his game.