This week we take a look at the ADP and related value of some of the top receivers in the league. There are a lot of great wide receivers in the NFL. Every player here is either already a Pro Bowler or has the potential to be. Because there are so many household names and ESPN Top 10 highlight reel regulars in this group, it's easy to sometimes over-value what they do for their teams, fantasy or otherwise. In addition, this group is so reliant on the quarterback, the offensive system, the play caller, and the depth of receiving options joining them on the field that it can be difficult to ascertain real value.

This was a tough list, but here are the WR's I expect to outperform their ADP and which I expect to fall short.
Undervalued
Hunter Renfrow, Oakland Raiders
ADP: 7.05, WR30
The Case for Renfrow Being Undervalued: In 2021, Renfrow ranked in the top 20 among WR's in targets (128) and receiving yards (1038), and top 10 in receptions (103) and receiving TD's (9)
The Case Against Renfrow Being Undervalued: Renfrow's 2021 numbers were an anomaly when comparing them to the first two years of his career, and he may have been the beneficiary of the team's loss of Darren Waller and Henry Ruggs.
The Verdict: Most people are expecting Davante Adams to come in and gobble up all the targets in Las Vegas, especially with his friend Derek Carr doing the dealing, and he very well might. His talent says he probably should. But take a second and think about some of the slot receivers who have found success in Josh McDaniels' system – Wes Welker and Julian Edelman certainly come to mind. But there was also Eddie Royal in Denver and Danny Amendola in St. Louis. All of them played a prominent role in this offense that values the short and intermediate passing game as an extension of the run game. There are plenty of balls to go around.
Consider that Tom Brady had over 1,700 pass attempts in his last three seasons in New England with McDaniels calling the shots. Last season, Mac Jones managing a scaled-down, run-first attack, and still posted 521 attempts. If anyone loses target share, I think it could be Waller, and Renfrow will be a more reliable option for Carr than Mack Hollins or Keelan Cole. I expect Renfrow to post season-highs in targets, receptions and yards this year as the No.2 in this offense, making him a solid WR2 option on your fantasy team.
Russell Gage, Tampa Bay Buccaneers
ADP: 9.08, WR40
The Case for Gage Being Undervalued: Gage has 138 catches for over 1500 yards on 204 targets over the last two years and could be stepping into a starting role on one of the NFL's most productive passing attacks, with the greatest QB to ever play the game.
The Case Against Gage Being Undervalued: Handed a larger role for a struggling Falcons offense that was without Julio Jones and Calvin Ridley, he failed to crack the top 30 WR's in any major receiving category.
The Verdict: Gage grew into a larger role in the Falcons' offense in 2021, recording 39 catches over the last six games on the back of three double-digit target games and two 100-yard efforts. He can catch and he can make plays, and when you start playing with Tom Brady, the plays tend to come in bunches. He's a volume target guy for a QB that needs a possession receiver. Chris Godwin is recovering from ACL surgery and is likely to miss the early part of the season, TE Rob Gronkowski has retired, and Mike Evans' numbers have faltered in two years with Brady in every category but TD's. He's not going to compete for targets with Gage. He's a TD-dependent deep threat and red zone weapon.
Some are now concerned that the newly signed Julio Jones is a threat to Gage's fantasy production. I disagree. Gage is a possession receiver and a run after catch threat who can work out of the slot – a perfect fit for Brady's offense (and make no mistake, this is Brady's offense). Jones can align anywhere, but is primarily a perimeter threat who is battling age and injury while playing just 19 games over the last two seasons with two different teams. Gage has a chance to pop early, and if players like Godwin and Jones and Evans aren't careful, he could end up leading all of them in targets.
Jarvis Landry, New Orleans Saints
ADP: 12.05, WR53
The Case for Landry Being Undervalued: Prior to his injury-shortened season last year, Landry had posted seven straight 100+ target seasons, five of which featured 130 targets or more.
The Case Against Landry Being Undervalued: His 4.3 receptions per game and 2 total receiving TD's in 2021 were both career lows, and his 11.0 yards per catch was his lowest since 2017.
The Verdict: Landry returns home to Bayou country to an offense that is expected to feature more pass attempts. There are a lot of mouths to feed in fellow WR's Michael Thomas and Chris Olave, and RB's Alvin Kamara and Mark Ingram, but word is HC Dennis Allen wants to roll out a possession passing game, which plays to Landry's skill set. QB Jameis Winston is coming off ACL surgery. The Saints, especially early in the season, are going to want the ball out of Winston's hands, and limit his rollouts and deep shots. Look for Landry, working primarily out of the slot, and Kamara, coming off a career receiving season, to be early favorites for volume targets on quick-hitting run and catch plays that will set up deep shots downfield to Olave and Thomas.
Thomas is returning to action after spending most of the last two seasons on the sidelines due to injury, and Olave, as explosive as he is, is still a rookie. Both will need time to adjust to game speed. With TE Adam Trautman a non-factor in the receiving game the past two seasons, Landry could be looking at career-high numbers playing with a QB who will have no trouble getting him the ball.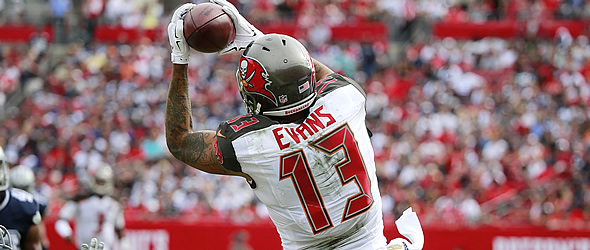 Overvalued
Mike Evans, Tampa Bay Buccaneers
ADP: 3.01, WR9
The Case for Evans Being Overvalued: Despite being the Buccaneers' top fantasy point scorer at WR, Evans finished the 2021 season ranked 25th in targets, 26th in receptions, and 21st in receiving yards amongst NFL WR's.
The Case Against Evans Being Overvalued: Evans ranked 7th among WR's in 2021 and 10th in 2020 with over 11.0 fantasy points per game.
The Verdict: There's no getting around it. Since Tom Brady's arrival in Tampa, Mike Evans' production has gone down in every category but one, touchdowns. His targets, receptions, receiving yards, and yards per game are all down considerably from his best seasons early in his career. Now, don't get me wrong, there are worse jobs than being a red zone target for Tom Brady. But the further and further we get from the days of the Bruce Arians-Jameis Winston "No Risk It, No Biscuit" offense, the more reduced Evans' role becomes.
He has 27 scores over the last two seasons, so there's a good chance that important line in the stat column remains consistent. But you hear a lot about owners being wary of touchdown-reliant players, so I'm not sure why Evans gets a pass here. Again, the more reduced his role, the easier he becomes to defend, making those TD's harder to come by. Once a few of those scores disappear, so does Evans' fantasy value in my opinion.
A.J. Brown, Philadelphia Eagles
ADP: 3.03, WR10
The Case for Brown Being Overvalued: Brown's yards per catch, 100-yard games, and TD receptions have steadily decreased over his three-year career, as have his healthy starts.
The Case Against Brown Being Overvalued: Brown has posted over 100 targets in each of the last two seasons while playing with one of the most dominant runners in recent NFL history.
The Verdict: Coming off perhaps the worst season of his career, Brown now goes to one of the NFL's most run-heavy offenses. He is a big, strong, physical receiver with strong hands, and a guy who can make plays all over the field from any alignment. For all those reasons, the expectation is that his arrival will suddenly give the Eagles a viable passing attack. But while most fantasy owners realize that Philly switched to a run-heavy attack about halfway through the 2021 season, they may not realize why. The switch wasn't made because of a lack of receiving talent (though Eagles fans love to hate this group). It was made because QB Jalen Hurts couldn't get them the ball on a consistent basis. He's an excellent athlete and a dangerous runner, but that makes him a dangerous runner, not a dangerous dual threat quarterback.
Could Hurts have improved as a passer over the course of the offseason? Sure. Will he improve enough to make the Eagles' coaching staff switch away from a formula that helped carry them to the playoffs last season? I'm not so sure. I think Philadelphia continues to run the ball, Brown draws a defender out of the box, and opens things up for Hurts and Dallas Goedert while Brown and his fellow receivers spend more time working on their downfield blocking than their receiving skills.
Marquise Brown, Arizona Cardinals
ADP: 6.06, WR25
The Case for Brown Being Overvalued: Brown has never cracked the top 30 fantasy WR's in fantasy points per game during his three-year career.
The Case Against Brown Being Overvalued: He is coming off a career-high 1,0008 yards on 91 catches and 146 targets in a run-first offense in 2021.
The Verdict: People will make their arguments. Brown is moving from a run-heavy offense to Kliff Kingsbury's air attack. He goes from a struggling Lamar Jackson, to one of the league's bright up and coming mobile QB's in Kyler Murray. I get all that. But I think by the time he's done battling for targets with DeAndre Hopkins (even with his six-game suspension), A.J. Green, Zach Ertz, James Conner, and the other 43 catches that Chase Edmonds had out of the backfield, it's all going to even out. And when it comes right down to it, when Brown has a chance to make a big play in the receiving game, as many times as not, he doesn't catch the ball. He's caught just 60% of his targets over the last three seasons. In the same span, Cooper Kupp has hauled in almost 75%. I don't think he makes the jump people think he will, and I think he doesn't come near the WR2 value he's being drafted at.