We're a little over two months removed from my first two round mock, which you can find here. As I indicated in the introduction, the collection of names in the top 24 was unlikely to change much. You can tell below that rings true as although many of the players have shuffled around - 21 of the 24 players from the March mock remain in the top 24.

While still early in the process, the NFL Draft has come and gone; the last significant offseason event until the preseason. Team rosters are mostly set outside of a handful of unsigned veterans (Dez Bryant, DeMarco Murray) and while depth charts will shift, we have a general idea of the roles players will have.

Today, we will look at my top 24 picks as I would make them. I will also indicate any changes from my pre-draft mock. Afterwards, I will again post a quick top 24 overall of what I think the consensus will look like when it's time to draft for real.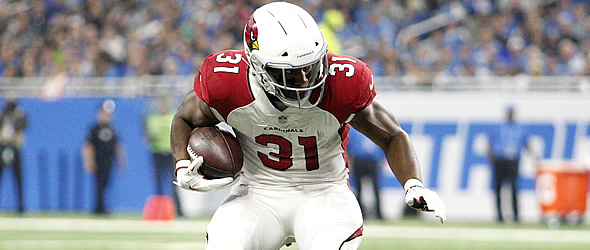 The freak: David Johnson is still setting his sights on 1000 yards rushing and 1000 yards receiving.
Round 1
1.1 - RB Le'Veon Bell, PIT: My top four picks will remain running backs. Bell has been elite the longest and is in the best offense. When forced to choose between the big three, I'm going with the guy with the best track record.
1.2 – RB David Johnson, ARI (+1): DJ jumps over Gurley. Although the Rams have the better offense, they also have more talented players. DJ has no competition for touches and is also the team's de facto No.2 wide receiver. Johnson is somewhat immune to game script because if the Cardinals need to throw, they'll throw to him, too. The Josh Rosen pick also assuages my fear of what would happen to this offense when (read: when) Sam Bradford inevitably gets hurt.
1.3 – RB Todd Gurley, LAR (-1): Gurley certainly has a better supporting cast than DJ, which means more competition for touches. Gurley benefited last season from a couple long touchdown receptions. Three or four receiving scores is more likely compared to his six from last season. Gurley is an elite three-down back and well worth a top three pick. Where you take any of the big three comes down to personal preference.
1.4 – RB Saquon Barkley, NYG (+3): I will go into greater detail on my annual RB article (which will publish sometime in July), but the crux of my position is Barkley, despite being a rookie, has one of the highest floors at the position. He is locked into a three down role given the lack of talented competition and we know he can catch passes. The Giants still have offensive line problems, but they did draft Will Hernandez and should be a good enough offense to put Barkley in scoring position. Anything less than 250 touches and 50 receptions would be a shock to me.
1.5 – WR Antonio Brown, PIT: He's been the No.1 wide receiver in fantasy for so long now that wherever you take AB, it's a good pick. He's the second best WR of all time and has a skill set that will translate very well into his 30s. He's nowhere near done and still the focal point of the Steelers' passing game. In PPR, you can justify him ahead of any of the running backs.
1.6 – RB Ezekiel Elliott, DAL (-1): He's a slight notch below the big three because of his lower reception totals and I dropped him below AB because of what the Cowboys did, or rather, didn't do, at the NFL Draft. Dallas has one of the worst offenses in football. They have a franchise QB and a franchise RB…and that's it. The offense revolves around Elliott, which is great for his floor. He's a near lock for 300 touches and will handle all of the goal line work. I am a bit concerned with the lack of wide receiver options as it will allow teams to stack the box and potentially cap Zeke's touchdown upside.
1.7 – RB Alvin Kamara, NO (+2): This may be too low for Kamara, but I do believe Sean Payton when he says he is not looking to significantly increase Kamara's touches. The reason Kamara is so efficient is because of the way the Saints use him. I don't want that to change. Regardless of the Mark Ingram suspension, I expected Kamara to see an improvement upon his 38.5% opportunity share. With Ingram out, Kamara can seize full control of the job and relegate Ingram to change of pace duties. Kamara will never touch the ball like Bell, DJ, or Gurley, but a jump to 60% is certainly reasonable and more than enough to offset the efficiency regression we know is coming.
1.8 – WR DeAndre Hopkins, HOU (-2): Last season's leader in targets and target share is worthy of being the second WR off the board. I don't see any way Hopkins can maintain a 35.2% target share, but that doesn't mean he's not still elite at his position. Deshaun Watson is also due for some serious efficiency regression, but DHop can still be worthy of this selection as long as his quarterback isn't Brock Osweiler.
1.9 – WR Odell Beckham Jr., NYG (-1): This man is unstoppable. Barring another freak injury, I still expect him to usurp Hopkins and take his rightful spot as the second best wide receiver in the NFL. The Giants offense has improved so while Beckham's target count may drop a bit, he should become more efficient. We are at the point in the draft where the RB you can get in the next round is just as good as the one you'd be taking now. Early in the process, it appears the late first round WR is the way to go.
1.10 – WR Michael Thomas, NO: The logic here is the same as Beckham. I love Thomas' position as Drew Brees' go-to-guy. The addition of Cameron Meredith doesn't really impact my feelings much. The Saints have no TE of consequence so it's really just Thomas, Kamara, and Meredith. I would like to see an improvement on Thomas' meager 20% redzone target share, though.
1.11 – RB Kareem Hunt, KC: Hunt has concerns that the running backs in front of him don't have (Spencer Ware and Andy Reid's affinity for using literally any other back on passing downs). After a hot start, he was borderline unstartable for a stretch in 2017. I still expect Hunt to be the primary back and push 300 touches, but Ware and Reid's vagaries could do enough to prevent Hunt from being truly elite. He is still capable of anchoring your backfield, though.
1.12 – RB Leonard Fournette, JAX: Fournette doesn't have any workload concerns, but he does have a history of nagging injuries, making him unlikely to play a full 16 games. Plus, he is on a team I expect to be significantly worse this season. The Jaguars played from ahead a lot last season – ranking fourth in game script, which measures how often a team played with a lead. If the Jaguars find themselves trailing more, Fournette isn't a great pass catcher and his usage and upside could be capped.
Round 2
2.1 – RB Melvin Gordon, LAC: I don't know if I could ever bring myself to draft Gordon, but I cannot deny his workload. Situation + opportunity > talent. Gordon has tons of the former, not so much the latter. He's done it long enough to establish himself as a safe, early-round selection.
2.2 – WR Davante Adams, GB (+1): The Packers brought in Jimmy Graham, which definitely impacts Adams' redzone usage, but Adams is entrenched as the No.1 WR in an Aaron Rodgers offense. He would certainly drop if Dez Bryant signs with Green Bay, but for now, I'll take the guy who scored 10 touchdowns with a whole lot of Brett Hundley throwing him passes.
2.3 – WR Tyreek Hill, KC: I will forever be higher on Hill than most. I admit this is lofty given the fact that his floor is definitely lower with Pat Mahomes at quarterback. I happen to be a believer in Mahomes' talent and am approaching this glass half full and looking at Hill's immense ceiling with the young gunslinger under center. I can't imagine Hill's usage rate will be any less than last season and there is certainly room for growth in his mere four red zone targets and 21.3% target share.
2.4 – WR Julio Jones, ATL (+5): My hate for Julio went a bit too far. This is still going to be lower than consensus, but I am sick of hearing about the positive TD regression. Julio has been in the league for seven years and has just one double digit touchdown season (10 in 2012). I understand full well that he should be scoring more touchdowns based on his yardage and overall productivity. However, he hasn't for seven years. It may not make sense, but it is the reality of the situation.
2.5 – RB Dalvin Cook, MIN (NR): ACL injuries aren't as concerning as they once were. Cook will be all systems go entering his second season and with Jerick McKinnon gone, all he has is Latavius Murray to threaten him for touches. Cook is going to be a three down back on one of the league's best offenses that projects to be playing with the lead more often than not. He is also a fine pass catcher. Cook is a safer of a pick than I think he is getting credit for.
2.6 – WR A.J. Green, CIN (-2): Unlike his fellow 2011 draftee, Julio Jones, Green has three double digit touchdown seasons on his resume and likely would have a couple more if not for injuries. I am a little worried about the Bengals offense this season, but Green's status as an alpha WR1 remains intact. He's not as sexy as he once was, but as long as he is on the field, he won't fail you.
2.7 – WR Mike Evans, TB (+1): Taking Evans as the ninth wide receiver off the board seems about right. He was the WR3 in 2016 before finishing as the WR19 in 2017. The 2018 answer likely lies somewhere in the middle. Jameis Winston will continue to haphazardly heave the ball up in Evans' general direction and while it is unlikely Evans ever reaches 2016 heights again, he should be much better than he was last season.
2.8 – RB Christian McCaffrey, CAR (+3): So the Panthers replaced Jonathan Stewart with a different Jonathan Stewart. C.J. Anderson is a replacement level back. He's better than JStew, but McCaffrey is going to handle the majority of the snaps. His 48.4% opportunity share should increase to around 55-60%. McCaffrey is also a legitimate threat to catch 100 passes. CJA will steal touchdowns, but CMac's receptions and overall touch floor will keep him in RB1 territory.
2.9 – RB Devonta Freeman, ATL (+1): The Falcons are going to let Tevin Coleman walk in 2019. They are all in on Freeman. I have no reason to doubt their commitment to him, regardless of what I think of the two players. Freeman will touch the ball plenty and the Falcons offense as a whole experienced an overcorrection in 2017. The 2018 version should fall somewhere between the 2017 and 2016 versions, which should be enough to vault Freeman back into the RB1 picture.
2.10 – WR Keenan Allen, LAC (NR): I indicated previously in a reply to a comment that Allen saw 36% of his season point total come from a three-game stretch Weeks 11-13. I did some more analysis and realized that outside of that period, he was still the WR12. While I do think he is being overdrafted this year, he's still worth a top 24 pick as the target hog on a Philip Rivers offense.
2.11 – TE Rob Gronkowski, NE (-6): I was too high on Gronk in the last iteration of this exercise. Although Gronk provides a decisive edge at tight end, the position is the deepest it's been in a long time. Spending a second round pick on Gronk is worth it with the right team composition. This is about where I'd be willing to take the greatest fantasy TE of all time.
2.12 – RB Jerick McKinnon, SF (NR): The early third round looks to be one of the toughest areas of the draft and it begins with the last pick in the second round. I don't necessarily like McKinnon significantly more than, say, a player I would take late in the third round – which is what makes this such a difficult spot. Ultimately, I went with McKinnon because of Kyle Shanahan's history with how he's used his primary backs and the lack of competition for touches. I'm justifiably concerned about his ability to hold up over a full season of 250+ touches, but when in doubt, chase the touches and targets.
Dropped: Mark Ingram (suspension), Carlos Hyde (signed with Browns, who drafted Nick Chubb and have Duke Johnson), Derrick Henry (Titans signed Dion Lewis)
My Projected Consensus Top 24
1.1 Todd Gurley
1.2 Le'Veon Bell
1.3 David Johnson
1.4 Ezekiel Elliott
1.5 Alvin Kamara
1.6 Antonio Brown
1.7 DeAndre Hopkins
1.8 Saquon Barkley
1.9 Odell Beckham Jr.
1.10 Kareem Hunt
1.11 Leonard Fournette
1.12 Julio Jones
1.13 Michael Thomas
1.14 Dalvin Cook
1.15 Melvin Gordon
1.16 Davante Adams
1.17 A.J. Green
1.18 Keenan Allen
1.19 Christian McCaffrey
1.20 Devonta Freeman
1.21 Mike Evans
1.22 LeSean McCoy
1.23 Rob Gronkowski
1.24 Jerick McKinnon