This is my fifth year reviewing the July PPR Mock. With every year of experience playing this game that we love, I learn more. I learn new things; new concepts; new ideas. I learn some things I didn't even know were there to learn. But one thing that's remained constant over the years is the value and purpose of mock drafts. I wrote the following two paragraphs back in 2015 as an intro, but I doubt anyone will remember that. So here they are again to get your mind focused on the information to come.

Editor's Note: You can view the full FFToday July PPR Mock resuts here.

I once had a friend ask me what the point of a mock draft is. Much of the excitement and enjoyment of a draft is eyeing that player you want and actually being able to select and root for him all season. A mock is not real. You don't actually own any of those players. And it's not like your actual drafts will mimic your mock drafts. This attitude made me realize that many people do not understand the underlying purpose of mocks – to educate you.

This article is going to discuss one mock conducted in July, roughly six weeks before the heart of draft season. A lot is going to change between now and then. Player perception will change. Player value will change. ADPs will rise and fall. Players will get injured. Your actual draft will look much different than this mock that I am about to discuss. So what's the point of discussing it at all? When reviewing this particular mock and reading this article, remember to focus on the concepts; focus on the why, not the what or the who. Let's get to it.
1. There's a clear divide in the first round between running backs and wide receivers.
The first six picks were all RBs. Five the next six picks were WRs. I wrote my July draft strategy article prior to reviewing this mock where I discussed this exact dichotomy between the top five picks in round 1 and the bottom seven picks. The top five in every league should be running back selections. After those RBs go, the back half of the first round should favor WRs because the remaining RBs, while safe, have some question marks; enough questions marks to tip the scales in favor of the WRs that are bust-proof. I will delve deeper into the strategy of picking in the back half of round 1 in my August draft strategy article, but it's clear that the participants of this mock already understand this concept.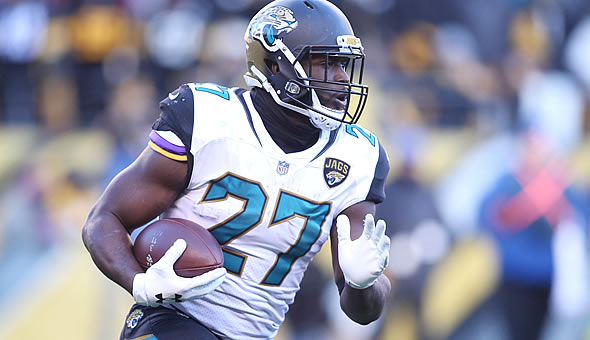 2. The return of the mid-round RBs.
For the past two or three seasons, rounds 3-6 have largely been a wasteland at the RB position. Using 2018 as an example, some notable RBs going in those rounds were Kenyan Drake, LeSean McCoy, Alex Collins, Jay Ajayi, and Royce Freeman. In this yearís mock, there are a plethora of third and fourth round RBs with legitimate RB1 upside. Leonard Fournette, Damien Williams, Derrick Henry, Aaron Jones, and Devonta Freeman all went in the third round in this mock. I intentionally excluded Nick Chubb because I have no idea how he made it out of the second round. Donít expect that to happen in August. In 2018, it was imperative to come out of the first two rounds with at least one RB. That is not the case in 2019 due to the quality of the mid-round RBs.
3. Three TEs were selected in the first two rounds.
The last time we saw more than one tight end drafted in the first two rounds was literally never (disclaimer: I only went back as far as 2006). While Zach Ertz and George Kittle usually slip into round three, the fact remains that we have three elite players at the position this year, which has never happened before. I must caution against the selection of Ertz and Kittle as attempting to gain positional advantage at TE hasnít really worked out historically. Travis Kelce was a low-end WR1 last year so he is justifiable early pick, but Ertz and Kittle both have regression concerns (Ertzís volume and Kittleís efficiency) that should give fantasy owners pause before selecting them over their WR and RB counterparts.
4. Only four owners doubled up at the same position in the first two rounds.
The Football Guru and Matt Mueller went RB-RB while Remote Controller and Robb went WR-WR. I donít think we will see much consistency in this type of approach from draft to draft. With the caliber of talent available in the second round this year, RB-RB, WR-WR, and one of each are all viable plans of action. You can even throw TE Kelce in there as a plausible approach. More so than in previous years, you can just take the highest player on your board and not worry about positional scarcity. It is important to note that the format of this mock has no flex, though, which makes RB-RB a bit riskier as it does pigeonhole you into going WR heavy after round 2 if you go RB-RB.
5. In a turnaround from last yearís mock, this yearís drafters avoided rookie hysteria.
RB Josh Jacobs was the first rookie off the board at 5.04. While that is much later than he will go in real drafts, Jacobs is going to be the first rookie drafted in every league. RB David Montgomery is typically next, as he was here at 5.10. Iíve seen him go as high as early fourth round, which is absolutely ridiculous. I would not take him at 5.10, but that is a much more reasonable slot than anywhere in the fourth round. In total, 13 rookies were selected with more than half (7) taken in the double-digit rounds. That is quite the turnaround from last season when more than half of the rookies were taken in the single-digit rounds.
6. Three teams did not draft a single WR in the first three rounds.
For Frozenbeernuts, it worked out pretty well given he got a top five WR in the fourth round. But we canít count Tyreek Hill since this mock was conducted before we received the no suspension ruling from the league. For Iceman, it was an unmitigated disaster. In a format where you must start three WRs, having Brandin Cooks as your WR1 is fine and I can even live with Robby Anderson as a WR2, assuming the rest of the team is strong. Unfortunately, Iceman has to start Marquez Valdes-Scantling, NíKeal Harry, or Devin Funchess at WR3. That is a massive problem. As it turned out, drafting four RBs in a format where you can only start two before selecting a second WR is not a good idea. If this were a real league, Iceman would be furiously texting his fellow owners trade proposals to move an RB for a WR. Matt Mueller has a similar issue that he should have exacerbated by taking Patrick Mahomes and Evan Engram before his WR2, but he somehow got away with Calvin Ridley at 6.08, Will Fuller at 7.05, and Sterling Shepard at 8.08. He can make that work. I would like both of their teams much more if that third WR spot was a Flex. Know your league settings!
7. For the second consecutive year, the Patriots had the most players drafted with nine.
But they were not alone. Both Los Angeles teams saw nine players drafted as well. The Rams and Patriots both got to nine without a TE being taken from either team. All three teams had 3 RBs drafted. For the Rams, Darrell Henderson and Malcolm Brown are being taken due to concern over Todd Gurleyís knee. For the Chargers, only Austin Ekeler would have been taken behind Melvin Gordon, but by the time this mock concluded, news of Gordonís holdout had surfaced, making Justin Jackson a necessary late-round pick. For the Patriots, there are always three Patriots backs selected. James White remains a steady PPR option while Sony Michel and Damien Harris vie for early down and goal line duties. Michel is the clear favorite, but, like Gurley, concerns over his knee also make Harris a necessary pick. Whoever has that role in New England is a strong RB2. Give me the cheaper guy.
8. QBs went a bit earlier than they should.
Three QBs were gone by the end of round 4, but that wasnít as problematic as the seventh round guys. Drew Brees, Matt Ryan, and Carson Wentz are all fine fantasy quarterbacks. I am not sure why Brees, who is on the lowest volume passing offense of the three, went first, but heís still Drew Brees. The real issue is that Kyler Murray and Russell Wilson went in the 9th round, Jared Goff and Ben Roethlisberger went in the 10th round, and Lamar Jackson and Dak Prescott went in the 12th round. There are so many viable starting QBs this season that itís just not necessary to burn a pick before the eighth round on a QB. Passing on high upside RBs and WRs in favor of a quarterback that is the same caliber fantasy option as those available multiple rounds later is not a winning strategy. Wait on QB!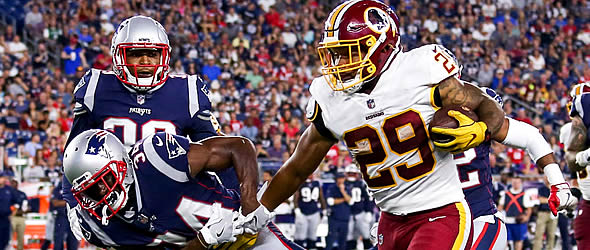 9. Draft position of these four particular players...
Chris Carson. Robb took Carson at 4.04, which is kind of insane. That is more than a full round above his ADP, which I expect to drop as we get closer to the season. I know Pete Carroll loves Carson for some unknown reason, but Carson is not better than Rashaad Penny. Maybe the Seahawks front office is so incredibly incompetent that it will not only burn a first round pick on a running back, but also proceed to not play him. The more likely scenario is that Penny takes the job from Carson sooner rather than later. Even if he doesnít, Carson has a low ceiling and the presence of Penny makes Carson an incredibly risky pick in the early 4th round.

Tyreek Hill. It goes without saying that Frozenbeernuts got the steal of the draft at 4.05. Obviously he didnít know at the time how well this would work out. With Hill seemingly in the clear (you never know with him or with Roger Goodell), he resumes his position as one of the best WRs in the game. You can now find him right around the first/second round turn where he belongs, and heís a great pick at any spot after the top five picks.

Derrius Guice. Robb took Derrius Guice at 5.09 and my head damn near exploded! Iím not entirely sure Guice belongs in the single digits or even ahead of Adrian Peterson. Guice has yet to play an NFL snap due to his preseason ACL tear, which resulted in multiple corrective surgeries. Think about all of the red flags on Guiceís profile. Heís got the complications with his knee and the recent hamstring injury (similar to what happened to Dalvin Cook in his recovery last season). The Redskins drafted Bryce Love (he wonít play this year, but the selection of him at all is a bad sign). They resigned AP, who is going to start and see the bulk of the carries early in the season at the very least, if not the entire year. Chris Thompson is still around to take passing down work, further limiting Guiceís upside. And finally, Guice is on the Redskins, who project to be one of the worst offenses in the league. Their QB will either be journeyman Case Keenum, or rookie Dwayne Haskins. That QB will be throwing to arguably the worst set of pass catchers in the league. Teams that canít throw canít sustain drives. If a team canít sustain drives, that team is not going to score a lot of points. Guice isnít even guaranteed to handle the goal line carries on the rare occasions the Redskins find themselves in scoring position. 5th round picks are far from sure things, but Robb did himself no favors by drafting Guice.

DaeSean Hamilton. Hawkeye21 grabbed Hamilton at 15.11. That is the latest Iíve seen him go. Hamilton closed out the 2018 regular season with target counts of 9, 12, 9, and 8. He could be a real PPR weapon this season with a great shot at a top 36 finish. I am not buying that Emmanuel Sanders is going to be ready for Week 1 or capable of staying on the field for the entire season. Hamilton is going to have more opportunity than his ADP suggests. Great pick.
10. Remember that every mock is different.
Take a look at the June mock compared to this one and you'll see how very different they are. You can and should try different strategies and approaches. See what works and what does not. See what you like and what you do not like. Even if you disagree with everything I've written, you can still learn from it. I hope reading this article helps you as much as writing it helped me.