Much like the real game in any team sport, complementary players on a roster often decide fantasy championships. Certainly, an epic 200-yard rushing/receiving performance or a three-score effort from someone like Jonathan Taylor or Davante Adams gives their fantasy managers a distinct advantage in that week's matchup, but those kinds of outbursts are relatively rare.

Thus, it makes sense to look at a few players that are most likely considered complementary options on our fantasy rosters and discuss if they are worth trusting as most leagues enter the first round of the fantasy playoffs. Most NFL teams have at least one such player, but I want to discuss six in particular before finishing with some reader questions as we all attempt to survive and advance.

Davis is a wildly fascinating study as it relates to the psychology of fantasy managers. By virtue of being a top 50-60 of many drafts this summer, most of the fantasy community viewed him as a solid RB2 option with RB1 upside that could be had on the cheap. An RB2 capable of regularly reaching double-digit fantasy points is generally a satisfactory pick at worst, yet it took fantasy managers less than a month into the season to decide Davis was a bust despite reaching that benchmark in each of his first five games. The rise of Cordarrelle Patterson obviously had something to do with him being labeled as a disappointment. Davis was dropped in many leagues once his workload was reduced during the bye-week crunch.

Perhaps the biggest problem in the eyes of fantasy managers is that they want the process of how a player gets his fantasy points to be more appealing. (Taysom Hill is a prime example of this phenomenon.) Davis is not necessarily an aesthetically pleasing runner to watch, nor has he shown much upside all year. (Then again, when in his career has he ever shown he has a lot of upside?) Fantasy managers who were duped by Toby Gerhart years ago (elevating a player's stock based mostly on the belief that he will have a heavy workload mostly and the team lacks any other realistic option) have seen this happen before. The Falcons began to find their timing in the running game in Week 12 against the Jags, which has allowed Atlanta to sustain more drives and, by extension, run more plays. Unsurprisingly, Davis has watched his volume pick up over the last three games even as Patterson continues to lead the backfield. Despite facing the Bucs and Panthers over the last two games, Davis has delivered his two best fantasy point totals as a Falcon. Perhaps the best part of Davis' recent surge is that his activity in the passing game has returned to pre-bye levels, and he has responded by returning low-end RB2 production.

Can we trust him during the fantasy playoffs? The worst is over, especially from a matchup perspective. Tampa Bay (Week 13) and Carolina (Week 14) were arguably the two most difficult run defenses left on Atlanta's schedule. Assuming managers don't expect more than the 10-15 points he has provided in eight of 13 outings, he should be a fine option for those managers who need a flex option with a decent floor.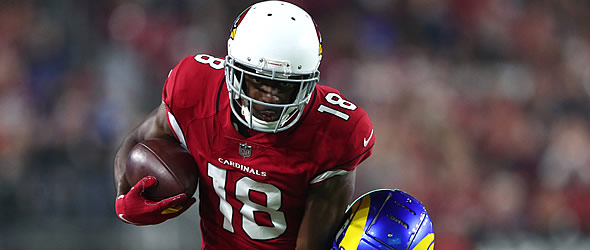 Wednesday's news (Dec. 15) that DeAndre Hopkins is likely to miss the rest of the regular season makes Green easier to trust than he was 24 hours earlier. No, Green was not wildly productive with Hopkins sidelined earlier this season. Yes, Arizona has spread the wealth in the passing game for most of the season. Yes, Green's Week 14 eruption (7-102-0) had as much to do with the Rams' COVID-19 issues as anything. With that said, Arizona has moved away slightly from spreading the wealth in the passing game in recent weeks - injuries have played a role in that - and no longer enjoys the cushion it once did for the No. 1 seed in the NFC. Putting away Detroit in Week 15 may not be a difficult task, but the Cardinals will likely need to lean more on the passing game against the Colts (Week 16) and Cowboys (Week 17) to win those games. They haven't shown much interest in establishing Rondale Moore, while Christian Kirk or Zach Ertz have been a bit too hit-or-miss lately.
Can we trust him during the fantasy playoffs? Trust is a strong word, especially at receiver where there are typically starting-caliber options left on the waiver wire even entering the fantasy playoffs. However, trust in fantasy is largely about expectations. Can Green attract seven-plus targets consistently with Green out of the lineup? Definitely. That kind of volume alone puts him into the WR3 conversation. Maybe Kirk or Ertz will be the biggest beneficiary of Hopkins' absence, but it is conceivable that a big-bodied receiver such as Green can and will break his six-game touchdown drought with a pair of scores over the next 2-3 weeks. I was able to snag him in two of the three leagues in which he was a free agent this week. Whether I start him or not will depend on each team's health, especially in light of the league's recent COVID outbreak.
Twitter could not go a day without talking about Davis last year. This year, the Davis hive has not been buzzing much. There are obvious reasons for that, but Week 15 presents fantasy managers with a bit of a dilemma. Emmanuel Sanders is unlikely to play this weekend due to a sprained knee, which should bump Davis into the starting lineup as the second perimeter receiver opposite Stefon Diggs. The problem with Buffalo is that despite how pass-heavy the offense has become, Diggs, Dawson Knox and Cole Beasley still rank higher in the pecking order. Prior to last week's five-catch effort (on eight targets), the most targets Davis saw in a game in 2021 was five. Considering the second-year wideout's targets are typically more of the downfield variety and Josh Allen averages 38 throws per game (not 54, as was the case against the Bucs), it makes the former extremely volatile in fantasy.
What has become clear throughout their time together is that Allen loves targeting Davis in the red zone. Not only does Davis have four TDs on 24 receptions (and 37 targets) this year, but the UCF product has scored on all three of his catches inside the 10. The best part: he has been a solid WR3 option most of the time when he has been allowed to be a full-time player. Davis had a nice little run near the end of last year filling in for an injured John Brown and also stepped in nicely for Sanders last week (5-43-1) after the veteran left with a knee injury in the first quarter.
Can we trust him during the fantasy playoffs? There is no denying that Davis is a threat to score a touchdown any time he is on the field. The problem is that he rarely sees enough volume to pay off if he doesn't get that score. While he has shown plenty of promise in his brief Bills' career, he has yet to top 18.7 fantasy points (Week 17 last season). His high-water mark in 2021 came last week (15.3). That kind of production is nothing to balk at, but it becomes a bit more troubling when we consider the Bills face the stingy pass defenses of the Panthers and Patriots in the first two weeks of the fantasy playoffs. The combination of low volume paired with needing a touchdown and multiple big plays for Davis to "hit" in a given week is a bit more risk than I want from a potential starter in the fantasy postseason.
There is not much to like when looking at Fields' raw production: 57.6 completion percentage, six passing TDs versus 10 interceptions, three of nine starts with more than 200 yards passing, etc. But as most of us know with athletic quarterbacks, efficiency is not as important when mistakes can be overcome by above-average production on the ground. In his three (mostly healthy) starts since his nightmarish five-turnover outing against the Bucs in Week 7, Fields has averaged 230 yards passing, 74 yards rushing and topped 20 fantasy points each time. That may not be the stuff of legend, but a floor of 20 fantasy points is going to keep managers in most games.
Can we trust him during the fantasy playoffs? Not loving that "trust" word again, but none of Chicago's last three opponents during the fantasy season (Vikings, Seahawks and Giants) strikes much fear into a dual-threat option like Fields. While the rookie's upside is limited to a degree because of the coaching staff's inability to put Darnell Mooney, Allen Robinson and Cole Kmet in positions to win consistently, it says something about the No. 11 overall pick that he has posted 20-plus fantasy points against the 49ers, Steelers and Packers. It may not always be pretty (he gets caught staring down his receiver too often, for example), but I would prefer starting Fields over players like Carson Wentz, Taysom Hill and maybe even Dak Prescott (who is not healthy right now) this week.
Say hello to the new Jarvis Landry. With back-to-back 12-target games on his resume - due in part to a passing game that has averaged 40 throws per game during St. Brown's emergence (as opposed to 24 in the two games following the team's Week 9 bye) - we are seeing a slot receiver getting the breakout most of us expected this summer. It is not a coincidence this shift has occurred since D'Andre Swift has been sidelined, but his absence has allowed Detroit to find at least one receiver capable of getting open. Swift seems unlikely to play again this week, and there is speculation he may not return this season. Bringing him back would only add more miles to his career odometer and lessens the odds of the Lions getting the No. 1 overall pick in April.
Can we trust him during the fantasy playoffs? While Swift's absence is not the only reason why St. Brown has taken off in recent weeks, it is likely the primary one. Josh Reynolds' arrival may not have sent a seismic shock throughout the league, but he is a respectable vertical threat that defenses have to account for at the very least. When a team like Detroit is in negative game script as often as it is and loses its top two threats in the passing game (Swift and T.J. Hockenson), it is only natural that the primary slot receiver stays busy. Defenses holding two-score leads are more than happy to give up small chunks of yardage between the 20s if it means they can knock five minutes off the clock. Barring a complete collapse from Jared Goff in any of the next three games, St. Brown's volume floor should hover around 10 targets. It also helps the rookie's cause that Arizona (Week 15) and Atlanta (Week 16) occasionally have issues defending the slot.
Yes, we have reached that point with last year's waiver-wire darling. A player can sometimes overcome the lack of talent surrounding him with volume. Such is rarely the case when the supporting cast AND coaching/personnel usage is in question. Jacksonville is not helping its cause by struggling to maintain drives (55 and 51 plays run over the last two games), which is part of the reason why the 23-year-old has single-digit touches in those outings. However, some of not being able to maintain drives is a team not giving the ball to its best players. Even if the Jaguars are struggling to run enough plays to score 20-plus points, a team that has lost D.J. Chark, Jamal Agnew and Dan Arnold (and cannot seem to get Marvin Jones enough targets to be consistently productive) should not struggle to get someone like Robinson the ball at least 15-18 times per game.
Can we trust him during the fantasy playoffs? Frustrated Robinson managers may not be taking much for granted these days, but news of HC Urban Meyer's firing late Wednesday night provides hope for those poor souls. Nothing should be taken for granted, but interim HC Darrell Bevell should be able to stick with Robinson in upcoming matchups against the Texans (Week 15) and Jets (Week 16) after showing an undying devotion to the running game in his previous stops in Seattle and Detroit. Not only are Houston and New York mostly inept on offense, but the run defenses for both squads are also among the worst in the league. Perhaps an even more comforting thought for Robinson's supporters is that the worst point total any lead back has posted versus the Jets is Rex Burkhead's 8.4 in Week 12. The second-worst mark for a lead back since the bye? Matt Breida's 18 points in Week 10. As for the Texans, Austin Walter's 9.8 fantasy points in Week 12 is the lowest lead-back mark against them since Week 5. Houston also just gave up 137 yards and two touchdowns to Rashaad Penny, so a two-week surge is more than possible for Robinson.
****************
The goal of fantasy columns should always be to help readers make good lineup decisions. While I will never claim to get 'em all right, I can assure you the ones I get wrong are not due to a lack of thought or consideration. With the fantasy playoffs beginning this week and running through Week 17 in most leagues, I thought I would devote the rest of my time this week to answer lineup questions (assume PPR scoring unless otherwise specified):
Nomad99: Austin Ekeler, Aaron Jones, Darrell Henderson and Cordarrelle Patterson. I have Sony Michel on the bench and picked up Antonio Gibson a month ago. Henderson and Jones (appear) to be in more of a timeshare than earlier in the season. I will obviously start Ekeler every time.
Out of Henderson and Jones, who is the safer start in the playoffs? Patterson is a dual designation in my yahoo league. I also have an open bench spot and both Ekeler's back-ups are available ... which one is the better pick?
(0.5 PPR with bonus for 40+ yd run/reception & 40+ yd TD. I also have 1 RB/WR flex spot & 1 WR/TE flex spot.)
I get the distinct sense that Jones is at about 80-90 percent and Green Bay likes the idea of saving him for the postseason. It is a good option to have, especially when the Packers have stated they like making defenses tackle A.J. Dillon (and his 240-plus pound frame) late in games. I donít think Henderson will lose much work to Michel - whether I think he should or not is meaningless here - primarily because there have been enough reasons to make a change in the backfield distribution before now and it has yet to occur. A respectable two-game run by Michel against the Jags and Cardinals does not seem like enough to turn the tide.
If Henderson is cleared, I would expect a 55:45 carry split at worse for Henderson, who would also handle most of the work on passing downs. Jones has been one of the most efficient backs in the league since becoming a full-time starter in 2019, but how can fantasy owners trust him to be a solid RB1 (or even RB2, in this particular situation) if he hasn't topped 12 touches in his last four games? Especially in the first week of the fantasy playoffs with Jones facing the Ravens and Henderson up against the Seahawks, I would trust Henderson if he plays. I would go with Gibson over both of them, especially if J.D. McKissic (concussion) still isn't ready.
Backing up stud running backs during this time of year is highly encouraged most of the time, but it would take a VERY deep league for me to back up Ekeler. While my preferred option would be Justin Jackson if I had to go that route, I say that with little confidence.
Cavern: If Lamar Jackson plays, do we play him? Or do we go with another option like Tua Tagovailoa or Russell Wilson?
A mostly healthy Lamar Jackson has accounted for exactly one touchdown in nine of 12 games this season. Think about that for a second. In 75 percent of his games this year, he has essentially been the equal of Justin Fields recently. Now, if we introduce last week's ankle injury into the equation, I think it is more than fair to trim at least half of his usual rushing production (64 yards) from his projection. Furthermore, the Packers (Baltimore's Week 15 opponent) have done a fine job limiting the production of dual-threat quarterbacks for most of the year and have a sneaky good defense to boot.
Wilson's recent play would suggest he is the best answer to this question, but he has been unable to solve the Rams in each of his last five starts against them. We have to go back to Week 5 of the 2019 season to find the last time Wilson threw for at least 200 yards AND accounted for more than two touchdowns versus Los Angeles. While a case can be made that he has faced three different defensive coordinators in those five games, the primary reasons (Aaron Donald and Jalen Ramsey) that Wilson struggles against the Rams remain on their roster.
This brings us to Tagovailoa. Miami's utter inability to establish a rushing attack in most of its games - and all three of its backs being on the COVID list as of Dec. 15 - suggests Week 15 had better be Tua Time. Because he lacks the rushing upside of Jackson and Wilson, what we are hoping for from Tagovailoa is three TD passes. The last quarterback to reach that number against the Jets (Miami's Week 15 opponent) was Carson Wentz in Week 9. That is the bad news. The good news is that New York has faced Tyrod Taylor, Gardner Minshew and Taysom Hill since it last saw Tua (273 passing yards and two touchdowns in Week 11). Unlike the first meeting, Tagovailoa should have his main passing-game weapons available this weekend. Given the lack of options at running back this week and advantages Miami should have in the passing game, I like Tua over Jackson and Wilson.
Weepaws: James Conner, Devonta Freeman, Sony Michel, Javonte Williams. (Standard scoring)
Conner was hurt on the final play of the Cardinals' Week 14 loss to the Rams and began the practice week with a DNP, so we should assume he will be questionable at best for Week 15. If the next game was against just about anyone else other than the Lions, I suspect the team would try their best to get Conner ready. Especially with Chase Edmonds expected back this week, there should be no reason to push Conner. While I do not expect him to be ruled out against Detroit, it also would not surprise me if he sits. Even if he plays, I expect him to be limited.
While Freeman has been productive enough since Week 5 to justify a starting spot in fantasy most weeks, a fair amount of that production has come as a result of the threat Lamar Jackson presents with his legs. There is a decent chance Jackson will not be around to provide that threat in Week 15. Even if he is, Green Bay's defense has been stingy enough against running backs to believe Freeman will not go off.
Michel has a huge upside this week against a Seattle defense that has been almost as bad against running backs as the Jets. However, two things are working against him here:
1) An inordinate amount of the fantasy points the Seahawks have allowed to running backs have come in the passing game. The Rams' running backs rank last in the league in receptions and receiving yardage.
2) Darrell Henderson should be back this week. As I alluded to earlier, Michel has earned more work, but was it enough to sway HC Sean McVay's mind and make this a split backfield? Unlikely.
This leaves us with Williams. After trying to utilize its plethora of talented receivers for the first half of the season, Denver has leaned much more heavily on its backfield since Week 7. Only twice since that loss to Cleveland have the Broncos attempted more than 28 passes (both double-digit losses). In its four wins over that stretch, Denver has averaged 26 pass attempts. By contrast, Broncos' running backs have averaged 27 touches in the losses and 35 in the wins.
Like the Seahawks above, an inordinate amount of running back production against the Bengals (Denver's Week 15 opponent) has been through the air. With Melvin Gordon back to take half of the backfield work and the Broncos not likely to air it out against what has been a good run defense, I would expect Williams to have his worst statistical performance in nearly a month.
Does it mean I would bench him for an injured Conner, an aging running back without his dual-threat quarterback or a runner likely on the wrong end of a committee? No.
Weepaws: AJ Dillon, Melvin Gordon or Tony Pollard?
Let's take Pollard (foot) out of the conversation right away. One week is not enough for a player to heal significantly from a torn plantar fascia. While it is possible he could play in Week 15, it is hard to understand why he would. The Cowboys shouldn't need him against the Giants and hold a three-game division lead over the Football Team. Pollard may be better off not playing again during the regular season, but such a decision seems unlikely given how the Cowboys have let Ezekiel Elliott play through a knee injury that is clearly bothering him.
Dillon has been the Packers' workhorse for more than a month, but I'm not sure that makes him a must-start. First and foremost, Aaron Jones could be restored to lead-back duty at any point. Perhaps more importantly this week, the Ravens have been very stingy against running backs since Jonathan Taylor stung them for 31.9 points in Week 5. Part of the reason for that stinginess is Baltimore is usually very stingy against the position. The other part of that is the Ravens' secondary is so beat up at this point that opponents have little reason to grind out games against Baltimore. This week projects much more to be another Aaron Rodgers and Davante Adams explosion game.
As discussed in the previous question, Cincinnati is not a great matchup for Javonte Williams or Gordon. However, both the Broncos and the Bengals have established they prefer to set a physical tone on offense. During Denver's 4-2 run since Week 7, Gordon has handled at least 18 touches three times in five games and fewer than 13 touches only once. That is enough to give him a solid floor most weeks. It is also enough reason to start him over Dillon and Pollard.
Mike FF Today: Taysom Hill or Jimmy Garoppolo? (All TDs worth six points, no penalty for turnovers)
This is a great question that has multiple layers.
Let us begin by looking at Hill's weekly finishes in his six NFL starts at quarterback (in order): QB11, QB14, QB7, QB9, QB7, QB7
The overwhelming majority of NFL fans and fantasy managers believe Hill is more of a sideshow that must have some incriminating evidence on HC Sean Payton to get a huge extension, much less keep a job in the NFL. Nevertheless, he has accounted for exactly two touchdowns in all six starts and passed for at least 232 yards in four of them. Last season (with Michael Thomas to draw some of the attention away from the running game), Hill averaged 52.3 yards rushing. In two starts this year (and with nothing outside of Alvin Kamara to threaten defenses), that number is 87.
At first glance, Tampa Bay (the Saints' Week 15 opponent) appears to be the most formidable opponent Hill has faced. That may be true, as Hill's starts have come against the Falcons (twice in 2020), Eagles (2020), a Broncos team that started a receiver at quarterback (2020), Cowboys (2021) and Jets (2021). However, there are at least two reasons why the Bucs may not be the defense that stops the Hill train.
1) Payton is among the best game-planners and play-callers in the league and has been for some time. He has also fared exceedingly well against Tampa Bay DC Todd Bowles' defenses. This season, the combination of Trevor Siemian and Jameis Winston gouged Tampa Bay for 24.8 fantasy points in a Week 8 victory with a supporting cast not unlike the one the Saints have now. Drew Brees and Hill combined for 38 fantasy points in a Week 9 rout last year. Teddy Bridgewater and Brees each had eruption games against Tampa Bay in 2019.
2) For all of their success against rushing attacks again this season, mobile quarterbacks have enjoyed a lot of success against the Bucs. Even if we forget about Josh Allen's 39.2-point effort last week because he is "elite" and Hill is not, Jacoby Brissett (19 fantasy points) and Jalen Hurts (25) did more than enough to justify being in fantasy lineups.
Garoppolo's matchup against the Falcons is a good one on paper as Atlanta ranks as the second-best matchup for quarterbacks. However, Tom Brady (in three of his last four starts against them) is the only quarterback to throw for 300 yards versus the Falcons since Drew Lock did so in Week 9 of last season. Thanks in large part to George Kittle, Garoppolo has played some inspired ball of late, throwing for at least two TDs in five of his last six outings. That's the good news.
The bad news is that HC Kyle Shanahan will not hesitate to take the air out of the ball in any game, especially those in which San Francisco is winning. The 49ers should win at home against Atlanta this weekend, which is not a good thing for Jimmy G. In San Francisco's seven victories this season, Garoppolo has averaged 27.3 pass attempts and 1.3 passing TDs. He has scored all three of his rushing touchdowns in those games to boost his bottom line.
If that is not enough, Atlanta could take another logical approach to crush Garoppolo's upside. A.J. Terrell - the No. 4 ranked cornerback in my Dirty Dozen article earlier this month - has enough size at 6-1 to shadow Kittle. With Deebo Samuel acting more like a change-of-pace running back these days, it would force Garoppolo to lean more heavily on Brandon Aiyuk. While that connection has heated up lately, it is not on the same level as Garoppolo-Kittle. Shadowing Kittle with Aiyuk would also encourage Shanahan to lean even more heavily on the running game.
There is no question Hill comes with risk this week, but he also possesses the most upside. Garoppolo is the safer play, but he is also less important to his offense. I would bet on Payton and his track record against the Bucs and lean ever so slightly to Hill.
---
Doug Orth has written for FF Today since 2006 and been featured in USA Today's Fantasy Football Preview magazine since 2010. He hosted USA Today's hour-long, pre-kickoff fantasy football internet chat every Sunday in 2012-13 and appears as a guest analyst on a number of national sports radio shows, including Sirius XM's "Fantasy Drive". Doug is also a member of the Fantasy Sports Writers Association.