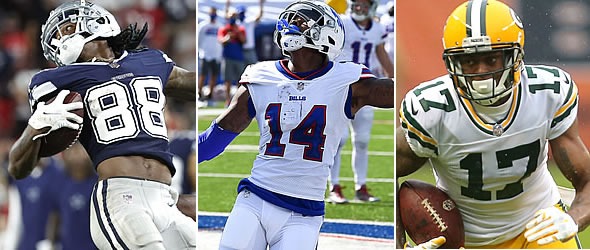 Here is the situation. You're on the clock in a 12-team, one quarterback, re-draft, full PPR league and unfortunately, you're drafting last. All the running backs you wanted are gone and you need/want a wide receiver, because it's still too early to draft a tight end or a quarterback. The consensus top-three picks; Cooper Kupp (ADP 4.9), Justin Jefferson (7.0) and Ja'Marr Chase (11.0) are off the board. Who do you choose? How do you determine … who is the No.4 wide receiver?

Let's begin with how to determine the best possible selection.

He needs to stay healthy. You can't score fantasy points from the press box. In 2021, every receiver in the top-10 played at least 16 games. In fact, of the top-25 receivers in total fantasy points last season, only Chris Godwin (14) played less than 16 games.

Unless you are a "freak of nature," (read Deebo Samuel) your receiver is going to need a very good quarterback willing to throw the ball early and often. Samuel became a de facto "hybrid" wide receiver/running back for the 49ers last season which skewed his production. For mere mortals, you need a quarterback who throws the ball about 572 times. That's the average of the quarterbacks who threw the ball to a top-five receiver the past two seasons. The floor over that period was Joe Burrow at 520 attempts.
Best Rookie WRs in the Last 20 Draft Classes
Year
QB-WR Combo
QB Atts
2021
Stafford-Kupp
601
2021
Rodgers-Adams
531
2021
Cousins-Jefferson
561
2021
Burrow-Chase
520
2021
Mahomes-Hill
658
2020
Rodgers-Adams
526
2020
Mahomes-Hill
588
2020
Allen-Diggs
572
2020
Murray-Hopkins
558
2020
Ryan-Ridley
626

The receiver is going to need a monster number of targets. The average of the top-five receivers over the past two seasons was 156.8 targets.



So now that we know what we are looking for, let's find the "next-best" receiver, who we can reliably draft at the end of the first round. I've started with the veterans.

Deebo Samuel (SF) – The receiver isn't happy with his current contract and asked to be traded before the April NFL draft, but that didn't happen and he's expected to show up at this week's mandatory minicamp. That's the good news. Being a hybrid WR/RB takes a lot out of the player and the chances of injury in this role are higher when getting hit by defensive lineman and linebackers as opposing to smaller cornerbacks and safeties. In 2020, he missed a game-and-a-half with a groin injury in Weeks 12-13. The 49ers also will continue to have quarterback questions until they trade Jimmy Garoppolo and install Trey Lance as the starter. Samuel could certainly repeat last season's production, but I'm a bit concerned about the health issue if they run him 7.8 times a game as they did from Week 11 through the playoffs.

Stefon Diggs (BUF) – Since being traded to Buffalo, he and quarterback Josh Allen have been a great duo. He's seen a consistent workload with 166 targets in 2020 and 164 in 2021. He's averaged 1,380 receiving yards and nine touchdown over that span. Will the emergence of Gabriel Davis and the addition of Jamison Crowder change those numbers? Probably not, as the team jettisoned Cole Beasley (112 targets) and Emmanuel Sanders (72 targets). He would be a solid choice with a very high floor.

Davante Adams (LV) – Adams finished second in 2021 with 344.3 fantasy points, surpassed only by Kupp's record-setting season. Adams also led all wideouts in 2020 with 360.4 points. But, of course, that was with Aaron Rodgers as his quarterback. This season he'll be catching balls from his old Fresno State quarterback Derek Carr. And Carr is no Rodgers. Carr has never thrown more than 32 touchdown passes in a season and has averaged just 3,962 passing yards per season. (As opposed to Rodgers who has averaged 4,214 and 34 touchdowns the past four seasons.) Can Adams average 11.5 touchdowns receptions in Las Vegas? Will he see the same target level while sharing the workload with a volume receiver like Hunter Renfrow and a top-five tight end in Darren Waller? The last time Adams had a very good receiver across from him was 2017 (a 32-year old Jordy Nelson) and he finished the season with 117 targets and ranked No.13 at the position (though he missed a couple of games due to injury). I still believe Adams is a top-10 receiver, but I don't think he'll be No.4.

Tyreek Hill (MIA) – The drop in quarterback play for Hill is going to be shocking. Tua Tagovailoa is no Patrick Mahomes. He's not even a Ryan Tannehill yet. First, in volume, Mahomes threw 668 passes last season and Tagovailoa just 388. Per game that is 38.7 vs. 29.8. And in arm strength. How many times did we see Hill running past defenders and Mahomes hitting him over the top over the past five seasons? I'm expecting a lot more short throws with Hill using his speed to make plays, but that was actually the case last season in Kansas City. Hill should still be a top-10, but he's not your play here.
Tyreek Hill
Year
Tgts
Rec
Yds
Yds/Rec
2018
137
87
1479
17.0
2019
89
58
860
14.8
2020
135
87
1276
14.7
2021
159
111
1238
11.2
CeeDee Lamb (DAL) – Lamb (ADP 19.5) should be ready for a huge season. With Amari Cooper in Cleveland (68-865-8) and No.3 receiver Cedrick Wilson in Miami (45-602-6), Lamb is the unquestioned No.1 receiver in Dallas. His No.2, Michael Gallup, isn't likely to start the season healthy after suffering an ACL tear in Week 17. That leaves newly-acquired, but inconsistent, James Washington and rookie third-round pick Jalen Tolbert out of South Alabama as quarterback Dak Prescott's other wide receiver options. Lamb's targets should be an all-time high which should get him close to, or over, the 156.8 level after averaging 115 in his first two seasons. At 160 targets (just three targets per game more) and keeping his career fantasy points-per-target average (1.924) he should produce 307 fantasy points which would have made him the No.5 receiver in 2021. He could easily be the fourth-best receiver.
Mike Evans (TB) – Talk about a high floor. In Mike Evans you get a receiver who has produced a 1,000-yard season in every year he's been in the league and with Tom Brady under center he's averaged 13.5 touchdown receptions. Chris Godwin is unlikely to start the season after a torn ACL in Week 15. The Bucs added Russell Gage (66-770-4) as insurance until Godwin returns and as a third receiver. Meanwhile, we have yet to see the return of Rob Gronkowski, but it's sure to happen before opening day. Evans should certainly produce another 1,000-yard, double-digit touchdown season, but top-five is a bit of a stretch as he's only done that once (No. 3 in 2016), but if Godwin's return is delayed, it's possible.
DK Metcalf (SEA) – Metcalf has the talent to be an elite receiver, but in 2021 he won't get the quarterback play. Neither Geno Smith, nor Drew Lock and Jacob Eason are good enough to help a wide receiver be top-five. The Seahawks will be a run-first team in 2022. Smith, who started three games in 2021 for an injured Russell Wilson averaged under 200 yards passing and 1.3 touchdown passes per game. Lock, in Denver where ironically Wilson will be playing in 2022, averaged 187 yards per game in three starts. I've downgraded Metcalf significantly in 2022.
A.J. Brown (PHI) – Brown and quarterback Jalen Hurts were friends even before being teammates, but that won't make Brown a top-five receiver. Hurts won't throw enough to support all the options the Eagles have with Brown (63-869-5 in Tennessee), DeVonta Smith (64-915-5) and tight end Dallas Goedert (56-830-4).
Keenan Allen (LAC) – Allen is one of the most consistent receivers in the league. In the last five years he's averaged between 16-17.8 fantasy points per game with four 1,000-yard seasons (he missed in 2020 by eight yards). But he's not a touchdown-maker averaging only 6.4 per season over that five-year span. That won't suddenly change with Mike Williams still around (26 TDs last four seasons). He's a solid fantasy option, but not elite.
Tee Higgins (CIN) – Higgins is the one of the best No.2 receiver on any team, but, barring injury, he'll always be limited by Chase. Higgins (ADP 35) is actually going ahead of a lot of other team's No.1 receivers, but that's likely due to media overhype. He'll be a solid fantasy pick later on, but certainly not a top-five fantasy wideout.
We should also look at a couple of incoming rookies to see if there is a "next" superstar in the line that brought us Justin Jefferson in 2020 and Ja'Marr Chase last season.
Drake London (ATL) – London should see plenty opportunities, as he and tight end Kyle Pitts gobble up the majority of the targets. But high-quality quarterback play is an issue. New quarterback Marcus Mariota has never thrown more than 453 passes in a season or more than 3500 yards or more than 26 touchdown passes. In Mariota's two "big" seasons, with the Titans, no receiver ever saw more than 112 targets, though the quality of his receivers wasn't very good (Rishard Matthews, Tajae Sharpe, Eric Decker and rookie Corey Davis were the best of the lot). The Falcons will be behind a lot and need to throw often (their wins over/under is 5), but expecting an elite season for a Mariota-to-London duo is a pipe dream.
Treylon Burks (TEN) - Burks was brought in specifically to fill the shoes of traded wide receiver A.J. Brown. At 6-3, 225 lbs., he's built physically like Brown. He'll play opposite veteran Robert Woods, who is coming off a season-ending ACL injury. His quarterback, Ryan Tannehill, isn't a prolific passer in this Derrick Henry-led rush offense, but he threw enough that Brown produced consecutive 1000-yard seasons from 2019-20, but that was only good enough for 14th among wide receivers. It's possible that Burks can fill Brown's role, but he's not a top-10 receiver, let alone a top-five or No.4.
So the bottom line for me at the end of the first round, I'm choosing the man with the highest ceiling -CeeDee Lamb. But I'm a gambler. If you are the more conservative type, the correct answer is Stefon Diggs.