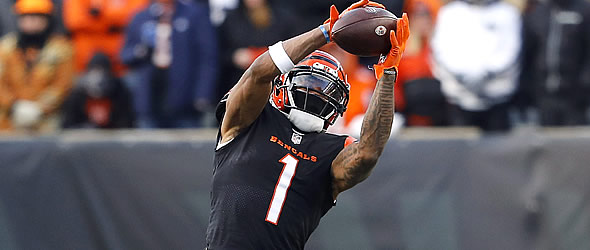 Before it was Ja'Marr Chase, it was "searching for a Justin Jefferson" and before that it was the next Randy Moss. But in truth, it began many, many years ago when a young prodigy by the name of Bobby Fisher stunned the world of chess. And in the 50 years since he became the World Champion (1972), whenever any young chess player shows talent, he's the "next Bobby Fisher." But it doesn't happen every year.

It's the same with receivers.

The rookie seasons of Jefferson (88-1400-7 in 2020) and Chase (81-1455-13 in 2021) were the outliers. They are not the norm. They don't happen every year even if they did just happen in consecutive seasons. But it doesn't stop fantasy owners from dreaming of drafting the "next" big-play receiver.

The year 2000 was the ultimate "pot of gold at the end of the rainbow" … Moss' rookie season. He caught 77 balls for 1437 yards and 15 touchdowns. His 311.2 fantasy points is still the record (though Chase was close).

Check the table below and see the best rookie receivers in each of the last 20 draft classes:
Best Rookie WRs in the Last 20 Draft Classes
Year
Player
Rookie Rk
Rec
Yds
TDs
FPts
2021
Ja'Marr Chase
5
81
1455
13
306.6
2020
Justin Jefferson
7
88
1400
7
270.2
2019
A.J. Brown
21
52
1051
1
217.1
2018
Calvin Ridley
20
64
821
10
208.8
2017
JuJu Smith-Schuster
22
58
917
7
191.7
2016
Michael Thomas
7
92
1137
9
259.7
2015
Amari Cooper
21
72
1070
6
214.7
2014
Odell Beckham Jr.
7
91
1305
12
297.0
2013
Keenan Allen
18
71
1046
8
223.6
2012
Justin Blackmon
29
64
865
5
182.8
2011
A.J. Green
17
65
1057
7
218.0
2010
Mike Williams
16
64
955
11
225.5
2009
Percy Harvin
24
60
790
6
188.5
2008
DeSean Jackson
31
62
912
2
180.8
2007
Dwayne Bowe
22
70
995
5
199.5
2006
Marques Colston
17
70
1038
8
221.8
2005
Reggie Brown
47
43
571
4
124.6
2004
Lee Evans
29
48
843
9
194.8
2003
Anquan Bolden
3
101
1377
8
290.7
2002
Antonio Bryant
44
44
733
6
157.3

As you can see, just five times in 20 seasons has a rookie wideout finished in the top-10 and only twice in the top-five.

So what will it take to be the No.1 fantasy receiver? Or crack the top-10?
2012-2021 10-year WR Averages
Pos. Rk
G
Targets
Rec
Yds
TDs
FPts
No. 1
15.7
173.6
120.5
1621
12.1
355.8
No. 10
16.0
132.1
85.6
1141
9.3
258.2
Now that we know what it will take to be a top-10 receiver, can we find one among this year's rookie class? In other words, what rookie can put up 85-1141-9 this season?
Let's take a look.
Drake London, Atlanta – London certainly has long-term potential, but his 2022 fantasy value is what we are looking at here. With all the big-name receivers of the Falcons' past gone (Julio Jones, Calvin Ridley and Russell Gage), London should certainly not lack for targets. He and second-year tight end Kyle Pitts will likely lead the team in targets, but new quarterback Marcus Mariota has never thrown more than 453 passes in a season or more than 3500 yards or more than 26 touchdown passes. In Mariota's two "big" seasons with the Titans, no receiver ever saw more than 112 targets. That's at least 20 less than the average needed to be a WR1. And while there doesn't seem to be any question about London's 50-50 ball skills, getting off the line and getting separation in the NFL is a lot tougher than in the PAC 12. I do not see London being the "next" Ja'Marr Chase.
Garrett Wilson, New York Jets – Wilson joins a young offense with a second-year quarterback in Zach Wilson and two other quality receivers (Corey Davis and Elijah Moore). The quarterback struggled in his first season throwing for just 2334 yards and nine touchdowns on 55.6% completions. In the off-season the Jets added the first running back selected in the 2022 draft (Breece Hall at No.36) to go along with last season's fourth-round pick Michael Carter (147-639-4). It feels like the Jets want to reproduce a run-first offense like Head Coach Robert Saleh watched as a DC in San Francisco. If that's the case, Wilson, Davis and Moore will evenly split the pass-receiving work and Garrett Wilson also won't be the "next" Chase.
Chris Olave, New Orleans – When quarterback Jameis Winston first came to the NFL in 2015 for Tampa Bay he was a prolific passer, throwing for more than 4000 yards in each of his first two season. He threw for 5109 yards and 33 touchdowns in 2019 (but also tossed 30 INTs). His 2021 season began well as the Saints went 5-2 under his leadership and he threw 14 touchdown passes to just three interceptions, but he also threw less, averaging just 167 passing yards per game. Can Olave produce as the second option assuming Michael Thomas returns to full health? Probably not. Is he the second option with the recent signing of Jarvis Landry? Yes, he still is. If Thomas isn't ready to go, then Olave might have a shot … but it would be a very long shot.
Jameson Williams, Detroit – No. He's a great add for dynasty leagues, but he isn't expected to be ready to start the season after tearing his ACL in January. I'd expect, at best, he'll miss the first four games in which case the numbers needed won't be possible.
Jahan Dotson, Washington – No. Not because he doesn't have talent, but because he's going to be the No. 2 receiver behind Terry McLaurin. Also, his new quarterback, Carson Wentz formerly of Philadelphia and Indianapolis, has never had a 1000-yard wide receiver in his entire six-year career. He's had a 1000-yard tight end … once (Zach Ertz).
Treylon Burks, Tennessee – Burks was brought in specifically to fill the shoes of traded wide receiver A.J. Brown. At 6-3, 225 lbs., he's built physically like Brown. He'll play opposite veteran Robert Woods, who is coming off a season-ending ACL injury. His quarterback, Ryan Tannehill, isn't a prolific passer in this Derrick Henry-led rush offense, but he threw enough that Brown produced consecutive 1000-yard seasons with 19 touchdowns from 2019-20. It's possible that Burks can fill Brown's role, but beware if you are drafting early this off-season, there are rumors floating around that the Titans are looking to sign another receiver and with Will Fuller, Odell Beckham Jr., Cole Beasley and Emmanuel Sanders all free agents, this situation could dramatically change.
Christian Watson, Green Bay – Aaron Rodgers is a great quarterback to have throwing you the ball … when he trusts you. And he doesn't usually trust rookies. Davante Adams only produced 38-446-3 in his first season with Rodgers. It wasn't until his third season that he exploded. Jordy Nelson's first season was 33-366-2. But those teams also had great veterans ahead of the rookies. The 2022 Green Bay Packers are short on wide receiver talent. Currently, the wide receiver room looks like oft-injured Sammy Watkins, Allen Lazard and rookie Watson. Can Watson quickly show Rodgers he is trustworthy? Does his small school success translate to being able to beat elite NFL defenders? My guess is it takes half a season before he's ready to become the team's elite deep threat and his ceiling his likely a WR2 in 2022.
Wan'Dale Robinson, New York Giants – No. His quarterback is Daniel Jones. The team also has a very highly-paid Kenny Golladay, Sterling Shepard and at this moment Kadarius Toney.
John Metchie, Houston – No. He suffered an ACL injury in the SEC title game and isn't likely to be ready to start the season. His quarterback, Davis Mills, only looks at Brandin Cooks.
George Pickens, Pittsburgh – No. Rookie quarterback (Kenny Pickett) will likely start or below average quarterbacks Mitchell Trubisky or Mason Rudolph. Also, too many mouths to feed (Diontae Johnson, Chase Claypool, tight end Pat Freiermuth, and Najee Harris out of the backfield).
Skyy Moore, Kansas City – Anytime your quarterback is Patrick Mahomes, there is a chance that as a receiver you could explode onto the scene. With 4.41 speed, it's tempting to think he's supposed to be Tyreek Hill's replacement. But that's unlikely. The Chiefs have plenty of pass-catchers starting with an elite tight end Travis Kelce. They also brought in JuJu Smith Schuster and Marquez Valdes-Scantling. Holdovers Josh Gordon, and Mecole Hardman could also see significant time. So can Moore produce an 85-1141-9 season? Unlikely … barring multiple injuries. Probably one-in-a-million. So you're saying there's a chance? Yes.
Velus Jones, Chicago – No.