While there may be a few leagues in which you are truly toast, I want to remind you that in the vast majority of situations you can still turn this season around. Conversely, if your team is rocking, you can also be hit by the Covid or injury bug and see your fortunes head in the wrong direction. It is important in both situations to continue studying what is really going on in each game, each week, so you can make the best possible moves and put yourself in a position to win. Below I will dive into the usage data for the Week 6 games and see what we can learn.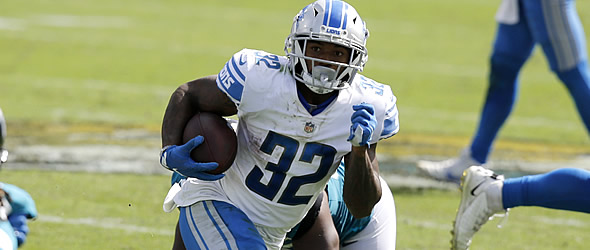 Running Back
In what should have been an excellent spot for David Montgomery, he produced only 97 yards of total offense, including 4 receptions for 39 yards. He didn't kill you since the receiving work was there, but 19 carries for only 58 yards against a poor rush defense shows just how poor the Chicago offensive line has been. He played on 85% of the snaps, so he should remain in most lineups. But temper your expectations.


We may have finally seen the passing of the torch in Detroit. Still, Patricia played D'Andre Swift on only 38% of snaps, Adrian Peterson on 35%, and Kerryon Johnson on 22%. But Swift went from barely carrying the ball before the bye to receiving 14 carries in Week 6. He turned those into 116 yards and two scores on the ground. Those results should be enough to get additional rushing work moving forward, but we'll have to wait and see.


Nothing could have prepared us for the awful day out of Alexander Mattison against a poor Falcons defense. Not only did see just 10 carries for a measly 26 yards, but he also only played on 48% of the snaps. The Vikings played Ameer Abdullah on 29% and Mike Boone on 9%. If you played Mattison, take solace in the fact that you did the right thing, even though the result was terrible.


Phillip Lindsay was the best player on the Broncos' offense on Sunday. He returned from injury and ran for 101 yards on 23 carries against a good Patriots defense. It will be interesting to see how snaps are split once Melvin Gordon returns.


Belichick went all Belichick with the running backs on Sunday. He gave White 31 snaps, Burkhead 18 snaps, and Harris 12 snaps. Harris had 6 carries, Burkhead 5, and White 4, but White had 9 targets (8-65). It appears that White is again the only back worthy of flex consideration on this team.


J.D. McKissic led Washington backs in snaps, at 53%. Antonio Gibson played on only 37%. McKissic had 14 touches while Gibson had 13. It is now a pretty even split, which is not what I expected after recent comments from Ron Rivera about giving Gibson more work. McKissic is a nice option if you need a back who will get touches, since he is in on a lot on passing downs and Washington will trail often.


Mark Ingram's time seems to have come. He played on only 9 snaps, while Dobbins played on 30 and Gus Edwards played on 32. Dobbins received 9 carries and 4 targets, while Edwards received 14 carries. Ingram (ankle) received only 5 carries. If Dobbins is on your wire, he makes a nice addition, especially if the Ravens add to his workload over the course of the season.


With Miles Sanders injuring his knee, I could see the Eagles giving Jason Huntley a shot at some carries. The rookie is extremely fast and is a name to keep in mind if Sanders is out for a while. It seems they see Boston Scott as a change-of-pace back and I don't see him getting double-digit carries.


Myles Gaskin continues to play well as the lead back in Miami, and has likely cemented his role as the starter for the rest of the season. He played on 70% of the snaps and took 18 carries for 91 yards, and also caught 4 balls for 35 yards. He is a good play in decent matchups moving forward.


On only 57% of the snaps, Ronald Jones had a huge day on the ground (23-113-2). Arians continues to rotate him out for third downs, even for the ineffective LeSean McCoy. It remains to be seen what the split of carries will look like once Leonard Fournette returns, but Jones owners are hoping his three good performances in a row will relegate Fournette to back-up duty. Knowing Arians' history, don't count on it.


Darrell Henderson played on 53% of the snaps and Malcolm Brown played on 45%. But Henderson got almost all the rushing work (14-88) while Brown only got 2 carries and Akers got zero touches. For now, Henderson is the starter and the back to own.


In what many were seeing as his send-off as a starter, Clyde Edwards-Helaire made a statement for why he should continue to be the lead back in Kansas City. He took 26 carries for 161 yards, regularly making nice reads and showing off his vision and elusiveness. He played on 67% of the snaps, and it is anyone's guess how snaps will be split moving forward. My take is that Le'Veon Bell will play around 45% of the snaps, CEH on around 40%, and the other backs will get the scraps.


Kenyan Drake finally showed something in Week 6, running hard between the tackles and not dancing behind the line. It paid off, leading to 164 yards and two scores, on 68% of the snaps. He also relegated Chase Edmonds to only 6 touches. If he continues to play like this, he could return to being a top RB option. Just keep in mind it was against the Cowboys.

Wide Receiver
For the first time this season, it looked like D.J. Moore was the WR1 in Carolina. Like most weeks, both Moore and Anderson played virtually every snap (94% & 87%), but Moore received a whopping 11 targets on Sunday while Anderson received only 5. Moore only caught 5 of those targets, but the fact that he Bridgewater was looking for him often is encouraging.


Some (myself included) thought we had seen the end of the A.J. Green era in Cincinnati. But Green had a nice bounce-back game in Week 6. He played on 79% of the snaps (Tee Higgins was on 81% and Boyd on 78%, so they were in the game together on almost every snap). Green received the most targets of the bunch with 11, and caught 8 for 96 yards. Both he and Higgins (6-125 on 8 targets) are good weekly plays.


T.Y. Hilton is either a bench stash or a cut after this disastrous week. In a great spot against Cincinnati he produced 1 reception for 11 yards, on 5 targets. He led receivers in snaps, playing on 94%. I honestly don't know what's gone wrong for Hilton, but I will have to see several weeks of production to even consider playing him again.


Zach Pascal, on the other hand, played virtually every snap as well (92%) and produced nicely (4-54-1 on 7 targets). His playing time will decrease once Michael Pittman returns, but in the short term he is a nice option to fill in for you if you need help at wide receiver.


Marcus Johnson is a name that will get some attention on the waiver wire this week. He played on 62% of the snaps for the Colts and received 8 targets (5-108). His status is very tenuous, assuming Pittman returns somewhat soon, but he may be worth grabbing if you are desperate.


Marvin Jones played on 81% of the snaps, leading all skill players, but only had 2 receptions for 8 yards. He did receive 5 targets, which was behind only Golladay at 6, but it was yet another disappointing day. It was likely due to the Lions getting up early and never being threatened, so I would recommend holding Jones if you have him. You should just only consider starting him if they are against a good offense, in a game where the Lions will have to throw often.


Jags' WR target numbers: Chark 14, Cole 9, Shenault 7. In a game where they fell behind big, Minshew threw it often, peppering his top three receivers. But the Detroit defense played well, holding Chark to only 7-45 and Shenault to 3-10. Cole did produce (6-143). All are options in good matchups, but it's just difficult to tell what defenses Minshew will be able to move the ball against.


Justin Jefferson is emerging into a stud WR. He played on 89% of the snaps and received 11 targets (more than double Thielen's 5). He caught 9 of them for 166 yards and two scores! He is a weekly must-play, particularly against softer defenses where a shootout is possible.


It appears Tim Patrick will be the WR1 for the rest of the season in Denver. He played on 92% of snaps and received 8 targets, finishing with 4-101. If he is still on your wire, I recommend grabbing him. As Lock improves, he will have a decent amount of upside.


It's Terry McLaurin and everyone else in Washington. He received 12 targets (7-74) and played on 96% of the snaps. Kyle Allen also played a decent game on Sunday, which could bode well for McLaurin moving forward.


Travis Fulgham has taken over as the primary outside receiver for the Eagles, playing on 81% of the snaps and receiving 10 targets (6-75-1). It is possible that Jeffery, Jackson, or Reagor will unseat him, but it is entirely possible they do not. Fulgham is playing excellent football and I could see him continuing to start for the whole season, especially since the Eagles do not appear to be going anywhere in 2020.


Just a note here to mention that Jalen Reagor is likely to return from the short-term IR soon, so if he is on your wire he is worth picking up.


Chase Claypool led all Steelers WRs in snaps, playing on 78%. James Washington was next with 66%, and then JuJu with 65%. Juju appears to be fading as a fantasy asset, and I would bench him if I had comparable options, until he shows more. That day may not come.


Houston has a condensed number of skill players and they all play a lot. That adds to the intrigue for Will Fuller (92% and 11 targets) and Brandin Cooks (88% and 9 targets) moving forward.


Adam Humphries played on only 55% of the snaps but made them count. He got 6 targets and caught them all for 64 yards and a score. As long as Corey Davis is out, he is a sneaky play.


Both Breshad Perriman and Jamison Crowder played on 89% of the snaps for the Jets. They were targeted 8 and 13 times, respectively. If the offense can ever get going, it appears they will be the primary players to benefit, making Perriman worth keeping an eye on.


Brandon Aiyuk led 49ers receivers with 85% of the snaps, but he only received 3 targets (2-12-1). Deebo Samuel (6 targets) and Kittle (10 targets) seem to still be Garoppolo's favorite targets, so Aiyuk will likely continue to have up and down production.


John Brown played on 96% of the snaps against the Chiefs but caught zero balls, on 4 targets. The snap count is encouraging, but you should probably sit Brown until he shows signs of life.


Christian Kirk played on 81% of the snaps and caught two touchdowns, but he only had three targets. This passing offense is going to be frustrating for all but Hopkins owners, but Kirk should be owned and looks like the second option in the passing game.

Tight Ends
Jimmy Graham continues to play most snaps (68% in Week 6). Although it was rookie Cole Kmet who scored a touchdown this week, Graham received 8 targets, which was only behind Allen Robinson (9), and posted 5 catches for 34 yards. He is not an exciting option, but it looks like he will be steady for the rest of the season.


Drew Sample played on 75% of the snaps but did not catch his lone target. It is tough to bench tight ends in a pass-happy offense who are playing so much, but Sample has to be benched or dropped until he shows he can produce consistently.


Trey Burton was fantastic on Sunday, producing for the third straight week. It seems he's found a niche in the Indy offense. He played on 56% of the snaps, and received 5 targets (4-58-1). He also rushed one in for a score. With how dire the TE landscape is, Burton is a must-add if you need help at the position.


James O'Shaughnessy played on 75% of the snaps after Tyler Eifert left with a neck injury, but he caught zero balls on only one target. This offense doesn't utilize tight ends much and no Jags' tight end is a good play as a result.


Hayden Hurst played on 85% of the snaps and caught all 4 of his targets for 57 yards and a score. It seems that all fantasy owners aside from the owners of Kelce and Kittle will have to gamble at tight end weekly, and Hurst is a nice option if he's on your roster. He is at least more predictable than Mike Gesicki!


Irv Smith had his second productive week in a row, turning 5 targets into 4 receptions for 55 yards. He played on 79% of the snaps, a very nice number that hints that the coaching staff is making an effort to get him more involved.


Logan Thomas played on 86% of the snaps (about his average this season) but actually produced this week with Kyle Allen playing relatively well. He caught 3 balls for 42 yards and a score, on 4 targets. He remains a streaming option for those desperate at the position.


Mark Andrews' poor week is not all that surprising when you consider that he only played on 51% of the snaps, while Nick Boyle played on 77%. The Ravens did not have to throw it much and were in control of the game most of the way. Better days are ahead for Andrews, even if he's only playing half the snaps.


Zach Ertz received 10 targets but only caught 4 of them, and then was injured (ankle). He is unlikely to play in Week 7, but Dallas Goedert is set to return from short-term IR. If Goedert is on your wire, make him your top-priority add.


David Njoku has requested a trade from the Browns, after he played on only 23 snaps on Sunday vs. the Steelers. Hooper played on 40 snaps and rookie Harrison Bryant played on 21 snaps. If Njoku is traded, he could be a very nice option down the stretch, so keep him in mind as a waiver option.


With Jordan Akins out, Darren Fells played on 88% of the snaps and saw 7 targets (6-85-1). Watch the next few weeks to see if Fells has earned himself extra playing time even when Akins returns.


Anthony Firkser had a huge Week 6, but much of it was due to Jonnu Smith going down with an ankle injury in the first half. Firkser finished with 9 targets and caught 8 for 113 and a score. Tannehill threw it 41 times as the Titans were in comeback mode, and Smith was out for most of the game, so don't overreact to this line.


Mike Gesicki played on 66% of the snaps and did not have a target. The Dolphins were in control and did not have to pass, but the other two tight ends both caught touchdowns. I am dropping Gesicki in many leagues, as his inconsistency can kill even good teams. If he's your best option, just be prepared that he can always put up a goose egg for you.


Rob Gronkowski played on 85% of the snaps and received 8 targets (5-78-1). He looks slow and clunky out there, but he is producing. As long as he continues to get 5 or more targets, he is a must-play option.

---
Kevin Scott is a fantasy pro who is the co-host for The Lowdown Fantasy Football Podcast. He plays in over 40 leagues annually and has made over $100,000 playing fantasy football. You can follow him @kevinscottff.