Many factors go into a successful fantasy draft but if there is just one word I could use to sum up the most important factor it would be "value". Reaching for a player could prove to be a smart decision, but consistently drafting winning fantasy teams relies a great deal on taking players at the right spots and more importantly, avoiding players when their draft cost is too high.

Below, I will examine 10 players I am avoiding, not because I consider them busts this season, but simply because their current average draft position (ADP) is too costly.

Not to toot my own horn here but (toot toot!) but this is my 7th year doing this piece and looking back at the previous six seasons I am now conservatively 42 out of 60 (70%) in terms of picking players that ended up being considerably over-drafted.

Note: ADP's based on 12 team standard leagues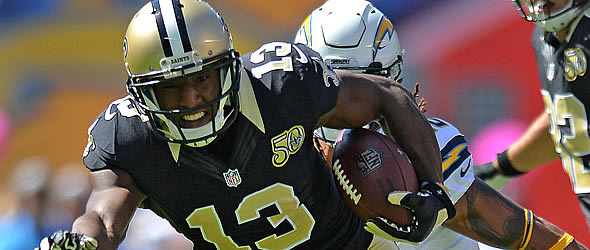 In Round 2, you are buying Michael Thomas at his ceiling and counting on a repeat performance.


WR Michael Thomas, NO


ADP: 2.03



I actually like Thomas long-term, but he is on this list because an early second-round pick in a standard scoring league for him is way too high. After finishing as a top ten fantasy wide receiver in his rookie season, many people are drafting Thomas at his absolute ceiling.

While it is true that the departure of Brandin Cooks will free up some targets, my concern centers on a few things. First and foremost, Cooks easily demanded the most attention in the Saints passing game last season as a proven playmaker with game-changing speed. With Cooks gone, and after a breakout season, Thomas will now have the full focus of defensive coordinators which could prove to be an uphill climb, especially for a second-year receiver still learning the nuances of the position.

While the departure of Cooks means more targets are available, it doesn't necessarily mean the majority of those targets are headed Thomas' way. The Saints still have Willie Snead, who is becoming a target hog, Ted Ginn Jr. and Brandon Coleman, who has stood out in training camp. Thrown in a three-headed monster at RB including pass-catching rookie Alvin Kamara and the Saints have plenty of mouths to feed on offense.

Finally, the moves the Saints have made the past few seasons including trading Jimmy Graham for an offensive lineman, trading away Brandin Cooks, signing Adrian Peterson, drafting defense-heavy, all point to a potential change in philosophy which might mean the offense will slow down the pace to keep their (recently awful) defense off the field. This would obviously cut down the appeal of the offense as a whole, including Brees' favorite target, Thomas.

I'm not saying Thomas will be a bust, but you are counting on a repeat-or-better season at his second-round ADP when there are multiple reasons why he could fail to live up to a WR1 ranking.

RB Lamar Miller, HOU


ADP: 3.04



A year ago when Lamar Miller signed with Houston there was a lot of buzz in the fantasy community. Many believe he could reach high-end RB1 status. While Miller's usage was certainly enough to give him that opportunity (299 touches in 14 games), his efficiency was sub-par, setting career lows in yards per carry and yards per catch while only scoring six total touchdowns. You would assume Miller may have a solid floor thanks to volume, but I would argue that they tried that last season to a very marginal level of success so why would they repeat that formula?

As a result, you would think Miller would come at a heavy discount in drafts this year, but he is still among the top 12-15 backs selected on average. It's difficult to project Miller improving on last year's numbers and in fact, there are many circumstances that point to a decline.

The quarterback situation is different but similar in that a very unproven player (Tom Savage or Deshaun Watson), will be leading the team. The passing game lacks punch with the loss of Will Fuller and the run-heavy game plan will cause defenses to stack the box, as they did last year.
Miller is a talented back, but one who is best used 10-12 times a game to change the pace of the run game and to catch passes out of the backfield. In a similar role in Miami, Miller was very effective, averaging over 4.5 yards per carry and over 7.5 yards per catch – higher averages than he had last season with the Texans. In order to use Miller in this fashion the Texans would need a "grinder" type back on the roster… and guess what? They have one! D'Onta Foreman was among the very best backs in the country last season and fits the mold to perfection. Foreman flashed in the Texans second pre-season game and has the capital invested in him to get playing time right away.

Overall, Miller is certainly the starter on paper right now but chances are he will not repeat his workload from last year thus lowering his floor. I could even see a scenario where Foreman becomes the workhorse by mid-season with Miller being relegated to third-down duties. This would be a better formula for the Texans. In Miller's range I much prefer Isaiah Crowell, Doug Baldwin, Terrelle Pryor, and Christian McCaffrey.

WR Sammy Watkins, LAR


ADP: 5.09



When Watkins got traded to the Rams a few weeks ago his ADP dropped but he is still nowhere near a value or bargain. Watkins is arguably a top ten receiver based on talent but his injury risk is significant. He's missed 11 games over the past two seasons dealing with foot issues. You have to wonder if he will ever truly get to a point where he is 100% healthy.

The second reason why I am avoiding Watkins this year is his new landing spot. While Buffalo was not an ideal setting for fantasy stardom, I had some faith in Tyrod Taylor who was efficient and had built up some chemistry with Watkins.

In Los Angeles, Watkins is now learning a new system and gets paired with Jared Goff who was borderline awful as a rookie. Goff will now be in hurry-up mode to create some kind of rapport with Watkins who will undoubtedly be forced into the number one receiver role quickly. While Watkins is certainly the most talented receiver on the Rams, the offense has some intriguing depth with Robert Woods, Tavon Austin, and Cooper Kupp, not to mention two athletic tight ends in Tyler Higbee and Gerald Everett. With Watkins is bound to receive the most attention from opposing defenses, a different receiver could easily out-target Watkins as Goff will be instructed to take what the defense gives him at this stage in his development. On a team built around an excellent defense and a young talented running back, the Rams passing game may be very pedestrian this year and I wouldn't be shocked if a healthy Watkins struggled to get 100 targets.

Watkins is being drafted as a WR2 because of his name and his talent but given his situation and injury history, should really be targeted as more of a WR3. In his range I much prefer receivers like Brandon Marshall and Kelvin Benjamin, who are being taken after Watkins.

RB Carlos Hyde, SF


ADP: 3.10



As a pure talent, I'm a fan of Carlos Hyde but the situation surrounding him and the moderate injury concerns have me crossing Hyde off my draft board anywhere near the third to fourth round.

2016 was Hyde's best in his three years, and while he totaled 9 touchdowns, he missed three games and failed to reach 1,000 yards rushing. With 14 games missed in three seasons, Hyde is teetering on the edge of being labeled "injury prone", with numerous MCL, shoulder, foot, and concussion issues. This alone makes him a risky pick but if it were the only issue his current draft cost would not be that bad.

The problem is, the injury bug is only a secondary issue to the mess that the 49ers have in their backfield right now. With a new head coach calling the shots, Hyde is essentially the only running back hold-over from the previous regime. Joe Williams and Matt Breida were drafted by the current regime and Kapri Bibbs was a trade acquisition at the draft. Tim Hightower was signed as a free-agent after having a former connection with new head coach Kyle Shanahan.

In what is certain to be a rebuilding year, nobody would be surprised if Hyde was pushed to the back burner part way through the season in order to see what Williams or Breida can do in this offensive scheme. As a free agent next year, the 49ers can wash their hands of Hyde, so chances are pretty good Hyde is an afterthought at some point this season. Even in the absolute best case scenario, with Hyde healthy and keeping his starting job, this is not going to be a dynamic and productive offense, with very little talent at the skill positions and a sub-par offensive line.

With a below average defense as well, the 49ers will need to abandon the run often, limiting the volume that Hyde receives.

While Hyde has the kind of talent to make him an upside pick, his injury history and the muddled backfield/team situation makes him a super-risky pick in the third or fourth round. I much prefer Ty Montgomery, Tyreek Hill, Joe Mixon, and even Spencer Ware in that range and wouldn't touch Hyde until Round 6.

WR Alshon Jeffery, PHI


ADP: 4.04



Anyone that read my "Buy or Sell" article a couple weeks back knows I am not a fan of Jeffery at all this year. I'll keep this shorter and to the point because you can reference that article for a longer explanation, but the main reasons I don't like Alshon, especially in the 4th round are; extensive injury history, learning a new system, mediocre touchdown history, and a brutal schedule. Added to all this negativity, Jeffery has been banged up this pre-season and has not received much praise from the coaching staff at a time when most coaches are hyping up their better veteran players. Jeffery has reportedly struggled to pick up the playbook and for a number one receiver, it is not a good sign that he is falling behind this close to the regular season.

I believe Jeffery's upside has been over-hyped based on a few very good games and his measurables, but in reality he is not much different from guys like Michael Floyd who never lived up to his hype and/or natural talent.

Jeffery is going to be frustrating to own much of the season given his schedule difficulty, especially for someone that you feel compelled to start because of the investment you made in him. Do yourself a favor and let Jeffery be someone else's problem while taking Davante Adams, Michael Crabtree, or Kelvin Benjamin in the 4th round.

RB LeGarrette Blount, PHI


ADP: 5.07



There was a speculative report the other day that LeGarrette Blount may not make the team. So, I am guessing his ADP will drop some over the next week, but even if it drops three whole rounds (which is unlikely) I am not touching Blount this season.

Despite being anointed by some as the Eagles starting running back, there are a few things that keep me from getting excited about Blount. He is a one trick pony - a between-the-tackles pounder with below average speed and acceleration and adds pretty much zero to the passing game. He's also on the wrong side of 30 years old and has just one real productive fantasy season in his seven year career. That one season, last year, was no doubt an outlier based on a ton of volume and being the goal line back in an elite offense. If Blount was still on the Patriots, there could be an argument for taking him in the 5th round even with some touchdown regression built in. However, Blount is not only on a less efficient offense, but is also an unlikely fit for a team that wants to use their backs in the passing game.

As a player that has been very pedestrian everywhere he has been, other than New England, Blount's value is being carried by his success last year and the false perception by the amateur fantasy manager that he will get a ton of carries in Philadelphia on team devoid of "big name" players in its backfield.

Every year I have a handful of guys that I do not touch regardless of how far they may fall in the draft and Blount is on the short list this season. Running backs like Tevin Coleman, Terrance West, and Derrick Henry are all better investments.

WR Jarvis Landry, MIA


ADP: 6.04



Landry is a perennial PPR darling who seemingly gets over drafted frequently in standard leagues and this year is no different. He's a perfect "depth guy" to keep on your bench for bye weeks or in case of your starters going down with injuries. The problem is, that kind of player should be drafted in Rounds 9-12, not 5 & 6 when you are still acquiring the meat of your roster.

Landry lacks of upside and historically scores very few touchdowns (13 in 49 games) so in order for him to have WR2 value in standard leagues he's going to need a ton of volume. That volume will be hard to come by this year as the Dolphins are going to be a run-first team. Last season the Dolphins threw the second fewest times in the league and with a beefed up offensive line and a healthy Jay Ajayi, the run-first philosophy should continue.

Second, Ryan Tannehill, who Landry had a connection with, is out and Jay Cutler is in. Cutler, for better or worse is more of a deep-ball thrower and has a tendency to overlook the short-to-intermediate routes, which is where Landry makes his home. Cutler already seems to have a connection with DeVante Parker, who is historically the kind of guy Cutler locks onto.

Finally, besides the aforementioned Parker who is due for a breakout, the Dolphins have a solid group of receivers and also added Julius Thomas who should take away what few red-zone targets Landry was already getting. The lack of interest in giving Landry a contract extension means the writing is on the wall. Landry may not be in Miami next season.

In the range he is being drafted, there are a handful of other players with more upside that are still relatively safe investments. Stefon Diggs, Tyrell Williams, and Cameron Meredith are options I'd prefer before drafting Landry.

RB Eddie Lacy, SEA


ADP: 7.06



In defense of avoiding Eddie Lacy in the first eight rounds of your draft I refuse to make any fat jokes to support my argument. Now that the elephant in the room has been addressed, let's talk about why Lacy is a big fat waste of a draft pick anywhere near where he is currently being drafted.

Lacy started his career with back-to-back solid seasons in Green Bay, followed up by two very disappointing years that saw his efficiency drop while the injuries started to pile up. While never tremendously dynamic, Lacy has always had good power and for a big man has had good feet. However, Lacy seems to have declined at a faster rate than most players at his position. Whether it is his fitness, his motivation, or he is simply wearing down, Lacy has not looked great for the better part of two seasons despite being in a very productive Packers offense.

In Seattle, Lacy faces new challenges adjusting to a new scheme and dealing with more competition. Thomas Rawls has been very productive in bursts, has starter experience, including this preseason, and has received numerous positive reports the past few months. C.J. Prosise was a highly touted prospect who is clearly the team's best receiving threat and could easily be the best all-around back they have as long as he is healthy.

Finally, rookie Chris Carson has flashed this pre-season looking better than Lacy in limited action. All in all, the backfield in Seattle looks like a full-blown committee, of which Lacy could find himself on the short end, depending on game script and who has the hot hand.

The entire situation screams of inconsistency, risk, and disappointment. Lacy is another guy that is being over-drafted by less experienced fantasy managers who remember his glory days in Green Bay and just assume he will reach those heights again in Seattle. In rounds 6-8 I'd rather have Stefon Diggs, Pierre Garcon, Tevin Coleman, and Tyrell Williams, who all have equal, or more upside and a higher floor.

QB Derek Carr, OAK


ADP: 6.09



Carr is another talented player on this list but for fantasy he is being over-drafted by a considerable amount due to his NFL success, name, and the sense that the Raiders are a team on the rise.

Regardless of your stance on drafting quarterbacks early or late, Carr is in a dead zone, being taken behind the elite players at the position (as he should be) but considerably ahead of other quarterbacks in his same tier, making him a terrible value. As an example, Carr is being drafted a round ahead of Jameis Winston who has put up similar fantasy numbers in a comparable offense.

In a more extreme example, Phillip Rivers is being taken three full rounds after Carr and has been as durable and consistent as anyone the past four seasons, posting more yards and touchdowns since Carr entered the league as a rookie.

While Carr is the sexy pick, the truth is, fantasy-wise he does not have any clear advantages over other QB's being drafted several rounds later. The Raiders are still committed to running the ball, especially in the redzone as the signing of Marshawn Lynch shows, and outside of Michael Crabtree and Amari Cooper, the Raiders don't have a lot of consistent/proven/explosive weapons. I would argue quarterbacks like Kirk Cousins, Marcus Mariota, and Ben Roethlisberger all have better weapons around them and have similar value at a two-to three-round discount.

While you don't want to necessarily be the last one to draft a QB in your league, the 6th round is a poor area to take the QB leap. I won't knock you for pulling the trigger on Rodgers or Brady early in your draft, but if you miss out on those guys, wait till after the 7th round where the value is greater and you can still get high upside players at other positions in Round 6 like Willie Snead or Derrick Henry.

TE Martellus Bennett, GB


ADP: 7.05



On the surface Bennett looks like an exciting player to own this year. He's the starting tight end on one of the most explosive offenses in the NFL and has the potential for a big game any given week. The problem with Bennett is, he's in no man's land for tight ends, making him an awful value.

ADP aside, Bennett has decent upside in a high-powered offense but the upside is heavily weighted towards touchdowns, as his yardage and catches will not be among the leaders at the position thanks to the bountiful amount of talented targets in the Packers receiving corps. Bennett will be a boom-or-bust play week-to-week. While this is not unlike a good handful of other players at the position who rely heavily on touchdowns to make their fantasy day a success, many of them are being drafted several rounds later than Bennett. For example, Zach Ertz, who I like as much as Bennett if not more, can be had three rounds later.

You could get a combo of (for example) of Desean Jackson in the 7th (or Maclin or Parker, your pick) with Ertz in the 10th. If I went with Bennett in the 7th, my choices for wideout in the 10th drop down another tier, to Jordan Matthews, Adam Thielen, or Kenny Britt. Not bad players, but a clear tier below the 7th round receivers available.

Tight ends are very similar to quarterbacks this year to me. I either want one of the top 2-3 players or I'm waiting till after the 9th round to take each position based on the depth in tiers two and three. Bennett is not a bad player to own, just simply a very bad value at his current ADP.