Living The Dream




9/30/10



Aggressiveness is a characteristic that tends to reward fantasy owners more times than not. In the NFL, an offensive line will sometimes hold up long enough to give the quarterback enough time to beat man coverage down the field and make the defense look foolish against a fierce pass rush. More often than not, though, when a defense brings the heat and forces the action, crisis management becomes the name of the game for the opposing team.

In that same vein, I hope to apply that same kind of pressure to the owners in all of my leagues by beating my opponents to the punch in regards to personnel moves. Sometimes, reaching a conclusion about a player too quickly is much like trying to blitz Peyton Manning – dangerous and painful. However, coming to a correct conclusion two weeks or two minutes quicker than your opponents is considered foresight. Fantasy owners can be a uneasy lot, knowing that one two-or-three-game losing streak can wreak irreparable damage to his/her team's chances to make a visit to the fantasy postseason. But just as it is in the NFL and in life, it's hard to land the big prize by playing scared. Thus, I will strive each week to help each of you become a smart blitzer, so to speak.
---
Each year, I enter the fantasy football season with the crazy notion: "this will be the year I draft teams that don't require a great deal of oversight". After all, isn't that the dream of all fantasy football owners? Take no prisoners at the draft, sit back and calmly make the occasional transaction that leaves you ridiculously deep but also gives you the ammunition to swing a deal if necessary while you cruise into and through the fantasy playoffs.
The fact of the matter is that unless an experienced, savvy owner jumps into an eight- or ten-team league with a bunch of fantasy football neophytes, the chances of building a "dream team" are remote. Having said that, I have struggled to make sense of this season so far as it relates to my fantasy teams. In one of my money leagues, the starting lineup that I had projected to score the most points of all my teams is by far the worst-scoring team I have. In another money league, teams are averaging nearly 140 points/game against my team in a scoring system in which 115 points is a pretty good week. In yet another league, the opposite has happened. My Joe Flacco-led team is 2-1 despite relatively light contributions from my QB, RB2 and WR2 spots. Believe me, the list goes on…
Last season (albeit much later in the year), I described what I call a "championship feeling" about a team, one that I usually get right after the draft. In short, it is the impression I get following a draft when most of the players I hoped would fall in my lap at a certain spot do in fact fall to me. That sense usually is followed by the thought that if my team stays healthy, it should be among the best teams – if not the best team– in the league. Certainly, it doesn't always work out that way, but it seems to more often than not. Most years, I feel that way about half of my teams. This season, I had that "feeling" about most of my teams, so the meager start by some of my teams is certainly disappointing. However, I am comforted by the fact that six teams make it to the postseason in all of my leagues. In short, if the fantasy schedule has been cruel to you so far, the odds are it will look favorably upon you sooner than later.
The thing owners need to remember is not making "panic moves" and assess how your teams are winning or losing. A 3-0 team that is one of the lower-scoring teams in the league isn't going to catch those breaks all season long. Similarly, a 0-3 team that is scoring well doesn't exactly need to be blown up. Believe me, I've had teams over the years that have started out horribly only to roll through the second half of the fantasy season. Several years ago, I had a team start out 1-5 only to see it win eight straight to get into the postseason and eventually cruise to the title. Last year, the team I referenced in the link above started 3-1, then lost four straight before winning five straight to capture a bye and, two weeks later, a fantasy title. For a current example of a bad start, I have the third-highest scoring team in one experts' league I am playing in, but my points-against average is 10 points/game higher than any other team's in the league. My weakness in that league is at WR, so I traded Marion Barber for Hines Ward on Wednesday and will pair him with the Panthers' Steve Smith, the Bucs' Mike Williams and Austin Collie. If Vincent Jackson ever returns to football, watch out!
Speaking of experts' leagues, I have one more observation: trading can be one of the most enjoyable yet frustrating parts of fantasy football. To that end, I am amazed how easy (and enjoyable) trading is in experts' leagues and how difficult (and frustrating) it usually is in just about every other league. It is puzzling to me how often I can work out a deal in one or two offers in these leagues whereas I may need to work for weeks on end to swing a deal in a money league. I'm not sure what to attribute this phenomenon to, but it could be just as simple as "experts": 1) are quicker to recognize their own players' shortcomings and 2) address their team's weaknesses quicker than other "regular" fantasy owners. If I had to guess, I would say that roughly 50% of my trade offers in experts' leagues are accepted by the other owner within 1-2 offers, whereas about 10% of my offers in all other leagues get accepted. Moving on…
RB
In much the same way I did last week, I wanted to present a different yet insightful way to break down the season to this point. Hopefully, last week's lists in which I highlighted 2009's top 10 by position gave you some indication as to why owners should not make rash judgments after two weeks. Similarly, this week I thought it would be beneficial to take a look at what players have been the most productive players with their opportunities so far. RBs that qualify for the five touch/game we started last week will be evaluated this week on how effective they are on a fantasy points/touch basis. While I want to give players such as LeGarrette Blount, Reggie Bush and Maurice Morris credit for finishing first, second and sixth in this competition this week, I want to measure backs who have played all three games and managed at least 10 touches/game so far.
1. Jahvid Best
2. LeSean McCoy
3. Matt Forte
4. Peyton Hillis
5. Jamaal Charles
6. Jason Snelling
7. Frank Gore
8. Tim Hightower
9. Arian Foster
10. Adrian Peterson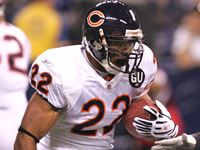 Forte's true colors: 2.8 YPC.
Thoughts: As one might expect after three weeks, a three-TD game is likely to set a player apart from the crowd. Best and McCoy each had one of those games against each other in Week 2, but I believe we saw their extreme in the other direction in Week 3. Conversely, I believe last week revealed the true colors of Forte, who is averaging a dreadful 2.8 YPC after three games. Receiving TDs by RBs (especially those of the 80-yard variety like he had in Week 1) tend to be fluky occurrences and will not continue. If owners did not sell him last week, they would be advised to do so soon. The offensive line cannot get a push in the running game and is about the worst unit I've seen at the goal line in years.
I'll detail Hillis, Charles, Gore, Foster and Peterson below, so let's finish this part of the Blitz with Snelling and Hightower. Snelling is a good RB to stash (obviously for Michael Turner owners), but his workload over the past two weeks is a bit fluky as well. Turner's minor injury in Week 2 led to his explosion that week while Atlanta's game plan vs. the Saints this past week was to control the clock (which led to an amazing 50 carries between Turner, Snelling and Matt Ryan!). Assuming Turner stays healthy, Snelling's value will fall quickly. Fantasy owners continue to undervalue Hightower. The best way to sum up Arizona's "other" back is this: when Beanie Wells is healthy, Hightower will play the role of a goal-line LaRod Stephens-Howling. When Beanie is hurt, Hightower will slide into Wells' role while Stephens-Howling will assume a non-TD vulturing Hightower persona.

Notable names that just missed the list: Mike Goodson, Steve Slaton, Javon Ringer
Quick hits: There are just five backs (Johnson, McFadden, Peterson, Foster and Gore) that have touched the ball at least 20 times in each game. Four others (Mendenhall, Rice, Benson and Bradshaw) just missed the threshold and really belong in the conversation of RBs who are getting RB1 workloads, even if they aren't all producing like it just yet. (Of course, there are RBs like Turner and Steven Jackson that would be on the first list of players had they not been slowed by injury.) As we know, Johnson and Peterson have little reason for concern and Foster is close to joining them. The others all have some nagging concern that makes each of them a bit less attractive than the three I just mentioned.
Going forward, I would say Gore is safe simply because he is an all-purpose RB that is a favorite of HC Mike Singletary. New OC Mike Johnson takes over Jimmy Raye's old post and brings with him a decade of experience as a WR or QB coach in the league. Granted, one never knows for sure how a first-time coordinator will call a game, but perhaps a coach with his background at coaching players in the passing game will be more open to putting QB Alex Smith in the shotgun (something Raye did not like to do). By finding ways to force-feed Vernon Davis and Michael Crabtree, Gore may find running lanes a bit easier to come by. Regardless of the offensive attack, Gore will contribute strong fantasy numbers as long as he can stay healthy.
As you may recall from last week's Blitz, there is little reason to believe that McFadden is going to hold up under his current workload (even if OC Hue Jackson believes he can). Call me skeptical, but seeing as how he hasn't exactly been the poster boy for durability in his career, I don't think adding muscle to his upper half of his body this offseason is going to help a player who has been dogged by lower-body (particularly hamstring) injuries throughout his NFL career. Without a doubt, he has been very impressive to this point, but I believe all he has done so far is prove that Oakland can provide fantasy owners a quality RB. After three games, he is on pace for 443 touches and will surpass his previous career high of 142 touches sometime in Week 6. I just cannot see this ending favorably for him.
Mendenhall will remain the Steelers' bellcow, but the emphasis of the offense figures to go back to Ben Roethlisberger when the Steelers return from their Week 5 bye. Rice's workload doesn't figure to get much of a challenge when he is healthy, but just when I'm starting to think I've got Ravens' OC Cam Cameron figured out, he surprises me again. I still believe at some point this point Rice will be the every-down, every-situation RB for Baltimore, but it may not happen as early as I thought (or hoped) it would. Finally, it looks as if Bradshaw is firmly entrenched as the Giants' main RB, relegating Brandon Jacobs to relief duties. Benson is on the verge of losing some carries, if you believe Marvin Lewis' interview following Week 3.
If there is a RB of this entire bunch that can be had for the price of a WR2 or mid-range QB, it would be Bradshaw. Be aware, however, that while he is getting the touches and producing accordingly right now, he hasn't proved to be the most durable RB. Add to that the fact that the Giants are playing very poorly right now and you can see why he should be pursued with caution.
The fantasy football season hands you opportunities to buy low; sometimes, a savvy owner can see these opportunities before the start of the season. Ray Rice had the distinct displeasure of facing the Jets and Bengals in Weeks 1-2 before he got a break last week vs. Cleveland. As we all know, Rice sustained a knee bruise in that game and must face Pittsburgh this week – if he can even play. With the difficult part of his schedule coming to an end and a minor injury to boot, I can say with a great deal of confidence that owners should start badgering Rice's owner this week in hopes of securing a trade prior to Week 5. Because the Steelers should be able to bottle him up – relatively speaking – his stock will probably never be lower than it will be this week or next week. His huge game is coming; I just want you to be on the right side of it. (Just as a point of reference, in my PSAs, I had Rice projected for 220 yards rushing and one rushing TD to go along with 11 catches for another 105 yards after three games. His actual line: 210 rushing yards and no TDs along with 10 catches for 65 yards.) I mention the stat lines because anyone who picks apart the schedule could have seen this one coming.
It would not be the least bit surprising if the Jones-Drew owner is 0-3 in your league right now. (In all honesty, the Jaguars could say the same thing.) But this is a great time to buy if you have the resources to do so, because only the most stubborn of MJD owners can expect to receive what he really should bring back in a trade. In my honest opinion, it's pretty amazing how Jones-Drew has been able to muster a 98- and 88-yard rushing performance on an offense that cannot mount anything close to a respectable passing attack. David Garrard has been one of the worst QBs in the league through three weeks and what's worse is that he (and/or OC Dirk Koetter) are not using MJD much as a receiver, something I thought they would do more this year than in 2009. In part because of the poor run defenses coming up on the schedule (Indianapolis and Buffalo), I expect a heavy workload for Jones-Drew in each of the next two games. If you want to sell him after that point, I wouldn't blame you. I'm not saying you should – I'm not going to – all I'm saying is that some panic is warranted until Garrard can post an INT-free game or two. Right now, MJD is getting the Steven Jackson treatment (eight men in the box with the defense daring the QB to beat them downfield) and Garrard is not making them pay. Maybe the addition of Trent Edwards will help, whether it lights a fire under Garrard or leads to the ex-Bill providing an offensive "spark" if/when he does replace the starter.
Your weekly Charles vs. Jones update: I know HC Todd Haley doesn't play fantasy football or care if we do, but fantasy stats don't always lie. In a traditional PPR league, Charles is TWICE as productive as Jones. While Jones is currently receiving 58% of the workload for the Chiefs, he is scoring just 41% of the fantasy points coming out of their backfield.
Since Browns HC Eric Mangini refuses to allow Jerome Harrison to become anything close to a feature back, I suppose it makes it right to suspect every other back on the roster will be the lead RB in Cleveland's backfield when the "starter" goes down. With Harrison sitting out due to a thigh injury in Week 3, Hillis took full advantage by gashing the Ravens for 180 total yards and a score. As well-rounded of a RB as Hillis is, he offers next to nothing in terms of big plays and explosiveness. Add to that Mangini's tendency to switch RBs at a moment's notice and now makes a fine time to see what Hillis can bring back in a trade.
If it seems as if I talk a lot about dealing players who are just taking advantage of an opportunity, you're probably right. However, going back to the stock market analogy I like to use, fantasy football is a marketplace where very few stocks can maintain their value long-term because of factors outside of their control. In this case, when you put an average talent at RB with a coach who has a trigger finger at the position in an offense that lacks a significant threat in the passing game, it doesn't breed a lot of confidence going forward.
What's going on in Buffalo? As I mentioned last week, it sure appeared as if the Bills were "showcasing" Lynch in Week 2. Another game, another showcase in Week 3, I guess. What does it say about the importance of the offseason when Fred Jackson and C.J. Spiller attend while Lynch protests his new role by sitting out, only to see his behavior rewarded with a pair of starts? Of course, this is the same team that determined Trent Edwards was the best QB on the team over the course of hundred of offseason and preseason snaps, only to reverse course and release him after two starts.
It's pretty clear to me after watching the Packers on Monday night they are biding their time in regards to the RB position. They won't say it publicly, but they almost certainly want James Starks to come off the PUP list and take command of the backfield in Green Bay. The entire run game feels forced with Brandon Jackson and John Kuhn and figures to bring down the passing game until someone can make defenses respect the running game again. The Packers have reportedly let teams know they would be willing to part with LB A.J. Hawk, but his cap numbers is more than most teams can swallow at this point. GM Ted Thompson has long been quite protective of draft picks, meaning help is most likely going to come from within. While that could mean former practice squader Dimitiri Nance, it seems highly unlikely.
LeGarrette Blount has been handed the goal-line RB role in Tampa Bay. That designation alone won't make him fantasy-worthy, but the added touches he has been promised plus that role will. He should be added in most leagues as Cadillac Williams' fantasy point/touch number is dreadful. It's tough to say how much work the rookie free agent will see right away, but he's the most talented RB in that backfield right now.
WR
Whereas I used fantasy points/touch to evaluate RBs, WRs and TEs will be judged slightly differently. While I may soon implement a fantasy points/target measure for both positions, this week I wanted to dissect how often they can be "trusted". (In other words, how often are these receivers and tight ends on the same page with their QB?) By doing this, I'm hoping to point out the receivers and tight ends that may be in position to "bust out" soon – if they haven't already – given their rapport with their QBs.
1. Kevin Walter
2. Austin Collie
3. Jordan Shipley
4. Donald Driver
5. Miles Austin
6. Wes Welker
7. Deion Branch
8. Marques Colston
9. Mario Manningham
10. Santana Moss
Thoughts: In all honesty, this is not a surprising list. "Possession" WRs will dominate in rankings such as this one while deep threats will tend to excel when fantasy points/target is considered. In many cases, connect % says as much about the accuracy of the QB as it does about the hands of the receiver. (Note that the receivers of Matt Schaub, Peyton Manning, Aaron Rodgers, Tony Romo, Tom Brady and Drew Brees account for six of the first eight names on this list.) With that said, it makes the inclusion of Manningham – a noted deep threat – on this list quite surprising. Just as stunning is the appearance of Branch, but one look at his current 8.5 yards/catch explains why Matt Hasselbeck has hit him 12 of 16 times so far. Walter and Schaub missed on their first target of the season in Week 3, meaning they have still connected on 16-of-17 opportunities. While unsustainable, it is still quite impressive. Is Collie the new Welker? It's possible, although a pair of 100-catch players from a season ago (Wayne, Dallas Clark) will steal his thunder from time to time. Still, owners of Pierre Garcon need to be concerned as he is a clear fourth option in this offense when he returns from injury. Shipley's 81% target rate is far and above the best of the Bengals' playmakers, which suggests Carson Palmer is either so far away from his former Pro Bowl form or the lack of offseason preparation with his other major targets (Ochocinco, Owens and Gresham) has the offense confused.


Notable names that just missed the list: Hines Ward, Mike Wallace, Mike Williams (SEA), Bernard Berrian, Devin Hester, Braylon Edwards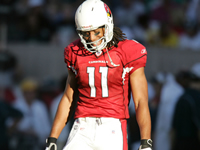 No bonding time with QB Anderson makes Fitz a sad wide receiver.
Quick hits: Amazingly, it took just three weeks for every receiver (and tight end) to register a sub-10-target game. It's telling – and quite sad – that two of the top six receivers on the targets/game spreadsheet are catching well below 50% of their targets (Fitzgerald, Owens). One big reason I rated Fitzgerald as low as I did in the preseason (#13 WR in PPR) was because of his QB. While Fitzgerald's preseason knee injury did take precious bonding time away from Derek Anderson, the receiver's fantasy owners have to be happy that Fitzgerald has found the end zone during his low-reception games or else his overall fantasy numbers would be dreadful. While Breaston obviously benefits from the attention Fitzgerald receives, it is hard to believe that Breaston's connect rate (70%) is double of his teammate's (35%). The Cardinals will be hard-pressed to beat the Chargers and Saints over the next two weeks as they enter the bye. If Anderson is bad enough in those games, HC Ken Whisenhunt may have all the information (with a 2-3 record) he needs to turn to undrafted rookie free agent Max Hall. Considering how impressive Hall was during the preseason, he can only help Fitzgerald's fantasy outlook.
It'd sure be nice if Ochocinco's connect % just a bit higher, but his 59% is significantly better than Owens' 42%. There is any number of possible explanations as to why the gap is so wide, but many in the league believe Carson Palmer is hurting the Bengals' offense more than he is helping it. While Palmer certainly isn't playing at anywhere near the level he was earlier in his career, it's also fair to say every Bengals' quarterback and receiver is suffering from an offensive line that is much better at run-blocking than pass-protecting. Since T.O. was signed in part for his ability to stretch the field, it would make sense that if Palmer doesn't feel comfortable stepping into his throws that he would "float" his deep throws, which he has been accused of doing. Still, with the consistent targets Owens is seeing, he will have his big game sooner than later.
So, let me get this straight, Calvin Johnson stays healthy but the players around him that were supposed to make his job easier (Nate Burleson and Matthew Stafford) can't stay on the field? It's hard to imagine that his connect % will stay at 50% all season long. He's a good trade target for an owner hoping to steal a WR1 who is currently underperforming due to some situations outside of his control (including the NFL rulebook, as was the case in Week 1). The same could be said for Colston, although his upside is not nearly as high as Johnson's. Given the nature of the Saints' spread-it-around passing game, he'll be inconsistent. Still, Colston is Drew Brees' most trusted option, so you can be pretty confident he will get his numbers in the end.
Speaking of "underperforming" high fantasy draft picks, I like pursuing receivers like Johnson, Colston, Ward and Greg Jennings who have more than likely disappointed their owners so far. Why? Because there is no way that an owner can realistically ask for WR1 prices on a potential WR1 who has yet to score a TD (Johnson and Colston) or has a sub-20-yard performance in one of their last two games (Ward and Jennings). In the case of Ward, owners couldn't have really expected huge numbers while Ben Roethlisberger was away. (This is the very same reason why I dealt for Ward's teammate –Wallace – late last week in the SOFA Auction league.) In the case of Jennings, his plight is similar to that of Colston in that he has a great deal of receiving talent on his team to compete with for targets and numbers. With that said, fantasy owners have a pretty good sense that his numbers will be there in the end, even if he is a bit inconsistent getting there…most receivers are. This week, he faces Detroit, which will probably be the last time Jennings can be had for a reasonable price. Perhaps he doesn't go for much more than the 5-82-1 line he posted in Week 1, but given the state of the Packers' running game, he could explode at any time because he will have even more opportunities than he has received in years past. As for last week, credit the Bears' Cover 2 shell for his poor output. Chicago did a fine job of not letting Jennings get behind the defense, forcing Aaron Rodgers to settle for a high number of short and intermediate routes.
Are you looking for the reason that Crabtree is strictly bench material in fantasy right now? His connect % with Alex Smith is an ugly 32%. A new OC can't hurt his lackluster numbers and now is the time to buy with him as well. I feel good for landing him for Brandon Jackson last week, even if I need to sit him on the bench for a few more weeks. Speaking of low connect %, look no further than Garcon. While Wayne (69%), Collie (84%) and Dallas Clark (78%) all enjoy life with Peyton Manning, Garcon is sitting at 33%. A mistake-filled Week 1 didn't help his cause, but that is an unacceptable connect % for any QB that works regularly with Manning. Two final eye-catching low connect percentages are those of San Diego's starting receivers Floyd (46%) and Naanee (53%). Certainly, San Diego's passing game isn't the most conducive to high connect rates, but it is noteworthy nonetheless. Look for those percentages to pick up as the season progresses.
TE
Judging TEs using the same criteria as I did with the WRs above, here are your top ten tight ends in terms of connect %:
1. Jeremy Shockey
2. Aaron Hernandez
3. Jermichael Finley
4. Dallas Clark
5. Tony Gonzalez
6. Brandon Pettigrew
7. Chris Cooley
8. Tony Scheffler
9. Kellen Winslow
10. Ben Watson
Thoughts: Shockey had a vintage performance (8-78-1) last week, but owners are advised to not count on him anytime soon. He may see a slight increase in value with Reggie Bush away, but more than likely he benefited from a Falcons' defense that had yet to face an elite QB who could find his TE on a regular basis. If the window hasn't closed on your opportunity to get Hernandez as a free agent in your league, it probably will this week. He's not really a WR, he's not really a TE…he's just a weapon that defenses can't really game plan for and he's caught all but two of Tom Brady's 15 passes headed in his direction. While the 87% connect rate is probably unsustainable, he's already become a pretty solid bet for 6-7 targets/game. Finley's time is coming; he had a score called back on a penalty on Monday night, but anyone who saw some of the grabs he made vs. the Bears can understand he is still a very good bet to finish as fantasy's top TE this season. I find it quite odd two Detroit TEs find themselves on this list, but Pettigrew's emergence has come since Shaun Hill took over and Nate Burleson was injured. Winslow's presence make sense because he is a gifted receiver working with a young QB, but the shocker to me is how Watson is catching so many of his targets from Jake Delhomme and Seneca Wallace. Keep in mind the main reason Watson failed to live up to his potential in New England was because Tom Brady & Co. could never trust his hands on a regular basis. For what it is worth, I expect only about half of the names on this list will still be there at midseason.

Notable names that just missed the list: Greg Olsen, Owen Daniels
Quick hits: Congrats to those owners who used Gonzalez's slow start to the season to their advantage. In the one league (the aforementioned SOFA Auction league) in which I was weak at TE, I was able to deal Marshawn Lynch, Nate Burleson and Marcedes Lewis for Mike Wallace and Gonzalez. In one of my money leagues, Gonzalez was dropped for Tony Moeaki. (Moeaki is definitely a talent, but really?!!?) It's difficult to say that Gonzalez is in line for another banner season, but he's probably a sure bet to produce as long as he plays. Even if he isn't the athlete he once was, he is about as sure-handed as they come.
Are you a disgruntled Celek owner? It turns out you can blame his offensive line. As is sometimes the case with tight ends, they will be asked to assist an ineffective or injured offensive line. While it makes plenty of sense that should lead to more short passes to the TE, it rarely works out that way. (Think John Carlson in 2009.) It's important to remember the entire dynamic has changed in Philly with Michael Vick now the starter. Instead of having his best friend Kevin Kolb under center and the offense built around a short passing game, the team is now operating around Vick's mobility and big arm. Since the Eagles feature two talented deep threats and Vick can usually buy himself some time, Celek isn't needed as much. Hang onto him, because Vick won't get to face the secondaries of Detroit and Jacksonville much longer. As those teams disappear from the schedule, Vick will need his other options.
Olsen just missed the list above, but would rank as the sixth-best TE in terms of connect % if he qualified. He is certainly making the most of his opportunities, but it's hard to: a) believe in a Mike Martz TE and b) overlook how fluky his TDs have been. In Week 2, his lone catch was a 39-yard catch-and-run in which Dallas simply did not line up a defender next to him in man coverage. On Monday night vs. the Packers, a backpedaling Jay Cutler hit him on a low throw that could have easily been deflected by Green Bay LB Brandon Chillar. Admittedly, the second TD was less fluky than the first, but Olsen is could have easily posted fantasy games of 5.7, 0 and 9.5 in PPR. Then again, as Mike Martz said earlier this season, he's never had a TE who could run like Olsen (apparently Vernon Davis isn't the greatest athlete), so maybe there isn't anything to worry about here after all.

Suggestions, comments, musings about the article or fantasy football in general? e-mail me.