Misery Loves Company




9/23/10



Aggressiveness is a characteristic that tends to reward fantasy owners more times than not. In the NFL, an offensive line will sometimes hold up long enough to give the quarterback enough time to beat man coverage down the field and make the defense look foolish against a fierce pass rush. More often than not, though, when a defense brings the heat and forces the action, crisis management becomes the name of the game for the opposing team.

In that same vein, I hope to apply that same kind of pressure to the owners in all of my leagues by beating my opponents to the punch in regards to personnel moves. Sometimes, reaching a conclusion about a player too quickly is much like trying to blitz Peyton Manning – dangerous and painful. However, coming to a correct conclusion two weeks or two minutes quicker than your opponents is considered foresight. Fantasy owners can be a uneasy lot, knowing that one two-or-three-game losing streak can wreak irreparable damage to his/her team's chances to make a visit to the fantasy postseason. But just as it is in the NFL and in life, it's hard to land the big prize by playing scared. Thus, I will strive each week to help each of you become a smart blitzer, so to speak.
---
As much as we all embrace the joy of playing fantasy football, there are some weeks in which we all wonder if should try our hand at another hobby. This past week was one of those weeks for yours truly. No one likes to admit they lose a game from time to time, but it happens and I have always been one to take a bad performance from my fantasy teams to heart. Let's just say that last week offered up more than one such opportunity.
Sometimes, even for the so-called "experts" of the fantasy football industry, it can be cathartic to share our peaks and valleys with the masses because it should go without saying that we all have them. Fortunately, this past week did not come without personal precedence. In what can only be described as an odd coincidence, last year's Blitz following Week 2 was called "When Aggravation Leads To Prospecting".
To recap, the "aggravation" part of the 2009 article had to do with the Dolphins' insistence on limiting Ronnie Brown to "Wildcat" plays and mostly inside runs while Ricky Williams received most of the outside runs and work in the passing game. The sour feelings continued as I lamented over the plethora of goal-line backs in the league and the age of decreasing RB workloads. Fast forward to this past week in which I ran into buzzsaw after buzzsaw on the fantasy schedule. Long story short, if I didn't have the highest-scoring team in the league in Week 2, I didn't win.
The "prospecting" part of the 2009 article came as I attempted to make sense of the early returns in terms of RB touches and WR/TE targets and at the end of the piece when I offered up some kind words regarding Cal RB Jahvid Best's chances at fantasy success. While I will not be prospecting college players in this article, I will be seeking to answer some questions about what has transpired thus far and digging for "fantasy gold". Brandon Marshall and Calvin Johnson will not remain scoreless for much longer nor will Best and LeSean McCoy join the 20-touchdown club. Best and McCoy's owners are enjoying life right now, but will they be just as happy after the former faces Green Bay and Minnesota over the next couple weeks while the latter runs up against Washington and San Francisco in Weeks 4-5? It's certainly possible, but just like in the financial investment industry; a savvy investor is typically able to spot a good selling opportunity just like he/she will usually be able to identify a likely drop in a stock's value.
But let's not get too ahead of ourselves. I have long found it useful to take a regular look at the consistency of workloads for RBs and the target rates for WRs and TEs. For each position this week, I set the cutoff at five targets or touches/game. While they are hardly foolproof limits, once we get lower than those numbers, we are typically dealing with players who should be readily available on your league's waiver wire or on the cheap from an owner holding onto that player to fill out his/her roster. As you will see, there are some notable exceptions on each list, but expect most of those players to find their way back up the chart before long.
The important things to remember before we start: keep things in perspective and remember we are dealing with a small sample size right now. Just like you, I'm a fantasy owner who is trying to spot value in some players while also explaining why other players are disappointing us.

Notable RBs who missed the cut: Steve Slaton, Tashard Choice, Michael Bush, Beanie Wells (the last two RBs have yet to play)
Quick Hits: Before we go into the touch/target breakdown, allow me to show you what the top 10 looked like last season after two games (sorted in order by touches/game):
1. Cedric Benson (27)
2. Fred Jackson (27)
3. Michael Turner (25.5)
4. Kevin Smith (24)
5. Frank Gore (23)
6. Mike Bell (23)
7. Adrian Peterson (22.5)
8. Matt Forte (21.5)
9. Maurice Jones-Drew (21.5)
10. Chris Johnson (20.5)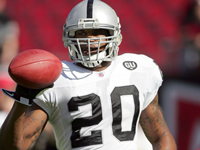 Time to shop McFadden.
There's definitely some symmetry at the top of the board when compared to 2009, with Foster playing the role of the somewhat predictable breakout RB (like Benson) while McFadden is filling the role of the RB who is performing well above expectations due in part to a timely absence by his backfield mate (like Fred Jackson when Marshawn Lynch was serving his suspension). As much as I liked McFadden coming out of college (and as often as I've criticized Oakland for using him the wrong way), I don't think there is any chance McFadden can maintain his current workload given his history of injuries. It's debatable how quick the Raiders will revert back to a committee, but I have a strong feeling that it (or the inevitable McFadden injury) will happen, making the RBBC point moot. This means now is probably a fine time to shop McFadden around your league and see what he can bring in return. Oakland faces Arizona in Week 3, so although Weeks 4-5 sees Houston and San Diego on the schedule, it should also return Michael Bush to the field. HC Tom Cable stated last week that Bush and McFadden would share the workload upon the former's return. As we know from the QB situation in Philly, coaching decisions can change by the day, but we'd be wise to remember that Bush has outperformed McFadden for two years and was stuck in a committee with him and Justin Fargas. Let's just say I need to see McFadden run well vs. the Redskins in Week 3 before I'm about to change my mind on his long-term fantasy prospects.
Reggie Bush's broken fibula – along with the knee injury suffered by preseason sensation Christopher Ivory – has presented Pierre Thomas and his owners with the rare opportunity to see what he can do in a non-committee situation, even if it is for a limited time. Certainly, Ladell Betts will see some touches while Bush and Ivory recover, but Thomas was already seeing more work than he was last year even with Bush was healthy. Deep leaguers may want to check upon the availability of Ivory (who is hopeful to return in Week 4), as he may steal some of Thomas' goal-line work and assume the complementary role Bush played in this offense until he can return around midseason. But as for Thomas, back-to-back 20-plus-touch games speak well for his future.
I'm torn on the outlook of Best. You may recall that I had him rated as the #11 overall PPR RB on my Final Big Board and considering how high I was on him as a college player, I'm tempted to believe he is exactly what HC Jim Schwartz wanted in Detroit: his very own version of Chris Johnson. On the other hand, I'm a bit concerned about his ability to hold up for an entire season, especially considering that he never received more than 221 touches during his three-year college career. Not only does his durability concern me, but his 2.5 TD/game pace is obviously unsustainable. Since he was likely drafted as a RB2 in most leagues, there shouldn't be much rush to "sell high" on him; however, Detroit will run into the stout run defenses of Minnesota and Green Bay in Weeks 3-4, so progressive owners may be wise to see what his value is in their league. If another owner should come along with an offer that includes an established RB1 or WR1 in return for him, it may be advisable to see if you can use the rookie's fast start to your advantage. On the other hand, if you are looking to deal for him, I would advise that you seek a trade after Week 4.
Depending on how quickly your league reacts to a slow start by a player, now may be the time to pursue Ray Rice. For those folks that religiously read my PSAs this summer, you may recall that I warned that Ravens' players may get off to a slow start. Why? Three of the first four games were against the Jets, Bengals and Steelers (Week 4). The other game? This week against the Browns. Buying Rice now may allow you to get him at a slight discount with the added benefit being that he only has one more matchup after Week 4 that I would consider a poor matchup – Week 13 vs. Pittsburgh. On the subject of players who may have seen their stock drop two weeks into the season (but figure to see a quick increase in value), Jones-Drew, Benson, Turner, Charles and Stewart all strike me as good backs to target now. I'm even a bit tempted to throw Fred Jackson into that mix, as he should see roughly 12-14 touches next week, but I'm not sure I can believe in any Bills' player right now.
Speaking of Jones-Drew, most loyal readers probably wonder why I continue to drive his bandwagon. Some of it has to do with his ability to run inside while also serving as a big-play threat and some of it has to do with the fact that he has a mobile QB in David Garrard that can affect a defense (in much the same way Vince Young does for Chris Johnson in Tennessee or what Michael Vick has already done for McCoy in Philly). Yet another reason for my steadfast backing of MJD has to do with the receiving options the Jags' offense possesses (even if most of the fantasy world doesn't believe that Mike Sims-Walker, Mike Thomas and Marcedes Lewis makes up a better-than-average supporting cast), which in theory should mean Jones-Drew rarely has to see eight men in the box. While all this may or may not be true, none of it matters if Jacksonville continues its disturbing tendency to forget the player it says is its featured player. Such was the case again last week – much as it was several times last season. Perhaps the Jags figured it didn't make a great deal of sense to overexpose MJD in a blowout loss to the Chargers, but few games are so out-of-hand so quickly that a RB of his caliber doesn't have 13 touches by halftime. In case you are wondering, his last touch in Week 2 came at the four-minute mark of the third quarter (a 17-yard reception) with the Jags trailing 24-6. In other words, the game was far from over. Rashad Jennings is a fine backup, but any game in which he sees as many touches as Jones-Drew should be considered a slap in the face to one of the league's best backs.
I cannot recall a time that a lead RB scored three times receiving before scoring his first rushing TD. Such is the case for Forte, who should be one of the most shopped players in fantasy over the next week. While his overall fantasy production has been borderline stellar, his 2.9 YPC as a rusher is every bit as embarrassing. Defenses will almost certainly soon realize that Chicago's offensive line cannot hold up in the running or passing game and assign a spy to Forte, hopefully forcing Jay Cutler into the QB he was last season – a down-the-field thrower who is prone to throwing interceptions. This is one of the most one-dimensional offenses in the league right now and I wouldn't be a bit shocked if Green Bay exposes that fact on Monday Night Football this week. Yes, Forte should easily match or surpass his career-high receiving totals of 64 catches, 484 yards and four TDs in OC Mike Martz's offense, but the early returns suggest his rushing totals will be ugly all season long. When defenses begin to account more for Forte in the passing game, it may not take long for his (and Cutler's) stock to tumble.
One of the many "morsels of wisdom" I offered early in the preseason was in my Rookie Impact article in which I stated, "unfortunately, we can't take for granted that teams and their personnel departments do this (make the judgment as to whether or not a certain player fits into their system)". While I was talking about rookies in that piece, I could just as easily use that same adage for coaches determining how veterans fit into their system as well. Of course, I'm talking about how HC Todd Haley is running the Kansas City Chiefs. Somehow, it has been determined that Thomas Jones' leadership (read: 3.7 YPC against two average run defenses) is somehow more valuable than Jamaal Charles' big-play ability (6.4 YPC in the same two games plus the team's only RB score). It may have occurred to you already that just as in fantasy football, the real game doesn't always reward sound reasoning and punish stupidity. Deep down, Haley has to realize his team is 2-0 thanks more to his special teams and defense than his offense (which is supposed to be his specialty). With that said, Charles' owners knew that Jones could stand in the way of Charles' early success the day Jones signed with Kansas City, so be advised that it might take a little while for Charles' stock to skyrocket again.
As critical as I just was about Haley's lack of common sense so far this season, I was even more mystified by the use of the RBs in Buffalo in Week 2. The Bills insist none of their RBs are available for trade, but if last week wasn't a "showcase game" to drive up Lynch's price tag in a potential trade, I don't know what it was. Further consider that Buffalo opted to start the one player (Lynch) against the one team (Green Bay) that he has been linked to since Ryan Grant was lost for the season. Otherwise, what kind of world do we live in where the hot-shot, big-play rookie RB (CJ Spiller) receives one late carry and five total touches while the third-string RB (Lynch) who missed most of the offseason workouts is rewarded with the feature-back role? To top it off, the one RB who is injured (Fred Jackson) is the one who gets the goal-line carry? Yes, HC Chan Gailey said before the season that Jackson would get worked in slowly coming off his injury, but in a game vs. the Packers in which Buffalo could have used all the big-play weapons it could possibly muster, the combination of Spiller and WR Lee Evans saw a combined four targets and five total touches in the passing game (all Spiller's).
It took all of one-week-plus for Mike Tolbert to throw himself back into the goal-line back discussion in San Diego. As of right now, Chargers HC Norv Turner believes that Tolbert and Ryan Mathews will split the workload at the stripe, but the rookie stated on Wednesday that he sustained the dreaded high ankle sprain in Week 2, which may open the door for Tolbert to claim the goal-line job for himself while Mathews returns to full health. I only mention the situation in San Diego to remind Mendenhall's owners to be prepared for the same fate with their likely RB1. Protect yourself by picking up Isaac Redman, dealing Mendenhall while he is still carrying his preseason value or risk losing a great deal of value when the Steelers morph back into a passing offense in a few weeks when Ben Roethlisberger returns. You've been forewarned…


Notable WRs who missed the cut: Devin Hester, Mike Williams (SEA), Mike Wallace, Lee Evans, Chris Chambers, Bernard Berrian, Nate Burleson, Robert Meachem
Quick Hits: Like I did for the RBs, let's take a quick look at the target leaders at WR after two weeks last season (in order of targets/game):

1. Steve Smith - CAR (14)
2. Santonio Holmes (12.5)
3. Randy Moss (12)
4. Andre Johnson (11.5)
5. Ted Ginn Jr. (10.5)
6. Nate Burleson (10.5)
7. Steve Smith - NYG (10.5)
8. Calvin Johnson (10)
9. Roddy White (10)
10. Reggie Wayne (10)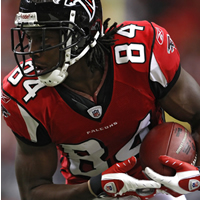 Whites' 17.5 targets per game is music to fantasy owners' ears.
The offseason bonding that occurred between Matt Ryan and Roddy White must have really been something special. While some of his obscene 17.5 targets/game can be attributed to the absence of Michael Jenkins, it doesn't explain why he is also eating into what should be an increased target rate for TE Tony Gonzalez. Regardless, expect White to remain at or near the top of this list all season long.
If owners are hoping to target a WR that is on the verge of having a huge game, allow me to recommend Terrell Owens, Santana Moss and Calvin Johnson. In all likelihood, "Megatron" won't be all that easy to pry away since his owner likely invested a second-round pick into him. However, the target rates for Owens and Moss are high enough that it is probably just a matter of time before their fantasy numbers really take off. Owens is likely the safer bet of the two given his supporting cast, but one could easily make the argument that since Washington has fewer mouths to feed in the passing game, Moss is the better bet of the two to see consistently high target numbers.
I wasn't entirely sure I wanted to invest anything of value into Mark Clayton despite a dynamic Week 1 performance, but it is becoming more and more clear that rookie QB Sam Bradford is willing to lean on him. Despite being guarded by Raiders CB Nnamdi Asomugha for most of the day, Clayton still saw five targets and scored both of the Rams' touchdowns, although neither TD came against the Oakland's top CB. With upcoming games against the likes of the Lions, Bucs and Panthers in the first half of the season; Clayton is nearing the point where we can consider him a regular WR3 in 12-team leagues.
Another player that may be available on the cheap – given that he did not play in Week 1 – would be Broncos' rookie Demaryius Thomas. Since 1995, only three rookie WRs had a better NFL debut than Thomas did in Week 2 (Anquan Boldin, Eddie Royal and Randy Moss). In Boldin and Moss' case, we are talking about elite physical talents. In Royal's case, it isn't hard to recall how he took advantage of Brandon Marshall's absence in his debut, abusing then-Raiders CB DeAngelo Hall in the second game of the Monday Night Football opener two seasons ago. Thomas, while certainly a raw talent, is more in line with the Moss and Boldin than he is with Royal in that regard. The rest of the top 10 list of rookie WR debuts has its studs (Marvin Harrison, DeSean Jackson), players who it is too early to make a call on (Louis Murphy), pedestrian veterans (Deion Branch) and players who flamed out quickly thereafter (JuJuan Dawson, Charles Rogers). With all that said, QB Kyle Orton showed instant rapport with his highly-touted rookie, targeting Thomas nine times in just two series vs. Seattle.
By all accounts, "Bay-Bay" is a high-character, smart, team-first player, so owners should not worry about a Rogers-like ending. While Denver will be smart about limiting his snaps early on (he was sidelined by a foot injury for most of the offseason and training camp), Orton may make it clear in another 2-3 weeks that he is ready to depend on Thomas in much the same way he did Brandon Marshall. No, the rookie isn't going to automatically step into Marshall's 100-catch shoes, but for owners looking for a fairly low-risk but a potentially high-reward option, Thomas may be a good investment if he is truly over his foot problems. Still, those owners who invest in Thomas should be warned he should be viewed as a roster stash for the second half of the season, in part due to his abbreviated offseason but also because of the Broncos' upcoming schedule (Colts, Titans, Ravens, Jets, Raiders and Niners before their Week 9 bye).
Perhaps it is a good time to invest in Darrius Heyward-Bey, but I doubt it. In fact, like DHB, Ted Ginn used a huge Week 2 last season to soar up the target list only to not be heard from again. As you can imagine with such a small sample size, one big week will skew the averages and I tend to believe owners will look back at Week 2 and wonder why Heyward-Bey disappeared so quickly. Substantial improvement should be expected from DHB in his second season with reports that he enjoyed another great offseason, but Louis Murphy and Zach Miller are the only players that should be owned – much less used – from the Oakland passing game.
Owners of Saints' receivers know the drill by now. Drew Brees does a great job of spreading the wealth, meaning a player like Marques Colston suffers in fantasy because RBs like Reggie Bush and Pierre Thomas collect 80+ receptions in the short-passing game and two deep threats (Devery Henderson and Robert Meachem) steal a good deal of his potential down the field. However, in light of Bush's leg injury that may sideline him six weeks, New Orleans will need to re-evaluate its pass distribution. Certainly, Thomas figures to get some of Bush's touches, but look for Moore and Colston to benefit as well. While Bush is a big-play threat, he often receives the ball near the line of scrimmage. Those throws won't leave the offense just because Bush is absent, so I'd imagine the Saints' two best possession receivers will get more work, meaning Colston should see his numbers improve while Lance Moore could again be worth a look.
I'll wrap up this segment by discussing a player I was very high on two weeks ago: Dwayne Bowe. Let's just say that all the goodwill that HC Todd Haley built up with me over his career as an assistant and coordinator is quickly being tested. Mind you, I don't often make it a habit to criticize 2-0 teams, but not acknowledging that Charles is one of the league's most dynamic runners is one thing; not using Bowe when he is the only established receiving threat on the team is a whole other issue. Certainly, rookies Dexter McCluster and TE Tony Moeaki appear to be on their way to being solid pros, but the fact that Bowe has only been targeted on 10 of Matt Cassel's 50 throws so far is mind-boggling. What makes this even more puzzling is that Bowe – who wasn't exactly known for a strong work ethic – was praised for his willingness to take a leadership role with the team and his work habits this offseason. Also, let's remember that a less mature Bowe was a dominant pro WR with the likes of Tyler Thigpen and Brodie Croyle serving as his QB just a few years ago. While his two-game start to the 2010 season is highly disappointing, the weather conditions in San Diego in Week 1 limited the passing attack and the Browns' dismal offense didn't exactly force the Chiefs to turn their passing game last week. With upcoming games against the Niners, Colts and Texans, expect the passing game (and Bowe) to be called upon more often.

Notable TEs who missed the cut: Brent Celek, Heath Miller, Owen Daniels, Tony Gonzalez
Quick Hits: Because tight ends are people too, let's take a quick look at the target leaders at TE after two weeks last season (in order of targets/game):

1. Kellen Winslow (9.5)
2. Brent Celek (9)
3. Chris Cooley (8.5)
4. Antonio Gates (8)
5. Tony Gonzalez (8)
6. John Carlson (8)
7. Owen Daniels (8)
8. Jason Witten (7)
9. Dallas Clark (7)
10. Jerramy Stevens (7)
Who could have imagined that four of the top TEs from last season would struggle to see targets through two weeks? Miller's absence from the list is acceptable considering he hasn't had Ben Roethlisberger under center and Daniels can be excused because his snaps are being limited as he recovers from knee surgery. But Celek and Gonzalez's disappearing act thus far is shocking. However, two-game "dry spells" are fairly common in fantasy, so owners are advised to ride their starts out just a bit long, even if they have contributed to your team's slow start.
The best thing owners of these struggling TEs can do is look to the waiver wire and see if the likes of Tony Moeaki, Aaron Hernandez or Marcedes Lewis are still available. Moeaki's target rate speaks for itself, although he had trouble staying healthy while he was in college. I've seen Hernandez play in the preseason and in each of his two regular season games; let's just say that I wondered during their Week 2 loss against the Jets if Tom Brady went to management last season and asked for his very own Dallas Clark. The rookie from Florida reminds a lot of a smaller but faster version of the Colts' TE. Lewis, on the other hand, was on my radar in the preseason as he enjoyed his finest offseason as a pro, according the Jags' coaches. He won't record a nine-target, 70-yard performance every week like he did in Week 2, but as his two-score Week 1 will attest, he is one of David Garrard's favorite red-zone options. Perhaps the most comforting thing I can say to Gonzalez and Celek owners is that players such as Vernon Davis and Zach Miller did not appear on the top 10 list above at this point of the season last year, so be patient.
As most of us know by now, a high target rate does not guarantee production; it only serves as one of several indicators that help predict future production. Much as was the case last year, Carlson finds himself in the area of a decent percentage of Matt Hasselbeck's pass attempts, but only about half of them are connecting. Fantasy owners knew to be leery of the Seahawks' passing game this season, but it is not a good sign that Carlson has yet to score when you consider what he has around him. Carlson will find the end zone from time to time, but I'd certainly be willing to bench him (if I owned him) for any of the three TEs I mentioned in the paragraph above at the moment.
Conversely, Witten's owners should keep sticking him in their lineup, although they have to be wondering what happened to Tony Romo's best friend. In my research, I discovered that Witten's "connect rate" with Romo was 76% last season; after two games this season, it is just 50%. While it's tough to see Witten so low on the rankings after two weeks, you can be assured that if he continues seeing eight targets/game, his numbers will come. Do you need something else to consider? Witten could easily have enjoyed a monster PPR game in Week 2 as five of Martellus Bennett's eight targets came after the team refused to let Witten go back into the game after he sustained a concussion.

We'll conclude this edition of the Blitz by welcoming back Keller to fantasy relevancy. The Jets' TE greatly benefited from OC Brian Schottenheimer opening up the offense in Week 2. Assuming New York allows Mark Sanchez to play a bit of QB from time to time and doesn't always him to be a "caretaker", Keller could eventually become a low-end TE1 in fantasy. Still, Keller's owners should have another decent TE option on their roster just in case.

Suggestions, comments, musings about the article or fantasy football in general? e-mail me.