Welcome back, class. How did you get better this offseason?

It's nearly impossible not to feel or get "rookie fever", especially when you find yourself in the midst of a rookie draft like I am at the moment. With that said, early June is as good as any to start getting real about the incoming class. I believe draft prep should begin with rookies every season simply because they bring more of the unknown to the table than any other group of players.

Unlike last year, there should be more than just a handful of freshmen who leave a significant footprint in fantasy in 2017. Because this class is more loaded than last year's, we are stretching this out over two weeks - like we did back in the good ole days. This week's offering covers the 12 players I thought were the most noteworthy outside the top 10 - six honorable mentions and six players who will receive the same treatment as next week's list. That doesn't mean this week's article is just a teaser; even the most casual college football fans are going to recognize some of the names I discuss this week.

Note: The rankings below are for the 2017 season only and ranked in order of likelihood of fantasy impact. (For example, quarterbacks like Deshaun Watson may accrue more fantasy points given the nature of their position, but the chances of them impacting a fantasy team are slimmer than say, a potential fantasy WR3 in a three-WR league, because the receiver may become an every-week fantasy starter.) The RB3/WR4-type designations I make are what I expect that rookie to be in PPR formats this season.

Rookies that just missed the cut:

David Njoku, TE Browns

Njoku has the talent to be the best tight end in this class. He had one significant obstacle to his immediate success removed when Cleveland released Gary Barnidge after the draft, but the Browns actually have a fair amount of veteran talent at the position already. The biggest problem for the No. 29 overall selection is the quarterback situation. Cody Kessler may end up being a serviceable pro when all is said and done, but does he project as a quarterback who is going to make all of his receivers better over the next two to three years? Does Brock Osweiler or DeShone Kizer fit that description? I think the answer to each question is "no". Njoku is such an incredible athlete he may be able to overcome average quarterback play down the road, but he is extreme longshot to do it as a rookie who will turn 21 in July. While he'll likely occasionally flash enough to get owners to bite on the waiver wire, the odds are strong his first year will be a rough one from a fantasy perspective.

Deshaun Watson, QB Texans

Watson is probably going to make some starts in 2017, and it could happen as soon as Week 1. Tom Savage has shown very little durability over his three-year career and has yet to throw for a touchdown in the NFL. In fact, his only true advantage over the rookie may be the fact he has a three-year head start in HC Bill O'Brien's offense. Watson is a threat as a rusher and will generate his fair share of fantasy points because of it as a result - perhaps enough to be considered a middling fantasy QB2 option - but he is not a running quarterback per se. Despite having plenty of weapons at his disposal with the Texans, he needs time to develop and should be ushered in slowly. As such, a good fantasy week out of him this season may be something along the lines of 215 yards passing, 25 yards rushing, two touchdowns and one interception. I suppose there is some potential for a Dak Prescott-like rookie campaign here, but the Texans don't boast the same kind of offensive line Dallas does.

James Conner, RB Pittsburgh

With Le'Veon Bell around, Conner isn't going to find himself playing all that much. However, owners are well aware of the problems Bell has had staying on the field - be it due to injury or suspension - and if/when those problems rear their ugly head again in 2017, Conner figures to dominate the fantasy box score in the same way DeAngelo Williams did during his two-year stay in Pittsburgh.

Cooper Kupp, WR LA Rams

It was pretty much a no-brainer the Rams were going to target the offensive side of the ball in the draft, especially any player who catches passes for a living. No one has ever done that at the FBS or FCS level quite like Kupp, who finished his college career with 428 receptions at FCS Eastern Washington. Let's quickly erase the lack-of-competition myth as well: in his three opportunities against FBS programs over the last three years, he roasted Washington (2014), Oregon (2015) and Washington State for 35 catches, 597 yards and eight TDs. Kupp doesn't boast elite measurables, but I'm not sure that matters all that much in this case; he plays a different game mentally than his competition. He figures to be a high-volume target who will play the slot role of Jamison Crowder in new HC Sean McVay's offense. On an offense where it is difficult to find one receiver of winning his matchup most weeks and with a front five that still has some holes, Kupp may find himself catching a lot of five-yard passes over the middle.

Jamaal Williams, RB Green Bay/Aaron Jones, RB Green Bay

It wouldn't be terribly surprising if the Packers had a top-10 fantasy back in 2017. Pegging who that player may be will be a challenge, since Ty Montgomery is a near-lock to begin the season as the starter. Will it stay that way? Under HC Mike McCarthy, Green Bay has a history of favoring bigger backs, as Ryan Grant and Eddie Lacy have each enjoyed multiple years of sustained success. Assuming 230-pound seventh-round pick Devante Mays ends up on the practice squad, Williams is the only power back the Packers have. For an offense that projects to be as good as Green Bay's, he could be positioned nicely for 10-plus touchdowns if he secures goal-line work. Montgomery offers some power at 216 pounds and there's always the chance he blossoms into a more physical runner as he gets a full offseason to play his new position, but he seems much more like a committee back than a feature back. And then there's Jones, who may just be the player who can make this offense truly special. It's hard to recall the last time the Packers had a big-play threat like him in their backfield (he is more explosive than Brandon Jackson was), and one has to wonder if GM Ted Thompson selected him as a player who will be a nice backup to Montgomery, a safe fallback option if Montgomery's transition to running back doesn't work out, a committee partner with Williams or an eventual lead back. They are all realistic possibilities. If I had to put my money on one back stepping forward for Green Bay in 2017, it would be Williams, but the reality is any of the three could be that guy.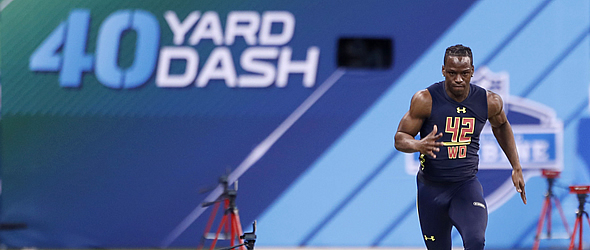 Speedster John Ross may have a difficult time carving out a volume role in his rookie season.
And now, the players who just missed the top 10:
16. John Ross, WR Cincinnati (Draft Profile)
2017 Projected Role: Complementary player; likely Week 1 starter opposite A.J. Green who may share snaps initially with Brandon LaFell should the Bengals want to reduce his injury risk. He should eventually move into the role once occupied by Marvin Jones.
Mind-blowing college stat: Ross scored 24 touchdowns on only 134 offensive touches over his three-year career at Washington.
Why he will live up to this ranking and perhaps exceed it: With the Bengals viewing Tyler Boyd mostly as a slot receiver, LaFell will serve as Ross' primary competition for the right to line up opposite Green. It's a contest he should win rather easily, even if Cincinnati sticks with its recent history of bringing rookies along slowly. The Bengals will only be kidding themselves if they rule Ross versus LaFell a draw heading into the regular-season opener; LaFell's 64-692-6 line looks OK to the owner who only cares about the year-end numbers, but he really boosted his final numbers over the last three games in which Green and Tyler Eifert did not play (or played very little). Ross is more than just a 4.22 speed receiver; he understands how to set up cornerbacks in order to gain separation downfield and is the rare rookie wideout who can actually run routes. The presence of Green and Eifert may cap his touchdown upside, but can defenses really take a safety away from either one of them in order to protect themselves against Ross? Probably not.
Why he won't: Supporting casts can be funny; a good one will allow a potential star to really shine, but a great one may keep a potential star from emerging. Ross is not going to overtake Green in the Bengals' passing-game hierarchy, and Eifert has emerged as a very potent red zone option when healthy. Thus, Ross is really going to need to be efficient because he isn't going to benefit from extreme volume or being the primary red zone option. Cincinnati's offensive line is also a work in progress and may not be able to give Andy Dalton enough time as Ross owners might like. Thus, the Washington product may need to show off his ability to run dig and hook routes for most of his rookie season, at least until Dalton has enough confidence in him to let him compete for 50/50 balls against bigger corners. Ross has already proven to be quite injury-prone as well, so add durability onto the list of reasons why the rookie may struggle to become an every-week starter in 2017.
2017 Fantasy Assessment: It's really hard to forecast what Ross will do as a rookie. For starters, can he play all 16 games? Will the Bengals let him start right away or defer to the veteran LaFell just because he has more experience? Will Eifert pick this year to stay healthy? Will the offensive line and running game be good enough to give Ross another half-second to get open deep more often on play-action? If Cincinnati doesn't play games with its No. 9 overall pick and lets him hit the ground running, he could be the top rookie receiver in this class. However, an investment in Ross comes with frightening injury risk and probably an expectation he is going to miss some time. There are enough obstacles here that Ross needs to be viewed as no more than a WR4 in fantasy, capable of delivering week-winning upside from time to time.
Fearless early-June prediction (six starts): eight carries for 65 yards and no TDs; 42 receptions for 655 yards and five TDs
15. O.J. Howard, TE Tampa Bay (Draft Profile)
2017 Projected Role: Complementary player; although he should be a clear Week 1 starter, Mike Evans and DeSean Jackson figure to be the top two options in the passing game. Howard should be able to emerge as the Bucs' second-best red zone option in relatively short order, however.
Mind-blowing college stat: Howard averaged 157 receiving yards and 1.5 TDs in two games against Clemson versus 29.4 yards and 0.08 scores in his other 48 outings.
Why he will live up to this ranking and perhaps exceed it: Howard compares very favorably to Greg Olsen, which should tell you everything you know about his upside in the short- and long-term. The Alabama alum is as complete of a tight end prospect as the draft has offered in recent years, posting near ideal size (6-6), speed (4.51), hands (three drops in two seasons) and grading out as a top blocker, meaning he should settle in as a three-down player right away - far from a given for any rookie tight end. Not surprisingly for someone with his athletic profile, Howard also boasts impressive versatility, as he played in-line, at H-back, in the slot and out wide last season. The No. 19 overall pick is also going to benefit from his supporting cast, as Evans and Jackson each demand safety help, which should enable Howard to do battle against a third safety in a big nickel package or a linebacker in a base package - both of which are matchups that favor the rookie in a big way. Jameis Winston also possesses a big arm, is one of the most aggressive downfield passers in the league and has shown quite an affinity for tight ends going back to his college days, so Howard's ability to stretch the seam and catch everything thrown his way figures to keep him near and dear to his young quarterback's heart.
Why he won't: Howard's prospects for long-term success look pretty good, but what he lacks in terms of quantity of immediate roadblocks, he makes up for in the quality of the obstacles. Tight ends rarely ever thrive - at least in terms of fantasy numbers - in their rookie season. (Unlike a player will discuss later, Evan Engram, Howard is a true tight end.) As noted earlier, Evans and Jackson are going to be the primary receiving threats when healthy, at least in 2017. Cameron Brate broke out in a big way in 2016 and isn't going anywhere; his presence - along with the lack of a standout third receiver - will probably make Tampa Bay an offense which runs two-tight formations more than any team in the league. Evans and Brate figure to remain very much primary targets near the goal line as well, further reducing the number of ways Howard could buck the trend of rookie tight ends not producing solid fantasy numbers.
2017 Fantasy Assessment: There's no need to feel sorry for Howard, as he'll be a Pro Bowl-level tight end soon enough. Just how quickly he will get there is the question. Playing time should not be a problem, but Brate's presence alone will probably keep him from becoming only the 14th tight end in league history to exceed 40 catches, 500 yards and five touchdown catches as a rookie. So why is even on the list? Since tight end remains such a shallow position for fantasy purposes, any player at the position capable of coming close to the aforementioned benchmarks is probably on the radar as a TE2, and any tight end capable of hitting two of marks is probably on the TE1 radar. Having said that, Howard should be considered a high-upside TE2 at draft time who may struggle to finish inside the top 15 at the position if Tampa Bay's skill-position players stay healthy.
Fearless early-June prediction (15 starts): 40 receptions for 550 yards and four TDs
14. Joe Williams, RB San Francisco
2017 Projected Role: Possible committee back with Carlos Hyde, assuming he can beat out Tim Hightower for the backup role at some point in camp.
Mind-blowing college stats: Upon his return from a four-game "retirement", Williams averaged 190 yards rushing over the final seven games of his college career. Also, his 22 runs of 15-plus yards were 10th-most among draft-eligible runners despite having the 20th-most rushing attempts, per Pro Football Focus.
Why he will live up to this ranking and perhaps exceed it: New HC Kyle Shanahan has proven time and again he knows how to spot a running back who fits his system or the ability to tweak his system to adjust to existing personnel. It seems fairly obvious he liked what he had in Atlanta because Williams (5-11, 205) is very comparable to Tevin Coleman (6-1, 210) in that both are similarly sized runners with big-time speed, possess incredible acceleration and are decisive north-south runners. There are obvious differences, most notably Williams is not as physical as a runner and more Devonta Freeman than Coleman when it comes to lateral agility. At any rate, Williams was a man possessed upon his return to the gridiron - after finally allowing himself the ability to grieve for his deceased sister - in mid-October last fall, taking on a true feature-back role for Utah after the Utes were devastated by injury at the position. He is also a very impressive athlete who won't require a lot of touches in order to have a big impact on the box score.
Why he won't: Shanahan's vote of confidence and knack for spotting talent at the running back position for Williams is huge, because the UConn transfer has his share of flaws, even if we overlook his short retirement (which we should). He lost six fumbles in 289 carries at Utah. He caught only 20 passes in two years as a Ute, dropping five of the 27 catchable passes he saw, per PFF. If he can't make significant strides in this area, it could be a huge problem considering the Niners will be trailing in more games than not. Williams is not a good blocker at this point of his career either, and his effort in that area of his game has been called into question. He also isn't a particularly powerful runner, so Hyde and Hightower should see the bulk of opportunities near the goal line. Speaking of Hyde, he may be injury-prone, but he seems highly unlikely to fall below a committee back this season. Dating back to his days at Ohio State and through last season under then-HC Chip Kelly, however, Hyde has always been more comfortable in a shotgun-based offense and his numbers would appear to back that up.
2017 Fantasy Assessment: It's OK if you don't want to buy into Williams as a high-end NFL running back just because of his amazing finish to last season. While he has a multitude of shortcomings at this point of his career, the fact of the matter is this: he is a "Shanahan back" with an injury-prone starter (Hyde) in the final year of his contract in front of him who is not tied to the new front office in San Fran and a 31-year-old journeyman (Hightower) who was added more for his veteran presence than his ability to push for a starting role. Hyde has yet to make it through a complete season as a college or pro player, so the odds are definitely in Williams' favor he will be seeing a heavy workload in at least a few games as a rookie, and that assumes he doesn't win the job outright - a possibility CSN Bay Area's Matt Maiocco floated last month. At this point, it doesn't matter if Williams wins the job because the majority of owners will be working under the expectation Hyde will be the primary back, so his cost is likely to remain pretty throughout the summer. A healthy projection for Williams would be for him to start a handful of games due to a Hyde injury and a couple more at the end of the season once San Francisco is clearly out of the playoff picture, making him a RB4 with considerable upside.
Fearless early-June prediction (five starts): 130 carries for 570 yards and three TDs; 18 receptions for 125 yards and no TDs
13. Evan Engram, TE NY Giants (Draft Profile)
2017 Projected Role: Complementary player; Week 1 starter who should see time in the slot, although the Giants plan on treating him like a "normal" tight end for now.
Mind-blowing college stat: Per PFF, Engram caught 10-for-17 targets for 337 yards and three touchdowns on balls thrown at least 20 yards downfield over the last two seasons.
Why he will live up to this ranking and perhaps exceed it: One of the goals of any offensive coordinator is to find a player who is next to impossible to defend. At 6-3 and 234 pounds with 4.42 speed and more fluidity to his game than most college tight ends, Engram should be that kind of player immediately. (In fact, a case could be made for turning him into a receiver should he wash out for some reason as a tight end.) Odell Beckham Jr. is the top priority for every Giants' opponent as it is, so adding a player like Engram who can outrun virtually every linebacker in the league and has roughly a 20-30 pound advantage on - and can run as fast as - most safeties is almost unfair. As his aforementioned speed suggests, the Ole Miss product stretches the seam as well as any tight end in this class and gets downfield as well as most receivers. Although he doesn't boast the size of most traditional tight ends, Engram should be one of Eli Manning's favorite options in the red zone, not only because Eli has shown a willingness to target the position in close, but also because of the mismatch opportunity he presents.
Why he won't: The Giants are entering this season with the hope they can make the No. 23 overall selection a "complete" tight end. It would be a mistake to use him like that, at least in his first year. It would be one thing if he occasionally showed the ability to block well in college, but he struggled to neutralize defensive backs, much less 260- to 280-pound pro defensive ends. There is no good that can come out of asking Engram to be an in-line tight end at this point of his career; he will most likely get Manning blown up, hurt himself or both. Beyond that, it's hard to see where Engram fits in a normal pass-play progression. OBJ figures to be the first or second option on just about every play, while Brandon Marshall should be a 60-or-so catch contributor who fights Beckham for the team lead in red zone scores. With Engram locked into a pure tight end role for now, Sterling Shepard will live in the slot - probably the former's best position - and steal another 60-or-so receptions and 5-7 scores. In short, Engram may be the fourth option at best on the majority of pass plays. While it seems rather obvious, the fourth-most important receiver on an offense typically isn't getting a lot of love in fantasy. And let's not forget just how much Manning struggled last season, when he struggled just to make two receivers fantasy-relevant every week.
2017 Fantasy Assessment: Most tight ends struggle in their rookie season, but I don't think Engram will fall on his face simply because he is young. Beckham is a near-lock for roughly 90 catches and 150-plus targets, while Marshall and Shepard should each see 60 and probably 100-plus, respectively. Paul Perkins and Shane Vereen are each very capable in the passing game and could combine for 60 and 100 as well, meaning there about 150 targets left among the rest of the team if Manning finishes around the 598 attempts he had in 2016. Teams usually find a way to get at least 10 players at least a few passes thrown their way during the season, so the squeeze is already on just to get Engram to 80 targets, much less 100 or 120. Of course, that assumes he can handle the punishment that comes along with chipping defensive ends or blocking linebackers, which is far from a guarantee if only because he really has never been asked to do it consistently. The sooner the Giants realize their best formation may be going four-wide, the better it will be for Engram's ability to be a viable low-end fantasy option as a rookie. He has 60-catch upside as a rookie, but he is going to need A LOT of things to work out in his favor that don't appear to be very realistic at the moment.
Fearless early-June prediction (12 starts): 45 receptions for 615 yards and four TDs
12. Mike Williams, WR LA Chargers (Draft Profile)
2017 Projected Role: Complementary player; should begin the season behind Keenan Allen and Tyrell Williams as the No. 3 receiver. Given Allen's recent injury woes, he could move into the starting lineup quickly, emerge as the first or second option in the red zone and become a rich man's Malcom Floyd as a rookie. He could also overtake Tyrell Williams before midseason if Allen stays healthy.
Mind-blowing college stat: Per PFF, Williams dropped only 5.77 percent of his opportunities in 2016. Conversely, he averaged a mere four yards after catch per reception.
Why he will live up to this ranking and perhaps exceed it: With a 6-4, 218-pound frame and the ability to win contested throws in the same way Alshon Jeffery does, Williams makes for an inviting target and appealing red zone option. Philip Rivers has long been an underappreciated quarterback and performed exceptionally in recent years - even while the offense was losing a key lineman or receiver seemingly every other week and Antonio Gates continued to age. Rivers is as aggressive as of a downfield thrower as there is in the league, and Williams is capable of being the best vertical threat the Chargers have at some point in the near future. LA addressed the offensive line in the offseason and should be able to keep Rivers upright long enough to attack downfield on a more consistent basis sooner than later, while Melvin Gordon gives the ground game enough bite to force defenses to play receivers honestly.
Why he won't: How many No. 7 overall picks at receiver aren't guaranteed starting jobs? There wasn't a shortage of viable targets in Los Angeles before and there certainly isn't a lack of options now. Allen, Tyrell Williams, Hunter Henry and Gordon (and, to a lesser extent in 2017, Gates and Travis Benjamin) are all going to be vying for attention from Rivers. Beyond that, the running game should be improved and the defense could be quite good if certain key members stay healthy this year and adapt quickly to new DC Gus Bradley's Cover 3 defense. In other words, LA may be able to get away with a more balanced offense than in years past. Regarding the rookie, he does not yet have an extensive route tree and probably isn't going to be able to change that between now and the end of his rookie season.
2017 Fantasy Assessment: In case you hadn't noticed, the Chargers already have a No. 1 receiver in Allen and a No. 2 in Tyrell Williams who doesn't lack for talent or size. Heck, Benjamin has even been a top receiver at times throughout his NFL career. Even if Gates' role declines as much as most expect, Henry is ready to take over and Rivers has repeatedly shown he loves his tight ends. Gordon is a very good receiver out of the backfield as well, so it is hard to see where Williams - who has plenty of room to grow as a route-runner - is going to be the alpha dog in this passing game anytime soon. It goes without saying the most probable path for the rookie to be a regular fantasy starter in 2017 will be if Allen is lost for a third straight season due to injury. Otherwise, Mike Williams figures to be very much a hit-or-miss fantasy option.
Fearless early-June prediction (seven starts): 47 receptions for 680 yards and six TDs
11. Curtis Samuel, WR Carolina (Draft Profile)
2017 Projected Role: Complementary player and primary slot option who will occasionally line up in the backfield and may serve the team's primary kick and/or punt returner.
Mind-blowing college stats: Samuel was the only player in FBS to gain more than 700 yards rushing and 700 yards receiving last season; he also finished third in the Big Ten in all-purpose yards with 1,655 despite touching the ball only 177 times.
Why he will live up to this ranking and perhaps exceed it: Ted Ginn Jr. was able to have two successful stints with the Panthers, who really have been the only team able to get something approaching the most out of his talent throughout his career. Samuel is every bit as fast, roughly 20 pounds heavier, more versatile and will probably prove to be much more consistent (as in fewer drops) as a receiver. While this particular all-purpose dynamo isn't close to being a finished product at any one particular position, the mere fact he can contribute in virtually every facet of the game (running, receiving and returning) is going to make him a very attractive option for OC Mike Shula and an incredibly high-upside option in fantasy. Kelvin Benjamin may or may not return to his sometimes-dominant form as a rookie, while Devin Funchess has yet to put much of anything together. For an offense that should push for 4,000 passing yards again, someone is going to need to step up even after Greg Olsen and Christian McCaffrey get their share. If Benjamin isn't near his 2014 form and/or Funchess doesn't take a dramatic leap forward, that player will likely be Samuel (just as Ginn was last year).
Why he won't: In a perfect world, a Swiss-army knife player would have at least one position mastered, but that is not the case here. Samuel lined up at running back, Wildcat quarterback, in the slot and outside for Ohio State in 2016, but so many of his plays were designed with his unique talents in mind, and he was a jack of so many trades that it made it hard for him to actually get better at any one position. Samuel shows glimpses of being a good route-runner, has a good feel as a runner out of the backfield and comes armed with some pretty nice tools (stiff-arm, stop-start ability, etc.), but he is more a part-time offensive weapon than receiver or running back at this point of his career. While I think Shula has a very clear idea of exactly how he wants to use both McCaffrey and Samuel, offenses often can't afford to have multiple "offensive weapons" on the field together because it tips their hand. Both players can line up in the backfield and play in the slot, but McCaffrey is much further along in his development in both areas, so Samuel's playing time could suffer as a rookie unless he eventually beats out Funchess.
2017 Fantasy Assessment: In my draft profile, I note Samuel was a faster but overall less refined version of McCaffrey. (Little did I know they would end up on the same team.) Ginn's 2015 and 2016 numbers (catches and yards, not necessarily touchdowns) should be considered Samuel's floor because not only will the rookie essentially be taking over Ginn's role, but he figures to run the ball perhaps 40 or 50 times as well. The second-round pick should quickly become a fixture in the Panthers' offense, whether he is operating as a clear-out receiver, in motion on jet-sweep action, running a reverse or catching the ball on a bubble screen. If we've learned anything from the likes of a player like Tavon Austin, it is that a wideout who sees action as a part-time runner and part-time receiver can occasionally be viable in fantasy even with a bad quarterback. Obviously, even though Cam Newton is significantly better in just about every area than Case Keenum. In short, Samuel's floor should be about 100 touches, which is more than enough to make him a solid WR4 candidate in fantasy, especially for someone with his big-play ability.
Fearless early-June prediction (four starts): 38 carries for 220 yards and two TDs; 45 receptions for 540 yards and four TDs

---
Doug Orth has written for FF Today since 2006 and been featured in USA Today's Fantasy Football Preview magazine since 2010. He hosted USA Today's hour-long, pre-kickoff fantasy football internet chat every Sunday in 2012-13 and appears as a guest analyst on a number of national sports radio shows, including Sirius XM's "Fantasy Drive". Doug is also a member of the Fantasy Sports Writers Association.