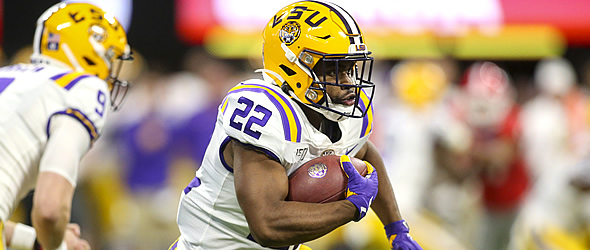 1.01 - QB Joe Burrow, Bengals
An Aaron Rodgers comp is a very high bar for the Ohio native, but that kind of ceiling is within reach considering his accuracy, awareness and vision - the last two of which may have been the biggest reasons he thrived in LSU's spread attack in 2019. A more reasonable expectation is Tony Romo, who did a good job of extending plays for most of his career and was an underrated athlete. So while it may be scary to trust one year of production in college, Burrow doesn't have the feel of a player that will bust. A more likely outcome is he evolves into a top-10 quarterback in the league by the time he is ready to sign his second contract.
What does it mean in redraft? Burrow should be considered a high-end QB2 in 12-team leagues, especially if A.J. Green can stay healthy and the Bengals continue to beef up the offensive line (and are lucky enough to avoid another injury to 2019 first-round pick Jonah Williams, who is expected to man the left tackle spot in Cincinnati for the foreseeable future).
What does it mean for dynasty? Top dynasty QB off the board, likely at the end of the first round or beginning of the second.
1.05 - QB Tua Tagovailoa, Dolphins
Rolling the dice on an undersized player with a long injury history is still a losing bet more often than not. There is Pro Bowl talent here for sure, but more bust potential than anyone cares to admit. It would be irresponsible for evaluators to pretend his durability isn't a big part of the equation and a major red flag. Whether Tagovailoa ends up being a steal at this spot depends heavily on whether his desire to not give up on any play (which has greatly contributed to his ankle and hip injuries) can be coached out of him. As such, he is a complete wild-card at the moment - one capable of ascending to Steve Young-like heights if he is eventually able to quiet concerns about his durability or settling in as a less mobile version of Mark Brunell.
What does it mean in redraft? Tagovailoa's recovery from hip surgery has gone about as smoothly as possible, according to multiple reports. With Ryan Fitzpatrick serving as the bridge, it's more likely than not Tagovailoa spends roughly a month on the sideline (especially with the offseason program and possibly even training camp being in question due to COVID-19) before he takes over the reins. Because he is unlikely to be a Week 1 starter, fantasy owners can probably leave him on waivers to start the season in most 12-team leagues. Even if he gets promoted around midseason, the combination of supporting cast, a questionable line and his injury history makes him a likely low-end QB2 at best.
What does it mean for dynasty? Second dynasty QB off the board, likely in the middle of the second round.
1.06 - QB Justin Herbert, Chargers
Herbert made more maddening decisions than his 23 career interceptions would suggest - almost to the point where it was a legitimate question whether the Ducks ran so often to cut down his chances of making a mistake (as opposed to Oregon referring to run a conservative offense). He inexplicably threw into traffic on several occasions where he should have known better, and it is that inconsistency that is probably the most agonizing part of his game. Herbert could enjoy Carson Wentz-like success (hopefully, without the injuries) in the NFL, but there is the possibility he is the next Paxton Lynch if his decision-making continues to be an issue.
What does it mean in redraft? Herbert will almost certainly spend the first half of the season behind Tyrod Taylor and perhaps longer, depending on how successful the Chargers are during that time. As is typically the case with most rookie quarterbacks who aren't guaranteed to be a Week 1 starter and don't boast significant fantasy potential as a runner, Herbert does not need to be drafted in most 12-team leagues.
What does it mean for dynasty? Third fantasy QB off the board, likely sometime near the top of Round 3.
1.12 - WR Henry Ruggs III, Raiders
The problem with Ruggs is that it is always dangerous for evaluators to expect a player to be able to do something in the pros that he never did in college - lead a receiving corps, in this case. Every NFL team wants at least one player capable of being able to outrun everyone else and dictate coverage, but Ruggs struggled to get off press enough against the best SEC corners - and Jeudy is so advanced as a route-runner - and didnít do near enough in contested-catch situations that I find myself not liking this pick. Ruggs' 4.27 speed is going to make sure he has the respect of every defender, but the Raiders may end up getting disappointed here if they are expecting the next Tyreek Hill (as opposed to the my comp for him, John Brown).
What does it mean in redraft? With only Tyrell Williams to battle as the team's top outside receiver (Hunter Renfrow should remain the unquestioned option in the slot), Ruggs should take over as the top receiving option before the end of 2020. That doesn't mean he's ready to be an immediate fantasy starter in three-receiver leagues, however, as Derek Carr is not the epitome of a deep thrower. Considering he'll slot in behind Darren Waller and maybe even Renfrow in the passing game pecking order, he figures to be a high-upside, low-floor WR4 in 2020.
Where should I expect him to go in my rookie drafts? 1.10. He's my fifth-ranked rookie receiver.
1.15 - WR Jerry Jeudy, Broncos
A player I comped favorably to Antonio Brown and Stefon Diggs, Jeudy is one of the most complete receiver prospects I have evaluated since the loaded 2014 draft class. The ease with which Jeudy gets his defender out of position, avoids a jam and creates quick separation is remarkable. There may not be a receiver prospect in the last five or so years who gets open faster or creates more separation in the first second or two after the snap than he does.
Jeudy is a bit on the slight side and suffers from the occasional focus drop, but most of the current holes in his game are more mysteries than concerns. Press coverage could be a concern as well given his size (6' 1"/193), but SEC corners rarely could even get a jam on him. Even in a draft that boasts so much receiver talent, Jeudy is a cut above the rest. Even though Courtland Sutton has emerged as a quality lead receiver in this league, the Alabama product figures to push him right away. Jeudy is a near-lock to start opposite Sutton and move into the slot, and it would be far from surprising if he isn't the No. 1 option in the passing game by 2021.
What does it mean in redraft? Sutton's presence probably means Jeudy won't be able to become an immediate fantasy starter in 12-team leagues that start three receivers, but it's also not out of the realm of possibility he isn't a better option than Sutton by the end of the year. At the moment, I would bet that he will finish as a top 30 receiver in PPR formats as a rookie.
Where should I expect him to go in my rookie drafts? 1.03. He's my top-ranked rookie receiver.
1.17 - WR CeeDee Lamb, Cowboys
Lamb can make an inaccurate quarterback look good and an accurate quarterback look great. In that way, the comparison to DeAndre Hopkins is mostly accurate.
However, Lamb is nowhere near as physical as Hopkins and will need to add some more strength in his upper body if he hopes to get there. He also doesn't have elite speed or much experience against press coverage. In other words, good luck getting seven-plus targets consistently in an offense that already has Amari Cooper and Michael Gallup. Ultimately, Lamb's run-after-catch ability is going to allow him to be a factor as a rookie, but he's going to struggle to get the chance to be the alpha receiver that many expected him to be prior to the draft with Cooper and Gallup around.
What does it mean in redraft? While this pick is all about value for the Cowboys, this is a disappointing Year 1 landing spot for Lamb, who must battle Cooper and Gallup for targets. It seems Randall Cobb's production in 2018 (55-828-3) might be pretty close to the ceiling of Lamb's statistical upside as the third option in this offense. As such, Lamb is shaping up to be a middling WR4 if Cooper and Gallup stay healthy. If they don't, however, the rookie could easily become an every-week fantasy starter as a low-end WR3.
Where should I expect him to go in my rookie drafts? 1.05. He's my second-ranked dynasty receiver.
1.21 - Jalen Reagor, Eagles
Height/Weight: 5' 11"/206
College: TCU
NFL Comp: Parris Campbell

Among the potential concerns for the former Big 12 Co-Offensive Freshman of the Year: he probably needs to begin his career as an off-ball receiver (preferably in the slot), a few too many concentration drops and too much reliance currently on his athletic ability. It seems fairly obvious TCU was more concerned on how to manufacture offense given its spotty quarterback play than it was developing Reagor as a route-runner, so there will be a learning curve if the Eagles are hoping he can be a lead receiver one day. At the very least, Philadelphia should now have its long-term replacement for DeSean Jackson and a high-end slot option. If WR coach Aaron Moorehead does his job, however, Reagor will provide a much-needed jolt to an offense that has become too tight end-centric of late.

What does it mean in redraft? I would have preferred a bigger receiver for Philly (there's a few in this draft), but Reagor finds himself in the best spot for immediate fantasy production. Among other things, Alshon Jeffery and Jackson both struggle to stay healthy. Reagor should fit nicely right away as the primary slot option, and it obviously won't take much luck for him to crack the starting lineup early. As such, Reagor makes sense as a WR4 in redrafts, although there is high-end WR3 upside if recent history holds with Jeffery and Jackson.

Where should I expect him to go in my rookie drafts? 2.01. He's my eighth-ranked dynasty receiver.
1.22 - WR Justin Jefferson, Vikings
It's not hard to imagine Jefferson's career mirroring that of Michael Thomas or Davante Adams; he plays the ball in the air like they do at times. His 4.41 speed shows he can stretch the field if needed, but he wins more often than not because he is such a smooth and savvy route-runner. Even better for the Vikings, Joe Burrow repeatedly trusted Jefferson in contested-catch situations. More often than not, he delivered.
While Thomas and Adams is a potential ceiling for him, it's also not hard to imagine Jefferson becoming a Michael Jenkins clone in which he enjoys a steady career but never strikes much fear into a defense. The 2019 FBS receptions co-leader does enough of the things to earn trust from his quarterbacks and figures to be a heavy favorite to start opposite Adam Thielen right away. Jefferson very much has the look of a complementary receiver at the NFL level who will be asked to move the chains and perhaps serve as Minnesota's primary red zone option. Just don't expect him to be "the man" until Thielen slows down.
What does it mean in redraft? Yet another receiver lands in a spot where he won't be the primary option right away, even after the trade of Stefon Diggs to Buffalo. The good news for Jefferson is that he should be an immediate starter. It will be interesting to see how the Vikings address the slot situation going forward; Thielen does a lot of his best work there and Jefferson essentially lived there in 2019 at LSU. Fantasy owners should consider Jefferson's rookie-year ceiling as a WR4 if Thielen stays healthy in Minnesota's run-heavy offense.
Where should I expect him to go in my rookie drafts? 1.06. He's my third-ranked rookie receiver.
1.25 - WR Brandon Aiyuk, 49ers
No question about it, the 49ers believe Aiyuk will eventually replace what they wanted to get from the Emmanuel Sanders trade last season. While his 4.5 time may seem pedestrian for an average-sized receiver, his 1.52-second 10-yard split, 40-inch vertical and 10' 8" broad do a better job of displaying how explosive Aiyuk is. To that end, his 10.9 yards after the catch in 2019 ranked sixth among receivers in this draft class, per Pro Football Focus. He's a menace in open space and probably not a receiver many defenses will want to give him a free release off the line of scrimmage. For what it's worth, former longtime NFL receiver TJ Houshmandzadeh worked with Aiyuk this spring and compared him favorably to Chad Johnson.
Unfortunately, for a receiver with his hops and wingspan (80-plus inches), Aiyuk somewhat surprisingly did not win in contested-catch situations all out often during his time in Tempe (3-of-14, per PFF). His route tree was generally limited to in-breaking routes, perhaps in no small part because he wasn't as sharp as he needed to be on out-breaking routes. It is at least a bit disconcerting that in two games against some of the Pac-12 better defenses (Cal and Utah) last season, Aiyuk was limited to a total of three catches for 38 scoreless yards. There is room for growth in Aiyuk's game, but his troubles against physical coverage may require him to see a lot of snaps in the slot to begin his NFL career.
What does it mean in redraft? Deebo Samuel is the clear lead dog in San Francisco at the moment, but Sanders' departure leaves a gaping hole opposite him. Despite what appears to be a great situation for him, it's unlikely Aiyuk will be any more consistent than Sanders was with Samuel and George Kittle soaking up targets. As a result, he figures to be a WR5 as a rookie.
Where should I expect him to go in my rookie drafts? 2.02. He's my ninth-ranked rookie receiver.
1.26 - QB Jordan Love, Packers
Love is a gifted deep thrower and seems to have a solid understanding of when he can go back-shoulder on a defender. His supporters can also easily point to a large number of tight-window and/or "bucket throws" he made in 2019 and make a strong case for him enjoying success at the NFL level because he has the necessary tools. It's not as if he doesn't have considerable upside, but let's be real about his production to this point: he struggled to post a 2:1 TD-to-INT ratio during his college career at a non-power conference school and didn't fare particularly well when he got a chance to play the big boys. His skill set may scream first-round pick and rookie starter, but his 2019 tape suggests he needs a redshirt season. Fortunately, he'll get that and maybe a few more in Green Bay.
What does it mean in redraft? It goes without saying that Love isn't going to see the field in any meaningful role anytime soon as long as Aaron Rodgers is healthy and able.
Where should I expect him to go in my rookie drafts? 3.08. He's my fourth-ranked dynasty quarterback.
1.32 - RB Clyde Edwards-Helaire, Chiefs
Edwards-Helaire is pretty much the antithesis of what one would expect from a 5-7, 207-pound running back. Two of his best qualities as a runner are the patience he shows behind the line of scrimmage and how light he is on his feet. Pro Football Focus charted 546 of his 1,414 rushing yards (38.6 percent) this season coming in the A gap (on either side of the center) and 894 (63.2 percent) came in either the A or B gap.
Perhaps no runner in this draft class can stop and start as quickly as he does, and he's definitely on the higher end of the class when it comes to making defenders look silly in space. He's a matchup nightmare in the passing game and a pocket full of dynamite in the running game that won't need to come off the field (assuming his aforementioned pass protection "concern" ends up being a non-issue).
It's difficult to find much fault with his tape. There are occasions in which he trusts his elusiveness a bit too much. It'd be nice if he is he could more homers and fewer doubles. He had an annoying habit of running parallel to the line of scrimmage on swing passes (instead of running an arc), making what should be a relatively easy throw for his quarterback a more difficult one. But let's be honest: that is being extremely nitpicky with a prospect, especially one who was a full-time starter for just one season.
What does it mean in redraft? Edwards-Helaire's biggest obstacle to success in the NFL figured to be whether his new team was going to give him a chance to prove he can be "the guy." A first-round pick by the Chiefs would seem to suggest he'll get every chance he needs. While Damien Williams broke a few long runs in 2019, he was a very pedestrian runner for the most part. Enter Edwards-Helaire, who could conceivably enter the season as the lead back in this highly expensive offense. Damien Williams is unlikely to give up the job easily, but Edwards-Helaire will prove to be the better man sooner than later. He has RB1 upside if gets the same kind of opportunities Williams as the lead back down the stretch last season, but owners need to view him as an RB2 unless Williams goes down before the start of the season.
Where should I expect him to go in my rookie drafts? 1.01. He's my top-ranked rookie running back.

---
Doug Orth has written for FF Today since 2006 and been featured in USA Today's Fantasy Football Preview magazine since 2010. He hosted USA Today's hour-long, pre-kickoff fantasy football internet chat every Sunday in 2012-13 and appears as a guest analyst on a number of national sports radio shows, including Sirius XM's "Fantasy Drive". Doug is also a member of the Fantasy Sports Writers Association.