As discussed in this space last week, the remainder of my postseason columns will feature my NFL.com Playoff Challenge roster (for as long as applicable), followed by my weekly league predictions and DFS prognostications. The further we advance in the postseason, the deeper the analysis into the matchups.


NFL.com Playoff Challenge Roster
QB: Aaron Rodgers (x3)
RB: Aaron Jones (x3)
RB: Clyde Edwards-Helaire (x1)
WR: Davante Adams (x3)
WR: Stefon Diggs (x3)
TE: Travis Kelce (x3)
K: Tyler Bass (x3)
D/ST: Bills (x3)

Round 1 point total: 50
Round 2 point total: 248
DraftKings
Below you will find my position-by-position projections. Please note I have included DraftKings' dollar value for each player, followed by their projected point total. I won't spend a great deal of time explaining each projection here - only some of the more notable ones. Each position is sorted by my DraftKings' projected point total.

Below you will find my position-by-position projections. Please note I have included DraftKings' dollar value for each player, followed by their projected DK point total. Each position is sorted by my DraftKings' projected point total.

****For those interested in some technical talk and/or more detail about what might happen this Sunday, Rotowire's Jim Coventry and I talked for just over an hour about the conference championship games on Wednesday. Here are our thoughts about Chiefs-Bills and Packers-Bucs. I highly encourage giving both a watch, if only so you can check out my handsome mug. (I need better lighting in my office.)

Key for quarterbacks, running backs, receivers and tight ends:
P Yds - Passing Yards
P TD - Passing Touchdowns
INT - Interceptions
Ru Yds - Rushing Yards
Ru TD - Rushing Touchdowns
Rec Yds - Receiving Yards
Rec TD - Receiving Touchdowns
Rec - Receptions


The typical late January weather one would expect in Kansas City and Green Bay is what is being forecast for Sunday: just below freezing temperatures with a chance of snow. While excessive wind and blizzard-like conditions are about the only two natural factors I concern myself with when it comes to fantasy football projections, sub-30 degree weather does not usually lead to a plethora of 300-yard passing games. Thankfully, all four of the remaining quarterbacks are quite familiar with how to deal with such weather, but I still think it would be a mistake for DFS players to assume all four teams will post prodigious totals through the air.

Bills: The Week 6 meeting between the Chiefs and the Bills didn't turn out like many expected, and that was in large part due to the weather and what Buffalo opted to do defensively in that contest. (We'll get more into that in the next paragraph.) It would be too easy to say Allen is the best QB1 bet of the week because he is the best dual-threat remaining, but it helps. There's no question he disappointed fantasy owners last week against the Ravens, but the Bills used the short passing game against the Ravens for two key reasons: 1) they showed no desire to establish a running game and 2) to minimize the volume and effectiveness of Baltimore's blitz. The Ravens were also never able to mount enough of a threat offensively to force the Bills out of their initial game plan, so they never had to change their plan of attack. Even if Mahomes is limited by his toe injury and nothing else Sunday, Buffalo will have to be more aggressive offensively in this one. Although it's rarely a good idea to put too much weight on regular-season results when it comes to playoff projections, Kansas City gave up at least two passing touchdowns to every starting quarterback it faced from Week 9 through Week 17 (five of the eight quarterbacks accounted for three or more scores). As much credit as DC Steve Spagnuolo deserves for keeping him off-balance in the first meeting, Allen was off from the start and had trouble with the blitz - something he took advantage of often this season. One key reason why Allen struggled against the blitz in Week 6 but hasn't since? The absence of RG Jon Feliciano, who didn't make his season debut until Week 8. Give this a read as to why Feliciano's presence makes such a difference.

Chiefs: Mahomes' playing status figures to be the talking point of most analysts between now and the start of the game Sunday night, but noted orthopedic surgeon (and former NFL team doctor) David Chao offers a great explanation on what he believes happened to the quarterback last weekend and why he will most likely be cleared to play against Buffalo. As Chao also notes, the bigger concern may be the toe injury he suffered prior to that. I tend to believe Mahomes would have been a solid bet for twice the rushing yardage I have him projected for if the "concussion" was his only issue, so Kansas City could lean more heavily on its running backs more as a result. Defensive coordinators - Leslie Frazier, in this case - are notorious for changing things up considerably when the previous meeting resulted in a loss, but it could be argued that Buffalo's heavy usage of Cover 4 in the Week 6 meeting worked well because it forced Kansas City to lean heavily on the running game and made a healthy Mahomes much less of a factor than he usually is (26 pass attempts). With Mahomes now less of a threat to hurt the Bills with his legs and Buffalo playing better run defense of late, Frazier could be tempted to stick with the same basic plan of attack he had three months ago.

Packers: Let it sink in that Rodgers is sporting a 10:1 touchdown-to-interception ratio (50 passing TDs versus five interceptions) through 17 games. He has managed to pull this off despite averaging a meager 33 pass attempts. He has added four more scores on the ground. Those numbers would be even more impressive had he not recorded his only two-interception game of the year in Week 6 versus the Bucs. Rodgers mostly excelled against the blitz during the regular season in every other game before and after Week 6 and had his way against Cover 3 as well, but such was not the case against Tampa Bay in the first meeting. I fully expected the absence of LT David Bakhtiari to have a more profound effect in last week's game against the Rams, but Rodgers was hit only once and not sacked. The Bucs blitz considerably more than the Rams, but I would argue their secondary is not on L.A.'s level nor is the defense as a whole playing as well now as it was early in the season. It's also important to note that the first meeting was also Davante Adams' first game back following a month-long absence and that Allen Lazard was already on IR. Needless to say, fans should not expect a repeat of the 38-10 rout in mid-October. Rodgers could easily have a field day this time around.

Bucs: Last week marked the first time in five outings that Brady did not throw for at least 348 yards, but he was able to extend his streak of throwing for at least two TDs to nine straight games. While it should come as no surprise that it took nearly half of the season for Brady, HC Bruce Arians and OC Byron Leftwich to get on the same page, it should be noted that Tampa Bay has benefited from its fair share of questionable secondaries over that time (Panthers, Vikings, Falcons [twice], Lions, etc.) to hit those marks. Green Bay may not have an elite pass defense per se, but it was the fifth-stingiest unit for fantasy quarterbacks during the regular season and has yielded a total of six TDs (four passing, two rushing) to the position over the last six contests. The Packers haven't allowed a quarterback to throw for 300 yards since Deshaun Watson in Week 7 and have been fairly stingy overall in their last four games as a whole, holding each of their opponents below 20 points. Green Bay's most effective coverage has arguably been Cover 2 man even though DC Mike Pettine has opted to play Cover 1 and Cover 3 more often, but it's worth wondering if he'll use more Cover 2 in this one as a way to keep Mike Evans from beating his defense deep and hopefully persuade the Bucs to run more often.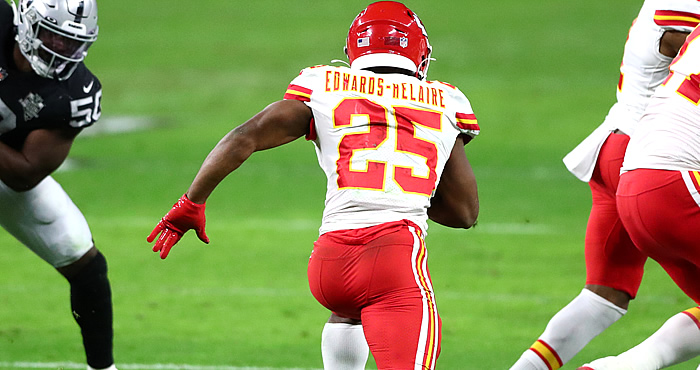 Running Backs
Player
Tm
DK $
Rec
Rec Yds
Rec TDs
Ru Yds
Ru TDs
DK
Clyde Edwards-Helaire
KC
$5,000
3
34
0
76
1
20.0
Leonard Fournette
TB
$5,300
4
28
0
58
1
18.6
Devin Singletary
BUF
$4,500
3
26
1
54
0
17.0
Aaron Jones
GB
$6,500
2
26
0
68
0
11.4
Ronald Jones
TB
$4,600
1
5
0
66
0†
8.1
Jamaal Williams
GB
$4,400
2
15
0
26
0
6.1
Darrel Williams
KC
$4,100
2
15
0
22
0
5.7
AJ Dillon
GB
$4,000
0
0
0
18
0
1.8
Le'Veon Bell
KC
$4,800
1
3
0
4
0
1.7
T.J. Yeldon
BUF
$4,000
0
0
0
4
0
0.4

Bills: Last week's projection had the Bills' running backs rushing for 64 yards, which seemed like a sound projection since Josh Allen was being asked to run more and Buffalo was facing a tough run defense. It turns out the Bills had no interest in even pretending they wanted a semi-balanced attack. Such may not be the case this week, however. Buffalo figures to remain pass-heavy for the remainder of the postseason, but another game of 16 total run plays (seven from Josh Allen) and 12 total touches for the running back position is asking for trouble against the Chiefs. The Bills are unlikely to turn the tables on Kansas City and play ball-control against the Chiefs like they did to Buffalo in the first meeting, but that kind of grind-it-out game plan is probably the soundest strategy any coach has come up with yet to hold KC somewhat in check. Singletary was trusted with 18 carries and 21 total touches in Week 13, but he hasn't topped 10 rush attempts or 12 touches since then. That should probably be his expected ceiling in this contest, which means fantasy players should expect slightly more Yeldon (unlikely) or a repeat of the 11 carries Allen had in the AFC Wild Card win over the Colts.

Chiefs: The Cover 2 and Cover 4 defenses I mentioned earlier in regards to how Buffalo defended Kansas City back in Week 6 are important as it relates to Edwards-Helaire and/or Darrel Williams. Both defenses tend to feature two high safeties but also result in the cornerbacks retreating at the snap as well, leaving no more than seven defenders in the box if the defensive coordinator opts to play the most basic version (shell). Facing a defense that sells out to stop the deep ball with four players 10 yards off the line of scrimmage within about a second of the snap tells the offense that no exotic blitz is coming and encourages play-callers/quarterbacks to run the ball. That's almost exactly what happened in the first meeting, as Buffalo became the first team in at least five years not to blitz at least once in a game and "encouraged" Kansas City to run a season-high 46 times (36 carries for running backs, 10 for Patrick Mahomes). The Bills have yielded a pair of 100-yard individual rushing efforts since Edwards-Helaire gutted them for 161 in that game, but the run defense has been much better since the Week 11 bye - as they showed last week by "holding" Baltimore's league-best rushing attack to 150 yards. No individual rusher has topped 78 yards since the bye. Then again, no passing attack strikes more fear into defensive coordinators than Kansas City's, so another huge game for CEH and/or Williams is definitely on the table.

Packers: Aaron Jones theoretically has more fantasy upside than any other running back on the board this weekend, but last week's 14:12:6 split between him, Williams and Dillon is a clear indication that Green Bay is serious about the vision HC Matt LaFleur had this spring and summer about getting all three of his backs involved. The Bucs did show some occasional vulnerability against the run late in the season after Vita Vea was lost in Week 5 to a broken leg, but the behemoth interior defensive lineman was designated for return from IR this week and may be able to play this weekend. While he can't be expected to play the same 40 or 50 snaps he was getting pre-injury, Tampa Bay would likely be thrilled to get 20 out of him on likely running downs and benefit from it if he does. It should also be noted that even though Tampa Bay did experience a falloff from its usual high standard in terms of limiting running production as the season progressed, it has surrendered a total of three touchdowns to the position (two rushing one receiving) in its last eight games. In other words, Jones & Co. cannot be expected to light it up against the Bucs just because the Packers have one of the best offensive lines in the league.

Bucs: One of the keys to winning the DFS slate this week figures to be correctly identifying the most productive Tampa Bay running back. RoJo has proven time and again to be the most effective rusher, while the Bucs seem to have much more trust in Fournette in passing situations. Even though he was favoring his leg on a few runs last week, Jones was the better runner yet again. Let's also not forget that Fournette was a healthy scratch as recently as Week 14, which was just a few days after HC Bruce Arians declared Jones "needs to have 20 touches." Since Week 14, however, Jones has spent time on the COVID-19 list, underwent finger surgery and suffered a quad injury. Over that same stretch, Fournette has been a fantasy beast with at least one touchdown and 15.6 fantasy points in his team's four meaningful games. Perhaps the only knock against him as the Bucs' lead back over the last month is that hasn't particularly efficient (3.8 YPC or lower in those same games). Meanwhile, RoJo is averaging 5.1 YPC for the season and has dipped below 4.4 only once in his last six outings. The safe bet for DFS purposes here is Fournette given his recent production and consistent role in the passing game, but I would be extremely leery about going overboard on his ownership if Jones can practice in full at any point this week. Fournette's role in the passing game isn't big enough to make him worth his price tag if RoJo reclaims the bulk of the rushing workload.
Wide Receivers
Player
Tm
DK$
Rec
Rec Yds
Rec TDs
Ru Yds
Ru TDs
DK
Mike Evans
TB
$5,800
6
102
1
25.2
Davante Adams
GB
$8,000
8
92
1
23.2
Stefon Diggs
BUF
$7,000
7
86
1
21.6
Marquez Valdes-Scantling
GB
$3,900
3
74
1
16.4
John Brown
BUF
$4,300
4
56
1
15.6
Sammy Watkins
KC
$3,800
4
48
1
14.8
Tyreek Hill
KC
$7,200
6
58
0
10
0
12.8
Chris Godwin
TB
$5,400
5
57
0
10.7
Cole Beasley
BUF
$4,100
5
47
0
9.7
Allen Lazard
GB
$4,200
4
50
0
9.0
Gabriel Davis
BUF
$3,500
2
26
0
4.6
Antonio Brown
TB
$4,700
2
17
0
3.7
Mecole Hardman
KC
$4,000
1
16
0
2.6
Scotty Miller
TB
$3,400
1
16
0
2.6
Isaiah McKenzie
BUF
$3,100
1
10
0
5
0
2.5
Demarcus Robinson
KC
$3,700
1
12
0
2.2

Bills: Perhaps the best place to start with Buffalo's wide receivers is with who is healthy and who is not. Diggs and John Brown appear to be OK, even though the former did not practice Wednesday due to a nagging oblique injury. Beasley (knee) and Davis (ankle) are not, even though the former was not listed on Wednesday's injury report. The second important thing to mention is how good Kansas City was at limiting receiver production during the regular season, finishing second only behind the Rams in terms of fantasy points allowed to the position. Curtis Samuel's 26.8 PPR points in Week 9 were the most the Chiefs gave up to any receiver - which was the first 20-point effort against KC to that point - and only three others topped 20 in games that mattered to the Chiefs. Although fantasy fans probably don't want to hear it, the Bills' ability to add another receiver or two to that total figures to rely heavily on the Bills' ability to pick up the blitz better than they did in Week 6, which is something we can assume will happen given recent events. The good news for Diggs & Co. is about every way this game can play out involves Josh Allen throwing the ball at least 35 times. With Diggs and Brown being the two healthiest options Allen has at the moment, both are very much worth playing in DFS - especially Brown at his price point.

Chiefs: An obvious byproduct of Buffalo's soft zone coverages in the first game was relatively little work for speedsters Hill and Hardman and more work for the bigger (yet still very fast) Robinson. With Watkins now trending in the right direction (limited at practice Wednesday - his first on-field participation since injuring his calf in Week 16), it's reasonable to expect he will step up and assume a bigger role if he is cleared. Two big changes from the Week 6 meeting: the health of stud CB Tre'Davious White, who was in the middle of a three-week stretch of questionable tags in October due to a back injury, and solid play recently from his tag-team partner Levi Wallace. (Josh Norman was responsible for the bulk of Robinson's production in Week 6.) It's never easy to fade someone with Hill's upside regardless of the situation, but it might be warranted this week unless DFS players have an overwhelmingly positive feeling he'll score a short touchdown. Especially after we factor in Patrick Mahomes' (likely) limited mobility and the likelihood of Buffalo being able to keep Kansas City from going over the top of the defense, the best we can probably hope for from Hill is a high-volume effort with limited yards (much like Week 13 and 15). If Watkins can't go and Hill is minimized somewhat, it will be imperative that Hardman and Robinson step up in the short passing game. They have already proven they can do that, but it's never easy predicting which one will go off in a given game.

Packers: Tampa Bay CB Carlton Davis is steadily making his claim as one of the better cover men in the league and the Buccaneers' pass defense isn't the sieve it appeared to be when Jared Goff and Patrick Mahomes were tearing it apart right before the team's Week 13 bye, but Davis is not Jalen Ramsey nor is the secondary on par with the Rams. Adams' yardage took a hit last week in part due to the coverage of Ramsey, but if 9-66-1 is what he can do against arguably the top corner and one of the best pass defenses in the league, then the sky could truly be the limit against the Bucs. Tampa Bay leans heavily on Cover 3, which is willing to give up catches in the short and intermediate passing game - Adams' wheelhouse. Needless to say, Adams should be a DFS staple this week. The combination of the defense - usually leaving one safety in the middle of the field - and the Bucs' blitz-heavy philosophy may give an edge to Valdes-Scantling ($3900) over Lazard ($4200) as a potential upside play at a reasonable cost.

Bucs: The key thing to keep in mind regarding Tampa Bay receivers this week is that stud CB Jaire Alexander has not operated as a shadow since lining up opposite Will Fuller 75 percent of the time in Week 7. In fact, Pro Football Focus charted him moving off his LCB spot (to play either RCB or in the slot) on only 14 snaps beginning in Week 9. Since he followed Evans on 76 percent of the snaps in the first meeting (and held him without a catch in his coverage), there's always a chance Green Bay could go back to that well. However, that seems unlikely considering he's played a total of two snaps at RCB in Green Bay's last 10 contests. The Bucs have moved their receivers around with regularity since Antonio Brown established himself as a regular part of the offense (the exception has been Godwin, who has lined up in the slot on two-thirds of his snaps). At any rate, with Brown nursing a knee injury and Green Bay unlikely to shadow, Tampa Bay could easily decide to "sacrifice" Brown in Alexander's coverage and line Evans up more than half of the time on the left side of the offense. RCB Kevin King matches up well physically with Evans at 6-3 and 200 pounds, but few corners - even those with King's 4.4 speed - can match him on 50-50 balls or deal with Evans' 230-pound frame. It's a bit of a long-winded way to say that, in addition to being Tom Brady's favorite target in the red zone, Evans has a realistic chance to be the top-scoring receiver on the slate this weekend.


Chiefs: As has been the case for most of the season, it's Kelce and then everyone else at tight end. Kelce probably would warrant 50 percent ownership at $9,000, so he is something of a bargain this week at $8,000. He's a near-elite fantasy receiver playing tight end. Adding to his appeal this week is a Buffalo defense that has been pounded by tight ends for most of the season. After being one of the worst matchups for tight ends in 2018 and 2019, the Bills finished the regular season as the fifth-most favorable defense against the position. In recent weeks, Noah Fant (8-68-1 in Week 15) and Jack Doyle (7-70-1 in the Wild Card game) went to town against this defense. Even Mark Andrews saw 11 targets last week. For what it's worth, Kelce posted a 5-65-2 line (both TDs coming in the first half) in the Week 6 meeting. As I referenced earlier, if the Bills stick to the same Cover 4-heavy plan they employed in Week 6, they will be conceding short and intermediate catches to Kansas City. That is where Kelce does most of his work, giving him massive upside above and beyond what his usual ceiling is.

Packers/Bucs: DraftKings' soft pricing across the board this week may make it so DFS players donít have to look for savings very much, but Tonyan ($3600) and Gronkowski ($3200) offer 15-point upside for those fantasy owners who want to splurge at receiver and/or go contrarian to the Kelce crowd. Tampa Bay's Cover 3, stout run defense and propensity to blitz should give Tonyan more volume than usual on hot routes, and we already know he's one of Aaron Rodgers' two favorite targets near the goal line. Gronkowski should also be a solid DFS pivot. Green Bay doesn't offer quite the pass rush threat as Washington and New Orleans, which could lead to more 11 personnel (one RB, one tight end, three receivers). More 11 personnel should mean less pass-blocking and more routes for Gronk. In turn, Brate should see fewer snaps. The Packers appear like a menacing matchup for tight ends at first glance, but a closer look reveals just about every "name" tight end that has faced them has fared well: T.J. Hockenson (10.2 and 16.3), Gronkowski (18.8) and Dallas Goedert (11.6). The problem with Tonyan and Gronk is that neither one is seeing much volume. (Tonyan hasn't been targeted more than five times since Week 8, while Gronk has averaged 3.7 targets since the Bucs' Week 13 bye.)

Bills: Knox could be a value play at $2,800, but he has seen Gronkowski-like volume for the bulk of this season and is even more touchdown-dependent (and a less likely bet to score one) than the former Patriot. Considering the savings is only $200 on Gronkowski and $400 on Tonyan, it's better to roll with the known commodities this week.

Key for defense/special teams units:
PA - Points allowed
TD - Defensive/return touchdowns
TO - Total turnovers
PA Bonus - Points allowed bonus for DraftKings
Defense / Special Teams
Team
DK $
PA
Sacks
TD
TO
DK Bonus
DK
Green Bay
$3,600
$24
2
0
1
0
4.0
Kansas City
$3,100
$30
2
0
1
-1
3.0
Tampa Bay
$2,700
$31
2
0
1
-1
3.0
Buffalo
$2,800
$27
1
0
0
0
1.0

As one might imagine with four of the top seven offenses in the league playing this week, defensive production figures to be minimal. The four quarterbacks playing this weekend combined for 163 passing touchdowns and 33 interceptions during the regular season. While Green Bay ($3600) and Kansas City ($3100) should see a fair amount of ownership just for the sake of variance, DFS players should have no issue rolling with Tampa Bay ($2700) or Buffalo ($2800) if it allows them to get one more stud at another position into their lineups. In cases like this weekend where there isn't a DST option that even remotely stands out, it is almost always a sound strategy to bet on the defense(s) that blitz the most (or the ones we expect to do so). Those teams this week are the Bucs and Chiefs.

One last thing to consider: the Bucs' coverage units did not perform well last week, as Deonte Harris nearly broke loose for a couple of return scores. The Packers could justify their price if the Bucs don't get that problem solved this week.

---
Doug Orth has written for FF Today since 2006 and been featured in USA TODAY's Fantasy Football Preview magazine since 2010. He is also a high-stakes player who often appears as a guest analyst on a number of national sports radio shows, such as Sirius XM's "Fantasy Drive." Doug is also a member of the Fantasy Sports Writers Association.