After a season in which it seemed COVID-19 was becoming less of an issue in the NFL, the days leading up to Week 15 suggested otherwise. More than 100 players either tested positive or were considered close contacts, which led the league to reexamine and tweak its protocols.

Much like the real game in which teams had to turn to Plan B, C or D, so did fantasy managers. It seemed as though there was a notable fantasy starter for every positive COVID test to boot. Due in large part to this late-season chaos, setting lineups became almost as arduous as they are during the worst bye-week crunch. The already thin line that often exists between a No. 3 seed and No. 6 seed in many leagues was blurred, leading to what seemed like more upsets during the first week of the fantasy playoffs than we usually see.

One notable dynasty team of mine was a prime example of the issues facing some of the most hard-luck teams. Dak Prescott has not been the same since his Week 6 calf injury. Nick Chubb was lucky to have any of the teammates he began the season with against the Raiders. Kareem Hunt (knee) was ruled out. Ezekiel Elliott continued to play through his knee injury. Odell Beckham Jr. cleared COVID protocol late in the week. Mike Evans (hamstring) got hurt early. Jamaal Williams, Allen Robinson and Kadarius Toney all remained or were placed on the COVID list. Darren Waller (knee, back) missed another game with his "day-to-day" injury. At least I had Cordarrelle Patterson, right? About that Ö

It was a brutal week for many of us, but life goes on. It usually does not care what your excuse is. The goal in most competitions is to survive and advance by whatever means necessary.

With the fantasy playoffs continuing this week and running through Week 17 in most leagues, I wanted to spend the entirety of the column this week and next week to answer lineup questions (assume PPR scoring unless otherwise specified):

Nomad99: (0.5 PPR) Antonio Gibson, Terry McLaurin or Darrell Henderson?

Fantasy managers learned Wednesday (Dec. 22) that Gibson suffered a toe injury similar to the turf toe injury that slowed him down late last season. Assuming the information is correct (and based on Washington's backfield usage patterns in Week 15, it is), Gibson goes from a volume-based, low-end RB1 option to more of a dicey RB2/3 consideration. Facing the Cowboys' stout run defense will not do him any favors either, making him someone I would rather not trust this weekend.

McLaurin will end up being a prime example of why managers cannot only look at box scores and/or game logs when it comes to ranking players for the following season. He has suffered at least two injuries (collarbone, concussion) since the team's Week 9 bye and fell victim to the Football Team's desire to grind games out to hide their surprisingly bad defense. The last two weeks have been even more forgettable, as the concussion knocked him out of the game early in Week 14 and COVID-19 forced him to play with a quarterback he just met a few days earlier. There is a decent chance he gets Taylor Heinicke back in Week 16, so that can be considered a positive. The Cowboys are not a menacing defense against receivers per se, but an ineffective Gibson would go a long way in making McLaurin the primary focus of the defensive game plan.

Henderson's status may be different from Gibson and McLaurin, but his situation is every bit as cloudy. Sony Michel filled in nicely during Henderson's absence and continued to look as good as he has in years against the Seahawks in Week 15. Henderson was likely eased back after missing two games due to a quad injury and COVID-19, but the most optimistic projection for his Week 16 workload is getting the "hot hand" and forcing a 50-50 split with Michel against the Vikings. Not only does Minnesota rank around the middle of the pack against running backs, but the shootout potential for this game also suggests both offenses will be throwing much more than running.

Given the set of less-than-ideal circumstances with the trio above, I will work under the assumption that Gibson's toe injury will not be as bad as it was last year if he was allowed to come back into the game against the Eagles. I will take him over McLaurin's uncertain quarterback situation and Henderson's uncertain workload.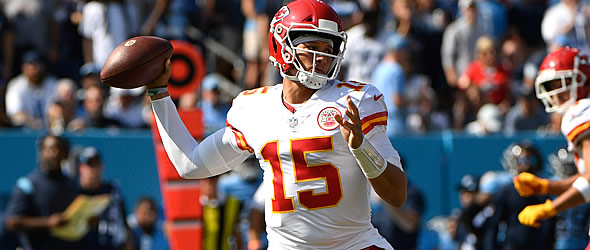 Serenity Now: Is Patrick Mahomes still a high-end option if Travis Kelce and Tyreek Hill canít go? Are there any streamers you would start over him?
For the record, I expect Kelce and Hill to play. However Ö
If one of the two (either Kelce or Hill) suits, I still like Mahomes above any likely streaming option, probably including Taysom Hill or Tyler Huntley. Where it gets tricky is if Kelce and Hill are both out. To my recollection, the only time Mahomes has played without either one was the 2017 season finale - his first career start. In that game against the Broncos, the future league MVP threw for 284 yards and no touchdowns. Between his rookie-year practices and his performance in that game, Mahomes showed HC Andy Reid enough to convince the team to move on from Alex Smith after the season.
It would be a bit of a stretch to suggest Mahomes cannot overcome the absence of his high-profile teammates for one game based on a game from his rookie season nearly four years ago. But let us remember that Hill and Kelce were already studs before Mahomes burst onto the scene Ö the presence and emergence of Mahomes only enhanced their statistical ceiling. The point here is that the three-time Pro Bowler cannot be expected to produce at a high-end QB1 level if he doesn't have his go-to guys. If Mahomes does not have either Kelce or Hill at his disposal in Week 16 versus the Steelers, I would likely consider options such as Jimmy Garoppolo, Taysom Hill and Justin Fields over him.
EternalShinyAndChrome: (0.5 PPR) Need one RB and one RB/WR from the following: Russell Gage, A.J. Brown, Jeff Wilson, Sony Michel and Damien Harris.
Major props to ESAC. In his original question, he laid out the case for and against most of his options. Let us first remove the most undesirable options in my opinion.
If my team was limited in terms of starting-caliber options, I would roll the dice on Brown despite the fact he has been sidelined for more than a month. I do not believe that is the case here. Because players on IR are not given official practice designations by the team until they are activated, we have no way of knowing if Brown practiced in full at all this week. (It is unlikely he did.) His Week 16 matchup is good (49ers) and the Titans need him, but is the downside of Brown potentially playing half of his usual snaps worth the potential upside he brings in this matchup? It is also worth mentioning that Brown played three games following Derrick Henry's foot injury and failed to score 7.3 fantasy points each time.
I may be forced to play Wilson in my most important league this weekend, but that decision has to do more with timing (San Francisco plays on Thursday) and uncertainty (Austin Ekeler on the COVID list, D.J. Moore's quarterback situation, etc.) than anything else. ESAC has the luxury of time with his options above, even if the situations for some of them are unclear. Few running backs have enjoyed fantasy success against the Titans this season, as only seven backs have topped 10 points versus Tennessee. Then again, no running back has handled more than 18 carries and no team seems more intent on playing power football than San Francisco. The 49ers figure to have more success running the ball on the perimeter with Deebo Samuel than in between the tackles with Wilson, but it's also not hard to make the case that most running backs with 18-touch upside should be starting in fantasy this weekend.
Bills DT Star Lotulelei sat out the first meeting with New England due to injury. His absence was at least partially responsible for Harris' very solid fantasy contribution two weeks ago in one of the more weather-affected games in recent memory. Considering the hamstring he injured in that contest is still an issue (he was limited in practice Wednesday, Dec. 22), New England will likely be hesitant to ride him too much unless the illness that sidelined Rhamondre Stevenson for Wednesday's practice turns out to be a big deal.
At this point, it might be helpful to think of Michel as a healthier version of Harris. Darrell Henderson will probably continue to chip away at the workload Michel's fantasy managers have enjoyed over the last three weeks, but I also think it is safe to assume Michel has to do something to warrant losing work for that to happen. Michel has handled at least 20 touches in three straight and is the only Rams' back to run for more than 90 yards this season (he has done so twice), while Henderson topped out at 90 against Houston in Week 8. Henderson will probably work his way into more of a 50-50 split as the regular season wraps up, but I donít think it happens this week.
There is not much analysis needed for Gage. He is the overall WR5 over the last five weeks. He is getting open more than half of the time against man coverage and showing an ability to win at the catch point that I did not know he had. Gage has enjoyed target shares of 25, 30, 23 and 39 percent over the last four games and is a WR2 at worst right now. He could (and should) flirt with WR1 production again in Week 16 against the Lions.
ZeroTolerance: Taysom Hill, Tua Tagovailoa, Justin Fields or Jimmy Garoppolo?
The Saints are far from an offensive powerhouse, but such things do not usually matter for opponents of the Jets in 2021. Houston (in Week 12) is the only opponent that has failed to score at least 24 points against New York since the opener, while seven of the Jets' last nine opponents have scored at least 30. Hill is probably never going to be the definition of an aesthetically pleasing quarterback, but last week's 9-0 win against Tampa Bay marked the first time in seven career starts that he failed to finish inside the top 14 weekly scorers at his position. Let's not lose sight of the fact that one of the reasons that happened is because the Bucs never forced the Sean Payton-less Saints to do more last week, so they didn't.
Even without Jaylen Waddle last week, I was optimistic about Tagovailoa versus the Jets. Two interceptions and 27 pass attempts against arguably the league's worst defense is not what I had in mind. After watching the Saints completely stymie the Bucs on Sunday night, I would have to be desperate to roll with Tagovailoa in Week 16 despite the expected return of Waddle.
While Fields turned out to be a decent play in Week 15, it is getting harder to trust him given the circumstances in Chicago. On the positive note, he attempted a season-high 39 passes and continued to use his legs when necessary. On the downside, the Bears continue to self-destruct and are about to face a Seattle defense that has surrendered more than two touchdowns to a quarterback once this season (Week 3). The Seahawks give up yards like crazy but have been very good at keeping opponents out of the end zone once they get in scoring territory.
One look at Garoppolo's to-date numbers suggests he is playing at the same level that helped San Francisco make the Super Bowl in 2019. For fantasy purposes this year, he has been a solid QB2 option but rarely a player that allows his managers to rest easy. HC Kyle Shanahan deserves a lot of credit for making his quarterback look good, but Shanahan is also his own worst enemy in this instance. A quarterback with Deebo Samuel, George Kittle and Brandon Aiyuk at his disposal should be doing more than serving as a solid QB2 option or taking a back seat to the running game and defense. The Titans (their Week 16 opponent) got hammered early in the season by quarterbacks but have not yielded more than two total touchdowns to a quarterback since Week 8. Jimmy G seems unlikely to change that on a short week.
If I need upside this week, I would roll with Hill and then Fields. If I need a floor play, I would lean toward Garoppolo. In the one league that I can choose between the four options listed above, I am playing Hill.
Ray_T: Kirk Cousins or Jimmy Garoppolo? Matthew Stafford or Kyler Murray? Marquise Brown or Brandon Aiyuk?
(Cousins vs. Garoppolo) Since I just discussed Garoppolo, I will quickly move to why I would go Cousins. Sometimes in fantasy, it makes more sense to work backward; imagine how you see the game playing out first before trying to predict what individual players may do. Unlike many of the games this year that had shootout potential but disappointed, Vikings-Rams should deliver in that regard. Up until Chicago repeatedly shot itself in the foot in Week 15, Minnesota had surrendered at least 28 points in four straight and six of eight. Los Angeles seems likely to push for 30, especially given Stafford's familiarity with Vikings HC Mike Zimmer.
There is no denying Cousins has been awful in the last two games, completing less than half of his 55 pass attempts while averaging less than 150 yards through the air. (How much of that is due to the absence of Adam Thielen?) And yet, he still managed to run his streak of multi-TD games to seven despite Monday's dud. If Minnesota wants to keep pace with the Rams, it will be on the right arm of Cousins. In short, Garoppolo's ceiling is about what Cousins' floor is most weeks.
(Stafford vs. Murray) Sticking with the same game, Stafford appears to be back on track after a concerning two-game swoon in Weeks 9-10. The former Lion has thrown less often in the last three games but is still a weekly threat for 300 yards and 2-3 scores. However, none of those recent foes is as well-rounded offensively as the Vikings, which should only enhance the likelihood that neither team will be able to take the air out of the ball in the second half.
Fantasy managers were treated to Murray's upside (four TDs) when he returned from a long layoff in Week 13, but it is more than a little concerning that he has accounted for a single touchdown and five interceptions over his last three starts (excluding the win over Chicago two weeks ago). Arizona's defense has not embraced the challenge of stuffing opposing running games since a shorthanded Green Bay offense gave the Cardinals their first loss in Week 8, which has led to more being put on Murray's shoulders. While the absence of DeAndre Hopkins is not helping matters, Murray also is not making the throws he usually does and the offensive line is not holding up as well (both of which contributed to last week's shocking loss to Detroit). Maybe Arizona needs the challenge of playing the Colts in Week 16 to refocus. Stafford is locked in at the moment, has all of his weapons and a soft matchup. I will take that over Murray, whose dual-threat ability has not carried over to the field lately and has a matchup against an Indianapolis defense that is healthier now than it was when it was getting beat with regularity earlier in the season.
(Brown vs. Aiyuk) Fantasy managers need to get used to Brown being a possession receiver this year. Hollywood has not made a play longer than 22 yards or scored a touchdown in six games, which helps to explain why Lamar Jackson has only thrown for multiple touchdowns twice in 2021. Brown is making up for it with volume, although his targets seem to be getting shorter in depth by the week. His consistent volume is more than Aiyuk is getting, however. One of the reasons why we know Garoppolo isn't great for San Francisco's playoff prospects is that HC Kyle Shanahan has shifted Deebo Samuel into more of a change-of-pace role and featured George Kittle is to ensure Garoppolo gets plenty of safe throws/touches. Aiyuk is easily more involved now than he was two months ago, but his opportunities are not typically at or near the line of scrimmage. While the Week 16 matchup says Aiyuk is a better play, I would rather bet on the 10 targets Brown should see against a Cincinnati defense that could be missing top corner Chidobe Awuzie again.
rotisserieking: (0.5 PPR) Need a WR and Flex: Odell Beckham Jr., Russell Gage, Mike Williams and Jeff Wilson?
Need one: Kyle Pitts, Zach Ertz or Dallas Goedert?
Since Gage and Wilson were discussed earlier, let's briefly discuss OBJ. His Week 15 dud (1-7-0 on three targets) marked the first time since he has settled into the Rams' offense that he failed to come through for his fantasy managers. While it appears he is slowly (but surely) moving ahead of Van Jefferson in the pecking order, both players still take a sizable backseat to Cooper Kupp. The good news for this week is that Minnesota's secondary has mostly been a sieve with or without Patrick Peterson this season. Five catches, 60-plus yards and a touchdown are more than achievable benchmarks this week for Beckham.
One of the harder players to project this season has been Williams, who went from overall WR1-caliber numbers through five weeks to unplayable over the next five weeks. He has rebounded somewhat since, but his prodigious upside - in terms of both targets and red zone usage - has yet to follow. Austin Ekeler seems to be getting most of the touchdowns now that Williams was getting early on, leaving Williams as a WR3 that fantasy managers hope can come down a long catch each week. That is great for managers who can afford to chase upside, but that kind of role leads to high volatility for those of us who want a consistent 10-point floor.
So, to order them as requested by rotisserieking: Gage, Beckham, Williams, Wilson
How amazing/sad is it that Pitts is on pace for 66 catches and 968 yards and will be considered a bit of a disappointment if that is where he finishes up? Why is that? Because he dared to score one single touchdown. With that said, the emergence of Russell Gage over the second half of the season could be coming just in time for Pitts' rookie-year investors. While it is not near the bar he set early in the season, consecutive 60-yard games are about what managers were hoping for on a regular basis back in August. Getting that production in tough matchups against the Panthers and 49ers in the last two weeks may be a sign he will finish the season strong. Is it enough to start him in Week 16 against the Lions over a couple of established veterans in Ertz and Goedert? Probably not.
Ertz has been a steady floor option with occasional upside since arriving in the desert. This week's matchup versus Indianapolis suggests he could be ready to revisit that upside since fellow tight ends Dawson Knox, Rob Gronkowski and Hunter Henry have enjoyed much success recently against DC Matt Eberflus' unit.
However, the overall struggles of the Arizona offense recently make me want to roll with Goedert instead. The trade of Ertz to Arizona was made in part so Goedert could prove he was worthy of a long-term deal. After a bit of a slow start following the Ertz trade, Goedert has taken the Jets and the Football Team to town with a combined line of 13-240-2 on 15 targets. I could not recommend sitting a tight end producing at that level against a Giants' defense that just does not have the horses to stop any part of the Philadelphia offense consistently.
---
Doug Orth has written for FF Today since 2006 and been featured in USA Today's Fantasy Football Preview magazine since 2010. He hosted USA Today's hour-long, pre-kickoff fantasy football internet chat every Sunday in 2012-13 and appears as a guest analyst on a number of national sports radio shows, including Sirius XM's "Fantasy Drive". Doug is also a member of the Fantasy Sports Writers Association.