How many times over the past few seasons did we hear how Drew Brees was completing over 74% of his passes? And how many times did they want us to be impressed?

The correct answer is too many.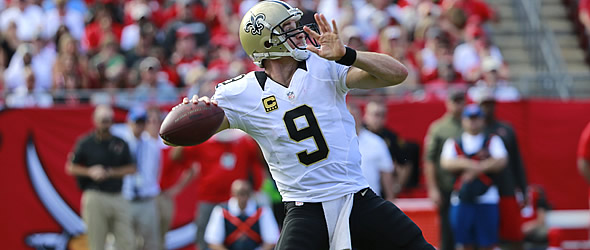 Mainly, because Brees has become ďCaptain Checkdown.Ē Peruse the table below and youíll find Brees near the very bottom of the chart in ďIntended air yards per passing attempt.Ē He and former teammate Teddy Bridgewater trailed the field at 6.4 yards and 6.2 intended air yards per passing attempt.
Iím much more impressed by the work of the quarterbacks near the top of the chart.
Ryan Tannehill mainly gets laughed at, and ignored, by fantasy owners (ADP 155.6), but the numbers from 2018 to last season show a much improved player. Heís still not a fantasy starter throwing the ball just 27 times per start, but if you see his attempts begin to rise to 30-or-more and his other percentages remaining steady he could become a useful fantasy option during bye weeks.
Dak Prescott is a divisive figure in that many either love him to hate him (Yes, as an Eagles fan Iím obliged to hate him Ö but with respect), however, the numbers show him getting better. Not just the 4,902 yards and 30 touchdowns, but the consistent 65% or-more completion percentage, while throwing deeper passes (from 7.5 yards to 9.3 yards) and fewer bad throws. Now he gets to play with even more weapons in CeeDee Lamb.
Josh Allen still isnít and probably wonít ever be an accurate passer, but he did improve his completion percentage last season by attempting shorter passes (better decision-making and play calling) and his obscene 25.7 bad throw percentage of 2018 dropped to 20.3%. Still bad, but better than Matthew Stafford, Aaron Rodgers and Tom Brady.
Letís talk about the last name I mentioned - Mr. Brady Ö the GOAT.
The GOAT didnít play well last season. Iím sure Brady would admit it (off camera). The numbers donít lie. OK, sometimes numbers do lie, but not in this case. His completion percentage dropped five points and his bad throw percentage jumped almost two points even while he was throwing slightly shorter passes. His 2019 intended air yards per attempt (7.6 IAY/PA) ranked him 27th of the 37 quarterbacks analyzed.
Additionally, the 2019 Brady is not a good fit for what the Tampa Bay Buccaneers do. The Bucs throw the ball deep! In 2018 Jameis Winston and Ryan Fitzpatrick ranked second (10.8) and third (10.3) in intended air yards per passing attempt, respectively. Last year, they were second and eighth. Meanwhile, Brady was dumping short passes to Julian Edelman and running back James White. Tomís never been mentioned when talking strongest arm, though it hasnít been a problem to his game so far, but the Bucs offense with Mike Evans and Chris Godwin is a deep passing game. It was 13 years ago that Brady was throwing bombs to Randy Moss. I donít think he could reach him anymore. Is Bruce Arians and OC Byron Leftwich going to adapt to Brady or is he going to try and fit their system? If itís Brady changing for the team it might be trying to put an expensive square peg in a round hole.
Speaking of MVPs, did you notice how much Lamar Jackson has improved? His accuracy jumped almost eight percent, his bad throws were cut and it didnít come at the cost of a more conservative passing game. Breaking it down even further his completion percentage was 63.3 in seven September and October games and 69.4% in November and December. He just keeps getting better. Last season was real and he should be the same in 2020, though if the FFToday staff draft is any indication, as the Midas commercial says, ďyouíre gonna pay a lot for that muffler.Ē He went No.8 overall.
The numbers also say stay away from Jared Goff. Completion percentage down and bad passes up despite a more conservative game plan from the sideline. If you want to see what a shorter passing game is supposed to do for your statistics, just look at what Kyle Shanahanís 2019 offense did for Jimmy Garoppolo. Of course it helps to have a great running game for play action and Goff will be without security blanket Todd Gurley for the first time in his career. Will a fake handoff to Cam Akers scare the defense as much as Gurley did the past four season? Goff may pass 600+ times again in 2020, but will he have the time to complete a lot of them?
One final note, Carson Wentzís statistics were significantly worse last season and while I tend to believe it was because he was playing with a bunch of practice squad wideouts and one good tight end (Zach Ertz), there isnít any guarantee that it gets a lot better in 2020. Alshon Jeffery is still hurting (Lisfranc), speedster Marquise Goodwin opted out, DeSean Jackson is only days away from his next leg/oblique/shoulder/neck/arm/concussion injury and rookie receivers are just that. They have no experience at this level and wonít get any until Week 1. By the time we find out if Jalen Reagor, John Hightower or Quez Watkins can play, it may be too late for you to get back into title contention with another quarterback.
Caveat emptor – let the buyer beware.