We'd all love to have a backfield of Derrick Henry and Christian McCaffrey, but it doesn't ever work out that way (except in my dreams and a few auction leagues). In fact, only a select few teams even have three-down workhorse backs these days. Which means to successfully build a two-running back lineup, it will require you to decipher the multitude of "running-back-by-committee" rosters.

Our goal is to find at least one back out of each RBBC group who can produce 12.4 FPts/G (the average 24th-best back from 2011-2020 in full PPR leagues). For a 17-game season this equates to 210.8 fantasy points.

For my purposes, I will evaluate any team where I expect no single back will see more than 65% of the team's rushing attempts.

Arizona – James Conner, Chase Edmonds

Conner arrives from the Steelers in a slump having watched his production drop from 21.5 FPts/G in 2018 ranking him sixth-best overall, to 14.8 in 2019 and 12.7 last season (ranked 28th). And that was as the workhorse guy in Pittsburgh. He always looked a step slow last season. He'll have to share the rushing work and concede the majority of receiving work to the incumbent Edmonds. Edmonds is likely the only guy out of this backfield to produce enough points to be a fantasy starter and in our June 21 projections we have him earning 238 fantasy points or 14 FPts/G.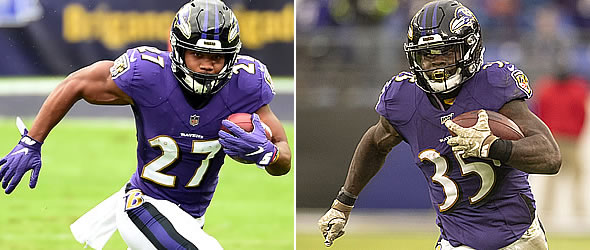 Baltimore – J.K. Dobbins, Gus Edwards
Dobbins is getting a lot of love in mock drafts, but he may have trouble earning his draft position (ADP 26.2 and the 15th overall RB). Sure, the Ravens are the No.1 rushing team in the league (3071 yards), but obviously Lamar Jackson grabs a good share of the yards and touchdowns off the top (1005 and 7 TDs last season). Meanwhile, Edwards has gotten pretty consistent work over the past three seasons (137, 133 and 144 rushing attempts). Neither back gets much play in the passing game which could leave Dobbins overvalued on Draft Day as a middle third rounder.
Buffalo – Zack Moss, Devin Singletary
Over the final games of last season, Moss saw more work than Singletary, who fell off from his rookie season. And at 225 lbs., Moss is better in goal line situations outscoring Singletary 4-2 on the ground. Meanwhile, both lost out while Josh Allen scored eight times with his legs. Behind Allen and the Bills passing game, the ground game was, and likely will be, an afterthought in 2021. Neither back should be expected to consistently produce 12 fantasy points a game.
Cleveland – Nick Chubb, Kareem Hunt
In 2020, Hunt actually had more rushing attempts than Chubb, but that's misleading because he played four more games (16-12). Still, it shows how much the team values Hunt, who is also the better receiver. Meanwhile, when healthy, Chubb is as scary and explosive as Henry with the football in his hands. While he won't see 378 rushing attempts like Henry, he should certainly see enough to be an RB1 despite his passing game weakness. Hunt should also be viable, though not at Chubb's level behind PFF's No.1 ranked OL. Despite Odell Beckham Jr., Jarvis Landry and the receiving corps, this is still a run-first offense, and that makes both guys fantasy-worthy.
Denver – Melvin Gordon, Javonte Williams
The Broncos' OL wasn't very good at run-blocking last season, which made things difficult for Gordon and Phillip Lindsay. They may not be much better in 2021 so both Gordon and rookie Williams have their work cut out for them. Additionally, the Broncos frequently fell behind on the scoreboard and had to play catch up. Early on, Gordon figures to get a majority of the work, but if Denver falls out of the playoff race, Williams could see a second-half upgrade. If you handcuff the two you might be able to get some low-end value, but neither figures to be a season-long option.
Detroit – D'Andre Swift, Jamaal Williams
Had the Lions not picked up a guy as talented as Jamaal Williams, D'Andre Swift would be getting a lot of love behind an offensive line that is developing quickly into one of the best. Swift averaged 14.9 FPts/G last season, including plenty of receiving work, but Williams has excellent hands (70-489-6 over last two seasons) and could take some of that work away. The Lions were also poking around Todd Gurley which would muddy the waters further. As long as Gurley isn't in a Lions uniform, Swift should be viable, though he might regress a little with less receiving work.
Houston – David Johnson, Mark Ingram, Phillip Lindsay
I'm not sure what to make of the entire Houston offense given the question mark at quarterback. Management also brought in quality depth to the Texans' running back room with veteran Mark Ingram and Lindsay. Lindsay can catch the ball and Ingram could steal carries from Johnson, who was a nice surprise in 2020 averaging 15.1 FPts/G. However, if all three stay healthy, it's going to be difficult for any of them to average 12 FPts/G.
Indianapolis - Jonathan Taylor, Marlon Mack, Nyheim Hines
The Colts have a deep and talented running back room led by the second-year stud Taylor. Hines is an excellent receiver and before his ACL injury in the first week of 2020 Mack was produced good results. However, this really isn't an RBBC, it just seems like one. Taylor should continue to improve and become a workhorse back, Hines should be reduced to a third-down receiving role and handcuff and if Mack shows he's healthy in preseason could be traded to a running-back needy team (Atlanta perhaps?). Taylor will a top-10 back again this season.
Jacksonville – James Robinson, Travis Etienne
Robinson should feel slighted after such an impressive rookie season from an UDFA (240-1070-7 and 49-344-3). He finished fifth in FPts/G at 17.9. And yet the team spent a first-round choice on Etienne (No. 25), who was a teammate for the new starting quarterback Trevor Lawrence at Clemson. They also signed veteran Carlos Hyde. At this point, this looks to be near a 50-50 split with Hyde perhaps vulturing a couple of goal line touchdowns. Both Robinson and Etienne figure to struggle to get to the 12 PPG level barring an injury.
LA Chargers – Austin Ekeler, Joshua Kelley, Justin Jackson
Ekeler is a poor-man's Alvin Kamara. He's just as good catching the ball, but not up to Kamara's running ability. And that's the issue. Chargers' management keeps trying to find a better pure running option. Unfortunately, neither Joshua Kelley (3.2 ypc) or Justin Jackson is that guy. As long as they don't find "that guy" Ekeler will see enough carries to combine with his receiving ability to be not only fantasy-worthy, but right around bottom of the top-10 in full PPR leagues.
Las Vegas – Josh Jacobs, Kenyan Drake
The off-season acquisition of Drake sent shock waves to Jacobs' fantasy owners. Although Jacobs' productivity dropped a bit (4.8 ypc to 3.9 and 8.3 ypr to 7.2), he still raised his production from 14.9 FPts/G to 15.7 through volume. Drake saw 239 carries in Arizona last season and Jacobs rushed 273 times in 2020. Something has to give since they aren't going to run the ball 525+ times this season. Gruden talking about Drake said," he can run it, catch it and return it." To me that says Jacobs is our starter, Drake is his handcuff if injured and third-down back and part-time returner if he is not. Still, Jacobs' numbers will take a hit with Drake in uniform, but he should still be a solid 13 FPts/G runner. He'll just never be an elite three-down workhorse.
Miami – Myles Gaskin, Malcolm Brown, Salvon Ahmed
Heading into the draft it seemed logical for the Dolphins to draft a running back early on, but they never did, instead selecting Gerrid Doaks in the seventh round (No.244). Doaks is a project and shouldn't bother Gaskin. Malcolm Brown, however, could steal goal line work because of his size. Gaskin proved to be excellent in the passing game and if he can stay healthy (he played just 10 games last season and seven in 2019), can still be a low-end RB2.
New England – Damien Harris, Sony Michel, James White
Selecting a Patriots' running back is almost always a sign masochism. In 20 years, no one has yet solved the mystery of how and why Bill Belichick uses his running backs. Harris should get the first shot at running the ball, but he'll rarely catch the ball as long as James White is healthy. Michel will likely get enough work to ruin it for Harris and himself. And if Cam Newton is still the quarterback then he'll vulture too many short touchdown runs from both of them. Barring injury, I see very few ways that any of the trio will be fantasy-worthy on a consistent basis.
New York Jets – Tevin Coleman, Michael Carter
This backfield is probably best avoided since OC Mike LaFleur is known to use the "committee" approach. Coleman, the oft-injured back, most recently spent time in San Francisco, so will have the advantage of knowing the system and the coaching staff. But he's never carried a big workload even when he was averaging 12-14 FPts/G in Atlanta as he shared the backfield with Devonta Freeman. The rookie Carter is also devoid of workhorse experience as he shared the backfield at UNC with Javonte Williams (see Denver). Carter might be the more explosive of the two and will see immediate work in what should be a fairly even split of the workload. However, it's likely neither will be fantasy-worthy except perhaps during bye weeks or an injury to the handcuff.
San Francisco – Raheem Mostert, Trey Sermon
Mostert has never averaged less than 5.0 yards-per-carry in San Francisco and that should continue. He's also never carried the ball more than 137 times in a season. The 49ers' haven't had a workhorse since Carlos Hyde in 2017 (299 touches). With Jerick McKinnon and Tevin Coleman gone and Jeff Wilson sidelined for 4-6 months, management spent a third-round pick on Trey Sermon from Ohio State. He'll see plenty of work on the ground, but has limited receiving experience. As always there will be plenty of work in this run-first offense, but it will be shared by the likes of fullback Kyle Juszczyk and Wayne Gallman as well as the two top guys - Mostert and Sermon. Both Mostert and Sermon will have a couple good games, but consistency is unlikely in a Kyle Shanahan offense.
Tampa Bay –Ronald Jones, Leonard Fournette, Giovani Bernard
Both backs had their moments last season. Jones rushed for 192 yards against Carolina and produced three consecutive 100-yards games in the first half of the season. Fournette was a star in the Super Bowl (135 combined yards and one score). Both will have their moments on the ground again in 2021, but management brought in Bernard from Cincinnati, who is an excellent receiving back. Jones usually got the start last season and if he got hot early the coaching staff rode the hot hand. So if I had to choose one it would be Jones. More likely, Jones and Fournette should be handcuffed because the only way one will become a consistent fantasy-worthy starter is if the other is sidelined.
To see all our running back projections click the link.