In the first of a multi-part series we will examine where the "public" thinks a player should be ranked versus where an "expert" ranks those same players. The reason we want to make this comparison is if we can find a large variance between the public and expert we can find bargains and conversely, we can also spot where the public is overrating a player to avoid paying too much.

We will use the average of 2,693 mock drafts from June 10, 2022-June 20, 2022 on FantasyFootballCalculator.com as representing the current public consensus and our highly-knowledgeable team at FFToday.com projections from June 16, 2022 as our "expert."

Below, you can find the comparison of the two rankings and there is a lot we can learn from the chart.

Mike Davis - The public obviously doesn't know that Davis isn't a running back for the Atlanta Falcons anymore and is stuck behind the returning J.K. Dobbins and Gus Edwards (both coming back from ACL injuries). Barring setbacks for the top-two backs, Davis is just experienced backfield depth (read insurance) and should not be drafted.

Chris Carson - The public also may not be aware that Carson's neck surgery may or may not allow him to play at all in 2022. He should not be drafted ahead of rookie Breece Hall (ranked 39th with a 97.2 ADP) or the running back selected by his own team, the Seahawks, in the second round of the 2022 draft – Kenneth Walker.

Chuba Hubbard - Another over-drafted player is Hubbard. Hubbard likely isn't going to be the handcuff for Christian McCaffrey, That job is more likely to fall to D'Onta Foreman, who was signed in the off-season and ran better than Hubbard and was a better receiver than Hubbard in Tennessee. There Foreman averaged 4.3 ypc and 13.7 ypr in 2021 versus 3.6 and 10.2 for Hubbard. If/when Foreman wins the handcuff role, Hubbard is drastically overpriced.

James Robinson - Continuing with the overpriced theme, Robinson is next on the list. Robinson tore his Achilles in December and isn't likely to be ready to start the season. Add the return of Travis Etienne and Robinson shouldn't be drafted as the 31st running back. At best, when he returns he'll be in a solid time share with Etienne. Etienne also made himself a better receiver in his final year at Clemson and should see a majority of the third-down receiving work. As a Philadelphia Eagles fan, I know to ignore anything Doug Pederson says in the off-season … its typical "coach speak." Yes, Robinson can be a three-down back again, but Pederson has always used his backups in a significant role. He has never had a back run for 900 yards in a season. That won't change in Jacksonville. It will be a true RBBC when Robinson returns.

Now let's talk about where the bargains are!

Here are three early round RBs to target.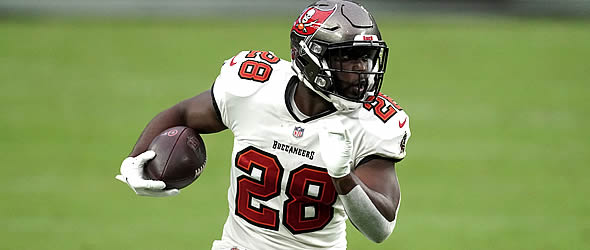 Leonard Fournette – I'm not sure why there is a lack of "love" for Fournette, perhaps a residual effect from his frustrating years in Jacksonville. Fournette was excellent in the Bucs' Tom Brady led offense finishing sixth in total RB fantasy points (255.6) and fourth in FPts/G average (18.3). There is no one to challenge him for the early-down work (Ronald Jones is now in Kansas City) and Fournette has made himself a very good pass receiver with 69 receptions last season despite supposed third-down specialist Giovani Bernard being on the roster.

James Conner – Conner may not be an explosive runner, but when it comes to getting into the end zone there was no one better in 2021. He had 28 rushing attempts from the opposing 10-yard line and in and scored on 12 of them. This compares favorably to Damien Harris (11-of-30), Jonathan Taylor (13-of-41) and Austin Ekeler (10-of-25). It comes despite his quarterback, Kyler Murray, scoring five times on the ground - all from inside the 12-yard line. Conner does come with some baggage (a low 3.7 ypc and having never played a complete 16-game schedule), but the Arizona running back room doesn't hold a lot of high-level competition (Darrel Williams, Eno Benjamin and rookie Keaontay Ingram).

Breece Hall – The public doesn't appear to be excited for Hall, but our experts are. In fact, we are projecting a 1,000-yards rushing and significant participation in the passing game with 36 receptions. Meanwhile, the public has Hall behind No. 2 backs like Tony Pollard, Kareem Hunt and even his teammate Michael Carter. Hall was a three-down back at Iowa State and the first running back selected in the draft and should not only be the Jets early-down back but get his fair share of the receiving work. For this reason, we have him ranked at No. 19, a full 20 spots ahead of the public.

And a later-round RB to target!

Isaiah Spiller – It was just a few months ago that Chargers' starting running back said he wanted to limit his workload for the upcoming season in order to stay fresher late in the season. The GM obviously agreed with his star back and in April selected Spiller out of Texas A&M in the fourth round of the draft after two 1,000-yard seasons for the Aggies. Spiller should beat out veteran holders Joshua Kelley (3.1 ypc) and Larry Rountree III (2.4) to be the handcuff with Ekeler. That too good a value at his current 155.4 ADP. Make sure to claim him around the 14th-round to guarantee he's on your roster.


Next week; wide receivers.