In this final installment of my weekly usage notes, I will focus on insights that might help you with who to start in championship week or what players might be good dynasty adds as we move into the offseason.

If you've made it this far and are still alive, congratulations. I am wearing my 13 finals as a badge of honor, since this was the most difficult fantasy season ever. If you fell just short, just know that next year will be a lot simpler to navigate, so study up this offseason and come back ready to win!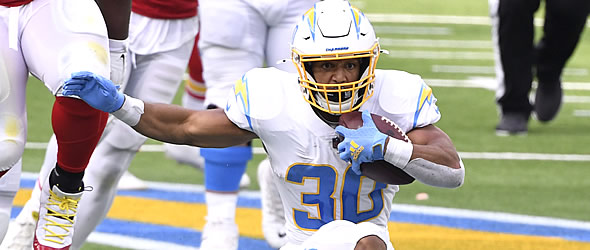 Running Back
Austin Ekeler played on 62% of snaps while three other backs factored in. Kalen Ballage played on 32%, Gabe Nabers played on 17%, and Joshua Kelley played on 8%. I mention that just so you are aware that Ekeler is still not playing his typical number of snaps. Nevertheless, 62% is enough for him to produce, especially when he's so involved in the passing game. He only received 17 touches (4 targets), so hopefully that number ticks up in Week 16.


Josh Jacobs played on 68% of snaps and received 29 touches. He was not very effective, primarily due to absolutely putrid blocking by the Raiders front. If he is active I'd play him in Week 16 against the Dolphins, even though they are a good defensive unit. He is a great back with a ton of opportunities, which is the most you can hope for.


Devin Singletary had a long rushing TD at the end of the game in Week 15, but he and Zack Moss both remain bad starts on a weekly basis. The Bills are not committing to running the ball, and these players continue to evenly split snaps. Find another option if possible.


After Jamaal Williams got banged up in Week 15, Aaron Jones saw 90% of the snaps. That was what fantasy owners have been pleading for over the past couple seasons, and Jones turned the extra snaps into 20 rushes for 145 yards and a score, plus 3 receptions for 13 yards. It is unknown whether Williams will be ready for Week 16 against the Titans, but either way Jones should have a very nice day.


With Ronald Jones on the Covid list, Leonard Fournette produced 14-49-2 on the ground. He was mildly effective but did not look as dynamic as Jones. I would look for Jones to retake the bulk of the carries this week, in a dream matchup against the Lions. If he remains out, Fournette is a good play as well.


Todd Gurley, as I said last week, is done. He played on only 25% of snaps and got 1 carry. He needs to be on your bench or on the wire.


James Robinson had a tough Week 15 against the Ravens, rushing for only 35 yards on 16 carries. He again saved his fantasy day with a score, going 3-18-1 through the air. It sounds like he will be out for the rest of the season with a high-ankle sprain, but dynasty owners need to be very happy with this find. He looks likely to be a steady, high-upside back for several years to come.


J.K. Dobbins played on 53% of snaps and received 15 touches, going for 81 total yards and a score. He will never produce what he could if he were on a team that used him as a workhorse, but he has still been productive and effective the past couple weeks. He faces a decent Giants front in Week 16, but if you need a back he has some upside.


In what should have been a perfect set up for Raheem Mostert, he again injured his ankle and only played 30% of snaps, going for 68 yards on 14 carries. That left Jeff Wilson as the primary back, and he went 16-60-1. I would avoid Wilson against the Cardinals in Week 16, unless you are desperate. He is simply not a very good player.


We may have seen a changing of the guard in the Dallas backfield on Sunday. Elliott was inactive, giving Tony Pollard a shot at lead duties. He went for 69 yards and two scores on only 12 carries, and also caught 6 of 9 targets for 63 yards! If I ran the Cowboys, I'd try to trade Elliott and give this backfield to Pollard, as he fits much more closely with the offense Kellen Moore wants to run. I doubt that happens, but I recommend getting Pollard on your rosters this offseason just in case.


David Johnson had his best game of the season on Sunday. He played on 80% of snaps and produced 133 yards of offense. However, it's important to notice that he produced 106 of yards through the air, on 11 receptions! So while it was nice that he was involved, he still only produced 8-27 on the ground. I think the inability of the Texans to run the ball has to do with coaching, a bad offensive line, and a lack of playmakers on the outside to keep the defense back. If those things improve, Johnson could be much better next season.


Jonathan Taylor played on 70% of snaps and has clearly taken over the mantle of lead back for the Colts. He rushed 16 times for 83 yards and a score, and also caught 4 of 5 targets for 12 yards. He gets a tough matchup in Week 16 against the Steelers, but is still a fine play with a Steelers defense that is banged up.


David Montgomery continued his workhorse role in Week 15, rushing 32 times for 146 yards and two scores. He has looked great recently, albeit against defenses that are bottom half. He gets the Jaguars in Week 16, so keep him in those lineups!


D'Andre Swift played on 65% of snaps and looked to be back to his dynamic self. He finished with 15-67-2 on the ground and 4-15 through the air. He gets a tough Bucs defense in Week 16, but you probably have to start him – particularly if Matthew Stafford suits up again.


Darrynton Evans was finally back in action on Sunday as the No. 2 back. He played on 13 snaps and got 8 carries and 2 receptions (57 yards and a score). He is a guy the Titans have wanted to get involved as a change-of-pace option, so I'd consider picking him up in dynasty leagues in case he flashes in the playoffs.


With Antonio Gibson still out, J.D. McKissic took over top back duties for Washington, playing on 98% of snaps. He was effective on the ground and through the air (13-51, 9-56-1). Watch the reports carefully to see if Gibson plays. If not, McKissic makes an intriguing start against the Panthers. He might still be a good play even if Gibson is in, since he might be limited.


Miles Sanders played on 83% of snaps on Sunday. He ran for 64 yards on 17 carries and caught 1 pass for 26 yards. It wasn't a great day, but at least he's out there and involved. He is a must-start in Week 16 against the Cowboys.


Chase Edmonds played more snaps than Kenyan Drake on Sunday (36 to 34), and out-produced him as well (66 total yards to 43). I don't know if we are seeing a changing of the guard at the top of the depth chart, but I wouldn't be surprised. Edmonds has looked more dynamic all season. Keep this in mind for both your championship decisions and for dynasty.


Cam Akers was again the primary back for the Rams, playing on 61% of snaps and getting all but 2 of the running back carries. Malcolm Brown and Darrell Henderson got 4 touches combined, so it certainly appears that Akers has a lock on this backfield however his ankle injury will cause him to miss Week 16. He is a nice dynasty asset moving forward, even though Sean McVay is a head coach who consistently jerks fantasy owners around with his decisions.


The Saints dared the Chiefs to run the ball all day, and begrudgingly they did. Mahomes still threw it 47 times, but with two deep safeties for the whole game he had to throw it short. When the Chiefs did run, they were effective. Edwards-Helaire ran 14 times for 79 yards, and Le'Veon Bell ran 15 times for 62 yards and a score. Since CEH was injured, we should see a lot of Bell in Week 16. However, be aware that the Falcons are easy to throw against, so Bell may only get 10-15 touches.


Benny Snell had one of the best games of the season for the Pittsburgh backfield, albeit in a losing effort to the lowly Bengals. He finished with 18-84-1 on the ground, and 3-23 through the air. He also played on 78% of snaps. If Conner is again out for Week 16, Snell could provide double-digit points, even if a tough matchup against the Colts.


A week after getting benched due to a fumble, Giovani Bernard led the backfield in Week 15. He went 25-83-1 and also caught a touchdown pass. He has a dream matchup in Week 16 against the Texans, so if Mixon is still out, he is a solid start.

Wide Receiver
Tight Ends
---
Kevin Scott is a fantasy pro who is the co-host for The Lowdown Fantasy Football Podcast. He plays in over 40 leagues annually and has made over $100,000 playing fantasy football. You can follow him @kevinscottff.