"Everything I put my name to and take part in, I want to be good. That's not saying it will always happen. But I want to make bold choices."

- Michael Fassbender

Being good at a particular hobby, sport or activity doesn't necessarily require someone to be bold. With that said, how often are the great ones in any walk of life not at least a little bit bold?

Just because we "get it wrong" from time to time, it doesn't mean we aren't intelligent or don't have something positive to contribute. We all have our flaws and I don't recall reading anywhere that we must live a certain way in order to be successful. However, if there is any truth to the saying "variety is the spice of life", don't we all owe it to ourselves to be add a bit of seasoning to what we do each and every day?

While you take a moment to reflect on that, it is my job at the end of each preseason to challenge conventional thinking and come up with a handful of predictions guaranteed to amaze. I'm not going to reach that lofty perch by suggesting that Peyton Manning is going to remain a top-five quarterback despite the offensive transition happening in Denver. It also does me no good to predict that Rob Gronkowski will score 25 touchdowns because there is no basis for him to post that kind of season despite his status as the most dominant tight end in football. So there has to be a middle ground.

As you make your way through the rest of this column, I ask that you consider the prediction and the rationale behind it (and remember it only if I am correct). After all, it doesn't do my reputation any good if you remember everything I get right AND everything I get wrong…

Note: I receive e-mails about this column every year, so allow me to issue this disclaimer for those that will inevitably ask; my Big Boards are what I believe will happen. These predictions should be considered more what I believe could happen and, as you will soon see, I can provide plenty of rationale to support them. Additionally, all these predictions were made with PPR scoring in mind. Last but not least, "bold" does not mean ridiculous, so I apologize in advance if the following predictions don't meet your expectations as it relates to being bold.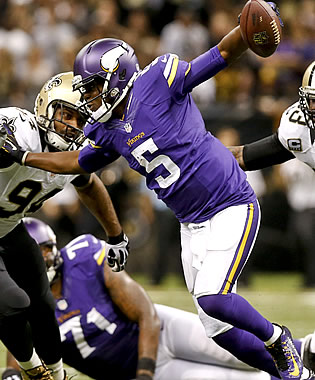 Bridgewater's supporting cast has never been better.
1. Teddy Bridgewater and Sam Bradford will each finish among the top-10 quarterbacks in overall scoring.
Let's start this thing out with a bang. In order for this prediction to happen, the bottom third or so of the top-10 quarterbacks from 2014 (Matt Ryan, Tony Romo and Ryan Tannehill finished 8-9-10 in the scoring system of my most important leagues last year) will need to fall short of expectations and a lot will need to go right for Bridgewater and Bradford. Here's why I think it is possible:
Ryan has little else he can count on outside of Julio Jones right now. Even if we say Roddy White and Leonard Hankerson combine to do what White usually does himself in a single season, there is the matter of the Falcons' less-than-impressive offensive line. Romo had a healthy offseason and was incredibly efficient last year, but do you want to trust him to stay healthy again this season given the likelihood he'll be asked to pass more often and not have the benefit of such a dynamic rushing attack? Tannehill has more weapons than he might know what to do with, but I think four games against the Jets and the Bills during the fantasy season is probably going to be enough to keep him out of the top 10.
Beginning in Week 11 (which is the same time Charles Johnson began to emerge as his favorite receiver) and going through the end of Week 16, Bridgewater was QB11. He pulled that feat off despite lacking the run-game threat that Adrian Peterson typically provides, relying on a completely unproven former seventh-round pick as his top target and working around a tight end in Kyle Rudolph that was probably never anywhere close to 100 percent last year. This year, the second-year quarterback has a beefed-up Johnson (now up to around 225 pounds), one of the league's best deep threats in Mike Wallace, a healthy Rudolph and a fired-up Peterson. The only part of this wonderful recipe that scares me about Bridgewater not finishing as a top-10 quarterback is Peterson making another run at 2,000 rushing yards. I think OC Norv Turner will stop short of giving "All Day" that much work, however, and trust his young signal-caller enough that he can exceed 4,000 passing yards and 25 touchdowns.
Projecting Bradford as a top-10 quarterback is trickier, with his injury history easily being his biggest hurdle. There's a combined one year of NFL experience between the two starting receivers (Jordan Matthews and Nelson Agholor), a coaching staff favorite (Brent Celek) blocking the better receiver (Zach Ertz) at tight end and three mouths to feed in the backfield for a coach that wants to run the ball, although one of those backs (Darren Sproles) figures to help Bradford immensely as a movable chess piece. So why is it all going to come together for the former No. 1 overall pick this year? First and foremost, he's remarkably accurate and won't need as many opportunities to post top-10 numbers as most quarterbacks. Secondly, the Eagles' tempo will allow Bradford to get a handful of snaps each game that other signal-callers won't. Last but not least, HC Chip Kelly's emphasis on sports science figures to put the former Ram in the best position possible in terms of keeping him on the field. Bradford's knee has obviously been an issue in the last two seasons, but let's not make him out to be a porcelain doll quite yet. After all, he held up for two full seasons behind an often-porous offensive line in St. Louis. I can't defend drafting him in the late-sixth round like I've seen in a number of big-money leagues due simply to his injury history, but I think he should be considered a high-upside QB2 with obvious potential to be a fantasy QB1, health permitting.

2. C.J. Anderson will finish among the top three backs in overall scoring and Ronnie Hillman will place no worse than 30th in PPR.
Believe it or not, there is recent historical precedent for this in a Gary Kubiak offense (or at least something pretty close to this prediction). In 2011, Arian Foster was the RB4 despite missing three games and owned the highest fantasy point-per-game average at the running back position (23.3) that season. Ben Tate, in his first year back from an ankle injury that robbed him of his rookie season, accumulated 188 total offensive touches as Foster's "1B" and ended up as the RB32.
Having achieved that both predictions are possible, let's break the two Broncos down separately. Anderson is probably the most divisive player among owners that is regularly going in the first round of 12-team leagues. Most people are familiar with the reasons why he will/should fail: the continued erosion of the Denver Broncos' offensive line, the overall improvement of Hillman, his undrafted free agent pedigree and the perception that Peyton Manning will continue to air it out because he is the de facto offensive coordinator. (Are there any more?)
Here are the facts as I see them for Anderson and four of the top reasons why he has a realistic chance to be the top-scoring back in fantasy this year:
1) Kubiak's history of riding one back hard – Let's put some numbers and real research behind this "trend". Over the past four seasons in which Kubiak has served as either a head coach or offensive coordinator and had a tailback start at least 13 games, Kubiak has, on average, fed that player over one-third of the team's total touches. That includes 68.7 percent of the carries, 62.6 percent of the backfield's receptions and 67.7 percent of the backfield's total touches. Add it up and it works out to a 298-carry, 50-reception per-season average for Kubiak's lead backs over this time span. That includes Justin Forsett's 235-carry, 44-catch campaign last season in Baltimore, which obviously only served to reduce those averages.
2) The Peyton Manning effect – To be clear, the "effect" in this case is as much about how Manning creates favorable situations for his backs as it is about how often those same players produce in fantasy. Anderson was a top-10 back in PPR last year despite not really taking over the backfield until Week 10, but this trend goes much deeper than that. Knowshon Moreno ended up as the RB4 even though Montee Ball stole 139 touches and was on equal footing with him by the end of the 2013 season. Moreno, who was essentially considered a 2009 draft bust over the first three years of his career, took over for an injured 30-year-old Willis McGahee in 2012 and was fantasy's RB4 during the final five weeks of the fantasy season. Of course, Manning has a history of making other backs like Joseph Addai, Dominic Rhodes and Donald Brown look good as well from his pre-Denver days. I get how some could suggest this actually works in Hillman's favor because it proves any back can succeed, but let's be reasonable: do you think Kubiak and Manning don't want one back to carry the load? Of course they do. It helps Manning execute the offense at the speed he wants and makes the offense less predictable as a whole.
3) Expected volume – Despite all the chaos in the Denver backfield last season, Broncos' running backs amassed 401 carries and 68 receptions on 96 targets, resulting in 469 total touches. Let's just say for sake of consistency that third-stringer and special teamer Juwan Thompson repeats his offensive line from last season (54 carries, four receptions) – something I find highly unlikely barring another injury-riddled season at the running back position. Based on the aforementioned numbers from Thompson last year, it leaves 347 carries and 411 total touches for Anderson and Hillman to split. Kubiak's offense is almost certain to allow his backs to maintain the same level of involvement in the passing game while averaging roughly five more rushing attempts, which pushes the total number of potential carries back to 427. (For some perspective, in the three years that Arian Foster was able to play at least 13 games for Kubiak, Houston averaged 461.3 carries (not touches) from its backfield. The Broncos' defense this season should certainly be as good – if not even a little better – than any of the defenses Kubiak had with the Texans, so there should be plenty of favorable game situations for Denver to run in this season.
4) The schedule – Speaking of favorable game situations, I'm hoping that many of you checked out Anderson's run schedule well before now. (I don't just analyze the matchups during the summer to pass the time, you know?) Baltimore (Week 1) and Detroit (Week 3) should still be somewhat formidable against the run, although both could fall off a bit given what each lost along the defensive line in the offseason. Be that as it may, I have a hard time finding another opponent before New England in Week 12 that is capable of stalling a capable ground game. (Twelve of the Broncos' 16 opponents finished in the bottom half of the league in rush defense last year.) Even if we assume that each of their AFC West opponents (San Diego, Kansas City and Oakland) takes a step forward in that regard this season – the Raiders' 22nd-ranked unit was the best of the three last year – I don't think it is realistic to expect any of them to make a huge leap into the top 10.
It was my original intention to give Hillman his own space after I provided the supporting arguments for Anderson, but I'm fairly certain I've already laid out how I believe both backs can and will not only be usable in all leagues this fall, but also why Anderson actually has history on his side in terms of making a run to the top. I fully anticipate Hillman stealing somewhere in the neighborhood of 125-150 touches, which could easily make him a somewhat reliable flex option considering how explosive he is. However, I have my doubts that he can overtake Anderson at any point or in his ability to stay healthy long enough to hold the job permanently in the off-chance he did steal the starting job. The only reason I won't predict Anderson as the No. 1 overall back in fantasy this year is because I have vowed to never again bet against Adrian Peterson, who will finally get a chance to show what a generational talent can do in a Norv Turner-led offense.

3. Ryan Fitzpatrick will be a top-20 quarterback into November, only to lose his job to Geno Smith before December, while Chris Ivory will finish the season as a top-15 running back.
Apparently, I confused "bold" for "convoluted" somewhere along the way. However, this prediction is actually quite simple. Fitzpatrick never has been, nor will he ever be, an elite talent, so let's make sure I get that out of the way before we start. What the Harvard alum does have – besides the ability to grow facial hair – is an offensive coordinator (Chan Gailey) that has already proven he can maximize his talent, a clear No. 1 receiver in Brandon Marshall that produce against just about any defense and one of the better No. 2 receivers in the game in Eric Decker. Those key pieces – play-caller and top two receivers – are actually quite similar to what he had in Houston last year, with the key difference being that Ivory doesn't bring what Foster does to the passing game. So what gives with the prediction? Texans HC Bill O'Brien has proven to be a bit more run-centric than Gailey and, as a result, Fitzpatrick didn't exactly have the benefit of much volume last season (he attempted 27 or fewer passes five times over the first nine games of the season prior to his benching). None of this is to suggest that I believe Fitzpatrick will average 35-40 attempts in 2015, but there is already plenty of evidence to suggest that Gailey is going to create matchups on a regular basis. While it would be a mistake to assume Gailey is limited to being a "spread-offense guy", he's enjoyed plenty of success with it when he has needed it and when his personnel has dictated that he uses it. The Jets' desire to "cross train" Marshall and Decker in the slot is proof they will probably be using a lot of three- and four-wide formations and willing to put his best receivers in positions to succeed. Marshall is almost always a lock for 80-plus receptions and Decker should be a good bet for at least 60-70, especially now with TE Jace Amaro done for the year. And in case you hadn't noticed, the first half of the Jets' schedule is relatively favorable for passing-game success – Indianapolis (Week 2) and Philadelphia (Week 3) will probably force the Jets to throw to keep up while their four games following their Week 5 bye don't have the defensive backs necessary to shut down Marshall or Decker, much less both of them.
So why is Fitzpatrick going to lose his job? For starters, this administration is going to want to see what it has in Geno Smith eventually and really doesn't have much invested in their current starter. Barring a near-miraculous run by the 32-year-old journeyman, New York likely expects Smith and rookie Bryce Petty to battle it out for the top job next offseason. Just as importantly, Fitzpatrick has earned a reputation (well-deserved, I might add) as a fast start and slow finisher – something he did consistently under Gailey when both men were in Buffalo. Need further proof? Fitzpatrick has posted career QB ratings of over 80 in September, October and November, but 69.4 in December, when he has averaged less than one touchdown pass per game. At this point of his career, it shouldn't come as a surprise that the same lack of arm strength that has allowed Fitzpatrick to be considered expendable is the same reason why his numbers essentially dive off a cliff when the elements come into play in the winter.
I'll admit, I'm a fool for physical running backs that consistently break tackles, run like every carry is their last and also have enough explosion to pull away from defenders in the open field. On an offense that offered next to no threat of a passing game, Ivory somehow finished as the RB23 in PPR scoring despite contributing very little in the passing game (18 catches) and sharing a significant number of carries with Chris Johnson (155, to be exact). Ivory has forced a missed tackle every 4.4 carries in his career, which is the best mark in the league among running backs, and told reporters recently that he went through more of a "track workout" this offseason – presumably to improve his speed. Looking past the number of beat writers that have hinted at or called Ivory the "unquestioned starter" in New York, I choose to take slightly more stock in the fact that new HC Todd Bowles told ESPN that Ivory can "easily be a three-down back".
Coaches don't need much of a reason anymore to pull a runner from a game, but if there is one quality that every football coach loves at the running back position, it is the ability to set the tone for the entire team by consistently powering through tackles and sending a message that the defense must pay every time he gets the ball. Ivory does that as well as any back in the league. Perhaps Ivory's rugged style means his carries will be capped around 225, but I'm not so sure that should be the case. The sixth-year back often draws comparisons to Marshawn Lynch (5-11, 215) and why not? They are similar in size (Ivory is bigger at 5-11, 222), speed, physicality and tackle-breaking ability. And we haven't even touched on the point I addressed earlier about Gailey above: opening up the offense. Imagine with me, if you will, a raging bull like Ivory consistently running against nickel defenses. In large part because the Jets' defense should be significantly better this year, New York should be able to stick with the running game for four quarters. It's a scary thought for defenses, but one that should have fantasy owners salivating.

4. At least half of the RBs with a second-round ADP (Matt Forte, Jeremy Hill, DeMarco Murray, Justin Forsett, Lamar Miller and LeSean McCoy) will fail to live up to their draft position.
OK, I'll admit this is not a bold prediction yet, but keep reading. Half of the players in the first round seem to "bust" every year, so why is predicting that half of the second-round backs to fall short a big deal? Because I'm going to tell you which three will disappoint. (For what it is worth, I prefer "disappointment" over "bust" because RB1s that perform like RB2s or those that are lost to season-ending injuries are not busts in my opinion.)
Just to be clear, I think each of the aforementioned six backs could easily disappoint. As such, I'll lay out the reasons they are most likely to succeed and fail. However, my job is to identify the three that are most likely to do fall short. In order to sell the drama, I'm going to give you the three that are somewhat safer first.
It has been well-established that Matt Forte isn't going to touch 102 catches again and, thankfully, the majority of owners came to that realization a while ago. Working in his favor is the fact that Chicago doesn't have another back on the roster that can really push him much for playing time, so he's a good bet for 300-plus touches for the third straight season barring injury. Working against him is the fact he is coming off a season in which he averaged 3.9 YPC and will turn 30 before the end of the year. At the end of the day, however, Forte produces when he plays and that probably isn't going to change this year either. Jeremy Hill has enough talent to be a consensus top-five fantasy back this year and beyond, a play-caller in OC Hue Jackson that is committed to a physical running game, an above-average offensive line and the hands to be a 40-50 catch back if necessary. What he lacks is a passing game that will consistently allow him to run against six-man fronts (which is one of the key differences between him and C.J. Anderson) and guaranteed production as a receiver since Giovani Bernard will steal plenty of passing-down snaps from him. Last but not least, we have Forsett. His most obvious positives: running backs under new OC Marc Trestman often get a lot of action in the passing game, the return of his stellar run-blocking line and the same running scheme (minus the play-caller in Kubiak) he excelled in last season. Forsett's most obvious negatives: he is also pushing 30, loses the run-game genius of Kubiak and has a vastly-improved (but currently injured) Lorenzo Taliaferro nipping at his heels. He's going to need a strong start in order to make sure Taliaferro remains strictly a "breather back".
And now for the three most likely to disappoint:
DeMarco Murray – As most of you already know, I'm torn on the former Cowboy. The combination of near-elite talent and Chip Kelly's offense is nearly a match made in fantasy heaven. I also have no doubt that he will deliver a handful of difference-making fantasy performances this year, which will make all of his non-owners question why they passed on him. With that said, Murray's pre-2014 durability issues and the obvious toll that 498 touches in one season (including playoffs) can take on a body long-term make him a complete wild-card in my mind. Let's say you're willing to dismiss both of these notions, as I am tempted to do when considering the two aforementioned overwhelming positives above. Now, let's focus on his competition for touches. Darren Sproles is about as good as it gets in the passing game at the running back position and is a solid bet for about 100 touches. The Eagles' backfield has averaged 476.5 touches in two years under Kelly, so let's trim that number to 375 after subtracting Sproles' workload. I believe it is realistic that a player like Ryan Mathews, who signed for nearly $4 M/year about the same time Murray inked his contract, to expect roughly 30 percent of the workload. Dividing Mathews' share of the touches (roughly 143 based on the Eagles' two-year average) from the total workload, we are left with 232 touches for Murray. Obviously, Murray did not sign a five-year deal worth $8 M/year to top out at roughly 200 carries and 30 catches.
So what has to happen in order for Murray to get there? Well, the easiest answer would be for Sproles and/or Mathews to be less involved and/or get injured. The Eagles' defense should be much improved (thereby giving Philadelphia more possessions), although I don't think that is necessarily a given. The third "fix" is simply making the offense more running back-centric, which may be a bit difficult to defend from a play-calling standpoint since Sam Bradford is easily the best quarterback Kelly has had at his disposal. As you can see, the answer to the question is not as simple as "get him his 275-300 touches and figure everything else out after that". Assuming my projections for Mathews and Sproles are somewhat accurate, Philadelphia needs to do something it hasn't done yet under Kelly in order for Murray to get to that "workhorse mark": manufacture roughly 530 total touches out of the backfield. It can be done – two teams have reached that mark in the last two years and three did so in 2012 – but a number of things have to go right, including Murray bucking the trend of runners breaking down the year after they carry an offense on their backs.
Lamar Miller – If Miami is willing to consistently give Miller 20 touches regularly for the first time in his career, then this prediction could very well end up looking foolish. If owners draft Miller and are able to get into the fantasy playoffs with him as a regular contributor, they'll be glad they have him on the roster for Weeks 14-16. My biggest issue with the fourth-year back actually has nothing to do with talent or scheme (both very good), but everything to do with one of the most difficult schedules I can remember seeing for an upper-level running back since I started analyzing the schedule in 2008. From Weeks 3-13, I charted seven red matchups over a 10-game stretch for Miller. As far as I'm concerned, it is hard to argue the Bills and Jets won't have elite run defenses, which accounts for four of the seven reds. Houston should be stout with Vince Wilfork providing the anchor the Texans have lacked for their 3-4 defense and working in tandem with do-everything DE J.J. Watt. Philadelphia is a projection, but it kept most of the key parts of its defense (while adding ILB Kiko Alonso) that held opponents to 3.7 YPC in 2014. And we also have Baltimore over that same 10-game stretch, which hardly seemed to miss Haloti Ngata during his four-game absence at the end of the regular season; the Ravens finished last year as the stingiest defense against opposing running backs.
LeSean McCoy – McCoy figures to be this year's best test of expected volume and talent versus questionable durability, questionable offensive line play and play-caller history. The Bills' defense could be so good this year that Buffalo could probably go 8-8 by doing little more than just letting McCoy touch the ball 25 times a game. Volume isn't going to be a problem and "Shady" is as elusive of runner as there is in the game when he is healthy, which leads us to why he's more likely to disappoint. McCoy hasn't really been healthy since arriving in Buffalo and is recovering from a hamstring injury that was/is somewhere between a bad pull and a near tear. McCoy himself has guaranteed he will be ready for Week 1, but this is far from an ideal start for a player that will go in the top 15-20 of most drafts. Beyond that, new OC Greg Roman didn't exactly showcase Frank Gore's all-around offensive talents in his last stop at San Francisco, nor is Buffalo expected to play with much tempo. In essence, we have an elusive back coming off consecutive 314-carry seasons that is entering this year with a questionable hamstring and a pace of play that will be completely opposite of what he experienced in Philadelphia the last two years. None of the Bills' three returning starters on the offensive line graded out positively in run-blocking either last year, meaning Buffalo needs to hope for a huge bounce-back from them and more than it should probably expect from a pair of new guards (LG Richie Incognito and rookie RG John Miller).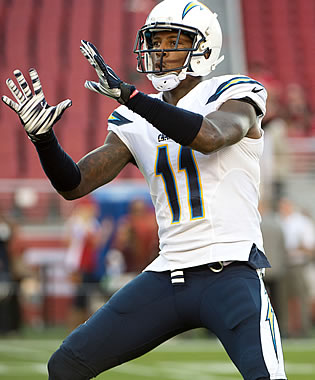 Stevie Johnson has WR2 upside in the SD offense.
5. Anquan Boldin, Stevie Johnson, Eric Decker, DeVante Parker and Brandon Coleman will finish inside the top 35 at their position. Boldin and Johnson will do no worse than WR30.
I stated earlier this summer that I believed there were roughly 45 wideouts capable of being every-week starters in 12-team leagues that require three receivers. Obviously, injuries will change this number as we move along, but I remain firm in sticking by it for now. The five players I just mentioned above are some of the main reasons why. All are listed as WR41 or lower and going after the ninth round (according to Fantasy Football Calculator).
Frankly, I'm baffled as to how Anquan Boldin is so underappreciated in PPR leagues. Perhaps it is because he'll turn 35 in October and will play on a team this season that most expect to finish around four or five wins. I see a 6-1, 217-pound beast that is nearly impossible to guard in the slot and a player that has caught 85 and 83 passes in his two years in San Francisco. The Niners added former Ravens teammate Torrey Smith in the offseason, but didn't exactly bring in another receiver that will steal Boldin's short and intermediate looks. San Francisco plans to throw more this season – remember the Niners have been a run-heavy team since Boldin came on board in 2013 – and will probably be forced to do it out of necessity anyway. As a result, it is hard to rationalize how Boldin's production will drop with more volume. I think his 83-1,062-5 line from last year could actually be his floor this year if he manages to stay healthy and play 16 games for the third straight season.
There are some players I need to see have a good preseason in order to believe. There are others that I'd just as soon see get in and get out as soon as possible. Steve Johnson is one of those players for me, so I was happy to see him get some work in against Seattle in Preseason Week 3 and check out before scoring a touchdown or doing anything else noteworthy. Philip Rivers has already made his feelings about his new toy pretty clear. Prior to an injury-shortened 2013 campaign during his final season and Buffalo and last year's inexplicable stint as a third receiver in San Francisco, "Why So Serious" averaged 79 catches, 1,041 yards and 7.7 touchdowns with Ryan Fitzpatrick as his primary quarterback with the Bills. If those numbers look somewhat familiar for a frequent target of Fitzpatrick, they should: DeAndre Hopkins posted a 76-1,210-6 line last season in Houston. Johnson hasn't had anything close to the level of quarterback play at any point of his career that he will see in San Diego this year, so don't hesitate to scoop him up anytime he is hanging out anywhere close to his current 9.06 ADP. I'd start considering him as early as the seventh round and wouldn't be opposed to pairing him up with Boldin to be my WR2 and WR3 in three-receiver leagues. (I actually did this in a TFC draft last night, taking advantage of both players' ADPs and securing Martavis Bryant as well.) After Antonio Gates returns from his season-opening four-game suspension, a healthy Danny Woodhead and a refocused Keenan Allen, there are going to be enough mouths to feed in the passing game that the Chargers probably won't have one fantasy superstar on their team. However, I could easily see all four players catch between 60-75 passes. I fully anticipate Johnson to be one of those players and it wouldn't surprise me at all if he led the team in touchdowns. Eddie Royal scored 15 touchdowns over the last two years in San Diego as one of Rivers' favorite red-zone targets. Johnson is not only expected to command the majority of slot duties, but he's also going to play more on the outside than Royal ever did.
I touched on Decker earlier, so I'll simply add that he's enjoyed Steve Johnson-like consistency (from his best years as a Bill) over the past three seasons, one of which came in the mess that was the Jets' season in 2014. Brandon Marshall should be the alpha dog at receiver in New York this year, but that doesn't mean Decker is going to sit idly by and watch the show. Jace Amaro's season-ending injury basically removed whatever chance Decker had of not being able to match last year's somewhat surprising production. Gailey's plan to use both Marshall and Decker in the slot means he should have plenty of opportunities to pick on overmatched nickel corners as the season progresses.
The last two players are admittedly bolder picks than the first three, although I could make the case that both youngsters are more physically talented at this point of their careers. DeVante Parker is going to get off to a slow start because of offseason foot surgery, but profiles similarly to A.J. Green and should eventually settle in as a player in the tier right below the Bengals' stud wideout. Parker wins on intermediate routes just about as often as he does down the field and had some of the best hands in the 2015 draft class (three total drops since 2012).
Brandon Coleman is the biggest reach of them all and could admittedly end up being a tease, but if there is one kind of tease I'm willing to deal with, it is the one that goes 6-6 and 225 pounds in an offense quarterbacked by Drew Brees. Marques Colston is in decline, Brandin Cooks may never be the Saints' primary focus in the red zone and Jimmy Graham is gone, giving players like C.J. Spiller, Josh Hill and Coleman a fair amount of opportunity to pick up a lot of targets. The 2014 undrafted free agent out of Rutgers has drawn consistent praise from Brees and HC Sean Payton all offseason and had little problem winning the third receiver job in camp. At this point, I'd be a bit surprised if Coleman doesn't make Colston expendable next year. A top-40 finish is probably pushing it for such an unproven player, but it is not out of the question given the likely impact he should have in the red zone.

6. Tyler Eifert will be this year's Travis Kelce and finish as a top-five fantasy tight end.
I believe I've had Tyler Eifert ranked as the No. 5 tight end on every one of my Big Boards, so allow me to go one step further with this prediction. Eifert will out-produce at least one of the "Big Four" at the tight end position – Rob Gronkowski, Jimmy Graham, Greg Olsen or Travis Kelce – if he can put together a 16-game season. Here's why I believe that. Gronkowski is an injury risk, like it or not. Graham's receptions figure to drop into the 70-catch range; can we be certain his touchdowns will remain roughly the same? Olsen could easily suffer from being the focus of the defense with the likes of Ted Ginn and Philly Brown operating as the starting receivers. Kelce's fantasy production could go either way given how much the Chiefs seem to be building their passing game around Jeremy Maclin.
So why Eifert? The third-year Notre Dame product is the rare breed of tight end that is able to get downfield and high-point the ball. A.J. Green and the Bengals' running game are more than potent enough for Eifert to consistently work his magic over the middle of the field against single coverage. At 6-6 and 250 pounds with impressive hands and more leaping ability than one might expect, he's almost certain to be a force in the red zone. Do you need one more reason? Jermaine Gresham, who was rarely ever a focus in the Cincinnati passing game following a fairly impressive rookie campaign in 2010, averaged 56 catches and 4.8 touchdowns over his five-year career. Eifert will be a featured part of the Bengals' passing attack and doesn't have a player at his position nearly as talented as he is pushing him for playing time like Gresham did.

7. Scott Chandler will become a hot commodity in fantasy no later than Week 4.
One thing I try to do in any "Bold Predictions" piece is suggest possibilities that could very well happen with or without injury to a key player on the offense. Such is the case here with Scott Chandler, who I believe has a realistic shot at producing high-end TE2 numbers even with a healthy Rob Gronkowski around. How is this possible? Let's observe:
The Patriots' receiving corps has already been wiped out by injuries. Brandon LaFell is on the PUP (Physically Unable to Perform) list and Julian Edelman didn't practice for most of August with an ankle injury. Danny Amendola has proven to be the embodiment of poor durability and Aaron Dobson is on track to join him. (I'm pretty sure fifth receiver Chris Harper is healthy, though.) At running back, Dion Lewis appears to be the player most likely to replace Shane Vereen as the passing-down back, although Lewis has never proven to be overly durable himself. Thus, we are left with New England's two massive tight ends: Gronkowski (6-6, 265) and Chandler (6-7, 260). Obviously, the latter is not overtaking the former, but I don't think it is unrealistic to believe Chandler could emerge as a fairly consistent red-zone threat in Foxboro after being one for most of his career in Buffalo. Patriots beat writers have noted that Chandler has been a regular target on end-zone fade patterns during practice – much like the one he caught for a touchdown during an exhibition game against Carolina a couple of weeks ago. The 30-year-old Iowa product makes sense as a last-round stash for any Gronkowski owner in deep leagues and probably has low-end TE1 potential should Gronk miss time. As a new Gronk owner myself in my dynasty league, I am strongly considering adding Chandler as my TE3 for that very reason before the start of the season.

---
Doug Orth has written for FF Today since 2006 and been featured in USA Today's Fantasy Football Preview magazine since 2010. He hosted USA Today's hour-long, pre-kickoff fantasy football internet chat every Sunday in 2012-13 and appears as a guest analyst on a number of national sports radio shows, including Sirius XM's "Fantasy Drive". Doug is also a member of the Fantasy Sports Writers Association.