As discussed in this space last week, the remainder of my postseason columns will feature my NFL.com Playoff Challenge roster (for as long as applicable), followed by my weekly league predictions and DFS prognostications. The further we advance in the postseason, the deeper the analysis into the matchups.



NFL.com Playoff Challenge





NFL.com Playoff Challenge Roster


QB: Case Keenum (x2)
RB: Latavius Murray (x2)
RB: Dion Lewis (x2)
WR: Adam Thielen (x2)
WR: Stefon Diggs (x2)
TE: Rob Gronkowski (x2)
K: Stephen Gostkowski (x2)
D/ST: Vikings (x2)


DraftKings/Fuzzy's

Since the pick-your-studs competition with Fuzzy's and the salary cap game of DraftKings essentially use the same PPR scoring (six points for passing touchdowns with Fuzzy's versus four fantasy points with DraftKings; three bonus points for 300 yards passing or 100 yards rushing/receiving versus no such bonus with Fuzzy's being the biggest differences), I'm going to essentially combine the two again this postseason.

Below you will find my position-by-position projections. Please note I have included DraftKings' dollar value for each player, followed by their projected point total in that format (DraftKings and then Fuzzy's). Because I went into some detail above, I won't spend a great deal of time explaining each projection here - only some of the more notable ones. Each position is sorted by my DraftKings' projected point total.

Key for quarterbacks, running backs, receivers and tight ends:
P Yds - Passing Yards
P TD - Passing Touchdowns
INT - Interceptions
Ru Yds - Rushing Yards
Ru TD - Rushing Touchdowns
Rec Yds - Receiving Yards
Rec TD - Receiving Touchdowns
Rec - Receptions


Congratulations if you accurately predicted the Panthers would favor stopping the run over letting Brees rip them apart via the pass. Congratulations if you had the foresight to see Greg Olsen come alive or Christian McCaffrey break loose for a 56-yard touchdown catch late in the game, essentially saving Cam Newton's otherwise average day. Congratulations if you predicted Mariota would throw a touchdown to himself. Congratulations if you had Bortles running for 88 yards. My point is simply this: while fantasy numbers for quarterbacks were slightly higher than predicted here last week, understand how many out-of-the-ordinary occurrences had to happen in order for many of them to achieve it.

In all likelihood, quarterback play is unlikely to determine the amount of success your fantasy playoff teams have this postseason. The players most likely to throw for three or more touchdowns this week either do not have the matchups working in their favor (Brees and Roethlisberger), an offense that is willing to sacrifice in the name of offensive balance (Keenum) or seemingly lacks the health to take advantage of a defense ripe for the picking (Brady). Minnesota has allowed one passing touchdown since Week 12 and has the personnel necessary to slow Michael Thomas down without committing additional resources while also keeping the Saints' running game somewhat in check. Jacksonville has been a bit more forgiving in the passing game than it was earlier in the season, but Russell Wilson's garbage time-influenced effort against this defense in Week 14 was the only time a quarterback threw for three touchdowns versus the Jaguars all season. As good as Keenum has been this season, he only accounted for at least three scores twice since becoming the regular starter in Week 6. Brady hasn't passed for three or more scores in five straight games … or roughly the same time he started appearing on the injury report with an Achilles' injury.

Despite the gloom-and-doom of the position, the aforementioned players are going to be your best bets for fantasy success this week. Ryan hasn't passed for more than one score in seven straight games and does not have a single game of three or more TDs to his name this year. Foles probably isn't as bad as he has appeared the last two games, but the Falcons just got done bottling up the Rams and have yielded only one three-score performance to a quarterback all season. Mariota also doesn't have a three-score game on his resume and still has more interceptions than passing touchdowns. Bortles' awful effort last week was wind-aided, but good quarterbacks typically are able to work around the elements - he did not. While I consider myself to be an analyst who does a good job of accounting for recent performance and overall skill in his projections and not get wrapped up in what a player did just in his most recent game, it would take some serious cojones to ride Bortles this week just because, in theory, he may have the easiest matchup of all the quarterbacks.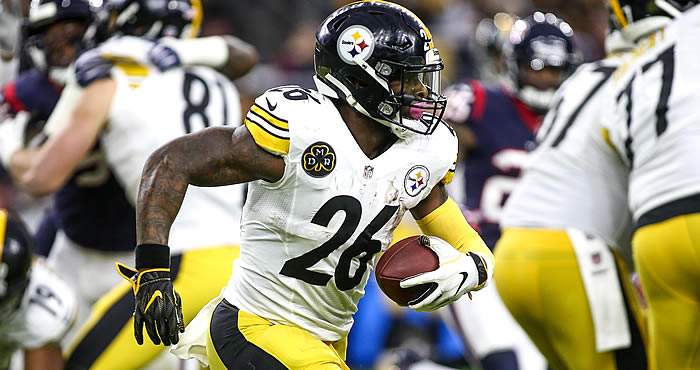 Le'Veon Bell's involvement in the passing game will be a differentiating factor over other running backs on this slate.
Running Backs
Player
DK $
DK Pt Total
Fuzzy Pt Total
Ru Yds
Ru TD
Re Yds
Re TD
Rec
Le'Veon Bell
9,600
26.5
26.5
80
1
55
0
7
Dion Lewis
6,600
23.5
20.5
105
1
20
0
2
Alvin Kamara
7,800
23.0
23.0
30
0
70
1
7
Mark Ingram
5,600
20.5
20.5
45
1
50
0
5
Derrick Henry
7,300
18.0
18.0
80
1
20
0
2
Latavius Murray
5,400
16.5
16.5
85
1
10
0
1
Devonta Freeman
5,900
13.0
13.0
55
0
35
0
4
Leonard Fournette
6,900
13.0
13.0
55
0
35
0
4
Jay Ajayi
4,600
11.5
11.5
55
0
30
0
3
Jerick McKinnon
4,900
8.0
8.0
40
0
20
0
2
Tevin Coleman
4,400
7.5
7.5
30
0
25
0
2
James White
4,300
7.0
7.0
15
0
25
0
3
LeGarrette Blount
3,700
5.0
5.0
35
0
5
0
1
Corey Clement
3,200
5.0
5.0
15
0
15
0
2
T.J. Yeldon
3,400
2.5
2.5
5
0
10
0
1
Chris Ivory
3,600
2.5
2.5
10
0
5
0
1
Rex Burkhead
5,700
1.5
1.5
15
0
0
0
0
Fitzgerald Toussaint
3,300
1.5
1.5
0
0
5
0
1
Stevan Ridley
3,900
1.0
1.0
10
0
0
0
0

The matchup outlook at running back is only marginally better than it is at quarterback. Atlanta has done a wonderful job of stifling rushing attacks for the bulk of the season, as Todd Gurley last week became the first player since Ajayi in Week 6 to top 100 total yards versus the Falcons. While the Eagles have been gouged by running backs in terms of rushing yards in their last two games, both players needed at least 25 carries in order to threaten or creep over the 100-yard mark. It is unlikely Freeman or Coleman will see enough attempts to do likewise.

I'm not sure how we are supposed to analyze the Saints' success last week. It wasn't a total surprise to see Brees do well, but for him to throw for nearly 400 yards with Kamara and Ingram combining for 23 yards on two catches seems like a problem to me. Unlike Carolina, Minnesota has the talent to play New Orleans straight up in the passing game and doesn't have to be overly concerned about springing leaks in the running game. Barring multiple breakdowns/injuries by/to the Vikings, it is going to take a spectacular effort by a role player from the Saints or some major help from the defense/special teams in order for New Orleans to pull off the upset. Mind you, I believe the Saints are the one remaining NFC team best equipped to do it, but things are going to need to fall into place. My projections for Ingram and Kamara represent a best-case scenario for each player and the likelihood much of their production comes during negative game script late in the contest.

Murray is the one player of the bunch I don't want to like, but I do because Minnesota creates a positive game script for him so consistently. Because the Vikings like playing to their defense, minimizing possessions and ball control are key components to their success. Murray helps them accomplish this. However, despite Minnesota's improved offensive line, Murray still isn't averaging four yards per carry and has struggled to reach that mark late in the year. With the former Raider, you are hoping for at least one touchdown if you roll the dice on him, because he is among the worst bets at the position this week to help your team on yards alone.

The Pats have also been susceptible from time to time against opposing rushers, but the expected return of run-plugging DT Alan Branch and the likelihood Tennessee will be playing from behind in the second half makes it unlikely Tennessee is going to be able to commit to 25 touches for Henry. Lewis could be a really savvy play, even in what is technically a difficult matchup against the Titans. He has amassed 61 touches over the last two games and will be slated for another heavy workload so long as Burkhead plays a minor role or is held out and New England continues to limit Brady's exposure to punishment.

It is becoming clearer by the week the combination of Fournette's midseason ankle injury and the lack of road graders on the Jaguars' offensive line have conspired to make the No. 4 overall pick look like a mere mortal. Not only can we tell this is the case by the complete lack of big plays the rookie has turned in over the last two months, but a matchup like the Bills last week - regardless of how much they focused on shutting down the run - would have resulted in about 120 yards and a score in September or early October. With Fournette seemingly incapable of busting a long run, the Jags may be in a repeat of the Wild-Card Round offensively. As an aside, Jacksonville is doing him no favors by using him so much out of the shotgun. If there was one major criticism I had of Fournette during the pre-draft process this spring, it was that he needs a runway to get going. In other words, utilizing him on the same "gun-runs" Kareem Hunt are featured on robs Fournette of the ability to get north-south quickly and square his shoulders. Bell's 2017 workload will make him a player I'm going to avoid high in drafts in 2018, but I trust his ability to play the rest of this postseason without much worry, as he will have enjoyed nearly three full weeks without contact by the time Pittsburgh takes the field this weekend.
Wide Receivers
Player
DK $
DK Pt Total
Fuzzy Pt Total
Re Yds
Re TD
Rec
Julio Jones
7,900
30.0
27.0
130
1
8
Adam Thielen
7,600
21.0
21.0
80
1
7
Antonio Brown
8,100
20.5
17.5
105
0
7
Dede Westbrook
4,400
16.0
16.0
60
1
4
Michael Thomas
7,200
13.5
13.5
75
0
6
Nelson Agholor
4,800
12.5
12.5
65
0
6
Taywan Taylor
3,000
12.5
12.5
45
1
2
Brandin Cooks
7,000
12.0
12.0
70
0
5
JuJu Smith-Schuster
6,000
11.0
11.0
60
0
5
Stefon Diggs
6,200
11.0
11.0
60
0
5
Mohamed Sanu
5,700
9.5
9.5
55
0
4
Corey Davis
3,400
8.0
8.0
40
0
4
Ted Ginn Jr.
5,800
8.0
8.0
50
0
3
Rishard Matthews
4,500
7.5
7.5
45
0
3
Marqise Lee
5,100
6.5
6.5
35
0
3
Eric Decker
3,800
6.0
6.0
30
0
3
Danny Amendola
4,100
6.0
6.0
30
0
3
Alshon Jeffery
5,500
5.5
5.5
35
0
2
Keelan Cole
4,200
5.0
5.0
30
0
2
Martavis Bryant
5,000
4.5
4.5
25
0
2
Chris Hogan
5,200
4.0
4.0
20
0
2
Allen Hurns
4,000
4.0
4.0
20
0
2
Laquon Treadwell
3,000
4.0
4.0
20
0
2
Justin Hardy
3,000
3.5
3.5
15
0
2
Jarius Wright
3,000
3.5
3.5
15
0
2
Willie Snead
3,000
3.5
3.5
15
0
2
Taylor Gabriel
3,000
2.5
2.5
15
0
1
Torrey Smith
3,000
2.5
2.5
15
0
1
Phillip Dorsett
3,100
2.5
2.5
15
0
1
Tommylee Lewis
3,000
2.0
2.0
10
0
1
Eli Rogers
3,000
1.5
1.5
5
0
1

It took much longer for him to reach where fantasy owners wanted Jones to go this year, but the Falcons seem to be getting him involved on a regular basis now. Jones has attracted at least 10 targets in three straight games, four of his last five and six of his last eight. Of course, the touchdown production is what has been lacking. While Jones is seeing a lot of snaps all across the formation, his main matchup this week should be against Ronald Darby, who has been targeted on 29 percent of the time in which a pass route is run in his coverage - easily the highest mark of the weekend. Jones could easily repeat or exceed last week's production if OC Steve Sarkisian continues to make feeding him a priority. Sanu figures to line up across from slot CB Patrick Robinson the most often in the Divisional Round. While he's always a decent bet to score a touchdown a time defenses overcommit to Jones in the red zone, Sanu figures to have the most difficult matchup of the weekend among Falcons' wideouts.

Since catching a short touchdown pass early in Week 15, Jeffrey has shown very little chemistry with Foles … or Smith for that matter. That fact alone makes using either one even as a contrarian play awfully risky and leaves Agholor as the only realistic option, although slot CB Brian Poole has played well for most of the season. Two of the league's best cornerbacks - both of whom rarely move inside - will be plying their trade this weekend in Minnesota, which is marginally bad news for Diggs (Marshon Lattimore) and Thomas (Xavier Rhodes). Both receivers spend over 20 percent of their snaps in the slot, however, so avoiding them completely in fantasy probably isn't a good idea, but owners should limit their exposure regardless. With that said, the news is worse for Thomas simply because the Vikings don't technically have a "weak" cornerback in their base or nickel defense. As such, Thielen is the premier play at receiver in this contest, as he runs over half of his routes inside and should see P.J. Williams most of the day. While Williams isn't hardly a pushover, he is much more likely to get beat than Lattimore or Ken Crawley.

Both New England cornerbacks have played well this season - especially recently - and Tennessee's passing game has been inconsistent at best, so the best thing to do with Titans' wideouts this week is either go cheap or avoid entirely. It's the main reason I graced Taylor with a touchdown, because it will probably take a big play from a part-time deep threat against a backup cornerback for a Tennessee receiver to have a productive day. Similar things can be said about the Jaguars' passing game. Late last week, it was reported Cole would slide down to No. 4 on the depth chart if Lee was active. Despite emerging as the Jags' top receiver late in the season, that is exactly what happened. Granted, Bortles' play made the point moot, but even with the likely absence of Steelers CB Artie Burns this weekend, I cannot imagine placing any faith in the Jacksonville passing game with a struggling quarterback and a coaching staff willing to limit the snaps of its most viable threat.

Cooks has been a hit-or-miss proposition for the bulk of the season, so while his primary matchup this weekend (rookie CB Adoree' Jackson) isn't one to avoid, there are enough other high-end receivers to use this weekend. Hogan's availability remains shrouded in mystery (Kenny Britt anyone?), while there seems to be little rhyme or reason as to when Amendola is going to have a six-catch game. Never mind the fact former Patriot Logan Ryan will be the man Amendola sees the most of this weekend. The only reason to avoid Brown versus the Jags is if we receive some indication his calf is not fully healed and/or he is at risk for an in-game setback. Smith-Schuster won't find a soft landing whether he lines up across from slot CB Aaron Colvin or (most likely) A.J. Bouye when he lines up outside. Even against Jacksonville's defense, he is worth using as a contrarian play, although I'm not sure the upside is all that high. Bryant hit his PPR ceiling this year in Week 2 with 18.8 fantasy points. He's only finished in double figures three times since, so feel free to move along.
Tight Ends
Player
DK $
DK Pt Total
Fuzzy Pt Total
Re Yds
Re TD
Rec
Rob Gronkowski
7,100
28.5
28.5
95
2
7
Zach Ertz
5,800
21.5
21.5
75
1
8
Kyle Rudolph
4,700
15.0
15.0
50
1
4
Delanie Walker
5,000
13.5
13.5
75
0
6
Vance McDonald
2,500
11.0
11.0
30
1
2
Austin Hooper
3,200
4.5
4.5
25
0
2
Trey Burton
2,700
4.0
4.0
20
0
2
Marcedes Lewis
2,500
4.0
4.0
20
0
2
Jesse James
3,500
3.5
3.5
15
0
2
Josh Hill
2,600
2.5
2.5
15
0
1
Jonnu Smith
2,500
2.0
2.0
10
0
1
David Morgan
2,500
2.0
2.0
10
0
1
Levine Toilolo
2,500
0.0
0.0
0
0
0

While there are enough serviceable quarterbacks and plenty of solid plays at running back and receiver, the discussion at tight end begins and ends with Gronkowski, Ertz, Walker and maybe Rudolph (if he is completely healthy). In a pick-your-studs format like Fuzzy's, I cannot imagine using anyone else besides Gronk. Over his last four games, he has either amassed at least 67 yards receiving and a touchdown or finished with at least nine catches for 147 yards. The closest thing Tennessee has seen to Gronkowski all season as Jack Doyle, who produced at least 16 PPR points in both meetings. The fact Gronk comes attached to the best quarterback of the four is just icing on the cake.

In DFS formats, a pivot to Ertz or Walker is completely understandable given their price points. As far as Ertz is concerned, his targets have remained solid throughout the transition from Carson Wentz to Foles at quarterback. Ertz's upside is not overly high, but he still possesses a high floor. The Patriots showed some early-season vulnerability against the position before quieting things down after their Week 9 bye, but Walker is going to give Tennessee its best (and possibly only realistic) option to move the ball consistently in the passing game. Rudolph is practicing in full this week and probably boasts a comparable upside to Ertz and Walker this week given he is the best bet of the three to score. However, despite the positive practice reports, he feels a bit too risky, especially considering he is averaging 9.3 yards per catch this season and hasn't had a game of at least five receptions since Week 11.

Key for kickers and defense/special teams units:
XP - Extra point
FG - Field goal
PA - Points allowed
TD - Defensive/return touchdowns
TO - Total turnovers
Bonus - Points allowed bonus



Defense / Special Teams
Team
DK $
DK Pt Total
Fuzzy Pt Total
PA
Sacks
TD
TO
Bonus
Jaguars
3,300
13.0
13.0
23
3
1
2
0
Steelers
3,800
11.0
11.0
13
5
0
2
2
Vikings
2,900
11.0
11.0
23
3
1
1
0
Patriots
3,200
10.0
10.0
17
3
0
3
1
Falcons
3,500
9.0
9.0
16
3
0
2
2
Eagles
2,600
8.0
8.0
19
3
0
2
1
Titans
2,000
4.0
4.0
27
2
0
1
0
Saints
2,800
3.0
3.0
31
2
0
1
-1

As is usually the case when offenses aren't expected to rule the day, I have projected more defensive scoring this week than usual. I understand the odds of four teams scoring at least 10 fantasy points are very low, but the combination of two poor offenses on the road combined with one very opportunistic defense (Jaguars) and one team with a very good return game (Vikings) means it is possible. As you can tell, the Steelers should be considered the top defensive play of the week if you are like me (in most cases) and want to bet on sacks and turnovers only and consider any return touchdown scored a bonus. While owners may want to disregard Pittsburgh and Minnesota scoring a defensive and special teams touchdown, respectively, they need to understand there aren't many weeks that go by during the NFL season in which return scores do not happen, even with a compressed slate of games. All things considered, about the only D/ST units I would swear off this week are the Titans and Saints.


---
Doug Orth has written for FF Today since 2006 and been featured in USA Today's Fantasy Football Preview magazine since 2010. He hosted USA Today's hour-long, pre-kickoff fantasy football internet chat every Sunday in 2012-13 and appears as a guest analyst on a number of national sports radio shows, including Sirius XM's "Fantasy Drive". Doug is also a member of the Fantasy Sports Writers Association.