As I enter my ninth year of writing this postseason column, I hope I have helped some of you along the way supplement your regular-season fantasy prize winnings.

With that said, I'm changing things up a bit this year. While I will continue to play the NFL.com Playoff Challenge and in Fuzzy's Fantasy Football's postseason money leagues, I recognize there are plenty of other formats out there. It occurred to me in the last week I could actually do more by doing less, killing two birds with one stone with my first submission while also sticking with the week-by-week projections for those of us competing in DFS or a pick-your-studs league. Regardless of which format(s) you choose to play in, my goal over the next four articles will be to help each of you through your decision-making process as you attempt to boost your bottom line.

NFL.com Playoff Challenge/Multi-Week Leagues

For a complete rundown of how players will score fantasy points for your team, click on the "Rules & Prizing" link on the NFL.com entry page. Much of the content immediately below is included on the "How to Play" page, although the information I provide below should be more than enough to follow along easily.

NFL.com Playoff Challenge scoring system



The requirements: one QB, two RBs, two WRs, one TE, one K and one D/ST. You will earn fantasy points based on their on-field performance during their game, and if your player's team wins, you will have the option to carry that player over to the next round, where he will earn a bonus point modifier to his score (which will be referred to as 2x, 3x and 4x from here on out).

For example, if you pick Drew Brees in the Wild Card round and the Packers win, you can carry him over to the Divisional Round, and earn two times (2x) the points he earns in his divisional round game. If New Orleans wins again, you can carry Brees into the Conference Championship round for 3x the points and, if the Saints make the Super Bowl, you can earn 4x the points. In addition, a user can select a player/defense in the Wild Card round even if their team has a bye into the Divisional Round. In this case, the user would not earn any points for the Wild Card round, but be eligible to earn 2x points in the Divisional round, since the player was on the team's roster for two weekly scoring periods. Further bonus point modifiers would also apply as long as that player's team continues to advance in the NFL Playoffs.

Before we get into the picks, let's briefly review the rules and how we may use them to our advantage: 1) passing TDs are worth four points, so passing yards are valued more highly here than in the Fuzzy's leagues I'll discuss later; 2) all field goals under 50 yards are worth three points, which means we are more concerned about volume of field goals than distance – unless we can find a kicker who regularly converts from 50-plus (DraftKings does not use kickers); 3) this is a non-PPR format, which obviously favors the big-play threats (both Fuzzy's and DraftKings are PPR); and 4) team wins are worth five points, so picking a "winning" defense is worth almost a touchdown prior to factoring in the modifiers.
Let's get the No. 1 rule of this game out of the way right now: if you have a good feeling about which two teams will meet in the Super Bowl, build your lineup exclusively from players from those two teams. Most previous playoff challenge champions' lineups are made up entirely of Super Bowl participants. (In other words, it is important to project the Super Bowl entrants first and figure out what players from those teams to use second.) The multipliers are everything in this contest, so playing the week-to-week matchups are nearly meaningless. Think about it this way: if I told you that your regular-season fantasy team's scoring would double in Week 2, triple in Week 3 and quadruple in Week 4 if you simply left it the same, would it affect your draft strategy? Of course it would. The big week your team might post in the first week of this challenge - in the somewhat unlikely event you played the matchups perfectly - is going to seem rather insignificant in early February when every passing touchdown is worth 16 points, every other TD is worth 24 and the top teams in this competition are scoring 200-300 (or perhaps more) points per week.
As noted earlier, the main challenges are (in order): 1) correctly predicting the two conference winners and 2) forecasting the best fantasy players in that hypothetical Super Bowl matchup. Given how I wrapped up the previous paragraph, I've chosen to do one and only one Playoff Challenge write-up this postseason, as I have reached the conclusion that any alterations I make to my lineup in the third and fourth weeks would be in response to a wrong pick on my part, and my analysis of a 1x or 2x player isn't going to matter very much. Much like in daily fantasy, the chalk plays probably arenít going to win. (Of the hundreds of thousands of entries NFL.com receives, how many do you think are going to line up their fantasy squads exclusively with Tom Brady or Ben Roethlisberger just because they are the "best" fantasy quarterbacks?) In other words, be bold! It's a free contest after all, so crashing and burning - even if it is in front of an audience like what I'm doing - isn't such a bad thing when you consider the reward is much greater than the risk involved.
Below you will find the 12 playoff teams ranked in order of the (percentage) odds I believe they have of making the Super Bowl. I'll spend a bit of time after that attempting to nail the bracket before moving talking a little DFS.
1. Minnesota (40%)
2. New England (40%)
3. LA Rams (30%)
4. Pittsburgh (25%)
5. New Orleans (20%)
6. Kansas City (20%)
7. Jacksonville (13%)
8. Philadelphia (5%)
9. Carolina (3%)
10. Atlanta (2%)
11. Tennessee (1%)
12. Buffalo (1%)
With that out of the way, let's next focus on my week-to-week playoff projections and then the players I feel are realistic alternatives for this four-week sprint to the finish:
AFC - Wildcard: Jaguars over Bills, Chiefs over Titans
NFC - Wildcard: Saints over Panthers, Rams over Falcons
AFC - Divisional: Patriots over Chiefs, Steelers over Jaguars
NFC - Divisional: Saints over Eagles, Vikings over Rams
AFC - Conference Championship: Patriots over Steelers
NFC - Conference Championship: Vikings over Saints
Super Bowl: Patriots vs. Vikings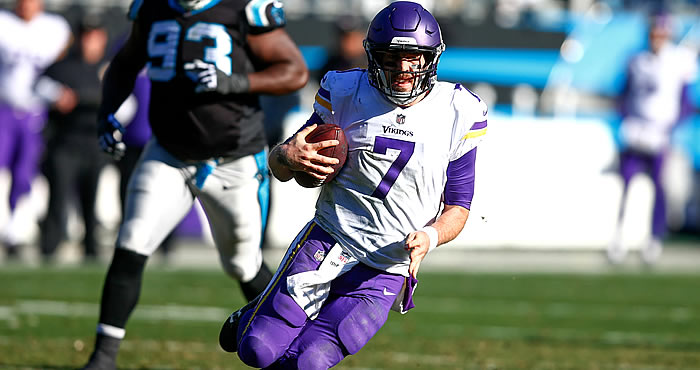 Case Keenum at QB: It might make you cringe but winning a large field tournament will require some risk taking.




The rankings below are for those readers in similar leagues that require you to draft players this week and keep them for the duration of the postseason. The number inside the parentheses refers to how many games I expect that player/unit to play.

Quarterbacks

Tier 1
1. Case Keenum (3)
2. Drew Brees (3)
3. Tom Brady (3)

Tier 2
4. Ben Roethlisberger (2)
5. Alex Smith (2)
6. Jared Goff (2)

Tier 3
7. Blake Bortles (2)
8. Cam Newton (1)
9. Matt Ryan (1)
10. Nick Foles (1)
11. Marcus Mariota (1)
12. Tyrod Taylor (1)

There is absolutely no reason to go crazy over quarterbacks in multi-week playoff leagues this year. All three quarterbacks I expect to play three games are attached to offenses with either high-end running backs or a significant commitment to the running game. Even though I still have significant doubts about Keenum, it would not surprise me if ends up being the highest scoring signal-caller of the bunch. In all likelihood, he will be my choice to be my Playoff Challenge quarterback, in part to be contrarian, in part because he has the best set of receivers and in part because he should get to play all of his games in perfect conditions and at home. I also think there is a very distinct chance chaos will rule the day in the AFC. The Patriots are far from a powerhouse, the Steelers are showing significant cracks on defense and both of those teams lost home games by double figures to the teams I have advancing to the divisional round. About the only thing that would surprise me in the AFC is if the Bills or Titans make it past the first round.

If my predictions above prove to be correct, Brees will have to play from behind in at least one game, giving him a slight edge in my mind over Brady, who hasn't been the same quarterback since he first appeared on the injury report due to an Achilles' injury. The Patriots have also skewed more run-heavy over that same time, and there's no telling if Chris Hogan will be able to get back to speed at any point in January. If I thought the Steelers could win in Foxboro - I'm obviously not exactly feeling good about their chances of beating the Jaguars in Pittsburgh either - then Big Ben would probably be the top option on my board.

Of the remaining teams, the best dark-horse candidates to play four games - obviously making them attractive to owners in the Playoff Challenge and total points leagues - are Smith and Goff. In the end, it's hard to take Smith seriously as a strong start in playoff leagues when he has yet to show he can put a team on his back in a win-or-go-home scenario. Despite making significant strides as the regular season came to a close, the Chiefs' defense scares me as well. (Their late-season surge came entirely at home.) As for Goff, I don't think the Rams have enough to win in Minnesota, pure and simple. Perhaps a heavier emphasis on Todd Gurley will yield different results than the Rams' 24-7 road loss to the Vikings in Week 11, but the fact of the matter is I believe Minnesota is just a more complete team at this moment in time.

Running Backs

Tier 1
1. Todd Gurley (2)
2. Alvin Kamara (3)
3. Latavius Murray (3)
4. Le'Veon Bell (2)
5. Mark Ingram (3)

Tier 2
6. Dion Lewis (3)
7. Kareem Hunt (2)
8. Leonard Fournette (2)

Tier 3
9. Jerick McKinnon (3)
10. Rex Burkhead (3)
11. Devonta Freeman (1)
12. Christian McCaffrey (1)
13. Derrick Henry (1)

Tier 4
14. James White (3)
15. Jay Ajayi (1)
16. LeSean McCoy (1)
17. T.J. Yeldon (2)
18. Charcandrick West (2)
19. Marcus Murphy (1)
20. Tevin Coleman (1)
21. Jonathan Stewart (1)
22. Chris Ivory (2)
23. LeGarrette Blount (1)
24. Mike Gillislee (3)
25. Mike Tolbert (1)
26. DeMarco Murray (1)

The combination of talent and volume would seem to make Gurley and Bell obvious picks here, even if they play one less game than each of the players listed behind them in Tier 1. It's not hard for me to imagine New Orleans upsetting Minnesota in the NFC title game, but their path to a Super Bowl is treacherous for running backs - even for a rushing attack is good as the one the Saints possess. Regardless, if I thought New Orleans could pull off the upset in Minnesota, I would stack Kamara and Ingram without hesitation. Latavius Murray does not belong in the first group from a talent perspective, but given the fact he is seeing significant volume and getting goal-line work for the team I believe has the best chance of making the Super Bowl, he is worth rolling the dice in the Playoff Challenge (in hopes he can hit the 4x multiplier). Because he has more favorable odds to play three games than perhaps any other running back in the field, he is worth drafting high. After considering the likelihood the Steelers will face the Jaguars and likely the Pats if they advance, I decided to lower Bell from No. 2 to No. 4. The risk of him being one-and-done is a factor, and the wear and tear of 400-plus touches figures to come into play at some point - even with two weeks off.

As usual, gambling on a New England running back is risky business. That is especially the case this year, as Burkhead could return at any time to steal touches from Lewis. With that said, Lewis was doing pretty well for himself on fewer touches before Burkhead's injury, so he feels like a safer option. If I could convince myself to give Hunt one more game, he would sneak right past Latavius Murray on this list. Alas, Tennessee is not a great first matchup for Hunt, and I suspect the Patriots will have more success in containing the rookie than they did in Week 1. I'm not exactly feeling great about putting Fournette so high, but he's probably as good of a bet to score this weekend as any running back and the Bills are a great matchup. If the Jags can find the form they had for most of the season after beating Buffalo, he could easily play three or four games, as Jacksonville's defense figures to match up well with New England and Pittsburgh.

The only other running back I'll discuss here is McCoy. It's hard to imagine he was going to fare well against the Jaguars even before suffering an ankle injury severe enough that he needed to be carted off last week. Trying to carry the Bills' offense at less than 100 percent with virtually no practice time is an even taller order. If he makes a miraculous recovery and you believe Buffalo upsets Jacksonville, he belongs as high as No. 8.

Wide Receivers

Tier 1
1. Michael Thomas (3)
2. Antonio Brown (2)
3. Adam Thielen (3)
4. Stefon Diggs (3)

Tier 2
5. Brandin Cooks (3)
6. Tyreek Hill (2)
7. JuJu Smith-Schuster (2)
8. Robert Woods (2)

Tier 3
9. Keelan Cole (2)
10. Chris Hogan (3)
11. Cooper Kupp (2)
12. Martavis Bryant (2)
13. Danny Amendola (3)
14. Julio Jones (1)
15. Dede Westbrook (2)
16. Devin Funchess (1)
17. Mohamed Sanu (1)
18. Ted Ginn Jr. (3)

Tier 4
19. Sammy Watkins (2)
20. Rishard Matthews (1)
21. Marqise Lee (2)
22. Nelson Agholor (1)
23. Kelvin Benjamin (1)
24. Albert Wilson (2)
25. Demarcus Robinson (2)
26. Alshon Jeffery (1)
27. Allen Hurns (2)
28. Deonte Thompson (1)
29. Corey Davis (1)
30. Justin Hardy (1)

While the reports of Brown's recovery have been positive up to this point, there hasn't been any definitive word as to whether or not he will be ready to go for the Divisional Round or how healthy he will be if he can play. As a result, I'll take Thomas and the possibility of him playing four games over a less-than-100 percent Brown playing in two games, one of which should come against the Jaguars. Since Thielen and Diggs are fighting each other for targets on one of the more balanced offenses is in the league, they fall behind the top two options.

Cooks is probably the best bet of the top five receivers to play three games and finished out the season on a fairly strong note, but his sporadic involvement makes him difficult to play over the top four. It would not be a surprise me to see Hill have a field day against the vulnerable Titans' secondary, although it seems like the Steelers - Kansas City's likely second-round opponent - has a strong grasp of what it takes to shut down the Chiefs' offense, which means Hill may only be able to deliver one big game. Smith-Schuster could vault as high as No. 5 on this list if Brown is ruled out for the Divisional Round, but I don't expect that to happen. Like Hill, Woods is positioned nicely to have a solid first-round outing, but I find it difficult to believe he'll do the same against the Vikings.

In a very short time, Cole appears to have taken a firm grasp of top receiver duties in Jacksonville. With Lee still trying to make it back from a high ankle sprain and Westbrook running lower-percentage routes, the smart money is on Cole among Jacksonville receivers in PPR scoring. Hogan's health seems to be a complete mystery, but he gets the nod here over the others in Tier 3 because of the likelihood he'll be closer to 100 percent in another two weeks. Owners need only look back to the first half of this season or last year's run in the playoffs to recall what he can do when he is right. Most of the rest of Tier 3 and Tier 4 are hit-or-miss propositions, although Amendola routinely seems to come up big at least in at least one game during the postseason.

Tight Ends

Tier 1
1. Rob Gronkowski (3)
2. Travis Kelce (2)

Tier 2
3. Kyle Rudolph (3)
4. Zach Ertz (1)
5. Delanie Walker (1)

Tier 3
6. Greg Olsen (1)
7. Vance McDonald (2)
8. Jesse James (2)
9. Tyler Higbee (2)
10. Josh Hill (3)
11. Trey Burton (1)
12. Charles Clay (1)
13. Austin Hooper (1)
14. Marcedes Lewis (2)
15. Gerald Everett (2)
16. Nick O'Leary (1)
17. Levine Toilolo (1)

Gronkowski is losing ground to Kelce in terms of his superiority at the position, but Gronk should play at least one more game, leaving Gronk as the slight favorite here. Kelce is a nice consolation prize, and the two of them are far and away the best options in any kind of postseason fantasy football setup at tight end. I'm expecting Rudolph to play a more impactful role in the postseason with an extra week to heal his ailing ankle. He gets the nod over Ertz, who remained a key part of the offense even with the change from Carson Wentz to Foles, due to the likelihood of playing two more games. Walker has remained remarkably consistent considering how dreadful Tennessee has been on offense for large parts of the season. However, I feel as though he has next to no chance of playing more than one game, whereas I'm open to the possibility that Philadelphia's defense could carry the Eagles past their first game.

Olsen has been piling up the targets lately (27 over the last three weeks), but he and Newton have not been on the same page over that same time (12 catches, nine in one game). Anyone who believes they know exactly what they're getting from Olsen this weekend is either clairvoyant or certifiably crazy. If there is a tight end capable of vastly outperforming his ranking this postseason, my money would be on McDonald. Roethlisberger recently raved about the former 49er, who is starting to take on a bigger role in this offense now that he is finally healthy and has had a few months to digest the playbook. With that said, James seems remains the favorite among Pittsburgh tight ends to score a red zone touchdown.

Kickers

1. Wil Lutz (3)
2. Stephen Gostkowski (3)
3. Kai Forbath (3)
4. Chris Boswell (2)
5. Harrison Butker (2)
6. Josh Lambo (2)
7. Matt Bryant (1)
8. Graham Gano (1)
9. Sam Ficken (2)
10. Ryan Succop (1)
11. Jake Elliott (1)
12. Steve Hauschka (1)

Defense/Special Teams

1. Vikings (3)
2. Saints (3)
3. Jaguars (2)
4. Rams (2)
5. Patriots (3)
6. Steelers (2)
7. Chiefs (2)
8. Eagles (1)
9. Panthers (1)
10. Falcons (1)
11. Titans (1)
12. Bills (1)

NFL.com Playoff Challenge Roster
QB: Case Keenum
RB: Latavius Murray
RB: Dion Lewis
WR: Adam Thielen
WR: Stefon Diggs
TE: Rob Gronkowski
K: Stephen Gostkowski
D/ST: Vikings

DraftKings/Fuzzy's

Since the pick-your-studs competition with Fuzzy's and the salary cap game of DraftKings essentially use the same PPR scoring (six points for passing touchdowns with Fuzzy's versus four fantasy points with DraftKings; three bonus points for 300 yards passing or 100 yards rushing/receiving versus no such bonus with Fuzzy's being the biggest differences), I'm going to essentially combine the two again this postseason.

Below you will find my position-by-position projections. Please note I have included DraftKings' dollar value for each player, followed by their projected point total in that format (DraftKings and then Fuzzy's). Because I went into some detail above, I won't spend a great deal of time explaining each projection here - only some of the more notable ones. Each position is sorted by my DraftKings' projected point total.

Key for quarterbacks, running backs, receivers and tight ends:
P Yds - Passing Yards
P TD - Passing Touchdowns
INT - Interceptions
Ru Yds - Rushing Yards
Ru TD - Rushing Touchdowns
Rec Yds - Receiving Yards
Rec TD - Receiving Touchdowns
Rec - Receptions


Remember what I said earlier about not going crazy over quarterbacks? For the first time in all of my years of playing playoff fantasy football with Fuzzy's, I cannot remember ever considering a non-quarterback for my tiebreaker spot. I'm not so taken with Smith that I'll use him in every lineup, and I don't think Newton has his usual amount of upside. I feel as if the Rams will be able to control game flow against the Falcons, leaving Goff in a position to hand off to Gurley a lot in the second half. The same case could be made for Brees with Ingram and Kamara. Mariota has topped 20 fantasy points three times in leagues that award six points for all touchdowns, topping out at 23.7 in Week 3. I'm not betting he'll improve on that ceiling in Kansas City. Buffalo is much better against the pass than it is against the run, making Bortles a dicey option who may not need to throw much in the second half. The Jaguars and Rams have been among the stingiest defenses against quarterbacks all season long, so I'm not rolling the dice on Taylor (likely without a healthy McCoy in the backfield) or Ryan.


Running Backs
Player
DK $
DK Pt Total
Fuzzy Pt Total
Ru Yds
Ru TD
Re Yds
Re TD
Rec
Todd Gurley
9,700
37
34
105
2
55
0
6
Alvin Kamara
8,600
28
28
45
1
55
1
6
Kareem Hunt
8,100
23.5
23.5
90
1
45
0
4
Christian McCaffrey
6,400
22
22
25
0
65
1
7
Mark Ingram
6,900
20.5
20.5
75
1
30
0
4
Leonard Fournette
7,400
20
20
80
1
30
0
3
Devonta Freeman
6,300
20
20
70
1
30
0
4
Derrick Henry
6,000
16
16
65
1
15
0
2
Marcus Murphy
3,700
8.5
8.5
40
0
15
0
3
T.J. Yeldon
3,800
6.5
6.5
25
0
20
0
2
Mike Tolbert
3,600
5
5
20
0
10
0
2
Tevin Coleman
4,100
4.5
4.5
25
0
10
0
1
Charcandrick West
4,200
4
4
5
0
15
0
2
Jonathan Stewart
3,500
4
4
40
0
0
0
0
Fozzy Whittaker
3,000
2
2
0
0
10
0
1
LeSean McCoy
7,500
0
0
0
0
0
0
0
Chris Ivory
4,000
0
0
0
0
0
0
0

As if you can't already tell by my earlier comments about the quarterbacks, this is a week to pay up at running back in DFS. The Falcons have been reasonably stout against running backs for the better part of the season, but matchups don't seem to matter much for Gurley anymore. Kamara is dicey in the No. 2 hole above given he should expect to see half as many touches as Hunt, but HC Sean Payton schemes the rookie in space so well that he doesn't need a ton of volume. Like Atlanta, Tennessee typically does a good job of stuffing the run. However, the Chiefs' recent commitment to feeding Hunt has been a big part of their resurgence, so if Kansas City is able to play with the lead as it typically does, Hunt belongs in most DFS and pick-your-studs formats. I keep waiting for Carolina to take the cap of McCaffrey's involvement in the running game, and the playoffs seem as good of a time as any to do it, especially if Stewart is limited in any way. Last week was a prime example of what happens when the Panthers try to become a passing team. It wouldn't be terribly surprising to me if Ingram saw 20-plus touches in this weekend if the game gets away from the Panthers like I think it could.

Even though I believe the Bills could be about as toothless on offense this week as the Raiders were last year without Derek Carr, and the Buffalo run defense can be abysmal at times, I'm not sure the Jacksonville rushing attack is hitting on enough cylinders to allow Fournette to top 100 yards rushing. With that said, he should still see enough volume and red zone work to pay off for any owner who invests in him. Freeman's usage has been extremely inconsistent of late. As recently as Week 14 versus a Saints' pass defense whose strong suit is not at linebacker, he was not involved in the passing game. Last week, he saw 11 targets against a Panthers' defense with an elite linebacking corps. As much is the fantasy world wants the Titans to free Henry, he hasn't been appreciably better than DeMarco Murray outside of a couple of late runs in games that had already been decided. The problem isn't him, however. The offensive line has greatly underachieved compared to last year and Tennessee's passing game does not complement the running game like one would expect it to, which makes it easier for the defense to diagnose what is coming on every play.

I listed McCoy and Ivory only to share their DraftKings prices. I highly doubt McCoy will play and even if he does, it's hard to imagine a player who relies so much on his agility and elusiveness will be able to do so in his predicament. Ivory was a healthy scratch in Week 17, so he likely needs an injury to Fournette to be relevant in fantasy. Titans HC Mike Mularkey recently praised Murray's rehab over the last 1 1/2 weeks from his third-degree MCL tear, but it's hard to imagine him suiting up - much less be effective - this week. As such, he was left off. Even if he plays, he's not worth the risk in fantasy.
Wide Receivers
Player
DK $
DK Pt Total
Fuzzy's Pt Total
Re Yds
Re TD
Rec
Michael Thomas
7,800
20.5
20.5
85
1
6
Tyreek Hill
6,800
20.5
20.5
95
1
5
Cooper Kupp
5,800
19.5
19.5
75
1
6
Keelan Cole
5,400
18.5
18.5
75
1
5
Robert Woods
6,600
18
18
70
1
5
Mohamed Sanu
5,600
17
17
60
1
5
Julio Jones
8,000
16
16
90
0
7
Devin Funchess
5,900
11
11
60
0
5
Rishard Matthews
4,900
10
10
60
0
4
Corey Davis
3,600
8.5
8.5
45
0
4
Sammy Watkins
5,100
7.5
7.5
45
0
3
Dede Westbrook
4,400
7.5
7.5
45
0
3
Kelvin Benjamin
3,500
7
7
40
0
3
Albert Wilson
3,300
6.5
6.5
35
0
3
Justin Hardy
3,000
6
6
30
0
3
Ted Ginn Jr.
5,200
5.5
5.5
35
0
2
Eric Decker
3,500
4.5
4.5
25
0
2
Demarcus Robinson
3,000
4
4
20
0
2
Zay Jones
3,000
4
4
20
0
2
Marqise Lee
5,700
4
4
20
0
2
Brenton Bersin
3,000
4
4
20
0
2
Deonte Thompson
3,000
3
3
20
0
1
Josh Reynolds
3,000
2.5
2.5
15
0
1
Allen Hurns
4,600
2.5
2.5
15
0
1
Willie Snead
3,000
2.5
2.5
15
0
1
Tommylee Lewis
3,000
2.5
2.5
15
0
1
Taylor Gabriel
3,000
2
2
10
0
1
Jehu Chesson
3,000
2
2
10
0
1
Russell Shepard
3,000
2
2
10
0
1
Kaelin Clay
3,000
2
2
10
0
1

If I'm pessimistic about the quarterbacks, it stands to reason this does not figure to be a great week for receivers either. The owners who hit on their third receiver in DFS (or in formats like Fuzzy's) should be well-positioned to finish in the money (or get a good head start in their pick-your-studs competition). The Saints' passing game has evolved into jabbing with Thomas and crossing with Kamara while sprinkling in a bit of Ingram. As a result, Ginn and just about every other New Orleans receiver has been unusable in three of the last four weeks. The result has been a heavy dose of Thomas. Hill has provided a steady floor with his usual high ceiling for about half a season now, so owners should not hesitate paying up for him and/or putting him into every one of their pick-your-studs lineups. In a week where it feels like receivers are overpriced, Cole is one of the few relative bargains among the mid-priced wideouts. Owners may keep waiting for him to remember he's an undrafted free agent out of Kentucky Wesleyan, but he's probably here to stay, at least for the rest of the season with Lee unlikely to be 100 percent coming off a high-ankle sprain.

Woods is the Rams' top receiver, but few want to acknowledge that on a team with two wideouts with bigger names. He is expected to draw Desmond Trufant about half the time this weekend. While that usually isn't a good thing, Trufant is having a down season by his standards. Sanu is probably a safer mid-tier option if only because he benefits from all the attention Jones draws in the red zone. He projects to see a lot of Troy Hill and Nickell Robey-Coleman this weekend, making his matchup the most attractive for Matt Ryan. It feels sacrilegious to rank Jones so low with only eight teams playing this week, but the mind-numbing reluctance of the Falcons to manufacture good red zone opportunities for him has reached a point where it's tough to imagine he'll blow up in the playoffs even though he has a winnable matchup and common sense says he should. Funchess moves around the formation a lot, so he should be able to escape Marshon Lattimore's shadow coverage on occasion. Whether his quarterback can take advantage of those non-Lattimore matchups is a coin flip. Watkins has scored in four of his last five outings and is always a threat to find the end zone, but he's the third or fourth priority on a number of pass plays for the Rams. He possesses a pretty low floor in a pick-your-studs setup and is an upside play at best in DFS.
Tight Ends
Player
DK $
DK Pt Total
Fuzzy Pt Total
Re Yds
Re TD
Rec
Travis Kelce
7,100
19.5
19.5
75
1
6
Delanie Walker
4,700
17.5
17.5
65
1
5
Charles Clay
4,000
10
10
50
0
5
Greg Olsen
5,000
8.5
8.5
45
0
4
Jonnu Smith
2,500
4.5
4.5
25
0
2
Austin Hooper
2,900
4
4
20
0
2
Demetrius Harris
2,500
3.5
3.5
15
0
2
Nick O'Leary
2,500
3.5
3.5
15
0
2
Tyler Higbee
2,500
2
2
10
0
1
Gerald Everett
2,500
2
2
10
0
1
Marcedes Lewis
2,500
2
2
10
0
1
Levine Toilolo
2,500
1.5
1.5
5
0
1
Josh Hill
2,500
1.5
1.5
5
0
1

It's hard to see Kelce living up to his price valuation on DraftKings based solely on the fact no tight end to face the Titans this season has exceeded 20 fantasy points in PPR. Given Tennessee's strength at linebacker and emerging safety Kevin Byard, he's going to have to work hard to be the first. As a result, I expect Walker to be a DFS favorite. If he finds the end zone and/or the Chiefs force Tennessee into a negative game script, the gap between him and Kelce figures to be minimal. It drops off quickly after the top two, and I'd venture a guess and say Harris could be as good of a play as anyone after Kelce and Walker for those DFS players looking to punt the position. It's almost a given one of the "other options" will score a touchdown, but good luck figuring out who that may be.



Key for kickers and defense/special teams units:




XP -

Extra point


FG -

Field goal


PA -

Points allowed


TD -

Defensive/return touchdowns


TO -

Total turnovers


Bonus -

Points allowed bonus



Defense / Special Teams
Team
DK $
DK Pt Total
Fuzzy Pt Total
PA
Sacks
TD
TO
Bonus
Jaguars
4,400
21
21
10
5
1
3
4
Rams
2,700
9
9
20
4
0
2
1
Chiefs
3,400
8
8
17
3
0
2
1
Saints
3,200
8
8
20
3
0
2
1
Bills
2,500
5
5
20
2
0
1
1
Falcons
2,000
3
3
31
2
0
1
-1
Titans
2,300
2
2
27
2
0
0
0
Panthers
2,100
1
1
34
2
0
0
-1

I'm not entirely sure the Jaguars are who they were just a few weeks ago and for most of the season, but I'm more than willing to take my chances against a Buffalo team who probably won't have its best offensive weapon - and certainly not at his best if he is available. If Jacksonville rediscovers its earlier form, it could live up to its expensive price tag on DraftKings. Considering the weapons at its disposal, Atlanta isn't a great matchup for any defense, but the Falcons have underwhelmed offensively for the better part of the season. At some point, owners have to acknowledge a team may just be what it is for that season and stop expecting things to change. The Chiefs and the Saints are the only other defenses I will even remotely consider. Considering their price tags are substantially higher than the Rams', I'll probably just stick with the top two on my list.


---
Doug Orth has written for FF Today since 2006 and been featured in USA Today's Fantasy Football Preview magazine since 2010. He hosted USA Today's hour-long, pre-kickoff fantasy football internet chat every Sunday in 2012-13 and appears as a guest analyst on a number of national sports radio shows, including Sirius XM's "Fantasy Drive". Doug is also a member of the Fantasy Sports Writers Association.