For many of us who participate in high-stakes fantasy football, playing in those leagues is a chance we probably shouldn't take logically, but also one we can't seem to resist. Playing in money leagues can in some ways serve a microcosm of life; every so often, we must take calculated risks in order to get ahead.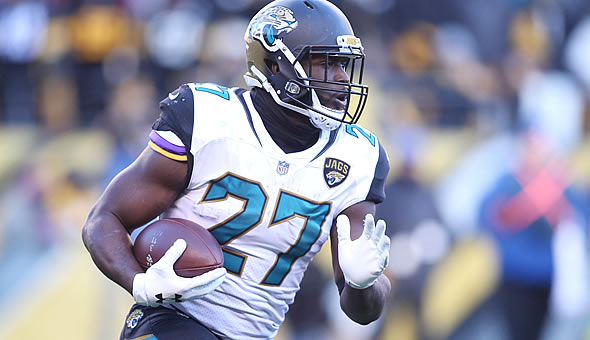 I mention this because 2018 has been a very good year for my fantasy teams if I'm being honest with myself. Only one of the four teams that began the season with Leonard Fournette on my roster is likely to miss the playoffs, while four of my five Melvin Gordon teams could/should make the postseason. Despite what others may say about draft position and how it affects an owner's ability to lead that team to the playoffs, making the postseason consistently picking at the back end of the first round is difficult in high-stakes leagues. I landed the No. 1 overall selection for the first time in at least five years in one of my RealTime Sports leagues - the first time I have picked higher than fourth in the last 40 to 50 money leagues I have participated in - and the seventh pick or later in my other eight money leagues this summer. So, as much as I'd like to sit here and brag about doing well despite only once having a chance to land someone like Todd Gurley (or even Saquon Barkley for that matter), that is not what this is about.
As I mentioned in one of my columns a little over a month ago, I made the move to acquire Fournette shortly after he hit the shelf for the second time this season in hopes I could pair him with Gordon in the high-stakes league I feel like I had the best chance to win. For most of the season, Jack Doyle has also occupied space on my roster because we don't have an IR spot and the position is so barren in fantasy right now that any tight end in the Colts' offense was well worth waiting on, especially one that had already earned the trust of Andrew Luck. The plan was simple: try to tread water until Week 10 when Fournette (and hopefully Doyle) returned and pair them with Drew Brees, Gordon and Julio Jones to give my team a quartet (or quintet) capable of taking me to a title.
And then Week 12 happened. In one fell swoop, three players I was counting on to start the rest of the way are done for the season, out indefinitely or suspended. Trying to overcome this avalanche of adversity at any point of the season is challenging, but doing so one week before the start of the playoffs just seems like cruel and unusual punishment. This team doesn't have a spot locked up yet for the postseason yet, although one or two victory points this week should do the trick. My team is scheduled to play a one-win opponent this week but beating that team or scoring enough fantasy points to get the victory point or two that I need to advance just became a challenge I didn't ask for or need.
To be clear, I'm not cursing the fantasy gods. I am fully aware other owners have had worse weeks and lived to tell about it. It's just that very few of those owners were staring at a potential $10,000 grand prize if their players could just stay healthy and/or out of trouble for a month. So forgive me if I'm a little salty. I am trying to keep the faith, however, as Fournette is only going to miss one game and it is entirely possible (albeit unlikely) Gordon could play in Week 14. (Week 15 seems more realistic, however.) The problem is obviously remaining alive in the playoffs long enough to take advantage of it. And in the two RTS leagues in which I made the playoffs … you guessed it. I have Gordon in one and Fournette in the other. The playoffs start this week.
One of the many good things about this hobby is we are rarely ever alone in our misery. Week 12 was far from the most devastating in terms of players lost to injury, suspension or demotion in the roughly 20 years I've been playing, but it was one of the worst-timed (certainly from my own selfish perspective). Perhaps inspired by my own fantasy sorrow, I chose six players who saw their seasons impacted dramatically as a result of last week (I took one from Week 11, but I think it will make sense why I included him) and opted to discuss who the next man up is and what I think it all means as we move into December. I fully admit the quarterback "losses" weren't overly dramatic, but the absences of both players I discuss below will have an impact on either key players.
Hopefully, my loss(es) can be your gain.
The situation: Dalton tore ligaments in his right thumb trying to dive on the ball after a bad snap that went over his head. He will miss the rest of the season.
The replacement: Jeff Driskel. Logging the first significant action of his pro career in Week 12 despite being in the league since 2016, Driskel finished 17-of-29 for 155 yards and two touchdowns (one rushing) after the Bengals fell behind 35-7 to the Browns. The 25-year-old spent the majority of his college career at Florida before bumping up his draft stock by throwing for 4,026 yards, 27 touchdowns and eight interceptions following a transfer to Louisiana Tech. Driskel is certainly on Dalton's level as a runner and more athletic, as evidenced by his 323 yards and five touchdowns on the ground in his only season as a Bulldog. Driskel has been on the roster off and on for over two years and performed nicely in the preseason with the Bengals, so he is no stranger to the team or the offensive scheme.
How is everyone else affected? We'll start with A.J. Green, who is expected to return in Week 13 following a three-game absence. Dalton and Green have been playing together since they arrived in the same draft class in 2011, so owners can't expect Driskel to have that kind of chemistry with him. To expect Green to return as an elite fantasy WR1 would be a bit of a stretch as a result, although it seems likely he'll see about the same number of targets per game (9.5) that he did prior to suffering his toe injury.
Driskel's target breakdown on his 29 pass attempts last week: C.J. Uzomah - 7, Tyler Boyd - 6, Auden Tate - 6, John Ross - 4, Joe Mixon - 4, Cody Core - 1, Giovani Bernard - 1
Is there much predictive value in what happened last week since the Bengals obviously didn't plan for Driskel to play? Probably not. Nevertheless, Boyd's six targets are slightly encouraging since he and Driskel couldn't have spent much time together this fall. The bigger problem here is that Boyd has become more of a highly volatile low-end WR2 since his spectacular September. Green's return will be good for him, but it's anyone's guess if Cincinnati OC Bill Lazor will trust Driskel enough for him to make two receivers relevant or simply choose to run the ball more often in order to protect the Bengal from overextending their woeful defense.
Considering Driskel and Uzomah likely spent plenty of time working with each other either on scout team or in the limited time second-stringers get before and during the season, it shouldn't come as a surprise that Uzomah was a favorite target last week. Perhaps he sees a slight bump in production moving forward, but the passing game will almost certainly still revolve around Green and Boyd.
The situation: The long-awaited benching of Bortles finally happened. Although he managed to avoid throwing interceptions for a four-game stretch prior to Week 12, he lost three fumbles over that span. Making matters worse, Jacksonville was going to great lengths to hide him as a passer, as he managed 41 attempts over the last two weeks combined.
The replacement: Cody Kessler is not a new name by any means, actually coming into the NFL in the same year as Driskel but three rounds earlier. It's hard to get excited about anything he brings to the table, but Jacksonville will probably be happy if he can simply complete 60 percent of his passes and average no more than one turnover every other game for the remainder of the season. Given he is considered a "game manager," this should not be a difficult task so long as the offensive line consistently gives him 2.5 seconds to throw.
How is everyone else affected? Kessler's target breakdown on his 30 pass attempts (28 targets) from his only previous action of the season (Week 7): Donte Moncrief - 6, T.J. Yeldon - 5, D.J. Chark - 5, Keelan Cole - 4, Dede Westbrook - 4, David Grinnage - 1, Rashad Greene - 1, Tommy Bohanon - 1, Jamaal Charles - 1
Week 7 was probably an anomaly for a few reasons, most notably that Kessler entered the game trailing 20-0 after an early second-half fumble from Bortles and Leonard Fournette was out of action. It just happens the latter will be the case again this week against the Colts, who cut through Jacksonville's defense like a hot knife through butter in the first half of their Week 10 meeting. In other words, a similar game script could play out.
Moncrief was on a bit of a roll in fantasy from Weeks 4-10, but it would be a bit presumptuous (and probably foolish) to suggest the insertion of Kessler is going to lead to some kind of rebirth for Moncrief or the passing game. "Game managers" tend to make safe throws absent a superstar receiver, so slot receiver Westbrook and TE James O'Shaughnessy make some sense, although I'm not going to trust either one at this point of the season unless forced to do so. It seems more likely - especially with their season headed nowhere fast - that the Jaguars give 30-plus touches to Yeldon and Carlos Hyde and hope for the best in Week 13 before doing the same to Fournette the rest of the way.
The situation: Gordon entered Week 12 listed as questionable on the injury report with a hamstring injury. He reportedly talked his way into playing and performed very well for the two-plus quarters he played. However, Gordon suffered a Grade 2 MCL sprain to his right knee on a double reverse with the Chargers leading 28-10 in the third quarter. He is considered "week-to-week."
The replacement(s): Austin Ekeler is the obvious addition in those shallow leagues he might have been dropped due to his recent lack of production prior to Week 12. Owners of Gordon likely remember him sitting in Week 7 and Ekeler taking 42 of the 44 snaps. That is an unusually low number of snaps for those wondering. Thus, there is a good chance there will be more work for a second back. Justin Jackson seems to be held in higher regard now than he was back then, and he is the frontrunner to be that player. Detrez Newsome is also in the mix and impressed during the preseason, although he is merely quality depth at this point for the Chargers.
Moving forward: As if readers couldn't tell from my detail above two paragraphs above, I am more than a little upset the Chargers had Gordon in the game with a three-score lead when he was already questionable entering the game. (I thought it was an obvious move to take him out at halftime and, quite frankly, one half of football was all I really wanted him to play last week.) That's the first crime Los Angeles committed. The second was using him on a play that was not only risky but also unnatural for a running back. No offense to Chargers' fans, but it's hard to defend that level of brazenness or stupidity (I'll let you make the call on the word choice) on a play call in that situation with the player the team has chosen to build their offense around this season.
While Gordon was probably going to put up his standard 100-plus total yards and a touchdown against the Steelers this week, most of his playoff-bound owners can probably work around his absence in Week 13. Missing him in Week 14 against the lackluster Bengals defense and possibly in a likely shootout in Week 15 versus the Chiefs is a harder pill to swallow. Losing the overall RB5 (despite missing one game - unlike the four backs in front of him - in wonderful spots during the fantasy playoffs to a needless injury is obviously not ideal.
Pushing that aside, Ekeler should be considered the obvious favorite for touches, but Jackson makes a ton of sense on early downs. Not only is he more physical than Ekeler, but he also showed the ability to handle an enormous workload during his college days (1,142 career carries at Northwestern). With more trust in Jackson now, it seems unlikely the Chargers will want to double Ekeler's playing time and leave themselves with two unproven rookies should Ekeler get hurt. I can only imagine adding Jackson as a stash at the moment - I would need to be truly desperate to start him this week - but it's not hard to imagine him going for 40 yards and a touchdown should he be used as I expected against the Bengals and Chiefs. I personally think the Chargers will do everything in the power to have Gordon back by Week 15 against Kansas City, as they should still be in the hunt for the division title at that point.
The situation: In the heat of the moment (at least that's what I'm going to call it) of Donte Moncrief and Levi Wallace battling for control the ball in the end zone - for what seemed like at least a minute - on a play that was initially ruled a 30-yard touchdown catch, players began shoving each other, with Shaq Lawson initially going after Jaguars running back Carlos Hyde. Fournette left the Jacksonville sideline around the same time and quickly got involved in the fray, eventually trading punches with Lawson. He was suspended one game and his appeal was denied, meaning he will miss Week 13.
The replacement(s): We've seen this movie before. Hyde will almost certainly draw the start and play on most obvious running downs, while T.J. Yeldon will be the change-of-pace and back who plays on passing downs as well as any negative game script or hurry-up situations.
Moving forward: Jacksonville prides itself on being a running game, partly because it wants to beat defenses up physically and partly because it has little choice given its quarterback situation. It's a philosophy that is unlikely to change even with Fournette out - especially with Kessler under center now - despite how shorthanded the offensive line is. Since this figures to be only a one-game arrangement in Week 13, Hyde will probably see a pretty healthy workload in the first half for however long the Jaguars can hang with Indianapolis, while Yeldon should own the second half. There's little question that if the game goes according to script, Yeldon should be the better play and is worth a start as a low-end RB2 option in most leagues. Hyde will be more of a middling flex that owners hope can score a touchdown.
The situation: Johnson actually suffered his knee injury in Week 11 and is week-to-week with a sprained knee.
The replacement(s): For the small percentage of owners who threw (or in this case, ran) a Hail Mary and used LeGarrette Blount as a fill-in for Johnson in a brutal matchup on Thanksgiving Day, congrats. Things happen in fantasy that shouldn't more often than people like to talk about; that was one such case. Theo Riddick has obviously seen his role increase as the season has progressed, first with Golden Tate getting traded and later with Marvin Jones getting injured. However, this coaching staff seems to understand what he is - a weapon in the passing game and not a player who should receive regular work as a runner (11 carries in nine games this season).
Moving forward: There is a distinct chance the Lions hold Johnson out for the rest of the season considering their record (4-7) and their likelihood of making the playoffs (almost nonexistent). Detroit should know what has in the rookie by now and may not be overly compelled to bring him back if it loses to the Rams in Week 13. C.J. Anderson reportedly worked out for the team this week; his workout may have been a sign the Lions are preparing to play the rest of the year without Johnson. At the moment, Blount is the only early-down option - at least the only one the coaching staff seems to trust - remaining on a team that has invested a lot of resources into becoming a more balanced offense. Until Anderson signs (if he does), Blount seemingly has a clear path to 15-plus carries. Given how little is left of the receiving corps, he may push for 20. Blount is always scary to use because he is so one-dimensional, has little big-play ability left and is a game-script dependent back who plays for a bad team.
With that said, he may be the best fill-in play of any widely available player I mention this week. The Rams have not been particularly great stopping the run this year and may have Aqib Talib back this week to shadow Kenny Golladay. Arizona (Week 14) has Patrick Peterson to shadow and given up a league-high 14 rushing TDs to running backs. Buffalo (Week 15) has Tre'Davious White to follow Golladay and is tied for third with 12 rushing TDs allowed to runners. Detroit's upcoming schedule is the primary reason I'm strongly considering Blount as my fill-in for Gordon. Negative game script should not be a big concern against the Cardinals or Bills, so owners taking the plunge with Blount moving forward need to hope for an early score this week against the Rams. Obviously, if Johnson returns in Week 14, then Blount becomes a touchdown-dependent flex at best and Johnson becomes a high-end RB2.
The situation: Doyle saw limited playing time in Week 12 before it was ultimately revealed that he suffered a kidney injury during the game. He was hospitalized shortly thereafter and will miss the rest of the season.
The replacement(s): Eric Ebron has led a charmed life this year, even performing well for his fantasy owners when appearing on the injury report - something that could rarely ever be said about him during his four years in Detroit. In fact, things are working out so well for him from a playing time perspective that even potential vulture Mo Alie-Cox and Erik Swoope are sidelined with injuries at the moment. While Ebron can't be expected to rival the likes of Travis Kelce and Zach Ertz over the final four weeks of the fantasy season, he seems like a good bet to challenge for the No. 3 spot.
Moving forward: It's difficult to say much will change in Indianapolis since the Colts have played so much of the season without Doyle and relied so heavily on Ebron in the red zone.
***************
Wrapping up on a positive note - sort of - it's a great idea to handcuff your stud running backs on the brink of the fantasy postseason. Going one step further, I would ask owners to consider the following players likely to come off IR and/or join their team's active roster in the next week or two:
RB D'Onta Foreman
RB Rex Burkhead
RB Kenneth Dixon
WR Jake Kumerow
I added this last section specifically for Kumerow. Maybe he does absolutely nothing in the event he is activated this week, but Green Bay has lacked weapons in the passing game Aaron Rodgers can trust for the bulk of the season. We already know he trusts Kumerow (or did as recently as this summer). Would it surprise anyone if the Packers lined up Davante Adams and Kumerow on the outside and put Marquez Valdes-Scantling back in the slot? I'm not sure we can expect another Adam Thielen success story, but would it really surprise anyone if one of the best quarterbacks of our generation can make him a sudden star?

---
Doug Orth has written for FF Today since 2006 and been featured in USA Today's Fantasy Football Preview magazine since 2010. He hosted USA Today's hour-long, pre-kickoff fantasy football internet chat every Sunday in 2012-13 and appears as a guest analyst on a number of national sports radio shows, including Sirius XM's "Fantasy Drive". Doug is also a member of the Fantasy Sports Writers Association.