Football is good for the soul during the offseason because it gives so many of us something to look forward to. (There is an entire industry devoted to projecting what is going to happen, even though we understand there is a zero percent chance any of us will be right, after all.) All of that anticipation builds heading into Week 1 … and then comes the self-loathing and questioning of oneself (i.e. how did I fall into that trap again? Sound familiar?)

As hard as it is for most people in a compressed season, each week is little more than a series of data points that we hope tell a more complete story by season's end. Sometimes we know 30 minutes into a movie or a couple of episodes into a TV series that it is time to bail. How many times have you not bailed and glad you stuck it out? This is the fine line owners walk sometimes in this hobby.

I'll begin this season the same way I have started many others. One week isn't nearly enough information to make a call on some players, but the NFL season is that movie or TV series we sometimes have to make a decision on earlier than we want. One week does give us enough information to make a somewhat informed decision, however, and that is what I'll attempt to do with the 12 players listed below.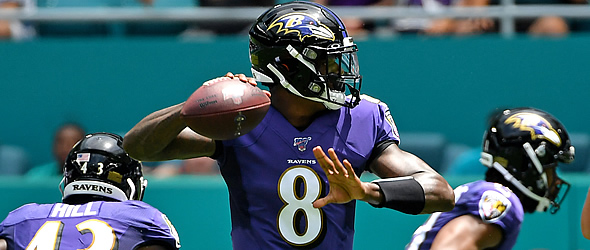 Week 1: 17-of-20, 324 yards and five touchdowns; three carries for six yards
Jackson needed only 20 pass attempts to throw for more than 300 yards and five touchdowns. Per Pro Football Reference, there are only three other instances since 1950 in which a quarterback was able to achieve that feat - the last being Steve Grogan in 1979. It was also only the third instance since 1950 in which a quarterback attempted at least 20 passes and averaged more than 16 yards per attempt. In other words, we're probably not going to see a line like this again anytime soon. This doesn't mean Jackson hasn't improved significantly as a passer, and it's not as if three rushing attempts will become the new normal for him. The Dolphins were an ideal opponent for the Ravens to unleash an aerial assault against because it will "rent space" (as former ESPN NFL Matchup analyst Ron Jaworski used to say) in the minds of defensive coordinators for the foreseeable future.
As luck would have it, Baltimore's upcoming schedule should give owners a nice window to take advantage of a prime selling opportunity. In Week 2, the Ravens face a Cardinals' secondary without Patrick Peterson. In Week 3, they'll visit Kansas City. This is not to suggest Jackson can't keep this up (we've already established that he won't) or enjoy QB1-like production when the opposition puts up more of a fight, but in the buy-low, sell-high world of fantasy football, three weeks of elite production - even at quarterback - should be able to give owners a pretty nice return on investment
Recommendation: Hold until at least after Week 3. Sell then if you have an elite quarterback starter, hold if you don't.
Week 1: 25-of-32, 405 yards and four touchdowns; four carries for 12 yards
Trying to take nothing away from his four-touchdown effort, three of Prescott's TD tosses in Week 1 were on plays that just about reasonably athletic person could have made. (With that said, he showed incredible accuracy in dropping at least two deep balls - including one to Amari Cooper for the other touchdown - that were among the best throws I've seen him make.) It is also the kind of performance a good quarterback can have when he's facing a Giants' secondary relying on two undrafted free-agent cornerbacks (Grant Haley and Antonio Hamilton) and a rookie making his NFL debut to log significant snaps and cover Cooper, Michael Gallup and Randall Cobb (among others). Interestingly enough, Prescott erupted for 387 yards passing and four touchdowns against the Giants in the final week of last season as well.
Now let's dig a bit deeper. Per NFL.com's Graham Barfield, Dallas used play-action almost twice as much in the opener under new OC Kellen Moore as it did under former OC Scott Linehan (48 percent in Week 1, 25 percent in 2018), a lot more motion (73, 45) and 11 personnel 73 percent of the time (63 percent in 2018). Was this in response to the Cowboys knowing they weren't going to have Ezekiel Elliott available to them for the entire game? Only time will tell, but I'm willing to bet things stay roughly the same even when Zeke is cleared to play a full game. Moore was hired because Linehan's approach was considered relatively stale by today's standards. Dallas' reliance on the ground game isn't going anywhere, but it is reasonable to believe with games against Washington and Miami over the next two weeks that Prescott will have every opportunity to build a nice sell-high window for his fantasy owners.
Recommendation: Hold until at least after Week 3. Sell then if you have an elite quarterback starter, hold if you don't.
Week 1: 20-of-36, 194 yards and one touchdown and three interceptions; five carries for 13 yards
Let's face it, QB31 isn't exactly what anyone had in mind for Winston in his first game under new HC Bruce Arians, who absolved his quarterback of blame on two of his three interceptions in Week 1 (one of which was a pick-six). In reviewing the game film, it's hard not to agree. Arians pointed the finger at Mike Evans on the second interception for missing a hot route, which caused Winston to adjust and throw to Peyton Barber on the sideline … in Richard Sherman's coverage. (There's your pick-six.) Similarly, Winston's first interception on a curl route to O.J. Howard was thrown in about the only place it could have been, but Howard's bobble ended up making his quarterback look bad. The final interception, however, is the one we've - or at least the anti-Winston crowd - have come to expect from him - a screen pass to no one in particular.
Obviously, fantasy owners don't care about the reasons for mistakes … they want results that help them win and Winston hasn't delivered often enough in that regard. But let's not be so hasty with him. We know his history and penchant for turnovers. I get it. Arians has a long track record of getting a lot of his quarterbacks, including getting a quarterback like Carson Palmer with three 20-interception seasons on his resume to manage the game much more effectively late in his career. (Palmer's last 20-interception season came in 2013 - the first season for both Palmer and Arians in Arizona.) As Palmer proved, that transition doesn't typically happen over an offseason and/or training camp. Patience is not something owners want to exercise, especially when the waiver wire looks like it has much more appealing options. Then again, how many of those "options" have Mike Evans (who was clearly limited due to illness in the opener), Chris Godwin and Howard to throw to 40 times per game? Bench Winston if you must, but the upside is too great here to cut him in fantasy.
Recommendation: Hold.
Week 1: 14 carries for 97 yards and one catch for four yards (Gurley); 11 carries for 53 yards and two touchdowns (Brown)
According to the play-by-play account of the game, Brown played a total of three series and didn't get a touch over the final 17:51 of the opener. Gurley played 53 of the team's 76 offensive snaps (70 percent) versus Brown's 21 (28 percent). Gurley was the only Los Angeles back to run a route (29 - ninth-most among running backs in Week 1). Although it appeared as though Brown is the new red zone back, Maurice Jones-Drew (yes, that one) - the team's color analyst - later said that it just so happened Brown's "assigned" drives happened to be the ones Rams scored touchdowns on the drives. Need evidence? Gurley broke loose for a 25-yard run on the first drive in the first quarter to get to the 11. He remained in the game for the next play and ran five yards on the following play (negated due to penalty). The Rams were forced to pass on the next two plays and kick a field goal.
Because all my loyal readers and followers know Lil' Baby and Future is my jam, I've decided to share this video with you. (OK, you got me. I had never heard of Lil' Baby until I saw this clip.) While we all have the right to different opinions, it's going to take a pretty strong argument to convince me Gurley didn't look pretty good. (To that end, he averaged 5.3 yards after contact per attempt last week - the most for any back in the league with more than 10 carries.) The Rams have suggested all spring and summer they want to be smart about managing his workload, and Week 1 appeared to be a continuation of that. The Rams are likely going to have the luxury of not needing to wear out their best offensive player over the first half of the season, so why do it? Never mind the fact Los Angeles is paying him roughly $16 million per season. Heavier workloads are coming, although we might have to wait until November. Then again, most owners got him in the second or third round of drafts. He was discounted for a reason.
Recommendation: Buy if the Gurley owner is panicking for some reason. Add Brown if you can, but understand there will probably be a window of no more than two months - probably after the team's Week 9 bye - where he could be nothing more than a handcuff.
Week 1: six carries for 18 yards, one catch for 27 yards
Every so often, play-callers get a bit overconfident in their ability and/or try a little too hard to create offense. There was nothing this spring or summer to suggest Montgomery was anything but a lead back at worst. So despite Chicago never trailing by more than one score in the season opener, HC Matt Nagy saw fit to throw 45 times with a quarterback he is trying to protect and run it 15 times. Huh? Exactly. Needless to say when an offensive "guru" and his plan result in three points, most of them go back to the drawing board. Even with his ridiculously awful usage and poor blocking, Montgomery ranked 16th in the league in Week 1 with 3.5 yards after contact per attempt. (Mike Davis checked in at 2.2.)
Perhaps the most confusing part of the Bears' offensive plan against the Packers was the usage of Cohen, whom Nagy suggested a few weeks earlier might have received a little too much work last season. Naturally, Cohen saw 51 snaps on 71 offense plays. While not all touches are created equal, Davis turned 11 into 36 yards. The point being is that while I'm sure I could throw in some advanced analytics to back up why this game will likely prove to be an anomaly, all owners really have to do is watch the game tape again to see who the most impressive back on the field was in that game (yes, including Aaron Jones). Perhaps I'll want to eat my words in a week or two, but owners should probably chalk this game up to a coach wanting to ease his prized rookie into action. After all, it would be the first time a coach decided to take it easy on his rookie running back early so he could ride him hard down the stretch. At worst, Montgomery will be a player dependent on positive game script for the first half of the season before he is unleashed. I don't think it will come to that, however.
Recommendation: Buy if you don't have him. Hold if you do. Talent almost always wins out in the end when it comes to determining workloads.
Week 1: 10 carries for 83 yards, one catch for two yards
Give credit where credit is due, Hyde looked about as fresh and explosive as I can remember - maybe since his final year in San Francisco. Let's also not forget how he got to Houston. Cut by Cleveland, allowed to Jacksonville after the Jags traded a draft pick for him and traded by Kansas City at final cuts because the Chiefs knew he was no more than the fourth-best back on the roster. All things considered, 11 touches and 85 total yards on 23 snaps is pretty good for a player on the roster less than two weeks.
Even if we view this optimistically and say Hyde has found himself in Houston, the problem I have with him moving forward is that he will almost certainly be a game-script dependent player running behind what figures to be a below-average offensive line. In other words, if owners didn't care much for Lamar Miller's consistency as a runner, they probably aren't going to get blown away by Hyde's, and that doesn't even take into consideration Miller is/was a more explosive runner. Duke Johnson will be a solid bet to split carries with Hyde in neutral game scripts and dominate snaps in negative game scripts, meaning Hyde may be his most useful when the Texans are winning and/or trying to close out the game. Predicting those games can be a challenging task for fantasy owners if everything doesn't go according to plan.
Recommendation: It'd be shocking if Monday was enough to get an owner to bite on him, but sell if you can. Otherwise, hold and hope for the Texans can play as well as they did in New Orleans.
Week 1: 17 targets and 14 catches for 99 yards, one carry for four yards
(A minor complaint before I start: I referenced three different sites for Crowder's target total - one had 15, one had 17 and one had 19.) As I referenced in one of my Big Board articles last month, Connor Hughes of The Athletic suggested he would not be surprised if Crowder caught 90-plus balls, potentially 100-plus. Less than seven percent of the way into the season, Hughes is looking pretty prophetic. While Crowder was able to make an impact early in the game, he seemed to be the only player Sam Darnold had any interest in throwing to when the Jets were trying to make a late push. Crowder was targeted at least once against nine defenders, so the fact he was so busy was not so much a matter of exploiting a single matchup as it was the fact he was doing a good job of getting open quickly.
Nevertheless, it's virtually impossible for fantasy owners to complain about a 41.5 percent target share from a receiver, and it's a reminder that Darnold loves going to his primary slot receiver. (Remember, Jermaine Kearse was targeted nine or more times in four games between Weeks 6-12 last year after Quincy Enunwa saw at least eight looks in each of his first four games. Crowder is a better player and creates separation much easier than either one of those players.) The eventual return of Chris Herndon may slow down the flow of targets certain to go in Crowder's direction when he returns in October, but Week 1 was a pretty good sign owners should be able to use him as a high-floor WR3 for at least the rest of this month and likely even after that.
Recommendation: Hold.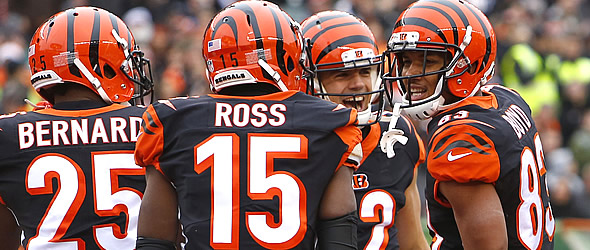 Week 1: 12 targets, seven catches for 158 yards and two touchdowns
A player with DeSean Jackson-like ability in the passing game, Ross was averaging 10 yards per catch through two seasons. And then Week 1 happened (after sitting out the entire preseason schedule due to injury, no less). Granted, Ross was hurt throughout last season, but he is already only 62 yards shy of matching his receiving yardage output from 2018. It was clear he was a big part of the initial game plan as well, considering he was targeted twice on the first five plays and saw six targets in each half. As we already know, durability - and not talent - has been the thing holding Ross back the most through two-plus NFL seasons. (To that end, it appears Marvin Lewis and his assistants didn't do him any favors either.) Some analysts are already suggesting Ross is the Brandin Cooks of Zac Taylor's Rams-inspired offense, which is a nice take for now but a bit simplistic.
The comparison is apt in the sense that both players can stretch the field with the best of them, but that's about where it ends. While Cooks is the model of consistency in terms of his durability and year-to-year production, Ross is not. And if we take the Rams' model one step further and say Tyler Boyd is Robert Woods, what will that make A.J. Green when he returns? Cooper Kupp? Green's talent is such that he demands more targets than any receiver in L.A., so the targets are sure to dry up sooner than later. With that said, in no way should owners dismiss what Ross did in Week 1. Owners just need to project this thing forward a little bit before going too crazy; if Green comes back and stays healthy, Ross will be the inconsistent third wheel in the passing game. If Green goes down again, then Ross has to prove he can stay healthy, which he wasn't able to do much in college or through his first two pro seasons.
Recommendation: Hold. It's unlikely he's viewed as anything more than a potential WR3 in most fantasy leagues.
Week 1: five targets, four catches for 147 yards and two touchdowns
Somehow, Brown started Week 1 and only played 14 snaps. Even more impressively, he played only 10 snaps on passing plays and was targeted on five of them. While it's fair to project a player with his draft capital will continue to see his playing time increase, the fact of the matter is that he is a player cut from the DeSean Jackson mold on a team that will probably throw no more than 30 times in roughly 75 percent of their games. The first two catches of his pro career saw him visit the end zone from 47 and 83 yards out. I think you can see where this is going.
What owners must ask themselves moving forward is whether or not they can predict his splash plays in a low-volume passing game. As discussed earlier with Lamar Jackson, the upcoming schedule should give the Ravens some opportunities to strike fear into opponents with their ability to throw deep. After Baltimore wraps up with Kansas City in Week 3, it is probable Brown will face primary coverage from Denzel Ward, Joe Haden, William Jackson and Stephon Gilmore in four of the following five games. Although it needs to be noted Brown is not strictly a deep threat, he will likely always enjoy his biggest performances in games when he is able to get behind the defense. As such, it wouldn't be terribly surprising if Miles Boykin ends up being the most consistent receiver from the Ravens at season's end.
Recommendation: Hold. It's unlikely he's viewed as anything more than a potential WR3 in most fantasy leagues.
Week 1: nine targets, six catches for 131 yards and one touchdown
By any measure, Hockenson was mighty impressive in his NFL debut. In fact, no rookie tight end has ever finished with more receiving yards in a game. This performance came a bit earlier than expected given the relative lack of success young tight ends usually enjoy, but it was far from unexpected. With that said, Arizona could very well give up eight more 100-yard performances to tight ends this season if the Cardinals choose to defend them the way they did Hockenson. Per NFL Next Gen Stats, the rookie generated an average of three yards of separation on his routes against Arizona. While the Lions were creative in the way they moved him around in order to give him a free release, Arizona didn't come close to getting a hand in Hockenson's face or offer much resistance on any of his nine targets. That is unlikely to happen again.
Hockenson is one of the better tight end prospects to come out of the draft in recent years, so owners can be relatively confident that whatever defenses do moving forward isn't going to keep the rookie down for very long. So, as far as a rookie tight ends go, he should be able to maintain a respectable level of consistency in 2019. However, the odds are fairly long he'll have five more six-catch efforts OR 80-yard games this year - much less both. If an owner is willing to part with an O.J. Howard or Jared Cook after their poor fantasy weeks, for example, my advice would be to sell Hockenson. There's no question in my mind the Iowa product will end up being one of the better players at his position in the game soon, but I do believe he probably finishes as a borderline top-12 option at best given how much Detroit wants to run the ball.
Recommendation: Sell. However, only do so if he's your TE2 and/or you already have an established stud at the position.
Week 1: eight targets, seven catches for 70 yards
I'm going to keep this one short because, quite frankly, if readers missed that Waller was listed as my TE8 or TE9 on just about every Big Board I did last month, I'm not sure what else I could have done to drive home the point. Denver may not end up being particularly good at defending tight ends this season if Week 1 was any indication, but this little summary isn't about that as much as how HC Jon Gruden loves his new toy or how he was used in the opener. Less than 24 hours after beating the Broncos, Gruden stated "we are going to get the ball to Waller … Waller's special."
To that end, it's hard not to be impressed by the way Gruden used him against Denver. Waller was the only skill-position player on the Raiders to play all 55 snaps. He enjoyed a 30.7 percent target share and lined up wide or in the slot 22 times. While it's not realistic to expect the target share to remain that high moving forward, keep in mind Derek Carr only attempted 26 passes in the opener. Oakland's ceiling may be that of an 8-8 team, so it wouldn't be terribly surprising if the Raiders find themselves in negative game script more often than not moving forward. The upside is ridiculous, to say the least. Whereas I was hoping Waller would be able to come reasonably close to matching Jared Cook's involvement in the offense last year during the preseason, I am more convinced now that the former NFL receiver will be a much more consistent version. (Cook topped 52 yards receiving only five times in 2018.) Assuming good health, this should be a ride fantasy owners enjoy over the next three-plus months.
Recommendation: Hold.

---
Doug Orth has written for FF Today since 2006 and been featured in USA Today's Fantasy Football Preview magazine since 2010. He hosted USA Today's hour-long, pre-kickoff fantasy football internet chat every Sunday in 2012-13 and appears as a guest analyst on a number of national sports radio shows, including Sirius XM's "Fantasy Drive". Doug is also a member of the Fantasy Sports Writers Association.