For the fourth straight year, I want to take a quick peek at some of the other prospects at each of the four fantasy positions who could/should hear their names called over the first two days of the draft. While I realize it isn't an all-inclusive list and there will be a few omissions that will sneak into my rankings in the coming weeks, time doesn't allow me to scout - much less do a write-up on - every quarterback, running back, wide receiver and tight end on the verge of getting selected before the draft. With that said, I have already finished summaries for the 37 players below and will scout a few more in the coming days. (I'll likely submit my overall rookie rankings for dynasty purposes in early May.)

It is important to know how we feel about players before we find out where they are drafted since their landing spot can often change our feelings about them. I have ranked the players below by position and in the order I would draft them, all things being equal. I cannot account for the difference in opinion I might have for a speed receiver versus the value someone else will place on one. I might also knock a running back down a tier if I believe his running style may lead to a short career.

I'll include some brief notes below on players I struggled putting into a certain tier:
Quarterbacks
Tier 1

1. Joe Burrow, LSU

Tier 2

2. Tua Tagovailoa, Alabama
Tagovailoa is the kind of player that a coach/office coordinator with a lot of job security should take in a heartbeat but will almost certainly scare any coach/office coordinator on the hot seat. He must learn to play for another down if he is to realize his potential. Much of his injury history can be attributed to extending plays and holding onto the ball too long before he gets pulled down awkwardly on those plays. If a coach/office coordinator is confident they can "fix" this, he is easily on par with Burrow. If not, passing on him and trying your luck next year is probably the better option.
Tier 3

3. Justin Herbert, Oregon
Tier 4

4. Jordan Love, Utah State
5. Jalen Hurts, Oklahoma
Tier 5

6. Jake Fromm, Georgia
7. Jacob Eason, Washington

Predict the top ten picks of the NFL Draft for a chance to win FFToday prizes. Enter our NFL Draft Contest.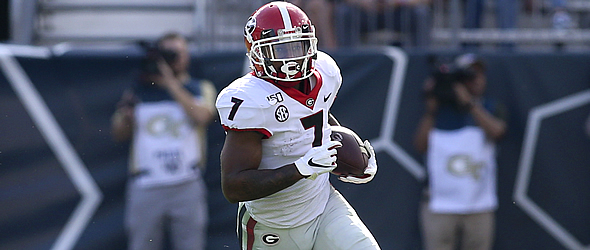 Running Backs
Tier 1 (Day 1 three-down backs)

1. D'Andre Swift, Georgia
Tier 2 (Backs with at least one potential fatal flaw)

3. Jonathan Taylor, Wisconsin
Even though he's been incredibly durable to this point, Taylor's career workload (968 college touches - including 926 carries) is a huge number, so much so that he could be a one-contract player. Additionally, he is a work in progress in the passing game.
5. Zach Moss, Utah
Moss can make a strong case for being No. 3 on this list. But while his no-holds-barred running style is very fun to watch, it also makes him the most likely back to struggle with durability in this draft class.
Tier 3 (Potential down-the-road starter)

6. Cam Akers, Florida State
Tier 4 (Likely two-down or specialty backs)
7. Eno Benjamin, Arizona State
8. Antonio Gibson, Memphis
Gibson is generally listed as a receiver, but multiple reports suggest the majority of teams see him as a running back in the NFL.
9. AJ Dillon, Boston College
10. Darrynton Evans, Appalachian State
Wide Receivers
Tier 1

1. Jerry Jeudy, Alabama
Tier 2

3. Laviska Shenault Jr., Colorado
5. Henry Ruggs III, Alabama
Ruggs is perhaps the biggest boom-bust prospect of the top five receivers.
Tier 3

6. Michael Pittman Jr., USC
7. Denzel Mims, Baylor
Tier 4
8. Jalen Reagor, TCU
9. Brandon Aiyuk, Arizona State
10. Tee Higgins, Clemson
Tier 5
11. Tyler Johnson, Minnesota
12. Van Jefferson, Florida
13. Bryan Edwards, South Carolina
14. KJ Hamler, Penn State
15. Antonio Gandy-Golden, Liberty
Tight Ends
Tier 1
1. Harrison Bryant, Florida Atlantic
2. Chase Claypool, Notre Dame
Tight end is a complete projection here. He would likely be in Tier 5 for me if I believed he was going to be a long-term NFL receiver.
3. Adam Trautman, Dayton
Tier 2

4. Cole Kmet, Notre Dame
5. Hunter Bryant, Washington

---
Doug Orth has written for FF Today since 2006 and been featured in USA Today's Fantasy Football Preview magazine since 2010. He hosted USA Today's hour-long, pre-kickoff fantasy football internet chat every Sunday in 2012-13 and appears as a guest analyst on a number of national sports radio shows, including Sirius XM's "Fantasy Drive". Doug is also a member of the Fantasy Sports Writers Association.