We have not quite reached the midpoint of the league's first 17-game regular season, but we are already getting to the point where trade deadlines are approaching in many fantasy leagues. (For example, the deadline for the bulk of my high-stakes leagues is the day this article will hit the site (Oct. 29).

Selling high and buying low is common advice in the fantasy industry, but it is incredibly difficult to pull off in many leagues. In most of my high-stakes leagues historically, most managers would rather sink with their ship and/or stay attached to the draft capital they spent on a player for fear they might get burned. Others are overly sensitive to public sentiment, while others try to pull the ole okey-doke.

An example of the ole okey-doke - which is one of the things that irks me the most in this little hobby of ours - happened to me about two weeks ago in the one high-stakes league where my team is struggling. I have Chris Carson, Kareem Hunt and Logan Thomas on IR, Nick Chubb has missed the last two weeks, Calvin Ridley and Allen Robinson are underperforming and Dawson Knox is out indefinitely. Corey Davis lost his quarterback, etc.

In the same week Chubb was ruled out AND a few days before Hunt and Knox went down, a fellow fantasy manager and I had agreed to a deal where I would give up Knox and Terrace Marshall Jr. (or Randall Cobb) for T.J. Hockenson and Kadarius Toney. About 12 hours later, he was spooked by injury news on Terry McLaurin. He wanted Davis instead of Marshall at that point, which was a completely understandable change-of-heart on his part. However, when I offered him that deal later that evening, he declined. He still valued Knox more than Hockenson, but somehow the value of Toney had shifted from Marshall or Cobb - players he told me he would release - to something above Davis, who is the WR30 (in fantasy points per game) through seven weeks.

Don't be that guy. Know how much you value your players and the ones you want to acquire beforehand or don't get into the business of making deals. Have respect for the time and effort the other manager is putting into the negotiation. I don't think the aforementioned manager was trying to pull a fast one, I just don't think he had a good grasp on how much he valued his players. He told me later he didn't want to get burned like he did earlier in the season when he traded D.J. Moore (effectively for Tony Pollard and D'Andre Swift), further supporting the notion he doesn't have a solid basis for valuing players other than what the public sentiment might be at the time.

*************

The goal of this week's column is not to provide sell-high or buy-low advice, but rather share with readers the players I want to try to acquire or trade away. The reasons as to why I want to trade for them or trade them away will vary, ranging anywhere from favorable/unfavorable fantasy playoff matchups to recent positive/negative changes in full utilization. (Time did not allow me to get to the tight end position.)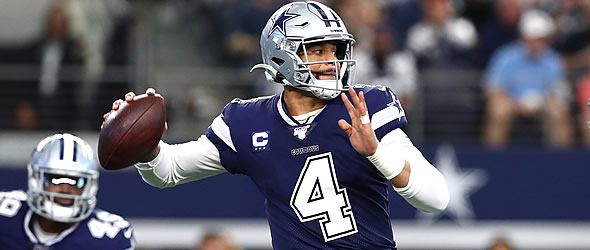 Quarterback to acquire
Dak Prescott, Cowboys
Reason(s) for upgrade: Favorable second-half schedule
Prescott is unlikely to come cheap, but there are reasons why he may not be as expensive as he should be:
1) He suffered a calf strain on his final throw in Week 6. While he had the bye week to rest up, the calf is not a muscle that tends to heal all that quickly. If he plays as expected in Week 8, he is at relatively high risk to reinjure his calf or make it worse.
2) In between Week 1 (58 pass attempts) and Week 6 (51), Prescott attempted no more than 32 passes in four straight outings - including a three-game stretch in which he didn't throw more than 27. Dallas has been the epitome of letting the opponent picking its poison in 2021, which the Cowboys can do because they have complete confidence in their ability to win whether they lean on the run or the pass.
Forget for a minute that Prescott has a supporting cast that rivals any in the league. Once Dallas gets done with Minnesota in Week 8 and Denver in Week 9 - two of the six stingiest defenses against fantasy quarterbacks so far this season - four of the Cowboys' next seven opponents rank first, second or third in most points allowed to quarterbacks. Even with the limited passing attempts he has had in most of his games, Prescott has still thrown for at least three scores in all but one of them. The Broncos (Week 9) are perhaps the only team with enough quality cornerbacks and safeties to slow down the majority of Dallas' receivers and tight ends, but it is notable that Denver has still given up at least 20 fantasy points to the likes of Daniel Jones and Derek Carr. Need an even better reason to pursue Prescott? He is completing more than 73 percent of his passes and playing the position as well as any player in the league.
Quarterback to trade away
Jalen Hurts, Eagles
Reason(s) for downgrade: Bad offense, challenging upcoming schedule, reliance on garbage time, job security?
Fantasy football is at its best when it mirrors real football. Such is not the case here. Check this out:
Hurts' first-half vs. second-half production
Half
Cmp
Att
Cmp%
Pa Yds
Pa TD
Int
Car
RuYds
RuTD
1st
76
122
62.3
829
5
2
25
110
0
2nd
72
120
60.0
887
5
2
41
251
5

Hurts has been essentially the same passer in both halves. Where he has been much different is as a runner, primarily because HC Nick Sirianni refuses to commit or even try to establish a running game. Broken down by half among all quarterbacks, Kyler Murray is the QB1 in the first half and QB17 in the second. Switch those two around for Hurts.

It is easy to see that Sirianni is struggling in his first chance as an NFL play-caller (Frank Reich called the shots despite Sirianni being as the Colts' offensive coordinator from 2018-20). He is not using a lot of play-action or RPOs (run-pass option) even though Hurts proved he could be dynamic in an offense that utilized both a lot in college (Alabama and Oklahoma).

The speculation has already begun that the Eagles will pull the plug on Hurts at or around the Week 14 bye if they continue down the same path they are headed (2-5). In all likelihood, it might not take that long. After this week's date in Detroit, Philly has perhaps the roughest three-game stretch Hurts will face all season: Chargers, Broncos and Saints. Those three teams rank among the five stingiest defenses for quarterbacks. While it may not matter to his managers because of his ability to score fantasy points late, it may bring Sirianni that much closer to seeing what Gardner Minshew has to offer if Hurts continues to start slow.
Running backs to acquire
Nick Chubb, Browns
Reason(s) for upgrade: The best offensive line in the league will be healthy again soon, the indefinite absence of Kareem Hunt, Baker Mayfield's shoulder injury and Odell Beckham Jr.'s shoulder injuries
Bill Callahan is one of the best offensive line coaches in the league and maybe one of the best ever. Cleveland has rushed for at least 153 yards in all but one game. In the one game the Browns failed to do so, they were without Chubb AND both starting tackles. LT Jedrick Wills returned from a two-game absence last week and RT Jack Conklin may be back in Week 8.
However, this is not going to be an ode to Cleveland's standout front five. The Browns are one of the few teams in the league willing and able to stick the ball into the gut of a running back over and over. The philosophy does not change even when Chubb and Hunt are not playing, as we saw in Week 7 against the Broncos. It certainly will not change for as long as Case Keenum is filling in for Mayfield and it is highly unlikely to change even then because OBJ is unlikely to be much of a factor again in 2021.
While all of this is significant for Chubb's status moving forward, the most significant part of why he will probably be a top-five back for the next month or so during Hunt's absence. Yes, D'Ernest Johnson had his way with the Broncos. Yes, he looked good doing it. Complicating matters with his evaluation is that Denver is down eight linebackers, six of whom are on IR. Those injuries led the Broncos to make two trades for linebackers since that game. All of this is to say that Johnson will probably have some kind of role while the Browns wait for Hunt to return, but it would be presumptuous to assume Hunt's role in this offense. Chubb is a capable pass-catcher who Cleveland managed throughout the first half of last season (before his knee injury). The Browns unleashed him in Week 10 of last year - even with a healthy Hunt - and the result was the overall RB4 finish over the remainder of the fantasy season.
The fourth-year back is averaging a career-high 5.8 YPC despite a down game or two by his standards. One game against a decimated Denver defense is unlikely to be enough for HC Kevin Stefanski to use Johnson as much as he did Hunt. The Browns can also look at things this way: they will likely be without Hunt until the Week 13 bye. Chubb is expected to return after a two-game absence this week, meaning he could theoretically assume a workhorse role for five games (maybe four if they ease him back this week) before giving him the bye to rest up again.
Elijah Mitchell, 49ers
Reason(s) for upgrade: The same soft late-season schedule I noted San Francisco had several times this offseason, early-down role seemingly locked up
Trey Sermon has played only three offensive snaps in the four games Mitchell has been active. JaMycal Hasty has actually been a bigger threat to Mitchell's playing time and that is only because Hasty has been the primary passing-down back when he has been healthy. Mitchell will be the unquestioned leader in this backfield for at least the next month, and that assumes Jeff Wilson can contribute in some way around or after Thanksgiving. Mitchell has caught all four of his targets this season, so perhaps there is some room for growth as a pass-catcher in this offense as well.
Division games against the Cardinals and Rams in Weeks 9 and 10 figure to be challenging for the running game, but probably no more so than the Colts were last week. Mitchell rather easily gashed the fourth-stingiest defense against fantasy running backs for 107 yards and a touchdown on Sunday night. Outside of those contests, San Francisco faces five teams that rank inside the top 12 in most fantasy points allowed to running backs and seven inside the top 16. The cherry on top is a Week 15 showdown with the Falcons (sixth friendliest) and a fantasy championship date with Houston (league-high 890 yards rushing allowed to running backs).
Running backs to trade away
Derrick Henry, Titans
Reason for downgrade: Insane usage
This recommendation is based purely on the ridiculous (irresponsible is probably a better word) workload Tennessee is asking Henry to carry. The only other time in NFL history that a player had more carries than Henry's 191 through seven weeks was O.J. Simpson in 1975 (192). Only two players (James Wilder, 216; 1984 and Priest Holmes, 212; 2002) accrued more touches than Henry's 209 through seven games. While some backs have historically held up all season after assuming a similar heavy early workload, it has not ended well most of the time.
Let's look at the other seven instances in which a back topped 200 touches after seven games:
200+ Touches by a back through seven weeks
Player
Split
Year
Ru Att
YPC
RuTD
James Wilder
Seven weeks
1984
181
3.8
5
James Wilder
ROS
1984
226
3.8
5
James Wilder
Seven weeks
1985
168
4.0
4
James Wilder
ROS
1985
197
3.2
6
Priest Holmes
Seven weeks
2002
167
4.6
8
Priest Holmes
ROS
2002
146
5.8
13
LaDainian Tomlinson
Seven weeks
2002
162
4.7
7
LaDainian Tomlinson
ROS
2002
162
4.4
7
DeMarco Murray
Seven weeks
2014
186
4.9
7
DeMarco Murray
ROS
2014
206
4.5
6
Eric Dickerson
Seven weeks
1983
178
4.8
12
Eric Dickerson
ROS
1983
212
4.5
6
Le'Veon Bell
Seven weeks
2017
169
4.0
4
Le'Veon Bell
ROS
2017
152
4.0
5

For the sake of keeping it simple, we are just going to focus on rush attempts, yards per carry and rushing touchdowns. Surprisingly, only one time did a back get hurt and could not finish out the season (Holmes). Ironically, he is the only one of the bunch to see his production increase. In each of the other cases, the yards per carry stayed the same or declined. Bell is the only one to score more touchdowns despite having the benefit of more games over the rest of the season (ROS) than he had in the first seven weeks.

We may already be seeing statistical proof of Henry slowing down this season. Henry averaged 5.1 YPC in 2019 and 5.4 in 2020. He is at 4.5 this season. He has averaged 20.2 attempts in 2019 and 23.6 in 2020. He is at 27.3 this season.

I get it, he's a freak. Maybe the rules that apply to all other running backs don't apply to him. What we have are two recent examples (Murray and Bell). Neither back was MORE effective after the heavy workload to begin the season and it can be argued that most of the backs above fell off significantly. In the cases of Murray and Bell, it was the beginning of the end of their careers as elite fantasy assets. LT and Dickerson went on to have great seasons after this kind of usage early in one year, but both were 23 years old when it happened. Henry will turn 28 right around the start of the playoffs.

If you want to bet on Henry being a freak and believe he can hold up (and you end up being correct), then sit back and enjoy the ride. After a rough three-game stretch coming up against the Colts, Rams and Saints, Henry's only somewhat troublesome matchups come against the Patriots in Week 12 and Steelers in Week 15. Just do yourself a favor and make room for Darrynton Evans. He would not be anything close to a one-for-one replacement for Henry if he goes down, but he is a player Tennessee had big plans for before he suffered a preseason injury that sidelined him until Week 7.

Alvin Kamara, Saints

Reason(s) for downgrade: Efficiency, a lackluster supporting cast and the arrival of Mark Ingram

Make no mistake about it: the reported trade for Ingram on Wednesday (Oct. 27) is a clear sign that HC Sean Payton is not crazy about how much he had to rely on Kamara over the last month. Kamara has handled 86 carries (and touched the ball 104 times) over the last four games, which is a great deodorant for what has been his least efficient year by far as a pro. Over his first four seasons, the 26-year-old has never finished a season with a yards-per-carry average lower than 4.6. In 2021, he has reached that mark in only one game. His 19 targets over the last two outings appear to be a sign of Payton realizing the need to get him into space more often. However, anyone who closely watched the Monday Night Football game against the Seahawks saw how often Seattle played a deep zone in the first three quarters and gave Kamara an uncontested catch opportunity.

Ingram is being added for the role the Saints hoped Tony Jones would fill. Perhaps the trade is a sign Jones had a setback in his recovery. Up to this point in the season, rushing volume has fueled Kamara's current RB6 standing. Any threat to that volume - unless it is accompanied by the kind of receiving volume he has seen over the last two weeks - will almost certainly cause him to suffer statistically. Losing OL Andrus Peat for the season does not help matters. It is also reasonable to conclude that if Michael Thomas returns in a week or two, any increase Kamara would experience in receiving volume would drop unless the Saints pick up the pace on offense. That is not something Payton has shown any inclination of doing with Jameis Winston as his quarterback.

Let's be clear, I am talking about a downgrade from mid-RB1 to maybe low-end RB1 status. I made a trade a few weeks ago in which I essentially dealt Kamara away for Ekeler (more was involved). That is the kind of trade I'm talking about here. I would also trade Kamara for Najee Harris, Aaron Jones or Ezekiel Elliott if that helps readers set their parameters.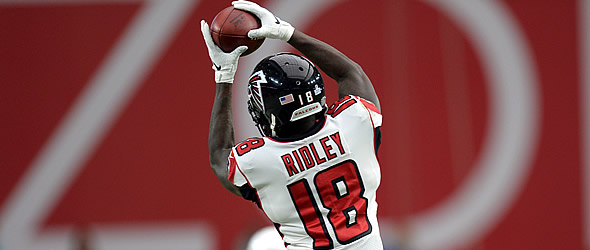 Wide receivers to acquire
Calvin Ridley, Falcons
Reason(s) for upgrade: Common sense
For the first month of the season, all Atlanta seemingly had was Cordarrelle Patterson. Kyle Pitts announced his presence in London in Week 5 - the same week Ridley missed due to a personal matter. Week 6 was Atlanta's bye week and Week 7 gave us a highly uncharacteristic 4-26-1 line on 10 targets. It is entirely possible the personal matter he dealt with recently has been an issue all season and will continue to be all season, so there is some risk in acquiring him.
Let us look at some basic metrics to try to solve the riddle that has become Ridley:
Ridley 2020 vs. 2021 comparison
Category
2020
2021
Targets
50*
52*
Catches
29*
31*
Catch Rate
62.9
59.6*
TDs
4
2*
aDOT
14.3
10.0*
Yards before catch
12.2
6.1*
Yards after catch
3.1
2.9*
Separation
3.0
2.9*



* - Through five games



Surprisingly, Ridley is seeing more volume than last year. His touchdowns are a bit low by his standards, but some regression should have been expected after he seemingly stole so many scoring opportunities from Julio Jones in recent years. The biggest changes reside in two of the final three lines - average depth of target and yards before catch. Last year's 14.3 aDOT was the highest by any receiver with more than 85 targets. This year's 10.0 aDOT is good for 74th. Last year's 12.2 YBC was seventh in the league. This season's 6.1 YBC is tied for 73rd.

So what we must ask ourselves is this: does HC Arthur Smith see Ridley as a possession receiver after he was one of the best vertical receivers in the league the previous two years? Are Pitts and Patterson really commanding so much of Matt Ryan's attention in the intermediate and deep parts of the field that Ridley can only work short? These things (new coaches figuring out how to best use their assets within the context of their offense) can take more time than we think they should to evolve, but it seems reasonable to assume Smith is using this time to establish Pitts and Patterson so Ridley can get fed down the road.

It is not as if Ridley is lacking for opportunity, as he is only one of seven receivers averaging 10 targets this season. Smith is still very much in his receiver's corner. Perhaps the most convincing argument for Ridley is that we already have plenty of proof - just from last year alone- that he is more than capable of handling No. 1 receiver duties. When the dam breaks and Ridley becomes more involved in the deep passing game, you want to be there for it.

Tee Higgins, Bengals

Reason(s) for upgrade: Plenty of opportunity in a passing game that continues to evolve

Missed games early in the season tend to wreak havoc on fantasy managers' ability to evaluate players. Ja'Marr Chase is having a rookie season for the ages and doing otherworldly things with his deep-ball opportunities (tied for the league lead with four touchdowns and nine catches on throws of at least 20 yards). Chase has caught 56.3 percent of his 16 targets on such passes (compare that to 26.3 for Marquise Brown). He is averaging 41.7 yards per catch on those throws as well.

Why is any of this pertinent? Chase could very well continue to do what he has already done, but the odds are that defenses will begin to overcompensate soon until the Bengals have to move in another direction. Chase will still thrive because he is just that good, but it is worth noting that despite everything the rookie has done to this point, Higgins is getting targeted more on average now (8.6-7.3). While some of that is a product of the 15 targets he saw in Week 7, that number is one we need to consider a bit more. How often does a true No. 2 receiver in an offense ever see that many targets in a game? Per Pro Football Focus, he came down with each of the seven catchable targets he received in Week 7.

Since Higgins' return from a hip injury in Week 5, he has commanded a 26.7 percent target share. Even with his average depth of target holding steady at a Ridley-like 9.8, that kind of target share is promising in an offense that is ready to lean more on Joe Burrow's right arm.
Wide receivers to trade away
Terry McLaurin, Football Team
Reason(s) for downgrade: Inconsistency due to quarterback play, injuries, upcoming matchups
There is no doubt McLaurin is one of the game's best receivers. Checking in as the WR11 through seven weeks is hard enough to do when the situation is perfect. McLaurin's situation is far from perfect, however, which leads to more inconsistency than fantasy managers want from their likely WR1. Some inconsistency is tolerable, but four games with fewer than 11 fantasy points and three with more than 25 is not the resume of a player managers want anchoring their receiving corps. With Ryan Fitzpatrick not expected back anytime soon and Taylor Heinicke falling flat after a hot start, there isn't much reason to believe McLaurin will become more consistent anytime soon.
The other issue for McLaurin is his recent injury woes. He picked up the hamstring injury I mentioned in the intro about two weeks ago and played through it, resulting in a 4-28-0 line against the Chiefs. He bounced back with a 7-122-1 showing in Week 7 but is now once again dealing with a hamstring issue. (It has yet to be disclosed if this was an aggravation or an injury to the other leg.) The upcoming schedule is not an overly favorable one either, as the Seahawks in Week 12 could be the only soft matchup McLaurin has between now and December if Tampa Bay can get Carlton Davis and Richard Sherman back after the Bucs' Week 9 bye.
Courtland Sutton, Broncos
Reason(s) for downgrade: Returns of Jerry Jeudy and Albert Okwuegbunam squeezes a limited target pie even more
Jeudy very much appeared to be Teddy Bridgewater's favorite target in Week 1 before his high-ankle sprain. Sutton has seemingly emerged as the clear WR1 in Denver over the last month, but the return of Jeudy probably brings with it the end of Sutton getting 10 or more targets on a semi-regular basis - regardless of whether or not Jeudy is completely healthy. Perhaps if we knew Tim Patrick would become an afterthought, Sutton could maintain something approaching his status as the WR17. Patrick is unlikely to fade into the background, however.
Okwuegbunam's pending return hurts Noah Fant more than any other Bronco, but even if he does nothing more than take three or four targets per game, that also hurts Sutton. We can probably expect Melvin Gordon and Javonte Williams to combine for around seven or eight targets per game as well. Add it all up and it will be hard for Sutton to consistently get more than eight targets in a passing attack that averages right at 36 attempts. Further consider that Teddy Bridgewater is hurting and how much the offense would likely struggle if Drew Lock took over. Dwindling opportunity and the threat of Lock is enough reason to get out of the Denver receiving business sooner as opposed to later.
---
Doug Orth has written for FF Today since 2006 and been featured in USA Today's Fantasy Football Preview magazine since 2010. He hosted USA Today's hour-long, pre-kickoff fantasy football internet chat every Sunday in 2012-13 and appears as a guest analyst on a number of national sports radio shows, including Sirius XM's "Fantasy Drive". Doug is also a member of the Fantasy Sports Writers Association.