Last year at this time, I decided to devote the final Blitz of the season to help owners make critical lineup decisions for their league championship games. I think it is a great way to wrap up a season, if only because there are no more long-term roster decisions to be made and no more "what impact will this have on my team for the rest of the season" questions. The only thing we need to concern ourselves with is what helps us win THIS WEEK. If anyone needs another reason why this is a good idea, it's the season of giving … is it not?

I asked readers to submit questions earlier this week to help them in their "time of need" while also stretching my analytical muscles a bit. Calling upon the same inspiration as I did last year (the TV show Frasier) in "Hello Caller, I'm Listening" and utilizing the same Q&A format he used in his show, here are my answers to those questions (PPR scoring will be assumed unless otherwise noted):

Murad: What did you learn about 2018 fantasy football that will come into play next year?

This is a question I will spend the better part of the next few months trying to answer more completely. Here are some late December thoughts:

I'm not sure what I'm about to say is a lesson learned, but rather a thought that became crystal clear to me around midseason. "Job security" is something I weigh very heavily - as high as any other trait - when I grade and rank fantasy running backs before every season, but I need to put even more emphasis on it. At quarterback, receiver and tight end, players can typically get away with two poor games and not worry about their role on the team. Such is not the case - at least not anymore - at running back. There are approximately 10 backs who figure to have a clear path to well over 200 touches in 2019 and seemingly have very little to worry about in terms of a consistent workload. (Todd Gurley, Christian McCaffrey, Saquon Barkley, Alvin Kamara, Ezekiel Elliott, James Conner, Melvin Gordon, Joe Mixon, David Johnson and Nick Chubb are the 10. Cases can obviously be made for maybe a couple of other players, such as Dalvin Cook and Leonard Fournette if we assume they stay reasonably healthy.) After that, I can't imagine there are more than a couple of backs who are mostly immune to getting pulled if they struggle.

Obviously, things can and probably will change between now and the start of next season after the annual coaching carousel has wrapped up and free agency and the draft are over, but those are the players who are the most likely to stand the test of time. At the moment, I would argue these backs are the only ones who should probably be drafted within the first four rounds. The volatility of the position - much of it which is out of their control - is such that owners need to start accounting for it by reducing the amount of early draft capital they invest at the position. Even in the best-case scenario, owners who spent their first three picks on running backs this summer ended up with a combination of Gurley/Elliott and Joe Mixon, who missed parts or all of three games due to injury and scored 11.5 PPR fantasy points or fewer in three others. That was the best-case scenario. If owners spent a second- or third-round pick on just about any other back that was typically going in that area this summer - Kenyan Drake, Devonta Freeman, Jordan Howard, Alex Collins, LeSean McCoy, Royce Freeman, Derrick Henry, Jay Ajayi, etc. - they were probably disappointed. The thing is, it's like this almost every year; we just choose to forget about it once we take a few months away from the grind.

The point to be made is this: owners should have a very low bust rate in the first four rounds. Trying to guess which running back is going to be the one that overcomes the odds to become the following year's feature back is not a high-percentage move and will leave you playing from behind more often than not. Worse yet, even if said player is a "hit," owners are still in the same spot if/when he gets hurt, which seems almost unavoidable in today's game. What's the answer to this problem? I know two of mine going forward will be drafting my non-RB1 running backs later than I ever have and devote more of my bench to the position, at least to begin the season.

And now to this week's lineup questions: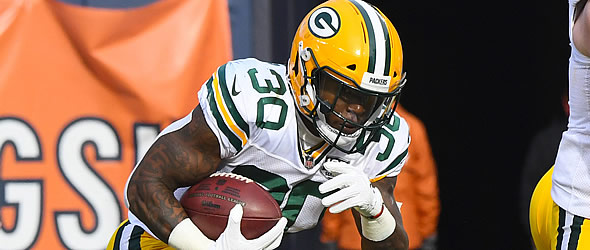 Wesley: (Standard) Jamaal Williams or Kalen Ballage?
This will be a debate many owners have this week, although I wonder if either one will provide owners with the Week 16 production they so desperately want. Williams is essentially the last man standing in Green Bay, while Miami used the first 14 weeks of the season to have Ballage serve as Frank Gore's understudy. Williams is not the type of back who will get much more than what is blocked, while Ballage has a reputation as an all-or-nothing runner dating back to his college days. Ultimately, I think the answer to this question comes down to which player has the highest ceiling for touches, which one has the most big-play ability and which one has the best matchup.
If we assume Ballage is the new Gore for this week, then he theoretically has the most upside for touches this week. If we consider the likelihood Drake could steal 10-plus touches, then he probably doesn't. Williams only has Kapri Bibbs - signed just this week - to compete with for work, meaning his projected workload is probably a safer bet than Ballage's. After all, it was less than two weeks ago Ballage ran four times for three yards, while Brandon Bolden ran for 60 yards and two scores on two carries.
It could be argued that all we know about Ballage at this point is that he is a big-play runner. Williams … not so much.
A season-long look at the opponents this week - Williams against the Jets (10th-stingiest against RBs) and Ballage versus the Jaguars (fifth) - gives Williams a slight edge, although most of the damage running backs did to New York came during a two-week stretch in Week 10 and Week 12 when LeSean McCoy and Sony Michel had their way with the Jets. For all of the team's other problems, Jacksonville has still managed to hold up pretty well against the run despite Derrick Henry's 238-yard, four-touchdown explosion in Week 14. In other words, both matchups are difficult for two players who don't come from offenses that expect to get elite production from the running game.
If forced to make a call, I would prioritize picking up and starting Williams over Ballage this week.
Danny: Do I dare bench Adam Thielen for the likes of Damien or Jamaal Williams? Not happy with Thielen's play the past few weeks.
I get it. It's part of the human experience to subscribe to recency bias. Week 15 marked the first time Thielen failed to score at least 12.7 PPR fantasy points all season AND the first time he saw fewer than seven targets. It was also the first time Thielen did not run a single route out of the slot (Stefon Diggs took all eight such snaps). Whether this was new OC Kevin Stefanski's vision of how to improve John DeFilippo's offense won't be known for some time, but it seems more likely he was following through on HC Mike Zimmer's edict to run the ball more often AND take advantage of Miami's vulnerability against the run.
As I alluded to above, I'm probably not going to start this week Jamaal Williams unless I'm in a pinch, so the question is whether we need to buy into Damien Williams' Week 15 performance. Seattle has been susceptible to big games by running backs this season (Gurley twice, McCaffrey, Aaron Jones), but what you're hoping for here is his ability to find the end zone at least once on roughly 12-15 touches and Spencer Ware remains sidelined. You are also hoping Seattle's tendency to hog the ball doesn't keep the Chiefs from giving Williams snaps to get there. Meanwhile, it seems pretty certain Thielen is at worst a high-floor play whose upside is higher this week than it was in Week 15 since Detroit has improved versus the run since acquiring Damon Harrison.
The odds are pretty good that if Thielen has moved into flex consideration for you after a month in which he has regressed, you have a pretty strong team. I also can't imagine it is Thielen versus Damien Williams for the flex spot and there is no other way to work them both into the lineup. So, I'll answer the question this way, if it truly Williams versus Thielen: I think Williams has more statistical upside this week, but I think Thielen is the safer and smarter play.
handbanana: I play a league where you can play a QB in the OP position, so most do. I've been riding Philip Rivers all season. But I hate his matchup against the Ravens. My other two QBs are Deshaun Watson and Jameis Winston.
The real gift here is handbanana's ability to ask a question without actually asking one. (Pause for laughter.) The good news for Rivers is that Melvin Gordon appears to be on track to play and Keenan Allen got in a limited practice Wednesday. But the matchup is one I would prefer to avoid, although I still think Rivers can still throw for two scores. Even after taking the Eagles' Week 15 defensive performance versus the Rams into consideration, I'm starting Watson without hesitation. Mobile quarterbacks have fared very well against Philadelphia, and the second-year signal-caller is arguably the best Philly will face this season. The Eagles' secondary is also still very suspect, while Lamar Miller's potential limitations (ankle) would seem to put more of the offensive weight onto Watson's shoulders.
Winston is a bit trickier, as Carson Wentz is the only quarterback to exceed 20 fantasy points against Dallas since Week 10. Week 15 also marked the first time Winston failed to score at least 19.6 points since Week 8. With that said, Tampa Bay's quarterback has played in five road games this year and is averaging 16.4 fantasy points (versus 24.3 in four road outings). The Cowboys have the size in the secondary to match up with Mike Evans and Chris Godwin, not to mention a front seven capable of containing the Bucs' running game. Dallas also likes to play keep-a-way and will be smarting from last week's shutout loss to the Colts. For all those reasons, I'll take Watson and the 200-ish yards and two TDs I expect Rivers to get (even if Allen wasn't able to play) over the uncertainty of Winston.
Kopy: Need to start four: DeAndre Hopkins, Keenan Allen, Jarvis Landry, Alshon Jeffery, Larry Fitzgerald, Allen Robinson, DeDe Westbrook, Tim Patrick.
Hopkins is a no-brainer, so there's one down. I'm also starting Allen if active. The Ravens are obviously stout defensively, but the slot - manned by Tavon Young most of the time - is one area they can be attacked. There's two.
Landry hasn't seen nearly as much work since the Browns made their coaching changes following Week 8. Although his biggest game of the second half came in a win over Carolina, Landry has otherwise been almost useless in fantasy in Cleveland victories. It stands to reason too, as the Browns have turned their offense over to Nick Chubb since the dismissal of HC Hue Jackson and OC Todd Haley. Cleveland should have plenty of positive game script in Week 16 versus the Bengals, so Landry sits for me.
It's no surprise that one quarterback likes or trusts one receiver more than another. Jeffery was a stud for the Eagles during their playoff run last year with Nick Foles running the show. We didn't get to see much of the pair late in the regular season last year or at the start of this season. But it seems more likely than not Jeffery is the player Foles trusts the most. It just so happens cornerback is the weakest spot on defense for the Texans. Sure, their tight end coverage isn't great either, but it pales in comparison. Jeffery is my third starter.
As an owner fairly heavily invested in Fitzgerald myself, it seems like every first half requires a few prayers to get him a catch or two and every second half comes with about three or four 10-yard receptions in garbage time. He's a floor play in PPR this season based on his situation, not skill. We'll revisit his standing in fantasy next year assuming he plays another season and after Arizona brings in a new coaching staff as expected. Fitzgerald's No. 5 on this list for me, so he would start if Allen sits.
Robinson has shown very little upside lately and is a floor play at best. San Francisco has been more vulnerable to slot receivers recently and Chicago probably doesn't need to force the issue with Robinson, who will probably line up across Richard Sherman half the time. As good as Westbrook is in real life, I want no part of the Jags' passing game right now. So those are the two players I have no problem eliminating.
We've reached that point of the season, you know, where Patrick can be considered a fantasy legitimate starter. Sure, it is entirely possible Courtland Sutton uses the final two weeks of the season to establish himself as the top receiver in Denver, but DaeSean Hamilton's 21 targets lead the team since Emmanuel Sanders was lost for the season. Patrick's 18 rank second and he simply has done more with them than Sutton has AND looked better doing it. He's also got a matchup this weekend with Oakland, which ranks second in the league with 20 TD passes allowed to receivers. Believe it or not, Patrick would be my fourth starter.
Brutal Brutus: (Standard) Can I trust Doug Baldwin now? I need a flex. I have him, Davante Adams and Doug Martin.
Also, your take on the Steelers RB situation.
I can only imagine this question comes up because Aaron Rodgers is dealing with a groin injury, as Adams is the overall WR2 in standard scoring. Rodgers expects to play this weekend as of Wednesday. Adams has been virtually matchup-proof, as an 8.1-point effort against Buffalo in Week 4 is his only single-digit effort of the season. Short of an epic blizzard in New York this weekend, Adams should be starting in fantasy.
To Brutus' question, Baldwin is certainly worth discussing. I'm not sure "trust" is the word I would use with him. I lost a PPR semifinal matchup last week in part because I played Curtis Samuel with an injured Cam Newton over Baldwin in a good matchup, but I don't regret it. Baldwin has shown signs of life as reports of his knee becoming a non-issue become more common, but the Seahawks just don't have enough volume in their passing game this year for Baldwin (or Russell Wilson, for that matter) to overcome any kind of inefficiency. (Wilson is averaging 25.7 pass attempts in six home games this season.) Baldwin has scored in only three of 11 outings in 2018 and seen seven or fewer targets in all but two games since Week 8. Furthermore, Kendall Fuller plays the slot for Kansas City and has held up reasonably well there. In standard leagues, owners want TD upside from everyone who doesn't have a high-yardage floor. Fuller hasn't allowed a touchdown in his coverage since Week 6.
As we stand here in the middle of the week, James Conner told the Pittsburgh media he's still "not ready" to return. At best, I think Conner would handle early-down work only against the Saints this week in the unlikely event he is active. I'd be willing to bet owners will get at least one more week of feature-back work from Jaylen Samuels.
robb: (Half-point PPR; TDs worth six points, points for yardage, maximum start two RBs.) I have Dalvin Cook, Joe Mixon and Derrick Henry. Which two would you recommend to start and why?
One could legitimately ask the question how robb made it to this point with two running backs who gave him very little until fantasy playoff time. With that said, what we have here is two backs with huge workload ceilings and one running back with as much big-play ability as any back in the league.
As noted earlier, Damon "Snacks" Harrison has played a huge role in Detroit playing better run defense. His presence doesn't make the Lions' run defense impenetrable, but Cook's touches are probably going to be capped at 20 for the remainder of the year and there's no guarantee Latavius Murray doesn't steal a potential goal-line score from him. Any improvement in the Lions' defense is not great for Cook, especially in half-point PPR. Mixon is essentially a fantasy version of Cook this week with a better matchup, higher touch ceiling (especially as a receiver if the Bengals fall behind as expected) and no one to steal work from him. And we obviously know the deal with Henry. He is on a two-game roll the likes we haven't seen in ages and facing an opponent (Washington) that has virtually no chance of forcing the Titans to abandon the running game. The fact Henry doesn't do much as a receiver makes him a more risky option, but I'd reluctantly start him and Mixon over the more dynamic Cook this week.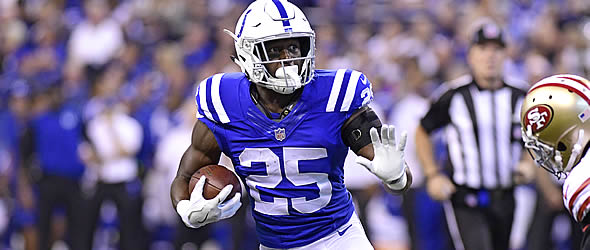 polecatt: (Dynasty; all TDs worth six points, double for TD plays over 50 yards, six-point bonus at 100 yards) I have Zeke and Mixon as my starting RBs, at Flex I'm looking at Leonard Fournette or Marlon Mack.
Ah yes, in one corner we have the back (Fournette) with the sweet matchup (Miami) no one wants because he can't stay healthy and because the "ship be sinking" in Jacksonville. On the other hand, we have the "hot" running back coming off his third two-TD game since Week 7 who ended a three-week stretch of being nearly useless in fantasy, at least in PPR. There's never going to be an easy answer to questions like this because most teams aren't exactly forthcoming when it comes to the seriousness of their players' injuries. If the conditions for both players were exactly the same and I only needed to pick the better player, the answer would be Fournette. The problem is Fournette is nursing a foot injury, has virtually no line to run behind, and his team has very little to play for the rest of the way.
Mack is, by all accounts, healthy right now, although he also has his own history of durability issues. The Giants just got hammered last week by Derrick Henry and have allowed four running backs to top 100 yards rushing since trading Harrison away. Fournette has yet to break a run longer than 25 yards or reach 100 yards rushing this season, which Mack has topped the century mark three times. With a mostly healthy offensive line and something to play for also working in Mack's favor, I would look past Fournette's more favorable matchup this week and start Mack.
polecatt: At WR, I have DeAndre Hopkins as my WR1. At WR2, I have Josh Gordon or Tyler Boyd, Boyd is banged up a bit as well. The injury situations could make these very easy decisions but if everyone is healthy, what do you think?
Ultimately, I don't think Boyd will play against the Browns in Week 16. Even if he was healthy, I might have a hard time playing him over Gordon despite last week's dud. Gordon hasn't been the second coming of Randy Moss that some of his biggest supporters were hoping for, but he entered last week having posted five straight games of at least 12-plus PPR fantasy points. That kind of production may not guarantee an owner a fantasy championship, but he won't be the reason owners lose if he bounces back with a typical game.
pee-diddy: Start one QB: Philip Rivers, Dak Prescott or Kirk Cousins?
Since I discussed Rivers above, let's go right to Prescott. Tampa Bay hasn't quite been the laughingstock against quarterbacks that it was in the first half of the season, although it may be fair to say only Drew Brees performed much below expectation over that time. Prescott is not exactly a superstar himself, but he has been a pretty nice floor play ever since the Cowboys traded for Amari Cooper. Regarding last week's disappointment, there was a school of thought that Indianapolis was going to be a difficult matchup for Dallas' offense last week because of how much zone defense the Colts play. The Cowboys didn't help matters either by getting Cooper into advantageous matchup more often (away from top corner Pierre Desir). Week 15 was the Buccaneers' first road game in four weeks, and it should be pointed out while they have made some fundamental improvements lately, they have been abysmal against fantasy quarterbacks away from home.
Cousins will likely throw for 4,500 yards and 30 TDs this season, and most have already labeled him something of a bust. He did disappoint in his first meeting with the Lions in Week 9, although I'm not sure what more he could have done on 22 pass attempts other than not throw an interception. Zimmer wants balance in his offense with a slight lean toward the running game. After the recipe worked so well last week, it wouldn't be overly shocking if the Vikings stick with it this week - even if it takes over a half to bear fruit. Perhaps just as importantly, Detroit is probably not going to be able to score enough to get Minnesota to abandon the running game. (Same goes for the Ravens and Rivers' upside.) Tampa Bay could have some success scoring on Dallas, however. Combined with the fact the Bucs field the most lackluster pass defense, I think Prescott has the most upside this week.
pee-diddy: Start three WR: Stefon Diggs, Julio Jones, Davante Adams, Mike Williams, JuJu Smith-Schuster?
I discussed Adams above, he's a must-start for me. While the Saints have evolved into one of the best scoring defenses over the second half of the season, I find it nearly impossible to sit Smith-Schuster, who is seeing more time in the slot than any other Steeler recently. That's a big deal since it means he should see plenty of P.J. Williams, who is easily the weakest link in New Orleans' secondary.
The third starter is a bit trickier, although I would go with Jones. Diggs' targets have been cut in about half in the last three weeks compared to what they were over his first 10 games. And while Darius Slay isn't a matchup to avoid per se, he's a tougher one that Jones has. Combined with the fact Atlanta seems to understand that it's OK to give your best playmaker the ball in the red zone again, I'd feel great about his upside and the potential scoring upside of three of the top eight receivers in fantasy football this season.
pee-diddy: Start two RB: Jamaal Williams, David Johnson, Mark Ingram, Derrick Henry, Damien Williams, James Conner?
As noted earlier, I would be hard-pressed to start Williams unless I am in a pinch. Conner is unlikely to go, and I'm not sure I want to trust him given how pessimistic he sounds about his ankle at the moment. Surprisingly, Ingram doesn't have a lot of upside unless your crystal ball can forecast when he's going to get multiple chances to score near the goal line, so we are left with Johnson, Damien Williams and Henry.
Henry lacks receiving upside, but if he gets the positive game script against Washington that most of us expect, he's going to have a ton of touch upside. I would not hesitate to start him. We've also discussed Damien Williams a time or two already. If Spencer Ware sits, I like the odds of him doing more with his 15-ish touches in the Chiefs' offense more than I do Johnson, who hasn't averaged four yards per carry in any of the last four contests. In four the last five games, Johnson also has three or fewer catches. Furthermore, his worst game of the season came in Week 2 against the Rams. While OC Byron Leftwich's promotion has undoubtedly helped some of Johnson's fantasy owners salvage their seasons, 100 total yards - which used to be a virtual lock for him - is no longer a sure thing. With that said, the odds are very good an owner who has made the championship game and been rolling with Johnson all season has a very good supporting cast, so this decision should not make or break your chances of winning the title.
Flex one from above players?
Johnson would be my flex. While he doesn't have great fantasy scoring upside this season, his workload is secure for the most part. He also doesn't need to come off the field on passing downs. Also, if the Cardinals are going to score a touchdown, he's a good bet to be the one doing it.
Showboat: Would you start both Conner and Jaylen Samuels or give Drake another chance or really go out on a limb with D'Onta Foreman (assuming Lamar Miller does not play)?
It's beginning to look more and more like Conner will sit in Week 16 and possibly even Week 17. I would rank the group Samuels, Drake, Foreman and Conner for this week based on the information we have on Conner's status as of Wednesday, Dec. 19.
travis_henrys_baby_momma: Pick two RBs: Phillip Lindsay, Chris Carson, Leonard Fournette, Damien Williams?
Over the last two weeks, Lindsay is beginning to produce more like the player the league thought he was this spring than the player he was over the first 12 games of the season. The Broncos have made a conscious effort to use him more in the passing game, but his efficiency has been brutal. I don't think it's a coincidence Lindsay's "slump" started right after Sanders' injury, as defenses aren't going to lose sleep about Courtland Sutton beating their best corners deep with safety help and Case Keenum throwing the rock, nor will Tim Patrick or DaeSean Hamilton take defenders out of the box. Enter the NFL's second-most forgiving defense (in terms of rushing yards allowed to running backs) in the Raiders, who just got done giving up 130 total yards and two touchdowns to Joe Mixon when he was arguably the only person they had to stop. I'd feel good about starting Lindsay.
Carson also has a soft matchup and a high touch upside, but last week was the first time in his career the Seahawks used him extensively in the passing game. He has 50 touches over the last two weeks and is facing an opponent in the Chiefs likely to force his offense into negative game script, which favors Mike Davis. Can we bank of two straight games of heavy usage in the passing game and another 25 touches from one of the most physical runners in the game? He's a good start, but I'm not sure he's a great start.
I've already discussed Fournette and Williams at length. In this case, Fournette has more things working against him than the other three. As for Williams, I'm always going to have a hard time benching a running back in an Andy Reid offense when I feel pretty good about him getting 15 touches, so I will recommend Lindsay and Williams get the call this week.
Also, Jared Goff or Deshaun Watson?
Watson. First and foremost, I think Todd Gurley plays this week, and Arizona is abysmal against the run. Second of all, I am one of the few that has struggled to trust Goff since I saw him play in college. If he is going to struggle against the Eagles' second-team secondary, I'm going to struggle starting him against the Cardinals' defense. As for Watson, I'd be willing to bet Lamar Miller will be limited in some fashion even if he plays. So, if the Texans are going to beat Philadelphia this weekend, they are unlikely to do it via the run; Houston's line is the worst part of its offense, while the Eagles' line is the best part of their defense. Watson should have a field day, but will the Texans need to score enough for fantasy owners to start? If Nick Foles plays inspired football, then it is very possible. If Philadelphia tries to ground-and-pound Houston like it did the Rams last weekend, then maybe not.
Lake209: Any reason not to start Russell Wilson over Philip Rivers this week?
Also, Jaylen Samuels and Antonio Callaway?
I can't think of any reason to bench Wilson for Rivers. Seriously, the only reason to doubt Wilson at this point is his TD rate is unsustainable. In a likely shootout with the Chiefs this week, Wilson is almost certain to be busy and may see spiked volume for one of the few times all year. Rivers' ceiling is probably in the 225-yard, two-TD neighborhood. It's hard to imagine the Chargers passing for a ton of yards or scoring more than two touchdowns.
The second-best fantasy performance of Callaway's rookie season came in Week 12 versus the Bengals when he scored 16.2 PPR points, so this question doesn't have the obvious answer most might think it would. With that said, if I sided with Callaway here, I would have to be fairly certain he would score a touchdown. As the third-best option in the passing game on an offense that wants to run the ball and should not struggle to do so against Cincinnati, I am not confident he will visit the end zone in back-to-back games for the first time.
Samuels is by no means a lock to outperform Callaway, but he is quite adept in the passing game, giving him what seems like bankable upside in a game in the Superdome that should be reasonably high-scoring. The Saints have been difficult to run on all season, so Samuels' ability to be a reliable outlet as a receiver figures to be the difference in whether or not he will be a better play than Callaway. Frankly, given New Orleans' ability to stuff the run, it would not surprise me if Samuels finishes with more catches. Consider Samuels should be good for at least 40 rushing yards and significantly more touches, I'd start him.
Byrdman5: (Half-point PPR) Need RB2 and flex. Fournette, Conner, Samuels, Sony Michel, Jordan Howard, Robby Anderson? Damien Williams and Elijah McGuire are on the wire?
The only new names in this bunch are Michel, Howard and Anderson. With only seven catches to his name this season, Michel needs volume and goal-line work in order to survive as a weekly fantasy starter. Since Rex Burkhead returned in Week 13 and FB James Develin began stealing carries inside the 5 about the same time, the rookie has been almost useless in fantasy. Somehow, Howard has 216 carries this season and will probably finish with around the 240 rushing attempts most of us thought he would have. Outside of the fact he is still the man near the end zone, he is just a higher-volume version of Michel. Anderson took advantage of a good matchup last week, but I don't want to count on the Jets' offense any more often than I have to. While Green Bay does yield the fourth-most fantasy points to receivers, Anderson will more than likely see shadow coverage from impressive rookie Jaire Alexander. Julio Jones proved Alexander has plenty of room to improve a couple of weeks ago, but Anderson is not in that class.
To answer the question, I would start Samuels as my RB2 and pick up Williams to fill the flex, assuming Ware is ruled out. If Ware is active, I would probably reluctantly pivot to McGuire.
David Njoku or Ian Thomas?
I have zero doubt Njoku is the better talent, but he simply hasn't been a big part of the game plan - outside of one game (against the Bengals in Week 12) since OC Freddie Kitchens took over the play-calling. Taylor Heinicke's first throw Sunday will be the sixth of his career. Outside of the "young quarterbacks like to throw to their tight ends" narrative, we have absolutely no way of predicting where Thomas stands on Heinicke's list of favorite pass-catchers.
Njoku has the better matchup this week, the better quarterback and the edge on talent. Ninety times out of a 100, that combination of factors leads owners in the right direction when making lineup decisions.
---
Doug Orth has written for FF Today since 2006 and been featured in USA Today's Fantasy Football Preview magazine since 2010. He hosted USA Today's hour-long, pre-kickoff fantasy football internet chat every Sunday in 2012-13 and appears as a guest analyst on a number of national sports radio shows, including Sirius XM's "Fantasy Drive". Doug is also a member of the Fantasy Sports Writers Association.