Life is about making good decisions and avoiding bad ones.

Did you know that 12 publishing companies rejected J.K. Rowling's "Harry Potter and the Sorcerer's Stone"? Or that in 1962, an executive at Decca Records listened to an audition tape and thinking guitar groups were falling out of favor passed on signing the Beatles? In June 1812, Napoleon invaded Russia with one of the largest armies ever assembled and thought he would win the war in 20 days. Didn't happen. Germany repeated that bad choice when it invaded Russia in June 1941. All bad decisions.

Fantasy football is also about making decisions. Winning decisions.

Every pick, in every round, is the result of multiple decisions. Do I need a running back more than a wide receiver? Is it time to pick a quarterback? If I donít pick the quarterback in this round, who will be left on the board when the draft gets back to me?

Even after you know what position you want to draft, you have a decision between seemingly equal players. This is where we will try to help you. Iíve chosen five ďWho would you rather have?Ē questions and run through the decision-making process.

Under normal circumstances, Elliott would be your best choice as he belongs in a higher tier with the likes of Saquon Barkley and Christian McCaffrey, but unfortunately, these arenít normal times. We canít decide by talent alone.

Currently, while his teammates are sweating out training camp, ďZekeĒ is in beautiful Cabo San Lucas on a vacation. His agent is in negotiations with Jerry Jones and the Cowboys looking for a better contract. At this point it appears that while negotiations are amicable the sides are still far apart and Elliott might miss a couple of games. You donít want to start your season 0-2, right?

Meanwhile, there are plenty of ďexpertsĒ out there telling you that David Johnson could have a big year. Iím one of them. Evidence seems to point to an advantage for running backs when the quarterback is a big running threat. Lamar Jacksonís running helped the 2018 Ravensí running back corps (3.51 ypc behind Joe Flacco and 5.41 under Jackson), I think Kyler Murray does the same for Johnson. But Iím not going overboard. Johnson hasnít produced at this level since 2016.

In this case, I think the ADP is correct and Kamara is the play. A slight downgrade of his backfield running mate, from Mark Ingram to Latavius Murray, should allow Kamara to amass plenty of touches. Also, future Hall of Fame quarterback Drew Brees is throwing the ball less and less (673 times in 2016, 536 in 2017 and 489 in 2018).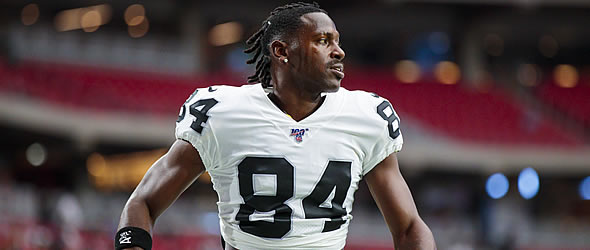 This is a comparison of three ďflawedĒ options. Thielenís flaw isnít of his own making. His head coach is determined to run the ball more and throw it less Ö despite having signed a quarterback to an $84 million contract last season. Mike Zimmer is so determined to run the ball that OC John DeFilippo was fired in mid-2018 and replaced with Kevin Stefanski, who ran the ball as ordered. Thielen managed just one 100-yard game and one double-digit fantasy total over the final eight games.
Brown is seemingly a reality show all by himself. He forced his way out of Pittsburgh and into a huge contract with the Raiders, thereby hurting his chances to continue his fantasy domination with the downgrade at quarterback. Add in the injury to his feet and the helmet controversy and it doesnít seem Brownís head is really in the game. How do you build chemistry with your new quarterback and new system while sitting on the sidelines?
Meanwhile, Hilton would be a great choice except for the fact that his quarterbackís availability is in question? Where is Waldo Ö I mean Andrew Luck? Plus, Hilton isnít a touchdown-maker, heís a yardage accumulator. Heís never scored more than seven times in a season.
As I said, all flawed candidates. But itís not a first-round pick itís a third round selection and Iím willing to take the guy with the highest upside and thatís Brown. Unless there is more drama between now and my Draft Day and Brownís feet allow him to practice at some point, Iíll take a shot at the brass ring.
Two rookies and a veteran Ö sound like the making of a new comedy series on FOX. Montgomery was a three-down back at Iowa State, running for 2,362 yards in his last two seasons and also catching 58 balls for 453 yards. He might end up being a three-down NFL back, but not in 2019 where the Bears already own a dynamic back out of the backfield in Tarik Cohen (71 receptions for 725 yards and five scores). So while he will beat out Mike Davis for the early-down work, heís not going to be an every down guy this season.
On the other hand, neither will Josh Jacobs. The rookie out of Alabama will be the first- and second-down option, but Jalen Richards caught 68 balls last season and is the pass-catcher out of this backfield. Also, there is a long list of Crimson Tide running backs who have struggled after joining the NFL where the holes arenít as big because the Alabama OL isnít in front of him. Think Trent Richardson, Glen Coffee, T.J. Yeldon. Even Derrick Henry and Mark Ingram struggled early on in their pro career.
Carson is my choice here. Despite the lowest ADP of the three, heís perfectly situated to succeed in an offense that loves to run the ball, yet has just enough of a passing threat to keep defenses honest. Carson finally got his chance last season and rushed for 1,151 yards and nine scores posting a 4.7 ypc average. He was good enough to hold off 2018 first-round pick Rashaad Penny and get Davis traded to Chicago. He dominated in the second half of the season producing 654 rushing yards and seven scores over the final seven games. Thatís too good to resist.
This is a very interesting battle of philosophies. Do you take the No.1 receiver on an average offense (Detroit, Seattle) or the No.2 guy in a dynamic offense (Tampa Bay, Los Angeles Rams)?
Iím throwing out Kupp because heís less than a year removed from ACL surgery and as the Ramsí slot guy, he has to be able to make quick cuts. We all know it takes a couple of years before youíre back to full strength and Iíll be back to pick Kupp as a sleeper in 2020 when everyone forgets his name.
Golladay was a pleasant surprise in 2018, producing 1,063 yards and five touchdowns. But Marvin Jones will return from injury and Danny Amendola was brought in from Miami. Actually think of him as a former Patriot brought in to reprise the slot role used so well in New England - think Wes Welker and Julian Edelman. While Golladayís numbers are repeatable, I donít think heís going to blow up in 2019.
Locket put together a truly amazing season considering he only saw 70 targets. He caught 57 of them for 965 yards and 10 touchdowns. Thatís a touchdown every seven targets Ö which likely isnít repeatable. Thatís an 81-percent catch percentage Ö also likely unrepeatable facing the oppositionís No. 1 corner. Heíll likely see more targets, but do less with them.
Mike Evans is still the guy in Tampa, but Godwin gets a shot at more targets with DeSean Jackson returning to Philadelphia and Adam Humphries heading to Tennessee. Thatís 175 targets available to add to his 95 targets in 2018. Tight end O.J. Howard will demand a lot more than the 48 targets he saw and should become a top-five fantasy tight end. Still, Godwin should see close to 140 targets and crack 1,100 yards and 10 touchdowns. Heís the pick.
This would be easy if Luck were a quick healer. Alas, he is not and thatís what makes this a tough decision. Luck likely wonít play at all in the preseason due to his calf/small bone/high ankle issue (depending on which statement you believe). He was fantastic in 2018 (4,593 yards, 39 TDs, 15 INTs) and would be the obvious choice if healthy. But he is not and the Colts have a more-than-capable backup in Jacoby Brissette. Luck might end up being late to the ďpartyĒ and thus you canít choose him here.
Mayfield is all the rage after a very good rookie season (3,725 yards, 27 TDs, 14 INTs). Then the team added Odell Beckham Jr. and the world went crazy. However, Iím not part of that world. Itís a long jump from Mayfieldís rookie season to top-five quarterback and I donít think heís there yet. Not because he doesnít have the talent, but because there is so much running back talent on his team that this will still be a balanced offense. Nick Chubb is a star in the making and Kareem Hunt will be back for the second half of the season. Mike Krueger has Mayfieldís preseason projection at 4,255 yards, 28 TDs and 15 INTs and I think thatís pretty close. Maybe he manages 30 TD passes, but probably not much more.
The pick is Ryan. His receiving corps is back in tact; superstar Julio Jones (113-1,676-8), possession guy Mohamed Sanu (66-838-4), youngster Calvin Ridley (64-821-10) and tight end Austin Hooper (71-660-4). Management has brought in more talent on the offensive line to protect Ryan (Chris Lindstrom and Kaleb McGary). They wonít want to overuse injury-prone Devonta Freeman and backup Ito Smith is a better pass catcher than runner. And the kicker is the bad defenses within his division that he gets to play twice a season (Tampa Bay, Carolina and New Orleans). Plus the Falconsí own bad defense will mean high-scoring contests. Choose Ryan with confidence.