It's easy to draft a running back if he's getting 300 touches a season. Choosing Ezekiel Elliott (381 touches), Christian McCaffrey (326) or Saquon Barkley (352 touches) is a no-brainer … even if the player is inefficient as "Zeke" was last season (.667 FPts/Touch). Because massive volume can cover up for mediocre production.

But in this day and age, 300+ touches doesn't happen very often. From 2014-18 there were a total of 30 running backs to reach the mark, or an average of just six per season. The previous five seasons averaged 9.4 per season. With more and more backfields becoming running back by committee, it's important to know who will produce with their limited touches, because only a select few fantasy teams will own a workhorse back.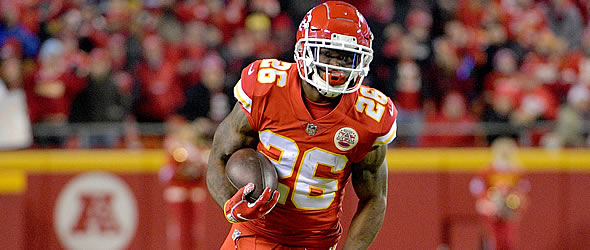 Turns out, the Chiefs' Damien Williams finished the season No.1, scoring 1.063 fantasy points every time he touched the ball, which he did mostly during the 2018 fantasy playoffs after the suspension/waiving of Kareem Hunt and injuries to Spencer Ware and Charcandrick West. Despite the small sample size, I have faith in him for the upcoming season. The Kansas City offense will still be dynamic and his competition for touches, backup Carlos Hyde, was one of the most inefficient running backs last season (0.497 FPts/Touch).
James White continues to produce in New England no matter how many other backs Bill Belichick brings in. Despite Sony Michel (offseason knee surgery) running for 931 yards last season, White still produced more fantasy points. And as long as Brady is under center that shouldn't change.
Hunt was third on the list last season, but after changing teams and having to sit out the first eight games of 2019 due to suspension, it will be interesting to see whether he or Nick Chubb will get the majority of the workload. My guess is Chubb will get you into the playoffs, but you better have a backup plan because Hunt is too talented to not see an even split after Week 9.
I am a charter member of the Melvin Gordon fan club and his stats prove as long as he stays healthy he's an elite back. Of course, he's only played all 16 games in one of four seasons, so handcuffing Austin Ekeler, who also produced top-10 numbers (.909 FPts/G) is a must.
I've already discussed "The Gurley Conundrum" in a previous article and expect a significant falloff as the team tries to protect his arthritic left knee for a playoff run by using rookie Darrell Henderson and veteran Malcolm Brown more often. He shouldn't reach the 300-touch mark this season after reaching the mark the last three years.
The Saints' Alvin Kamara didn't hit the 300-touch mark last season due to the presence of Mark Ingram, but Ingram is calling the Baltimore Inner Harbor home and Latavius Murray has been brought in to replace him. Murray is no Ingram. Despite comments that Kamara won't see a larger workload, I think he will almost certainly reach the 300 touches for 2019.
Fantasy owners would like to believe that Tarik Cohen will take a big step forward with 2018 starter Jordan Howard in Philadelphia, but at 5-foot-6, 179 lbs., there is no way his body could take the beating of anything close to 300 touches. Enter Mike Davis from the Seahawks and David Montgomery from Iowa State. I expect Cohen to be used similar to last season's 170 touches with perhaps a 10-percent increase at most. Still that increase would get him to 11.3 FPts/G or another solid RB2 season.
Aaron Jones has a chance to make a breakthrough in 2019 if … he can stay healthy and if … the team recognizes he's the best back on their roster. He came into OTAs after a solid offseason conditioning program and appears ready to play more than the 12 games he's played in each of his first two seasons. Backup Jamaal Williams averages 3.6 ypc behind the same OL that Jones averages 5.5 ypc. This must not be a shared backfield in 2019 and Rodgers needs to call his number more often.
Finally, Kenyan Drake was a surprise to me when I saw his name in the 10th spot. He played "second-fiddle" to Frank Gore for most of last season, but his only competition for touches this year will be Kalen Ballage (36 rushing attempts last season) and rookie seventh-round pick Myles Gaskin. Drake was underused last season, but that shouldn't be the case in 2019. If he produces at this level but sees a massive increase in usage (170 to 250 touches) that could create an RB1. An increase of that magnitude would likely jump his FPts/G from 9.7 to 13.7 which would have ranked 10th-best in 2018.