Are you worried about selecting a running back on a team that is frequently behind on the scoreboard? Do you fear your running back will be stuck standing on the sidelines if his team gets too far behind while a receiving specialist takes his place?

Fear not, I have the information you need.

In the chart below are the total fantasy points earned for the top-60 running backs when their team was behind on the scoreboard last season. The far right column represents total fantasy points earned in full one-point PPR leagues when their team was down at least one point. (For non-PPR leagues, the column ďFPtsĒ is for you).

Of course, some teams spent a lot more time playing from behind which skews the numbers in their favor. There are also a number of players who had extenuating circumstances which should have you ignoring the chart.

For instance, Nick Chubb ranks ninth on the list, but for the first half of the season, he didnít have to share time with Kareem Hunt. Or that James Conner ranks 30th. He missed six full games and additional time in others due to injury. Had Conner played a complete 16-game schedule, at an average of 6.39 FPts/G while behind, you could imagine he might have scored just over 102 points. Iím also ignoring Alvin Kamaraís No.34 rank because the 13-3 Saints werenít behind often and he wasnít healthy for most of the season.

But letís check out some of the numbers anyway.

As you would expect, Christian McCaffrey was the best. Of course, his team was behind a lot, but nevertheless he produced far more than everyone else in the NFL. No surprise there. Similarly, Saquon Barkley, Kenyan Drake and Joe Mixon can all score when their team is behind, which was often last season, so no need to fear drafting them at their current ADP.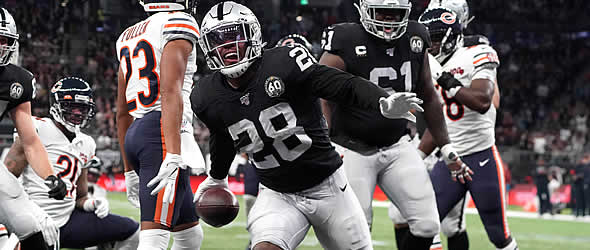 The opposite is true for Josh Jacobs. I found Jacobsí statistics disappointing considering the Raiders were a -106 net points. He obviously had plenty of opportunity to be productive when behind but heís got to be more effective or his upside will continue to be limited because I donít see this team winning this season. Given Jacobsí 9.1 ADP and the likelihood that Las Vegas will continue to struggle Iím shying away from Jacobs as a first-rounder.
What was a surprise, at least to me, is how well Derrick Henry performed. For a guy who doesnít catch many balls out of the backfield (18 total receptions, 15 while behind), he maintained his elite rank. So even if the Titans play poorly in 2020 and they havenít been better than 9-7 since 2008 (77-99 combined over the last 11-year span), as long as Henry is healthy the team is going to call running plays and Henry should be a solid producer. Despite his 7.4 ADP I wouldnít be afraid to pull the trigger on Henry.
Melvin Gordon also impressed, ranking in the top-10 despite having to share time with ďpass-catching extraordinaireĒ Austin Exeler. Perhaps heíll be better in Denver where he may see more third-down situations since Ekeler catching abilities are certainly better than that of Phillip Lindsay.
Another back Iím not going to worry about is Chris Carson. Iíll take him at his word that his hip is ď100 percentĒ and heís set to be a workhorse. As his No.13 rank shows, even when the Seahawks are behind, they arenít going away from the ground game. He caught a career-best 37 balls last season on 47 targets and half of those were when the team was behind, so Iím not going to be concerned by Carlos Hyde, Rashaad Penny or rookie DeeJay Dallas.
Speaking of Dallas, the Cowboys that is, considering they were +113 net points, Ezekiel Elliottís total is excellent. I donít expect Dallas to be behind a lot this season with their offensive weapons, but ďZekeĒ is an elite running back no matter whether the Cowboys are ahead or behind on the scoreboard.
Itís very interesting to note that two of the 2019 top-10 are currently unemployed. The just-waived Leonard Fournette simply hasnít been effective since his rookie season, particularly in getting into the end zone (just three rushing touchdowns). While heís likely to land on his feet with another team, he wonít be on my fantasy roster.
Meanwhile, Iím at a loss as to why Freeman isnít on a roster. Freeman evidently is too, which is likely why he has new agent representation. Freeman can help a team (are you listening Eagles?) and if he gets a chance to start, even on a losing team he can be a fantasy asset.
Yes, running backs can still be effective when their team is behind and the statistics show that.