Each week weíll review some interesting data points related to player usage; information I consider to be among the most predictive and actionable in fantasy football. The truth doesnít always lie in the stats but usage tells the story of how a coaching staff intends to utilize a player.

Here are some of the most important usage statistics for Week 4:


Running Back
Wide Receiver
Sammy Watkins played on 99% of snaps but only received 6 targets (3-54-0). Demarcus Robinson played on 91% and received 9 targets (4-35-0). The Lions defense did a magnificent job on the Chiefs receivers, and did so even without their top two corners for most of the day. That is concerning, but once Tyreek Hill gets on the field, things should open up for the offense.
Will Fuller and DeAndre Hopkins played on 99% and 97% of snaps and had similar stat lines (Fuller: 6 targets, 3 for 23; Hopkins: 8 targets, 5 for 41). The entire Texans offense struggled against Carolina with Deshaun Watson taking six sacks.
Adam Thielen played on 95% of snaps but only received 6 targets, which resulted in 2 catches for 6 yards. While Diggs had his first 100-yard receiving day, neither is easy to trust in this inept Vikings passing offense.
Arizona schemed to take away Tyler Lockett, and he was limited to 4 targets (4-51). He still played in 97% of snaps and is an every-week starter.
Similar story for Odell Beckham Jr., who played 96% of snaps and received 7 targets, resulting in 2 catches for 20 yards. The Ravens tried to take him away and succeeded.
All three primary pass-catchers for the Rams played 90% or more of snaps (Woods, Kupp, and Cooks). The Rams base 11 personnel (3 wide receivers), makes all three viable weekly starters.
With Taylor Gabriel (concussion) inactive on Sunday, Javon Wims jumped to 94% of snaps (rather than Anthony Miller). Wims received 5 targets (4-56). He is one to keep an eye on if Gabriel remains out.
Curtis Samuel and D.J. Moore both caught 3 passes for under 45 yards. However, they were on the field for 90% & 88% of snaps, respectively. Better days are ahead for both, particularly if Cam Newton can get healthy.
Cole Beasley played on 86% of snaps for the Bills and received 11 targets. He caught 7 for 75 yards. He is becoming a must-start PPR receiver.
Marques Valdes-Scantling played on 86% of snaps and received 7 targets. He is a solid start if Davante Adams (toe) misses this weekís game.
With Damiere Byrd of the Cardinals out with a hamstring issue, Trent Sherfield was on the field 84% of the time. He had only 1 catch for 15 yards.

Although Marquise Brownís snaps continue to climb (81% in Week 4), he only caught 4 balls for 22 yards (on 7 targets). Teams seem to be refusing to let him beat them deep, so Brown will have to work on his intermediate game if he is going to be relevant in fantasy.
The Packers played a lot more 11 personnel in Week 4, with Geronimo Allison playing on 79% of snaps. If Davante Adams misses time, Allison will likely move to the outside and play virtually all the snaps.
With Mike Williams out, Dontrelle Inman played on 75% of snaps for the Chargers. He led the team with 5 receptions for 76 yards, on 7 targets. Watch to see if the coaches give him more playing time even when Williams returns, which could crush Williamsí struggling fantasy value.
Deon Cain played 73% of snaps, most of any Colts receiver but did not receive a target. It seems that he is either not getting open or Jacoby Brissett has a personal vendetta against him.
Dede Westbrook played only 62% of the snaps but led the team in receiving (5-66). I expect he will see a higher workload in the coming weeks.
Julian Edelman and Josh Gordon played virtually all of the snaps for the Patriots (95% & 89%). Phillip Dorsett played 62% of the snaps, and was the only other receiver who saw significant action. Dorsett did not produce (2-10) only seeing 9 targets. He is one to scoop up if an owner drops him out of frustration.
A.J. Brownís snap count did not go up (44%) for the Titans. He only received 3 targets so do not overreact to his two touchdown receptions. It is impossible to know when to trust Titans receivers, so they should be avoided.
Kenny Stills and Keke Coutee switched roles in Week 4, with Coutee playing 58% of snaps and Stills only 16% due to a hamstring injury suffered by Stills. Neither has been producing in this anemic Texans offense, but if they turn it around it appears Coutee has the current leg up for a role in the slot.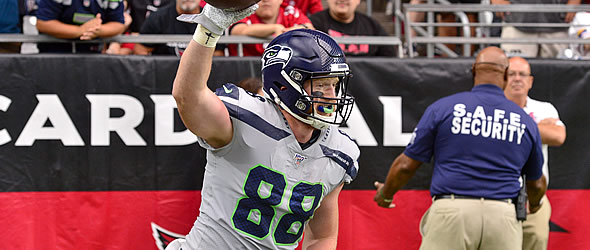 Tight ends