As discussed in this space last week, the remainder of my postseason columns will feature my NFL.com Playoff Challenge roster (for as long as applicable), followed by my weekly league predictions and DFS prognostications. The further we advance in the postseason, the deeper the analysis into the matchups.



NFL.com Playoff Challenge



NFL.com Playoff Challenge Roster
QB: Patrick Mahomes (x2)
RB: Alvin Kamara (x2)
RB: Todd Gurley (x2)
WR: Tyreek Hill (x2)
WR: Michael Thomas (x2)
TE: Travis Kelce (x2)
K: Wil Lutz (x2)
D/ST: Saints (x2)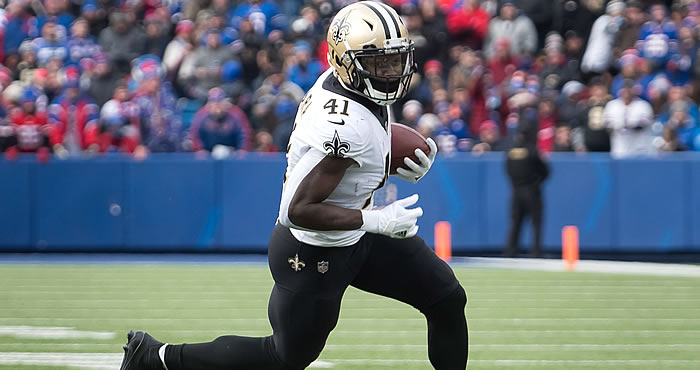 DraftKings/Fuzzy's

Since the pick-your-studs competition with Fuzzy's and the salary cap game of DraftKings essentially use the same PPR scoring (six points for passing touchdowns with Fuzzy's versus four fantasy points with DraftKings; three bonus points for 300 yards passing or 100 yards rushing/receiving versus no such bonus with Fuzzy's being the biggest differences), I'm going to essentially combine the two again this postseason.

Below you will find my position-by-position projections. Please note I have included DraftKings' dollar value for each player, followed by their projected point total in that format (DraftKings and then Fuzzy's). Each position is sorted by my DraftKings' projected point total.

Key for quarterbacks, running backs, receivers and tight ends:
P Yds - Passing Yards
P TD - Passing Touchdowns
INT - Interceptions
Ru Yds - Rushing Yards
Ru TD - Rushing Touchdowns
Rec Yds - Receiving Yards
Rec TD - Receiving Touchdowns
Rec - Receptions


This week's slate provides owners two of fantasy's top four scoring quarterbacks during the season and the league's top two finishers in touchdown passes. I would imagine roughly 90 percent of lineups this week have either Mahomes or Luck at this spot. Working against Mahomes is the fact the Colts own the league's best scoring defense (14 points per game) since Week 10 and HC Andy Reid's reputation (tendency?) to get conservative when games mean the most. In Mahomes' favor, well, is just about everything else. Indianapolis played zone coverage at a higher rate than any team in the league this year and the second-year quarterback ate it up; against five opponents who ranked inside the top eight in zone coverage rate this season, Mahomes completed 64.1 percent of his passes at 7.99 yards per attempt with a 14:0 TD-to-INT ratio against them. Working against Luck is how good the running game has been lately and the likelihood the Colts will want to minimize possessions in this contest. Conversely, the Chiefs gave up an NFL-worst 4,721 gross passing yards (before sack yardage was taken out) and were one of 11 teams to surrender at least 30 touchdown passes. Working against both quarterbacks is the good chance there will be snow in Kansas City, although wind (usually the biggest issue for players in the winter) is not expected to be a factor.

Obviously, it's hard to say anything bad about a quarterback who just broke his own completion percentage record, but the chasm between Brees' home and road splits returned in 2018 after taking a year off. As is typically the case with quarterbacks, the blame for such a thing typically belongs on as much on how the play-caller changes up his home/road attack and how the supporting cast plays away from home just as much as it does on the quarterback. That's one of several reasons why it was important for the Saints to land home-field advantage from a fantasy perspective, as the fast track in the Superdome caters to the speed of players such as Ted Ginn Jr. and Tre'Quan Smith. Philadelphia's secondary play has been much better since the Eagles were routed in The Big Easy in Week 11, but tracking the likes of Michael Thomas, Ginn and Smith with Brees throwing it around the yard figures to be a much more difficult task on turf than Allen Robinson, Taylor Gabriel and Anthony Miller on grass with Mitch Trubisky in the pocket last week. Brady's 2018 season doesn't look much different than most of his others this decade, but his finish - or the degree to which the running game took precedence - makes him little more than a contrarian play this week. Making matters worse is a Chargers' defense that hasn't allowed a quarterback to throw for 300 yards or more than two touchdowns since Week 3.

Of the remaining four quarterbacks, Foles is probably the best bet to creep into the top four. Saints-Eagles should not be a blowout this time around, but the combination of his quality supporting cast and likely negative game script at some point should give him the volume he needs to enjoy a solid fantasy performance. Prescott has a favorable enough matchup to beat my projection for him, but his road production this season has been uninspiring, especially when we consider half of the touchdown passes he threw outside of Dallas this year came in Week 17. Working in his favor is the fact Rams DC Wade Phillips prefers using man coverage. (Let's just say Prescott hasn't been nearly as good against zone defense this year.) Goff's low projection is a reflection of his somewhat poor second half of the season as it is a feeling Los Angeles will rely heavily on Todd Gurley and limit how often the Cowboys have a chance to run Elliott at a rush defense that prioritizes rushing the quarterback over stopping the run.
Running Backs
Player
DK $
DK
Fuzzy
Ru Yds
Ru TD
Re Yds
Re TD
Rec
Ezekiel Elliott
8,200
30.0
27.0
115
1
45
0
5
Alvin Kamara
7,300
29.0
29.0
65
1
55
1
5
Todd Gurley
8,000
29.0
29.0
80
2
40
0
5
Marlon Mack
5,800
17.5
17.5
85
1
10
0
2
Darren Sproles
4,400
17.0
17.0
15
0
45
1
5
Damien Williams
5,100
14.5
14.5
55
0
40
0
5
James White
4,900
14.0
14.0
25
0
55
0
6
Nyheim Hines
3,300
12.0
12.0
5
0
55
0
6
Mark Ingram
5,200
12.0
12.0
40
1
10
0
1
Melvin Gordon
6,200
10.5
10.5
60
0
15
0
3
Rex Burkhead
3,600
9.0
9.0
35
0
25
0
3
Austin Ekeler
4,500
8.5
8.5
20
0
25
0
4
Wendell Smallwood
3,900
8.0
8.0
25
0
25
0
3
Sony Michel
4,700
6.5
6.5
65
0
0
0
0
C.J. Anderson
4,800
3.0
3.0
15
0
5
0
1
Spencer Ware
4,500
2.5
2.5
10
0
5
0
1
Darrel Williams
3,700
2.0
2.0
20
0
0
0
0
Josh Adams
3,200
2.0
2.0
20
0
0
0
0
Jordan Wilkins
3,100
1.5
1.5
15
0
0
0
0
Rod Smith
3,500
0.5
0.5
5
0
0
0
0
Justin Jackson
3,800
0.5
0.5
5
0
0
0
0

Last week, Elliott was the only no-brainer option at running back. This week, owners should feel pretty good about three backs (the top three above) and reasonably good about four (Mack plus the first three). Amazingly, Elliott's production in the running game did not change all that much following the acquisition of Amari Cooper, but his usage as a receiver out of the backfield was significantly higher. The Rams surrendered an average of 132 total yards and one touchdown to the running back position during the regular season, including three 100-yard rushing games after Week 9. While there are some ceiling/floor concerns with Gurley this week due to his extended absence/the health of his knee, none should exist with Elliott. Kamara didn't exactly excite the masses with his production from Weeks 11-14, but his upside in HC Sean Payton's offense is probably higher than any other back's on a weekly basis. He wasn't heavily used in the Saints' rout of Philadelphia in Week 11, but it's hard to believe he won't be unleashed beginning this week after almost two months of seeing part-time usage (especially compared to his workload in September). Gurley averaged 130 total yards and 1.5 touchdowns in 14 outings this season, and that includes three games (Chiefs, Bears, Eagles) toward the end in which he wasn't fully healthy. Signs appear to point to a return from his three-week absence this week, and it only makes sense he will see a heavy workload in part to keep Dallas from doing what it wants to do (run Elliott all day).

Mack belongs in the next tier because he doesn't possess the same capacity for production in the passing game as the first three players. However, the Colts are featuring him for the most part on early downs and have been able to gouge some good run defenses of late. The only concern with him this week (besides injury, of course) is whether or not Indianapolis' zone defense can have success against an offense that really hasn't been stopped at any point this season, thereby allowing Mack & Co. to stick with the ground attack. If the Colts can keep this game within one score, Mack has 150-yard, two-score upside. Damien Williams and James White are also quite capable of thriving in DFS this week. Both players could (and probably should) finish with at least five catches and have the capacity for many more should their teams fall behind. Kansas City has yet to give Williams more than 13 carries, so it's tough to get overly excited about him when his rushing workload is capped and his touchdown rate since the release of Kareem Hunt (one per every 11.2 touches) is unsustainable. The looming return of Spencer Ware also threatens his upside. As for White, his days as a consistent fantasy RB1 always figured to be short-lived, especially once Rex Burkhead returned from injury. For White to be good in fantasy, he usually needs his opponent to be good at stopping the run, a very good individual matchup (such as a run-down linebacker) and/or negative game script. The Chargers aren't a force against the run and showed last week they are willing to play safeties at linebackers if necessary. Los Angeles could force the Patriots into negative game script, however, so he's a worthwhile gamble in DFS.

Gordon is overpriced on DraftKings at $6,200 this week. Not only has he been held in check since returning from his Week 12 knee injury, but the Patriots have allowed only six rushing touchdowns to running backs all season long - two of which came against Derrick Henry (Week 10) and two of which came versus Brandon Bolden (Week 14). It's hard imagining him beating my projection by much this week unless he sees much more usage in the passing game than he has recently. Michel is probably the one back on the list I have the best chance of being wrong about. The Chargers have been decent against the run but far from great. The problem with the rookie is he is not involved in the passing game (no catches in the last four games) and has visited the end zone only once in the last five contests (and only twice since Week 6). In the off-chance it is reported that Gurley will be limited this weekend, then Anderson obviously becomes a solid option. That seems unlikely, however.
Wide Receivers
Player
DK $
DK
Fuzzy
Ru Yds
Ru TD
Re Yds
Re TD
Rec
T.Y. Hilton
6,700
25.5
22.5
105
1
6
Michael Thomas
7,900
23.0
23.0
90
1
8
Brandin Cooks
5,600
21.0
16.0
15
0
85
1
5
Cordarrelle Patterson
3,500
17.0
17.0
70
1
4
Tyreek Hill
7,400
15.0
15.0
20
0
80
0
5
Julian Edelman
6,300
15.0
15.0
10
0
70
0
7
Tavon Austin
3,000
14.5
14.5
15
0
50
1
2
Robert Woods
5,900
14.0
14.0
10
0
70
0
6
Amari Cooper
6,500
14.0
14.0
80
0
6
Mike Williams
4,700
13.5
13.5
45
1
3
Chris Hogan
3,900
13.5
13.5
45
1
3
Nelson Agholor
4,300
13.0
13.0
40
1
3
Alshon Jeffery
5,800
11.5
11.5
65
0
5
Chris Conley
3,900
10.5
10.5
25
1
2
Keenan Allen
6,400
10.5
10.5
55
0
5
Golden Tate
4,600
10.5
10.5
55
0
5
Dontrelle Inman
4,800
10.0
10.0
50
0
5
Sammy Watkins
4,500
8.5
8.5
45
0
4
Tre'Quan Smith
4,200
8.5
8.5
55
0
3
Ted Ginn Jr.
4,400
7.5
7.5
55
0
2
Travis Benjamin
3,400
6.5
6.5
45
0
2
Keith Kirkwood
3,300
6.0
6.0
30
0
3
Josh Reynolds
4,500
6.0
6.0
30
0
3
Michael Gallup
4,000
6.0
6.0
30
0
3
Chester Rogers
3,700
4.0
4.0
20
0
2
Zach Pascal
3,000
4.0
4.0
20
0
2
Cole Beasley
3,700
4.0
4.0
20
0
2
Phillip Dorsett
3,800
4.0
4.0
20
0
2
Tyrell Williams
3,900
2.5
2.5
15
0
1
Jordan Matthews
3,000
2.5
2.5
15
0
1
Demarcus Robinson
4,100
2.0
2.0
10
0
1
Kelvin Benjamin
3,600
2.0
2.0
10
0
1
Ryan Grant
3,100
2.0
2.0
10
0
1

From a pure projection standpoint, I don't like having Hilton at No. 1, mostly because he isn't healthy. From a matchup point of view, I'm more than OK with it. The Chiefs play a ton of man coverage and Hilton can outrun most defenders. The likely shootout nature of their showdown with Kansas City also increases the likelihood he'll score for the first time since Week 11. Thomas is unquestionably the go-to guy in the Saints' passing game, and HC Sean Payton surely will take notice that Allen Robinson - a player of similar size and talent as Thomas - just torched Philadelphia last week. The Eagles' remade secondary has played better than they could have hoped for given how many injuries they have suffered, but asking 5-9 CBs Avonte Maddox and Cre'Von LeBlanc (slot) to go toe-to-toe with Thomas on roughly 70 percent of the snaps is a tall order. Rasul Douglas has the size (6-2), but he's been the one corner most offenses target the most. Dallas just got done getting beat several times by Tyler Lockett, and its plus-sized corners figure to have a harder time with a speedy route-runner like Cooks than Woods.

In case you hadn't noticed, games don't always go like player rankings say they should. In no way am I recommending Patterson as a DFS staple. However, the Chargers' secondary is good enough to slow Edelman and lock up Hogan, so a wild-card like Patterson could easily pay off. Zone versus man coverage doesn't mean a great deal to Hill, who has obviously emerged as a fine route-runner in addition to possessing world-class speed. I'll probably play him ahead of Hilton in my most important leagues, but I also think Indianapolis will make him its top defensive priority. It is rare for Edelman to see fewer than 10 targets or catch fewer than seven passes, so that usually needs to be the baseline for projecting him. While he can probably beat just about any corner in the slot, Desmond King may be the stiffest challenge he'll face this season. Despite his recent production, Edelman does not see heavy usage in the red zone, so it's better not to expect him to score a touchdown in King's coverage.

Woods, Cooper and Mike Williams all possess a huge ceiling and could easily crack the top five fantasy performers at receiver this week. In Woods' case, I believe Cooks' style makes him a better bet against a big Dallas secondary. Cooper should see a ton of Aqib Talib across from him, plus he hasn't been exempt from the Cowboys' aforementioned passing game struggles on the road. As for Williams, the Chargers have a good enough defense to play conservatively if they want, and it's not as if New England is all that vulnerable in the secondary. Moreover, Allen is the first option and Hunter Henry's expected return throws one more name into the hat that Philip Rivers must choose from when he drops back.

My favorite DFS lower-cost options at receiver might be Ginn and Tate. Very few people are going to be in on Ginn since he only played one game (Week 16) after returning from a long layoff due to a knee injury. His speed on the Superdome track is always intriguing, and he should be theoretically playing the role of Smith this week. (For those that may not remember, Smith erupted for 10-157-1 against Philly in Week 11.) Tate is interesting because the Eagles actively got him involved last week. He also possesses the best WR-CB matchup (P.J. Williams) in the Saints-Eagles game this weekend.
Tight Ends
Player
DK $
DK
Fuzzy
Re Yds
Re TD
Rec
Travis Kelce
7,000
28.0
28.0
90
2
7
Eric Ebron
5,500
25.5
25.5
75
2
6
Antonio Gates
3,200
12.5
12.5
35
1
3
Zach Ertz
5,700
12.5
12.5
65
0
6
Rob Gronkowski
4,600
6.5
6.5
35
0
3
Dallas Goedert
2,800
6.5
6.5
35
0
3
Blake Jarwin
3,400
6.0
6.0
30
0
3
Hunter Henry
2,800
4.0
4.0
20
0
2
Ben Watson
2,900
4.0
4.0
20
0
2
Demetrius Harris
2,600
3.5
3.5
15
0
2
Gerald Everett
2,700
3.5
3.5
15
0
2
Tyler Higbee
2,600
2.0
2.0
10
0
1
Josh Hill
2,500
2.0
2.0
10
0
1
Virgil Green
2,500
1.5
1.5
5
0
1

It would not surprise me if the two highest-scoring pass-catchers this weekend were tight ends. Cover 2 defenses - what the Colts play - are most susceptible along the sidelines behind the cornerback and in front of the safety and against tight ends capable of stretching the seam. Kelce stretches the seam about as well as any tight end in the league and figures to be the best matchup in the red zone this weekend as well. If the Chiefs find themselves in negative game script, he could be the favored target in that situation as well. Kansas City trailed only Houston in terms of allowing the most PPR fantasy points to tight ends. Most of those struggles are the result of S Eric Berry missing the majority of the season, although some blame can also be directed at how often the Chiefs allow opponents to throw underneath late because they are holding a two-score lead. Even a limited Berry this weekend would make me lower my projection of Ebron a bit. Right now, Berry's status appears to be in question. If Berry is limited in any way, it will certainly be worth paying up for Kelce.

About the only other option I'd be willing to consider is Ertz. His hurdles are not insurmountable but substantial: 1) Nick Foles doesn't rely on him the same way Carson Wentz does and 2) it took a strong finish from opponents to bump New Orleans from the stingiest defense versus tight ends to the fifth-toughest. Ertz's worst game of the season came versus the Saints, and that was when Wentz was still playing. It's just as likely "his" targets go to someone like Nelson Agholor or Tate.

Key for kickers and defense/special teams units:
XP - Extra point
FG - Field goal
PA - Points allowed
TD - Defensive/return touchdowns
TO - Total turnovers
Bonus - Points allowed bonus



Defense / Special Teams
Team
DK $
DK
Fuzzy
PA
Sacks
TD
TO
Bonus
Saints
3,300
10.0
10.0
20
3
0
3
1
Chargers
2,400
7.0
7.0
20
2
0
2
1
Rams
3,000
6.0
6.0
23
4
0
1
0
Patriots
2,600
5.0
5.0
23
1
0
2
0
Cowboys
2,200
4.0
4.0
30
3
0
1
-1
Chiefs
2,500
3.0
3.0
31
2
0
1
-1
Eagles
2,000
1.0
1.0
34
2
0
0
-1
Colts
2,100
0.0
0.0
34
1
0
0
-1

The Eagles' magical journeys with Foles as their quarterback in the postseason figure to come to an end sooner than later. He was incredible in the final two games of last season (Vikings and Patriots), but HC Doug Pederson and the defense deserve just as much credit (if not more) for his playoff success. Great quarterbacks do not throw interceptions nearly every game, yet that is pretty much what he has done in his starts since Week 16 of 2017. And contrary to the narrative pushed out by the media, Foles was not particularly good last week either. I think when Foles' run comes to an end, it will come in spectacularly horrific fashion. I have some faith in the Chargers getting some sacks on Brady but betting against the Patriots - and specifically playing a fantasy defense against their offense - is not a risk worth taking. With the caliber of offenses taking the field - and the number of them playing at home - I'd take my chances with New Orleans.


---
Doug Orth has written for FF Today since 2006 and been featured in USA Today's Fantasy Football Preview magazine since 2010. He hosted USA Today's hour-long, pre-kickoff fantasy football internet chat every Sunday in 2012-13 and appears as a guest analyst on a number of national sports radio shows, including Sirius XM's "Fantasy Drive". Doug is also a member of the Fantasy Sports Writers Association.