As I enter my 10th year of writing this postseason column, I hope I have helped some of you along the way supplement your regular-season fantasy prize winnings.

The layout of this column will remain unchanged from last season. While I will continue to play the NFL.com Playoff Challenge and in Fuzzy's Fantasy Football's postseason money leagues, I recognize there are plenty of other formats out there. The first part of this week's column will be devoted to those owners who participate in the Playoff Challenge or any other format in which it is best or required to keep the players you draft for the duration of the postseason. The second half of the column is for owners who play in leagues in which you reset your lineup each week, such as a pick-your-studs league like Fuzzy's or a salary cap setup like DFS. Regardless of which format(s) you choose to play in, my goal over the next four articles will be to help each of you through your decision-making process as you attempt to boost your bottom line.

NFL.com Playoff Challenge/Multi-Week Leagues

For a complete rundown of how players will score fantasy points for your team, click on the "Rules & Prizing" link on the NFL.com entry page. Some of the content immediately below is included on the "How to Play" page, although the information I provide below should be more than enough to follow along easily.

NFL.com Playoff Challenge scoring system



The requirements: one QB, two RBs, two WRs, one TE, one K and one D/ST. You will earn fantasy points based on their on-field performance during their game, and if your player's team wins, you will have the option to carry that player over to the next round, where he will earn a bonus point modifier to his score (which will be referred to as 2x, 3x and 4x from here on out).
For example, if you pick Andrew Luck in the Wild Card round and the Colts win, you can carry him over to the Divisional Round, and earn two times (2x) the points he earns in his divisional round game. If Indianapolis wins again, you can carry Luck into the Conference Championship round for 3x the points and, if the Colts make the Super Bowl, you can earn 4x the points. In addition, a user can select a player/defense in the Wild Card round even if their team has a bye into the Divisional Round. In this case, the user would not earn any points for the Wild Card round, but be eligible to earn 2x points in the Divisional round, since the player was on the team's roster for two weekly scoring periods. Further bonus point modifiers would also apply as long as that player's team continues to advance in the NFL Playoffs.
Before we get into the picks, let's briefly review the rules and how we may use them to our advantage: 1) passing TDs are worth four points, so passing yards are valued more highly here than in the Fuzzy's leagues I'll discuss later but the same as DraftKings; 2) all field goals under 50 yards are worth three points, which means we are more concerned about volume of field goals than distance – unless we can find a kicker who regularly converts from 50-plus (DraftKings does not use kickers); 3) this is a non-PPR format, which obviously favors the big-play threats (both Fuzzy's and DraftKings are PPR); and 4) team wins are worth five points, so picking a "winning" defense is worth almost a touchdown prior to factoring in the modifiers.
Let's get the No. 1 rule of this game out of the way right now: if you have a good feeling about which two teams will meet in the Super Bowl, build your lineup exclusively with players from those two teams. Most previous playoff challenge champions' lineups are made up entirely of 4x Super Bowl participants. (In other words, it is important to project the Super Bowl entrants first and figure out what players from those teams to use second.) The multipliers are everything in this contest, so playing the week-to-week matchups are nearly meaningless. Think about it this way: if I told you that your regular-season fantasy team's scoring would double in Week 2, triple in Week 3 and quadruple in Week 4 if you simply left it the same, would it affect your draft strategy? Of course it would. The big week your team might post in the first week of this challenge - in the somewhat unlikely event you played the matchups perfectly - is going to seem rather insignificant in early February when every passing touchdown is worth 16 points, every other TD is worth 24 and the top teams in this competition are scoring 200-300 (or perhaps more) points per week.
As noted earlier, the main challenges are (in order): 1) correctly predicting the two conference winners and 2) forecasting the best fantasy players in that hypothetical Super Bowl matchup. This will be the only Playoff Challenge write-up I do this postseason, as I have reached the conclusion that any alterations I make to my lineup in the third and fourth weeks would be in response to a wrong pick on my part, and my analysis of a 1x or 2x player isn't going to matter very much. Much like in daily fantasy, the chalk plays probably aren't going to win. (Of the hundreds of thousands of entries NFL.com receives, how many do you think are going to line up their fantasy squads exclusively with Patrick Mahomes or Drew Brees just because they are the "best" fantasy quarterbacks?) In other words, be bold whenever possible! It's a free contest after all, so crashing and burning - even if it is in front of an audience like what I'm doing - isn't such a bad thing when you consider the reward is much greater than the risk involved.
Below you will find the 12 playoff teams ranked in order of the (percentage) odds I believe they have of making the Super Bowl. I'll spend a bit of time after that attempting to nail the bracket before talking a little DFS.
1. New Orleans (40%)
2. LA Rams (30%)
3. Kansas City (25%)
4. New England (20%)
5. LA Chargers (20%)
6. Baltimore (20%)
7. Houston (10%)
8. Indianapolis (10%)
9. Chicago (10%)
10. Philadelphia (10%)
11. Dallas (5%)
12. Seattle (5%)
With that out of the way, let's next focus on my week-to-week playoff projections and then the players I feel are realistic alternatives for this four-week sprint to the finish:
AFC - Wildcard: Colts over Texans, Ravens over Chargers
NFC - Wildcard: Seahawks over Cowboys, Bears over Eagles
AFC - Divisional: Chiefs over Colts, Ravens over Patriots
NFC - Divisional: Saints over Seahawks, Rams over Bears
AFC - Conference Championship: Chiefs over Ravens
NFC - Conference Championship: Saints over Rams
Super Bowl: Chiefs vs. Saints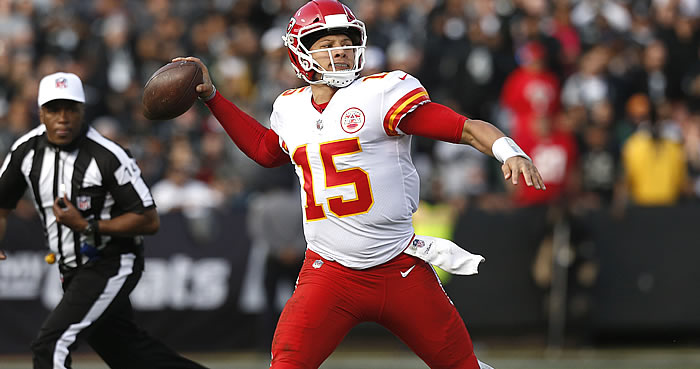 The rankings below are for those readers in similar leagues that require you to draft players this week and keep them for the duration of the postseason. The number inside the parentheses refers to how many games I expect that player/unit to play.

Quarterbacks

Tier 1
1. Patrick Mahomes (3)
2. Drew Brees (3)

Tier 2
3. Andrew Luck (2)
4. Lamar Jackson (3)
5. Russell Wilson (2)
6. Jared Goff (2)
7. Deshaun Watson (1)
8. Tom Brady (1)

Tier 3
9. Mitchell Trubisky (2)
10. Philip Rivers (1)
11. Dak Prescott (1)
12. Nick Foles (1)

As one would suspect with a quarterback who is guaranteed to play at home for as long as his team stays alive and just finished a regular season in which he passed for over 5,000 yards AND 50 touchdowns, Mahomes is a no-brainer pick. Similarly, Brees will play in a dome throughout the remainder of the playoffs as long as his team keeps winning. The soon-to-be 40-year-old has long been a dominant fantasy option at home and his 2018 splits back that up (76.3 percent completion rate, 21:1 TD-to-INT ratio, 133.3 QB rating). His dome splits are obviously not much different (74.9, 26:3, 123.3). As the leader of one of the most balanced offenses and teams in the league, Brees is arguably a safer bet than Mahomes since the latter is a playoff neophyte whose team cannot afford for him to feel the pressure of the moment.

Luck is easily good enough to be included in the first group, but concerns about T.Y. Hilton's ability to play anything close to a full game is going to catch up to the Colts at some point, perhaps as soon as this weekend. Jackson comes with obvious upside, but Baltimore's insistence on running the ball and milking the clock limits that upside in the passing game. The Ravens also don't pass the eye test in my opinion, which makes me wonder if an opponent that gets a second look at them within a short amount of time (like the Chargers) isn't going to be able to beat them at their game. Wilson safely established himself as a QB1 a long time ago, but this edition of the Seahawks is a flawed team unlikely to beat a team like the Saints or Rams on the road. I'm willing to trust Goff at home, but I don't think the Rams - or probably any team, for that matter - will beat New Orleans in the Superdome. Watson would be ranked third on this list if I thought Houston was going to win this weekend. I find myself going back and forth on which team I will advance, and I think Hilton's ability to draw attention will be a key factor in determining the winner. It's gotten easier to bet against Brady this postseason given how he played - or how New England backed away from him as the focal point of the offense - for most of the second half of the season. Obviously, this ranking will backfire if the Patriots play the Texans (and not the Ravens) in the Divisional Round because Brady would likely face two of the more forgiving secondaries in the AFC (Texans and Chiefs).

The Bears and Chargers did not get a favorable draw to say the least. While Trubisky wasn't likely to be a sought-after quarterback in playoff leagues to begin with, Rivers had a chance. The Chargers may very well be the most complete team in the AFC, but they have been susceptible to teams who can pound the rock all season long (Rams, Titans, Seahawks and Ravens in Week 16). Baltimore limits possessions and defends about as well as any team in the playoff field, so owners gambling on Rivers must hope he can not only overcome the matchup but hope the defense plays at a level against the run we haven't seen yet this season. I'm not going to pretend as if I have a good feel on Seahawks-Cowboys or Bears-Eagles. I will say it's hard to see either game being fantasy-friendly for the quarterbacks. Foles is sure to be a popular pick for those owners who believe the Eagles are destined for great things again, but road games against the Bears and Saints are unlikely to lead to high-scoring efforts.

Running Backs

Tier 1
1. Alvin Kamara (3)
2. Todd Gurley (2)
3. Damien Williams (3)

Tier 2
4. Mark Ingram (3)
5. Ezekiel Elliott (1)
6. Chris Carson (2)
7. Marlon Mack (2)
8. James White (1)
9. Gus Edwards (3)
10. Melvin Gordon (1)
11. Tarik Cohen (2)
12. Sony Michel (1)

Tier 3
13. Kenneth Dixon (3)
14. Darrel Williams (3)
15. Jordan Howard (2)
16. Lamar Miller (1)
17. Nyheim Hines (2)
18. Rex Burkhead (1)
19. Mike Davis (2)
20. Darren Sproles (1)
21. Austin Ekeler (1)
22. Chris Ivory (2)
23. Josh Adams (1)
24. Wendell Smallwood (1)

Tier 4
25. Spencer Ware (3)
26. Rashaad Penny (2)
27. C.J. Anderson (2)

Kamara may have to share more of his touches than Gurley does, but it's hard to argue the former isn't the most appealing fantasy option in playoff leagues this year. The Saints are arguably the best team in the league and will play every game at home or in a dome so long as they keep winning. It also wouldn't be terribly surprising if Kamara isn't used in more of a workhorse role, similar to the increase in work he received in the playoffs last season (when compared to his regular season). Gurley's ranking obviously assumes he is good to go 1 1/2 weeks from now. Even only two games from Gurley trumps what owners often get in three games from other backs. With that said, there's only one other back I think warrants consideration for the No. 2 spot other than him. Damien Williams is a risky pick only because nothing is guaranteed when it comes to his lead-dog status over Spencer Ware. I think owners can feel good about building a multi-week fantasy playoff team around him, but doing so takes a leap of faith.

We already begin to see some falloff in Tier 2. Ingram may be limited to 10 touches per game unless the Saints are able to blow out an opponent along the way. Elliott rivals Gurley when it comes to talent and potential workload, but Dallas could easily be one-and-done. Carson should be a good bet for at least one heavy workload, but he's less involved in his offense than Elliott and is also a one-and-done candidate. Mack faces a brutal matchup in the Texans right out of the gate, isn't heavily involved in the passing game and could be done this weekend. White figures to be heavily involved in at least one game if I'm right about the Patriots falling short of the Super Bowl, but owners are betting on a touchdown every time he takes the field now since Rex Burkhead has absorbed some of the touches that made him an RB1 earlier this season. I'm not a big fan of Edwards and don't think Gordon is going to be anywhere close to 100 percent this weekend. Cohen is similar to White in that he should have at least one huge game if the Bears are in negative game script, but the fear here is that owners are only going to get one game from him in a lesser offense. Michel's first game could easily come against the Ravens or the Texans - both of whom are pretty stout against running backs, especially those who don't see a lot of usage in the passing game.

It wouldn't surprise me in the least if Dixon becomes a postseason star, but Baltimore needs to cooperate. Although I think there's no question he's the most talented back on his team, the Ravens seem committed to starting Edwards and letting Dixon share the load. Considering he probably falls third in line behind Lamar Jackson and Edwards at the goal line, Dixon will need to either break a big play or rush for 100 yards every game in order to perform like a Tier 2 back.

Wide Receivers

Tier 1
1. Tyreek Hill (3)
2. Michael Thomas (3)

Tier 2
3. Robert Woods (2)
4. Brandin Cooks (2)
5. DeAndre Hopkins (1)
6. Julian Edelman (1)
7. Tyler Lockett (2)
8. Keenan Allen (1)
9. Josh Reynolds (2)

Tier 3
10. Doug Baldwin (2)
11. Alshon Jeffery (1)
12. Nelson Agholor (1)
13. T.Y. Hilton (2)
14. Amari Cooper (1)
15. Mike Williams (1)
16. Ted Ginn Jr. (3)
17. Taylor Gabriel (2)
18. Willie Snead (3)
19. Dontrelle Inman (2)
20. Sammy Watkins (3)
21. John Brown (3)
22. Chris Conley (3)
23. Tre'Quan Smith (3)

Tier 4
24. Allen Robinson (2)
25. Michael Crabtree (3)
26. Anthony Miller (2)
27. Cole Beasley (1)
28. Michael Gallup (1)
29. Tyrell Williams (1)
30. Chris Hogan (1)
31. Demarcus Robinson (3)

As much as I dislike going chalk with my prediction (as far as who makes the Super Bowl), Hill and Thomas might actually be Tier 1 picks even without the third game. Hill still isn't healthy, but try telling that to the defensive backs he keeps making look silly. Thomas' worst potential matchup in the Divisional Round would be the Cowboys, but there's also a solid chance he'll see the Eagles' injury-ravaged secondary two weeks from now. If things play out like most expect, Thomas will stay home to face the Rams. While he would not be expected to repeat his 12-211-1 from Week 9 versus Los Angeles, he would be a central figure in what would likely be another shootout between the two teams.

Woods and Cooks might as well be 3a and 3b. There is a good chance they see at least two games (and possibly three) in a great offense with no clear alpha dog, although Woods appears to be a slight favorite more often than not. Hopkins gets a high ranking due because he will almost certainly be highly productive against the Colts and has a realistic shot to play at least one more game after that. Edelman could easily play three games or be kept in check in a loss to the Ravens if things play out as I have predicted. Perhaps he should be higher, but I don't have a ton of faith in New England. Lockett isn't a great bet versus the Cowboys, but his touchdown upside and the possibility of two games makes him worth the risk. Allen is in a similar boat to Edelman, only with a more daunting matchup and the real possibility he is one-and-done. Reynolds is a bit too hit-or-miss to rank with his teammates, yet his two-game upside in a great offense is too much to ignore.

Of the receivers in Tier 3 and Tier 4, Baldwin and Jeffery are the most likely to outperform their ranking. Then again, it's become a pure guessing game when Seattle needs to target Baldwin 10 times and when it will be content having Russell Wilson throw it 25 or fewer times. As for Jeffrey, he's probably no worse than sixth on this list if the Eagles beat the Bears. (The same could probably be said for Cooper if the Cowboys knock off the Seahawks.) Hilton told reporters recently his ankle injury is the worst injury he's ever played through, so his ranking is more of a reflection he probably shouldn't be playing. He is a complete wild-card. Players such as Watkins and Allen Robinson are ranked much lower than other potential multi-game receivers because I have no idea whether or not they will be able to play, although it's looking good for Robinson as of press time.

Tight Ends

Tier 1
1. Travis Kelce (3)

Tier 2
2. Eric Ebron (2)
3. Zach Ertz (1)

Tier 3
4. Rob Gronkowski (1)
5. Mark Andrews (3)
6. Trey Burton (2)

Tier 4
7. Hunter Henry (1)
8. Dan Arnold (3)
9. Josh Hill (3)
10. Gerald Everett (2)
11. Blake Jarwin (1)
12. Dallas Goedert (1)
13. Tyler Higbee (2)
14. Nick Vannett (2)

In playoff league snake drafts, it could be argued Kelce could be the first player taken given his combination of potential games and the degree to which his production could dwarf the rest of the players at his position. Even if he only plays two games, I feel as if he belongs in his own tier. Ebron and Ertz could easily be switched around based on how strong your belief is the Eagles will beat the Bears. In five games with Nick Foles as the starter, Ertz has produced the following PPR fantasy totals: 9.8, 20.4, 5.2, 35.0 and 4.5. In other words, he hasn't been near the slam-dunk he was with Carson Wentz. Ebron gets the nod in these rankings because he has one guaranteed game against the leaky tight end defense of the Texans and the likelihood he assumes a fairly heavy target share if Hilton struggles to stay on the field.

It will be interesting to see if Gronkowski chooses to comment in the offseason about how injured he has been in 2018 because he has appeared to be a shell of himself in all but maybe three games. While a guarantee of three games might allow him to move into the second tier, I'm not sure his ranking would change. Andrews has consistently been the Ravens' best fantasy tight end all season long and the one pass-catcher mostly unaffected by the transition from Joe Flacco to Lamar Jackson. Chicago may have its full complement of receivers this weekend, which makes Burton a borderline start.

Of the remaining tight ends, Henry is obviously the most intriguing. He will almost certainly be limited to third downs and red zone plays if he goes this weekend and may not play more than one game. It's also within the realm of possibility that he pushes himself too hard in an effort to make up for missing the regular season and suffers a soft-tissue injury. If the Chargers make a bit of a run and he plays within himself, however, he belongs in Tier 3.

Kickers

1. Wil Lutz (3)
2. Harrison Butker (3)
3. Justin Tucker (3)
4. Greg Zuerlein (2)
5. Stephen Gostkowski (1)
6. Adam Vinatieri (2)
7. Sebastian Janikowski (2)
8. Ka'imi Fairbairn (1)
9. Jake Elliott (1)
10. Mike Badgley (1)
11. Brett Maher (1)
12. Cody Parkey (2)

Defense/Special Teams

1. Saints (3)
2. Chiefs (3)
3. Ravens (3)
4. Bears (2)
5. Rams (2)
6. Colts (2)
7. Patriots (1)
8. Eagles (1)
9. Cowboys (1)
10. Seahawks (2)
11. Chargers (1)
12. Texans (1)

NFL.com Playoff Challenge Roster
QB: Patrick Mahomes
RB: Alvin Kamara
RB: Todd Gurley
WR: Tyreek Hill
WR: Michael Thomas
TE: Travis Kelce
K: Wil Lutz
D/ST: Saints

DraftKings/Fuzzy's

Since the pick-your-studs competition with Fuzzy's and the salary cap game of DraftKings essentially use the same PPR scoring (six points for passing touchdowns with Fuzzy's versus four fantasy points with DraftKings; three bonus points for 300 yards passing or 100 yards rushing/receiving versus no such bonus with Fuzzy's being the biggest differences), I'm going to essentially combine the two again this postseason.

Below you will find my position-by-position projections. Please note I have included DraftKings' dollar value for each player, followed by their projected point total in that format (DraftKings and then Fuzzy's). Because I went into some detail above, I won't spend a great deal of time explaining each projection here - only some of the more notable ones. Each position is sorted by my DraftKings' projected point total.

Key for quarterbacks, running backs, receivers and tight ends:
P Yds - Passing Yards
P TD - Passing Touchdowns
INT - Interceptions
Ru Yds - Rushing Yards
Ru TD - Rushing Touchdowns
Rec Yds - Receiving Yards
Rec TD - Receiving Touchdowns
Rec - Receptions


Owners looking for fantasy points from the quarterback position should be dialed into the first game of the playoffs (Colts-Texans). Every game after that features at least one very good defense and/or an offense built around a solid rushing attack. It's worth noting that while Watson wasn't exactly struggling prior to Week 8, he has been phenomenal since. In those nine games, he's completed 73.1 percent of his passing attempts, thrown for 16 passing touchdowns versus two interceptions (both came in the same game in Week 11) and averaged 37 yards on the ground to go along with about a rushing score every other game. (For what it's worth, Watson averaged 57.5 yards rushing and scored three times as a runner over his final two regular-season games.) This sample of two-plus months works out to about 26.3 fantasy points in leagues that a word six points for every touchdown and don't include yardage bonus like DraftKings does for a quarterback that tops 300 yards passing.

Houston's run defense figures to force Luck into another high-volume game. The Texans have good enough personnel to limit what Luck does with T.Y. Hilton hobbled, but it's been rare that Houston hasn't allowed two solid fantasy performances to a receiver group in the same week. The Texans also haven't shown the ability to defend Ebron or tight ends either, so Luck figures to be a good play regardless of how many snaps Hilton plays.
Running Backs
Player
DK $
DK Pt Total
Fuzzy Pt Total
Ru Yds
Ru TD
Re Yds
Re TD
Rec
Ezekiel Elliott
9,000
31.5
28.5
115
1
50
0
6
Chris Carson
6,800
23
20
105
1
15
0
2
Kenneth Dixon
4,000
14.5
14.5
50
1
15
0
2
Jordan Howard
4,600
14.5
14.5
65
1
10
0
1
Melvin Gordon
7,700
13
13
55
0
35
0
4
Tarik Cohen
5,400
12.5
12.5
35
0
40
0
5
Austin Ekeler
4,400
10.5
10.5
20
0
35
0
5
Mike Davis
3,700
10
10
25
0
35
0
4
Nyheim Hines
3,500
9.5
9.5
20
0
35
0
4
Darren Sproles
4,100
9
9
15
0
35
0
4
Wendell Smallwood
3,300
8.5
8.5
35
0
20
0
3
Lamar Miller
4,900
8
8
50
0
10
0
2
Gus Edwards
4,200
7
7
70
0
0
0
0
Marlon Mack
6,000
6
6
40
0
10
0
1
D'Onta Foreman
3,500
4.5
4.5
10
0
15
0
2
Josh Adams
3,600
4.5
4.5
30
0
5
0
1
Alfred Blue
3,500
3.5
3.5
20
0
5
0
1
Rashaad Penny
3,400
3.5
3.5
35
0
0
0
0
Rod Smith
3,500
2
2
5
0
5
0
1
Ty Montgomery
3,100
2
2
5
0
5
0
1
Jordan Wilkins
3,100
1.5
1.5
15
0
0
0
0

No one needs me to tell them to put Elliott into their lineup. If he isn't at least 95 percent owned on DraftKings and Fuzzy's, people are hoping he gets hurt or really trying to be contrarian. It's conceivable he scores twice as many fantasy points as any other running back going this week. Carson is a less obvious pick because the Cowboys' run defense is reasonably stout, although they have coughed up 100-yard rushing games in two of the last three weeks. Even without a touchdown, Carson can still be this week's RB2 and is a reasonably safe bet for 20 touches, which is more than just about any other player listed below him can say.

I have six other backs projected to score at least 10 fantasy points, and I think that's an optimistic number. This figures to be a low-scoring weekend of football after Colts-Texans wraps up. Were it not for Gordon getting hurt again in Week 17, I might have been kinder to him. As it is, there is a reasonably good chance his ceiling is about 15 touches against a very good defense. Of the other "double-digit" backs this weekend, the player I would feel best about counting on is Cohen. Not only was he the overall RB12 in PPR leagues this year, but I'm still not getting that vibe that Howard is hitting his pre-2018 form despite a strong finish. There is also a small chance the Eagles continue their offensive roll with Foles leading the charge, which would force the Bears to lean on Cohen in negative game script.

Of the remaining backs, Hines and Sproles probably have the best chance of exceeding their projection. The two backs play basically the same role in their respective offenses and could easily take a 20-yard swing pass into the end zone. There's been very little middle ground for Mack. It's almost as if the Colts make their decision after about 10 carries whether or not it will be his day or not. He was lucky to score a touchdown in the Week 14 meeting at Houston. The Texans have yet to allow a running back to top 82 yards rushing (Week 3) and kept every runner at or below 60 since Week 6.
Wide Receivers
Player
DK $
DK Pt Total
Fuzzy's Pt Total
Re Yds
Re TD
Rec
DeAndre Hopkins
8,700
32
29
130
1
10
Alshon Jeffery
5,900
20
20
80
1
6
Dontrelle Inman
4,300
17.5
17.5
65
1
5
Amari Cooper
7,500
16.5
16.5
55
1
5
Taylor Gabriel
4,500
12.5
12.5
35
1
3
Keenan Allen
6,900
12
12
60
0
6
T.Y. Hilton
7,800
11.5
11.5
75
0
4
Mike Williams
4,700
11
11
30
1
2
Zach Pascal
3,000
10.5
10.5
25
1
2
Doug Baldwin
6,200
10.5
10.5
55
0
5
Allen Robinson
5,600
10.5
10.5
65
0
4
Tyler Lockett
5,300
10
10
70
0
3
Nelson Agholor
3,800
10
10
50
0
5
DeAndre Carter
3,300
8
8
40
0
4
Cole Beasley
3,500
8
8
40
0
4
Jaron Brown
3,000
7.5
7.5
5
1
1
Keke Coutee
4,000
7
7
40
0
3
Michael Gallup
3,600
7
7
40
0
3
Willie Snead
3,700
6.5
6.5
35
0
3
Chester Rogers
3,300
6
6
30
0
3
Golden Tate
4,200
5.5
5.5
25
0
3
John Brown
3,700
5
5
30
0
2
Michael Crabtree
3,600
4.5
4.5
25
0
2
Ryan Grant
3,200
4
4
20
0
2
Jordan Matthews
3,000
4
4
20
0
2
Anthony Miller
3,900
4
4
20
0
2
Travis Benjamin
3,400
3.5
3.5
25
0
1
Vyncint Smith
3,200
2.5
2.5
15
0
1
Allen Hurns
3,000
2.5
2.5
15
0
1
Tyrell Williams
4,100
2.5
2.5
15
0
1
David Moore
3,500
2
2
10
0
1
Josh Bellamy
3,000
2
2
10
0
1

Hopkins is to the receiver group what Elliott is to the running backs. Yes, Carter, Vyncint Smith and Coutee have all had their moments at various points throughout the season, but Hopkins is almost a lock for 10-plus targets and does not have a daunting matchup. Even if it was, he's one of the few receivers in the league who is open even when he's not. Jeffery has scored at least 16.9 PPR fantasy points in three of Nick Foles' five starts this season. While Chicago's top perimeter cornerbacks (6-0 Prince Amukamara and 5-11 Kyle Fuller) have good size for their position, their size isn't going to pose a huge obstacle for the 6-3 Jeffery, who has performed like a high-end WR2/low-end WR1 for four straight weeks.

While Hopkins should be a start-your-studs staple because his floor and ceiling are both so high, Inman should be highly owned in DFS for the value he represents. As with any "low-cost" receiver, there is a low floor that goes along with a potentially high ceiling. With Hilton probably closer to 50 percent than 100, Indianapolis is going to need someone besides Ebron to pick up the slack. Rogers mans the slot, which is perhaps the one area the Houston pass defense is capable of defending well. Perhaps Hilton torches the Texans once again, but I don't think we can count on that happening given how much he struggled to get through last week. As readers can tell from my projections, I believe the "other" receivers will both get in on the fun. Pascal's best two games of the season came against the Texans, but Inman didn't play in either one. Perhaps the two share time Saturday, but Inman seems to have a clear handle on WR2 duties. It would not be surprising if Inman finishes second in fantasy scoring among receivers this week.

Cooper has hit a bit of a dry spell since his 10-217-3 demolition of the Eagles back in Week 14. The Colts - a Cover 2 defense - may have solved the riddle on slowing down the Cowboys in Week 15 with their heavy use of zones. (There was evidence Dallas struggled with zone defense even before the matchup.) The Seahawks don't play as much Cover 3 as they did back in the Legion of Boom days, but they have the necessary size to battle Cooper to a draw should the Cowboys be unwilling to use combination routes in order to give Cooper more space with which to work. Eagles RCB Rasul Douglas has been a bit of a liability for some time and plays almost exclusively on the defensive right side. Gabriel runs more of his routes on that side of the formation than he does anywhere else, making him a sneaky DFS option.

Of the remaining receivers, Agholor may have the highest upside. As good as Jeffery has been with Foles as the quarterback, Agholor has been nearly as good. In four of Foles' five starts, the fourth-year wideout has scored at least 12.9 PPR fantasy points. In three of those four, he's topped 20. He is probably going to be owned in fewer leagues than he deserves based on his early-season production. Coutee's NFL debut was a memorable 11-catch, 109-yard performance on 15 targets versus the Colts back in Week 4. If it weren't for the fact he hasn't played since Week 12 and was a lock to play a full game this week, I might be willing to put him into some lineups.
Tight Ends
Player
DK $
DK Pt Total
Fuzzy Pt Total
Re Yds
Re TD
Rec
Eric Ebron
5,200
18
18
70
1
5
Zach Ertz
6,400
13
13
70
0
6
Ryan Griffin
2,600
10
10
50
0
5
Jordan Thomas
2,700
8
8
10
1
1
Mark Andrews
3,500
7
7
40
0
3
Blake Jarwin
3,300
6.5
6.5
35
0
3
Trey Burton
4,400
6.5
6.5
35
0
3
Antonio Gates
2,700
4.5
4.5
15
0
3
Nick Vannett
2,500
4
4
20
0
2
Hunter Henry
2,500
3.5
3.5
15
0
2
Nick Boyle
2,500
3.5
3.5
15
0
2
Mo Alie-Cox
2,500
2
2
10
0
1
Hayden Hurst
2,500
2
2
10
0
1
Dallas Goedert
2,600
2
2
10
0
1
Ed Dickson
2,500
1.5
1.5
5
0
1
Virgil Green
2,500
1.5
1.5
5
0
1
Adam Shaheen
2,500
1.5
1.5
5
0
1

There are only two real options at tight end this week. Ertz figures to be owned in more leagues than anyone else since he was the overall TE2 in PPR this season, but the Houston defense has been unable to solve the riddle of defending tight ends for most of the season. If Hilton is going to be is limited as I think he will be, Ebron could push 100 yards receiving and/or score two touchdowns. Chicago hasn't faced all that many great tight ends this season, but their performance against George Kittle (14.4 PPR fantasy points) serves as a decent barometer for what we should expect for Ertz. The Bears have the personnel to keep him under control, however, even if they haven't necessarily been tested all that much by the position. The expected return of S Eddie Jackson will help in that regard. Owners looking for a low-cost punt at tight end should probably go with Andrews. While he has a limited ceiling based on the fact he hasn't seen more than six targets all year and is sharing time in a run-heavy offense, he has been able to come reasonably close to scoring 10 PPR fantasy points on a consistent basis.



Key for kickers and defense/special teams units:




XP -

Extra point


FG -

Field goal


PA -

Points allowed


TD -

Defensive/return touchdowns


TO -

Total turnovers


Bonus -

Points allowed bonus



Defense / Special Teams
Team
DK $
DK Pt Total
Fuzzy Pt Total
PA
Sacks
TD
TO
Bonus
Bears
3,400
15
15
16
3
1
2
2
Ravens
3,000
10
10
13
4
0
2
2
Chargers
2,400
7
7
20
2
0
2
1
Eagles
2,200
7
7
17
2
0
2
1
Colts
2,300
6
6
24
4
0
1
0
Seahawks
2,600
6
6
17
3
0
1
1
Cowboys
2,800
5
5
20
4
0
0
1
Texans
2,700
4
4
27
2
0
1
0

Based on the Eagles' recent performances, it's probably foolish to suggest their offense will run into a wall in Chicago. With that said, the Bears' defense has silenced more powerful offenses than Philadelphia's in recent weeks and been particularly strong at home. The Chargers should be expected to fare better against Baltimore than they did in Week 16 if only because they played each other so recently. Nevertheless, the Ravens match up well and give their defense plenty of rest with their Lamar Jackson-led ground game. If I'm punting the position, the Eagles and Colts make sense. Chicago is unlikely to air it out and it would be far from surprising if Mitchell Trubisky imploded. Indianapolis is unlikely to keep Houston under 20 points, but the Texans allowed seven sacks to the Colts in the first meeting and five in the second. If they can hit either mark a third time AND force a turnover, they will have more than exceeded expectations most owners have for a defense priced at $2,300.


---
Doug Orth has written for FF Today since 2006 and been featured in USA Today's Fantasy Football Preview magazine since 2010. He hosted USA Today's hour-long, pre-kickoff fantasy football internet chat every Sunday in 2012-13 and appears as a guest analyst on a number of national sports radio shows, including Sirius XM's "Fantasy Drive". Doug is also a member of the Fantasy Sports Writers Association.