Over the long history of fantasy football, the phrase "opportunity is king" has been uttered a time or two. It stands to reason. Generally speaking, whenever a person gets more chances to accomplish a goal - whether it be on the football field, completing a task at work or winning the lottery - the odds of a positive outcome generally increase.

With this in mind, I wanted to devote this week to the one position fantasy owners want to stockpile as many assets as they can as often as possible - running back. When owners have three starting-caliber backs, they want four. When they have four, they are typically on the lookout for No.5.

Snap shares tell us how often a back is in the game, but how is that much different than the amount of court/ice time a basketball/hockey player gets? Taking a look at the number of touches a back gets helps to identify trends, but its scope is also limited in that game script (positive or negative) can have a dramatic effect on the final number. There's a better way to identify trends while also getting some idea on how important an offensive coordinator believes his back is to the offense.

While I will admit the chart below won't exactly qualify as advanced analytics, it provides perspective on how vital each running back is to his offense. The percentages you'll see reflect the number of touches each player saw on a weekly basis divided by the number of snaps the team ran that week. The resulting "Act %" tells us the player's usage rate. In other words, how often is a running back touching the ball in relation to how often an offensive play is being run?


RB Usage Rates, Weeks 1- 6
Player
1
2
3
4
5
6
Act %
FPts
FPts/Touch
Christian McCaffrey
43.9%
24.0%
45.0%
55.2%
39.7%
39.4%
40.8%
181.3
1.12
Le'Veon Bell
32.4%
48.4%
44.0%
b
37.9%
25.0%
37.3%
80.5
0.71
Leonard Fournette
29.3%
29.7%
38.9%
37.8%
32.5%
44.8%
35.3%
107.3
0.76
Nick Chubb
28.2%
34.4%
39.7%
34.3%
37.0%
36.8%
34.9%
127.5
0.95
Dalvin Cook
43.4%
35.4%
32.3%
33.3%
40.3%
25.7%
34.7%
136.6
1.04
Chris Carson
41.2%
23.1%
19.3%
41.9%
38.4%
34.6%
32.0%
101.5
0.74
Ezekiel Elliott
20.6%
36.2%
29.2%
41.4%
19.7%
40.2%
31.2%
109.0
0.83
Derrick Henry
33.9%
28.8%
22.8%
45.2%
35.1%
24.2%
31.2%
87.8
0.74
Alvin Kamara
30.3%
22.2%
44.6%
28.6%
31.9%
27.3%
30.5%
109.9
0.92
Marlon Mack
39.7%
31.4%
26.9%
14.3%
39.5%
b
30.2%
70.2
0.65
Josh Jacobs
43.6%
19.4%
16.9%
29.7%
40.3%
b
30.1%
80.7
0.86
Kerryon Johnson
21.4%
23.3%
34.4%
36.8%
b
27.3%
28.6%
66.1
0.69
James Conner
20.9%
25.0%
32.1%
31.0%
24.1%
39.0%
28.5%
100.6
1.01
Aaron Jones
23.0%
38.0%
20.4%
24.1%
36.1%
20.3%
27.3%
120.2
1.07
Austin Ekeler
28.6%
35.4%
21.6%
34.3%
25.7%
12.9%
26.4%
135.1
1.27
Phillip Lindsay
24.2%
21.0%
34.2%
18.2%
31.7%
28.3%
26.3%
97.4
0.95
Carlos Hyde
17.2%
31.3%
16.9%
23.9%
30.0%
30.3%
25.4%
66.8
0.64
David Johnson
27.3%
14.0%
22.7%
30.2%
27.0%
26.1%
24.9%
121.3
1.14
Devonta Freeman
14.9%
22.2%
31.7%
25.3%
21.9%
32.8%
24.5%
88.8
0.87
David Montgomery
9.9%
31.7%
25.4%
34.3%
21.4%
b
24.4%
50.7
0.65
Saquon Barkley
22.1%
30.9%
19.4%
DNP
DNP
DNP
24.2%
48.1
1.00
Sony Michel
21.4%
29.6%
11.8%
27.0%
24.7%
29.6%
24.0%
61.9
0.59
Frank Gore
16.7%
30.0%
21.1%
21.5%
25.0%
b
22.8%
55.0
0.68
Adrian Peterson
DNP
20.3%
17.1%
22.4%
12.5%
42.4%
22.7%
35.8
0.53
Joe Mixon
10.7%
20.3%
28.3%
28.8%
30.3%
16.9%
22.3%
55.0
0.63
Royce Freeman
17.7%
19.8%
26.0%
18.2%
25.0%
26.7%
22.3%
63.9
0.73
Todd Gurley
19.7%
28.4%
21.9%
13.5%
25.7%
DNP
21.3%
75.8
0.97
Mark Ingram
18.4%
19.5%
24.4%
18.8%
26.6%
19.0%
21.2%
102.3
1.04
Melvin Gordon
DNP
DNP
DNP
DNP
22.9%
17.7%
20.5%
15.6
0.58
Matt Breida
22.4%
18.6%
20.3%
b
18.7%
22.1%
20.4%
66.9
0.89
Tevin Coleman
11.9%
DNP
DNP
b
21.3%
26.0%
20.1%
37.4
0.85
Kenyan Drake
12.2%
17.7%
21.4%
23.1%
b
21.3%
19.5%
46.0
0.77
Peyton Barber
14.5%
40.0%
20.0%
12.2%
15.5%
10.0%
18.0%
50.7
0.68
Damien Williams
27.9%
16.0%
DNP
DNP
19.7%
3.6%
17.4%
42.9
0.95
Jordan Howard
10.8%
11.3%
14.9%
29.0%
19.7%
20.0%
17.1%
70.4
0.98
Miles Sanders
16.2%
16.3%
20.3%
17.7%
19.7%
9.2%
16.6%
58.8
0.84
Ronald Jones
20.3%
6.7%
20.0%
27.0%
19.0%
5.0%
16.3%
54.1
0.80
LeSean McCoy
16.2%
18.7%
16.2%
19.1%
3.3%
18.2%
15.4%
64.2
1.05
Jamaal Williams
11.5%
16.9%
25.9%
1.3%
DNP
24.3%
15.3%
51.8
1.00
Chris Thompson
15.6%
11.9%
14.5%
16.3%
16.1%
8.5%
13.8%
62.5
1.25
Rex Burkhead
18.6%
9.9%
22.4%
1.6%
DNP
DNP
13.6%
42.9
1.13
Raheem Mostert
14.9%
22.9%
15.2%
b
9.3%
5.2%
13.3%
39.7
0.81
Alexander Mattison
17.0%
6.2%
19.4%
5.0%
10.4%
20.0%
13.0%
31.0
0.63
James White
12.9%
8.5%
DNP
14.3%
15.6%
13.6%
13.0%
65.6
1.40
Rashaad Penny
11.8%
14.1%
DNP
DNP
11.0%
DNP
12.4%
22.2
0.89
Duke Johnson
20.3%
9.4%
6.8%
11.9%
14.3%
7.9%
11.6%
51.4
1.07
Gus Edwards
22.4%
3.9%
11.0%
10.1%
7.6%
7.6%
10.4%
26.8
0.56
For the sake of time and space, I eliminated any running back who is not averaging at least eight touches. Running backs touching the ball on at least 30 percent of the total offensive plays should be considered true workhorses, while backs at or around 25 percent may be considered a bit more volatile unless they missed significant time during a game (Saquon Barkley and David Johnson come immediately to mind). I've also included each player's PPR fantasy points and their fantasy points per touch, which indicates how efficient they have been to this point and indirectly provides some level of insight into how likely they will remain in their current role (coaches aren't going to reduce the workload of highly efficient players, right?).

Most of us already knew Christian McCaffrey was enjoying a ridiculous start to the season, and this confirms it. One player getting the ball on over 40 percent of his team's snaps is an eye-popping number in a day and age where committee backfields are prevalent. (It bears mentioning that number was at 33.3 percent in two games with Cam Newton.) At 1.12 fantasy points/touch, it's obvious the heavy workload hasn't been an issue for him yet, although it's probably a bit ambitious to believe he'll remain on a 432-touch pace for 16 games. However, we already knew McCaffrey was good, so let's get to some less obvious backs.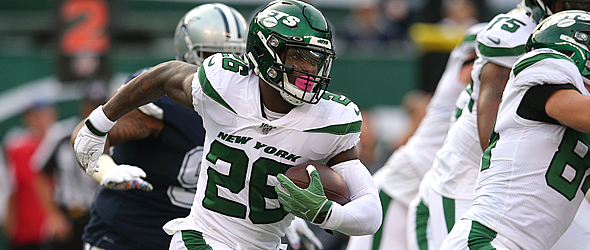 As I detailed in last week's article, Le'Veon Bell may be the best buy-low back in fantasy. Although his efficiency is among the worst of the backs on this list (35th out of 47 to be exact), that's the kind of thing that will happen when a back has faced a steady dose of solid - if not great - front sevens without the passing game giving defenses anything to worry about. Feel free to remind Bell's fantasy owner in your league he saw a season-low 15 touches last week in Sam Darnold's return to the field as proof "this just isn't going to be his year" if necessary. With a usage rate anywhere close to his current 37.3 percent, Bell will return high-end RB1 value so long as he is averaging something close to his current 22.6 touches.
Without question, Derrick Henry's dud in Week 6 (33 total yards on 16 touches) was depressing. As is the case with a self-respecting fantasy analyst, it was important to find out why. On the surface, Denver appeared to be a good matchup, but it wasn't. Leonard Fournette is the only back to really do much against the Broncos' on the ground (225 yards), and it's important to note his 81-yard run in that game probably should have been called back due to a missed holding call on Von Miller. One big change to Denver's run defense over the last two weeks has been the play of NT Mike Purcell, who seemingly beat his man cleanly every time Henry attempted to run inside. Prior to last week, Henry was one of six backs with at least 10 PPR fantasy points in each of the first five games. That's a significant stat considering how little he is used in the passing game.
Readers' eyes will probably quickly fixate on Henry's 0.74 fantasy points per touch more than his 31.2 percent usage rate, but let's put that former number into some perspective: it's higher than Bell's 0.71 despite the fact Bell has 22 more receptions (and thus, 22 more fantasy points due to PPR scoring). Fournette is only at 0.76. Take away his aforementioned 81-yard run that should have been flagged and he's staring at the same 0.71 number Henry is despite having 20 more catches. It's the same as Chris Carson's despite the fact Seattle can scare defenses in the passing game.
Making matters worse for Henry is his league-worst 0.8 yards before first contact and the fact he is facing at least eight men in the box 38.1 percent of the time (third-highest among qualified runners) - two things that often can go hand-in-hand, especially on a team with sub-par quarterback play. While all that may appear to be damning evidence to sell Henry as quickly as possible, that may not be the right thing to do. Even if Ryan Tannehill only offers league-average quarterback play moving forward - something Marcus Mariota was not giving the Titans - Tennessee will start enjoying some more consistent success in the passing game. (Imagine how many quarterbacks would love having Corey Davis, A.J. Brown and Delanie Walker to throw to. Tannehill never had that kind of talent in Miami.) None of this is to suggest Tannehill is the answer, but Mariota has been legitimately bad for long stretches of games this season.
Consider for a second Henry ranks seventh among qualified runners with 2.8 yards after contact per carry, which means he is generating roughly 76 percent of his 3.7 YPC on his own. Last year, Henry posted 3.1 YPC after contact and 1.9 before contact. Perhaps the Titans' offensive line doesnít offer the same kind of run-blocking moving forward that it did last season, although Tennessee didn't drop $11 million per season on LG Roger Saffold with the idea he was a downgrade on Quinton Spain. The team was happy to let RG Josh Kline go in free agency but hasn't received adequate play at the position in part because Kevin Pamphile has yet to play. LT Taylor Lewan hasn't graded out particularly since returning from his four-game suspension, but that figures to change soon. The same offensive line coach that oversaw last year's strong finish is back this season and the line theoretically stayed the same or improved in four of the five spots. So I ask you: what's more likely? The offensive line continues to play at an awful level and the presence of Tannehill does absolutely nothing to make defenses respect the passing game OR the offensive line AND Tannehill both play at a league-average level moving forward, thereby making like a bit easier for Henry.
Yet another problem: not nearly enough outside runs. Despite his 250-pound frame, Henry is a big-play back. Big-play backs typically need to be able to get to the outside in order to do the most damage. Not only is Henry on a toss play a scary sight for linebackers, but it also allows him to pick up steam and optimize his most obvious advantage - his size.
Fantasy owners of James Conner are likely thrilled about what he did in Week 6 against the Chargers. A season-high 23 touches. Seven catches. Two touchdowns. That's all wonderful, folks, but we're talking about a running back who hasnít topped 55 yards rushing yet and is averaging 3.2 yards per carry in a situation that isn't going to get better until Ben Roethlisberger returns next season. While there doesn't appear to be much reason for him to be fearful of Jaylen Samuels for the next few games, the fact of the matter is Samuels was stealing some touches before his knee injury. Worse yet, Conner has already suffered three different injuries through six games (knee, ankle, calf), including the calf injury that sidelined him for a big chunk of the second half in Los Angeles. This story likely has a predictable ending, especially given Conner's running style. Yes, he has an enviable second-half schedule, but he has to make it there. When we consider 56 of Conner's 100.6 PPR fantasy points so far have come via touchdowns (always highly unpredictable, especially in a bad offense) and catches, we've probably already seen the best he has to offer this year. Throw in what appears to be shaky durability, and this has the potential to go south quickly for his fantasy owners.
David Montgomery's 24.4 percent usage rate is probably about as disheartening as his 50.7 PPR fantasy points and 0.65 fantasy points per touch. Now for the good news. Since HC Matt Nagy scrapped his ridiculous Week 1 plan in which he had Mitchell Trubisky throw 45 times and Montgomery touch the ball seven times, the rookie has been asked to run or catch the ball on 28.5 percent of team's offensive plays over the last four games. And here's some perspective for those who need it on him. Below is Jordan Howard's stat line next to Montgomery's line through the first five games of their respective seasons in Nagy's offense:
2018 Howard: 78 carries for 272 yards, one touchdown, 3.5 YPC; 13 targets, 10 catches for 78 yards (49 PPR fantasy points)
2019 Montgomery: 69 carries for 225 yards, two touchdowns, 3.2 YPC; 13 targets, nine catches for 72 yards (50.7 fantasy points)
Howard finished as the RB20 last season.
Does the fact that Howard finished strong last year mean Howard will do likewise? Of course not. But what we have in Montgomery as a player who Nagy knows fits his system. Howard did not and still got fed the ball a ton down the stretch. Montgomery is a bit more of a tenuous buy-low than some considering the presence of Tarik Cohen, although it's not as if the scatback's four to five carries per game is having a significant impact on Montgomery. Only twice in five games has Cohen caught more than two passes (both losses). Since becoming Chicago's coach, Nagy has shown a tendency to try to show off his play-calling brilliance as opposed to letting his best players handle the majority of work. Perhaps a bit of self-scouting during the bye and a look back at what worked during the team's strong finish last year will lead to a heavier and more consistent workload for Montgomery - just as it did for Howard - during the second half of the season.
Not a fan of Henry? Allow me to reintroduce you to Marlon Mack - a player the Colts are using in much the same fashion. His 0.65 fantasy points per touch are the second-worst mark of any player on this list receiving a touch on at least 25 percent of the team's snaps. (The worst, unsurprisingly, is Carlos Hyde.) While it's not exactly fair to penalize a back stuck in an offense that doesn't emphasize getting him the ball in space as a receiver, the fact of the matter is he has benefited greatly from one long run against a poor run defense in the Chargers and extreme volume - albeit at less than 100 percent - versus another poor run defense in the Chiefs.
Fantasy owners hoping for a repeat of his second half from last season could be disappointed. Houston (Weeks 7 and 12) has held up well despite facing Alvin Kamara and Christian McCaffrey, Denver (Week 8) has played solid run defense in the last two weeks as mentioned earlier, Pittsburgh (Week 9) hasn't allowed more than 14 PPR fantasy points to any back, Tennessee (Week 13) has already shut Mack down, Tampa Bay (Week 14) has been among the most stingy defenses versus opposing backs despite facing McCaffrey twice and New Orleans (Week 15) has only been slightly more forgiving than Tampa Bay despite already facing Carson, Ezekiel Elliott and Fournette. That leaves Week 10 (Miami) and Week 11 (Jacksonville) as the only obvious strong plays for Mack the rest of the way.
Trouble brewing?
Besides the aforementioned efficiency, two other good metrics for fantasy owners to track is how much yardage he generates after contact and how often a back breaks a tackle on running plays. To give readers a point of reference, Austin Ekeler (3.3), Henry (3.1) and Nick Chubb (3.1) led all qualified rushers in the former last season. Henry also led the league in rushing attempts per broken tackle, averaging one every 6.3 carries - a mark that substantially better than second-place Mark Ingram's (7.7).
This season, Fournette (3.9), Ingram (3.1) and Gus Edwards (3.0) are leading the pack in yards after contact, with Carson (2.9), Dalvin Cook (2.9) and Henry (2.8) among those not too far behind. Kamara has a significant lead over his brethren in attempts per broken tackle at 4.1. Obviously, these marks will all experience some degree of volatility as the season progresses, but there are some notable names struggling in one or both areas so far in 2019. The following is a group of running backs who haven't done a particularly good job of creating yards after contact or breaking tackles on a regular basis (we'll set the bar at 70 rushing attempts to eliminate smaller sample sizes):
James Conner: 2.1 yards after contact, one broken tackle every 18.5 attempts (last season: 2.1 and 10.8)
Ezekiel Elliott: 2.1 yards after contact, one broken tackle every 56.5 attempts (2.0 and 16.0)
Joe Mixon: 1.9 yards after contact, one broken tackle every 37 attempts (2.3 and 39.5)
Devonta Freeman: 1.8 yards after contact, one broken tackle every 19.3 attempts (DNQ)
David Johnson: 1.8 yards after contact, one broken tackle every 38 attempts (1.6 and 28.7)
Sony Michel: 1.2 yards after contact, one broken tackle every 25 attempts (2.1 and 19)
Admittedly, the difference in Conner and Mixon's 2018 and 2019 numbers aren't too staggering. Both can be blamed in part to below-average - if not poor - run blocking. Michel's decline has already been well-chronicled. It seems unlikely Freeman's numbers would have been much different had he stayed healthy last season.
The two biggest shockers to me were Elliott and Johnson. Perhaps Zeke's long offseason is to blame, but owners should be at least a bit concerned he has as many broken tackles (two) as Kyler Murray, Benny Snell and Gardner Minshew. Remember that while Elliott was eased into his role as the workhorse again, Dallas faced three of the most favorable matchups it will have all season. While Elliott is theoretically matchup-proof, those fantasy owners expecting a spiked week in the near future could be disappointed. Only the Giants (Week 9) and Lions (Week 11) appear to be potential blowup spots. Otherwise, Philadelphia (Week 7), Minnesota (Week 10), New England (Week 12) and Buffalo (Week 13) all rank among the 10 stingiest defenses against running backs.
Johnson's appearance on this list is only surprising because last season's offense was so unimaginative that a bigger increase could have been expected. Fortunately, HC Kliff Kingsbury and his staff are smart enough to realize Arizona's offensive line isn't good enough to maul opponents, although that was never going to happen anyway due to the Air Raid. As a result, Arizona has intelligently utilized him as a receiver, which will remove some of the sting of difficult matchups over the next month - such as the Saints, 49ers (twice) and Bucs.

---
Doug Orth has written for FF Today since 2006 and been featured in USA Today's Fantasy Football Preview magazine since 2010. He hosted USA Today's hour-long, pre-kickoff fantasy football internet chat every Sunday in 2012-13 and appears as a guest analyst on a number of national sports radio shows, including Sirius XM's "Fantasy Drive". Doug is also a member of the Fantasy Sports Writers Association.