Two years ago at this time, I decided to devote the final Blitz of the season to help owners make critical lineup decisions for their league championship games. I think it is a great way to wrap up a season, if only because there are no more long-term roster decisions to be made or "what impact will this have on my team for the rest of the season" questions. The only thing we need to concern ourselves with is what helps us win THIS WEEK. If anyone needs another reason why this is a good idea, it's the season of giving … is it not?

I asked readers to submit questions earlier this week to help them in their "time of need" while also stretching my analytical muscles a bit. Calling upon the same inspiration as I did last year (the TV show Frasier) in "Hello Caller, I'm Listening" and again in last year's "Championship Calls," I'll carry over the same Q&A format I've used in this space in previous years. (PPR scoring will be assumed unless otherwise noted.)

Some answers will go long, others will not. Once I've talked about a player, I will not continue to break him down further, so make sure to search for his name if want to know my thoughts about him.
Joey D.: Chris Godwin replacement - Go with Christian Kirk or the next man up in Tampa Bay (Breshad Perriman)?
Take one look at the top player by week on FFToday's WR Stats page for the Cardinals and it becomes obvious after Week 6 that it's a guessing game as to which Arizona receiver will be the best fantasy play. Kirk has easily been the most consistent producer of the bunch and seen the most targets on a regular basis, but it gets a bit scary when we realize he scored all three of his touchdowns this season in one game and faces a Seattle defense this week that has allowed a total of 11 to wide receivers. Making matters worse, the Seahawks love nothing more than to pound the rock and shorten the game. On top of that, Kyler Murray hasn't attempted more than 34 passes or topped 219 yards passing in four straight weeks. Admittedly, some of that can be blamed on a difficult stretch of pass defenses (49ers, Rams, Steelers and Browns).
The biggest problem with Perriman is also the most obvious: can we trust a receiver who has given us little reason to trust him throughout his career catching passes from one of the least trustworthy quarterbacks in the league - who also has an injured thumb - just because he has "the matchup"? It's a difficult question to answer and one that depends on an owner's risk tolerance. Does Joey need a high floor or a high ceiling? Three straight weeks of WR1/2 fantasy production makes it much easier to trust Perriman, but understand this will be the first time the former first-round bust will be making the central focus of a game plan this year. That's a problem because even as Perriman was laying waste to the Lions' secondary in Week 15, he did so on only six targets - a number he's topped only once in 2019. That's a small number for a new "lead" receiver playing with a quarterback who threw 42 times. On the plus side, Houston's run defense isn't likely to give up a lot to the Bucs' rushing attack, meaning another 40-plus throws are probably in Jameis Winston's future.
Fearless Week 16 projection
Kirk - five catches for 54 yards
Perriman - five catches for 68 yards and one TD
Joey D.: Mike Gesicki or Dallas Goedert?
There's no question in my mind Gesicki has taken noticeable strides in his development this season, although one has to wonder exactly how much former HC Adam Gase was responsible for his disappointing rookie campaign. He's been a regular part of the offense over the second half of this season, drawing at least six targets in six of seven contests - which just happens to coincide with the team losing Preston Williams for the season with a torn ACL in Week 9. As great as his long-term upside is, however, Gesicki has only topped 8.1 PPR fantasy points three times this season and scored a total of two touchdowns. And for all of the Bengals' other defensive shortcomings, they have been more than respectable against tight ends.
Counting on any team's second-string tight end for fantasy purposes feels a lot like being forced to start a team's goal-line back. It defies logic a lot of the time, but there are certain cases where it can make sense. The overall TE12 over the last three weeks, the TE8 over the last five weeks and the TE12 for the season, Goedert is one of those exceptions. First of all, he was already a fairly significant part of the offense when most of the receivers were healthy. That is obviously not the case now. Goedert has enjoyed a similar target pace to Gesicki and provided his fantasy owners a floor of 7.9 points since Week 6. The Cowboys have inexplicably struggled to guard some of the more prominent tight ends that have faced this season and were tagged for almost 15 fantasy points when they last saw Goedert in Week 7. I don't think he enjoys that level of success against them this time around, but I'll almost always take the player with a better quarterback and better matchup when considering similar talents, especially at tight end and especially when his team's depth at receiver has been wiped out.
Fearless Week 16 projection
Gesicki - four catches for 41 yards
Goedert - six catches for 63 yards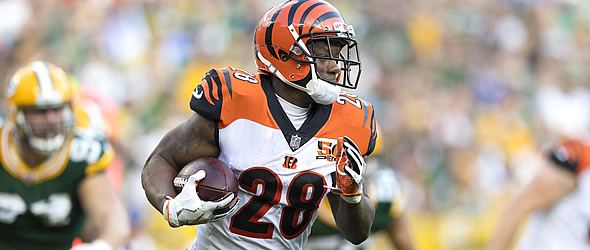 Jonathan B.: Austin Ekeler, Joe Mixon, Todd Gurley, Christian McCaffrey (Pick three)?
Oh, how the season can play tricks on us. McCaffrey should be considered a lock given the dream season he is having and how much he contributes to the Panthers as a rusher and receiver, but it would be foolish to think a rookie quarterback making his first start won't bog down the offense a little bit. Ekeler is the overall RB3 in fantasy and well on his way to becoming the 10th running back in league history (and the first one in the 21st century) to top 1,000 yards receiving. The Rams spent most of the first 10 weeks taking it easy on Gurley and most of the last four turning him loose just in time to likely miss the playoffs. By the time most people realized it wasn't a good idea to play Mixon in fantasy anymore, it became a good idea to do so.
Even with a new quarterback (Will Grier), we still have to assume McCaffrey will remain the offensive centerpiece. His fantasy upside might be capped against the Colts this week, but he needs to remain in lineups. Ekeler has seemingly transformed into a more durable version of Danny Woodhead and is 102 yards away from reaching 1,500 total yards. Matchups have not really mattered to him all season long - even after Melvin Gordon returned - so I like him to beat his Week 10 production in the Chargers' first meeting against Oakland (12.8 points). Mixon is the overall RB5 in fantasy over the last five weeks and has a beautiful matchup versus the Dolphins. It wouldn't be overly surprising if he is this week's overall RB1. With the exception of a few games in which their defense gave up some receiving production to running backs, the 49ers have been mostly exceptional against the position. Given how proficient San Francisco's offense has been lately, there may not be a lot of opportunities for Gurley to reach the kind of volume he's going to need in order to overcome this matchup.
Fearless Week 16 projection
Ekeler - eight carries for 38 yards; five catches for 57 yards; one total TD
Mixon - 22 carries for 118 yards; three catches for 32 yards; one total TD
Gurley - 13 carries for 40 yards; four catches for 25 yards
McCaffrey - 21 carries for 85 yards; six catches for 61 yards; one total TD
Robb A.: Patrick Mahomes, Carson Wentz or Ryan Tannehill?
All the injuries in Philadelphia make Wentz an easy one to eliminate. After that, it gets interesting and comes down to the matchup. For the most part, the Bears have done a very respectable job against quarterbacks. The four signal-callers to throw for two scores against them? Case Keenum, Teddy Bridgewater, Daniel Jones and David Blough. That means they've held a group of quarterbacks that includes Aaron Rodgers (twice), Kirk Cousins, Philip Rivers, Wentz, Jared Goff and Dak Prescott to one score or fewer. Are Mahomes and his supporting cast better than all of those quarterbacks and teams I just listed? I'd say yes. It doesn't mean I'm crazy about Mahomes' prospects of blowing up this week though.
Although the Saints have been a little bit more forgiving against quarterbacks, I'm one of the few that tends to believe Tannehill's recent success is at least in part due to the run threat Derrick Henry provides. If Henry is at all limited (like I believe he was last week) and/or the opposing defense can shut down the run (like the Saints have proven they can), then much of the onus will be on Tannehill making tight-window throws to A.J. Brown and, to a lesser extent, Jonnu Smith and Corey Davis. While promoting Tannehill over Marcus Mariota has proven to be a masterstroke by HC Mike Vrabel and his staff, let's not pretend the Titans have faced the greatest competition in terms of pass defense since the move (Chargers, Bucs, Panthers, Chiefs, Jaguars, Colts, Raiders and Texans). It could be argued New Orleans ranks only behind the Chargers in that group.
Robb A.: Flex - T.Y. Hilton, Breshad Perriman, Dede Westbrook or James Washington?
In a vacuum, Hilton would be an easy start. However, I think it was clear on Monday Night Football that while he may be healthy, he is not quite all the way back. Perhaps just as importantly, Jacoby Brissett hasn't been the same since his midseason knee injury. As a fantasy owner, I can overlook one injury to one part of a two-man combination and still start a player. If both sides are struggling or playing limited snaps, then it gets to be a bit more risk than I want to take on. Westbrook is also going to be hard to trust after failing to take advantage of a prime situation without DJ Chark last week. Making things even more difficult for fantasy owners is that Atlanta has regained interest in playing out the string defensively. Over the last three weeks, Michael Thomas (10.8) and D.J. Moore (12.1) are the only two receivers to score more than seven fantasy points against the Falcons. And in one of the more odd stats I will uncover this week, Atlanta has surrendered a total of seven touchdowns to receivers since the start of October - multiple-score games by Will Fuller (three), D.K. Metcalf (two) and Chris Godwin (two). Washington has been a revelation over the second half of the season, but how much of that has been a function of JuJu Smith-Schuster's absence? If JuJu can play this week, it spreads an already-thin number of targets even thinner. The matchup against the Jets is a good one, however, as they have given up two double-digit fantasy-point efforts to wide receivers each of the last three games.
Fearless Week 16 projection
Hilton - six catches for 49 yards
Perriman - five catches for 68 yards and one TD
Westbrook - five catches for 45 yards
Washington - five catches for 74 yards
Kopy: A.J. Brown, Allen Robinson or Jarvis Landry?
There are a few complicating factors that make this question more difficult than it appears on the surface. Brown - the overall WR2 over the last four weeks - will almost certainly face shadow coverage from Marshon Lattimore, who has allowed receivers to catch 55.7 percent of their targets and three touchdowns this season. Lattimore has consistently graded out well since a slow start to the season. As far as Robinson is concerned, the Chiefs feature two of the players - both perimeter corners - highlighted in The Dirty Dozen back in late November. Robinson plays roughly half of his snaps in the slot, but KC's outside corners are no joke. Landry has mostly been a model of consistency with a high floor and very good ceiling for most of the second half of the season. He toyed with Baltimore in Week 4 (8-167-0) before the Ravens became THE RAVENS. Like the aforementioned two receivers, Landry also isn't getting much of a break in terms of his matchup this week, as he is expected to see a lot of Marlon Humphrey.
With every aforementioned receiver facing a difficult primary matchup, it makes sense to assess which one is attached to the quarterback playing the best at the moment and which one has the best chance of escaping his difficult matchup. My answer to the first question would be Tannehill, giving a slight edge to Brown. The answer to my second question is Robinson because Humphrey is one of the few corners in the league trusted to follow top receivers into the slot (thereby reducing Landry's heavy slot usage).
Fearless Week 16 projection
Brown - five catches for 66 yards
Robinson - seven catches for 88 yards and one TD
Landry - five catches for 57 yards
Raiderhater: Marlon Mack, James White or Devonta Freeman?
Even taking Andrew Luck's retirement into account, it's hard to believe Mack is behind last year's pace in the passing game (26 targets, 17 catches, 103 yards in 12 games in 2018 versus 14-12-76 in 12 games in 2019) with all the injuries the Colts have experienced at wide receiver and tight end. White has essentially been the same player as he was last season but with touchdown regression working against him. Freeman has been disappointing to a large degree, although his contributions in the passing game (48-321-3) have made a solid floor play.
So what we have here is a one-trick pony with a beautiful matchup in Carolina (Mack), a mostly one-trick pony who is facing a defense that does a great job shutting down quarterbacks and receivers (White) and a back who contributes in multiple ways and has a highly favorable matchup of his own but struggled all year to find the end zone or average four yards per carry. As Raiderhater himself laid out in the FFToday forum, Carolina has been ridiculously generous against opposing running games and is the top matchup for fantasy RBs (29.6 fantasy points allowed per game). White is a solid floor option just about every week, but he needs to take a back seat to the other two options this week as a player with a low probability of finding the end zone and as part of an offense that is really struggling. (The one thing that would change my mind on him - and in a positive way for his fantasy owners - is if Julian Edelman is at all limited.) Freeman has the second-best matchup of any running back (Jacksonville allows an average of 28.6 points per game to running backs) and the highest likelihood of playing a full complement of snaps.
Fearless Week 16 projection
Mack - 18 carries for 94 yards; one catch for 10 yards; one total TD
White - five carries for 21 yards; seven catches for 60 yards
Freeman - 19 carries for 85 yards; four catches for 37 yards
Yupper: DJ Moore, DeVante Parker, Terry McLaurin, Breshad Perriman and Tyler Boyd (need two)?
**0.5 PPR 6pt bonus on TD's over 50 yards, three-point bonus over 100 yards and/or 10+ receptions
Up until last week, Moore would have been a lock to start from this group. I do not have high hopes for him with Will Grier this week, however. It took an extended stretch of struggles for Carolina to make the switch from Kyle Allen, suggesting Grier hasn't shown much in practice. With the other strong options available to Yupper, I'm not sure I can justify the risk here of hoping Moore overcomes his quarterback's inexperience.
It would appear from looking at Cincinnati's recent breakdown against receivers that the Bengals have made significant strides in defending the position. That may be true to a point, but one look at their breakdown against running backs explains why opponents have opted to go that route. Miami has proven it cannot run the ball on just about any opponent though, so this appears to be another game in which Ryan Fitzpatrick will attempt about 40 throws with about 20 percent of them going in Parker's direction. Fitzpatrick has no issue with trusting Parker in contested-ball situations and appears to be locking onto him in the red zone lately, making it all the more likely he's in line for another solid performance.

McLaurin is back, baby! Is it that simple? The apparent disconnect between him and former Ohio State teammate Dwayne Haskins appears to be a thing of the past. However, I'm not ready to trust any part of the Washington offense outside of Adrian Peterson's chances of getting 15-plus carries. With all five receivers above having strong matchups, I'd hate myself if I lost my Week 16 fantasy matchup because I bet on McLaurin's matchup over his teammates' or play-caller's ability to drag him down.
Skipping Perriman once again and moving onto Boyd, we have the right combination of target share, capable quarterbacking and quality matchup. Unlike McLaurin and Perriman, Boyd doesn't offer much of the big-play upside that is rewarded in Yupper's league. In this case, that's OK. In Andy Dalton's 11 starts this season, Boyd has been targeted an average of 9.5 times. That's going to get the job done most weeks in fantasy, and let's not forget that lead receivers - primarily those who spend any amount of time in the slot - have eviscerated the Dolphins this season. It's possible Cincinnati rides Joe Mixon all day and doesn't attempt more than 25 passes, but I'm willing to bet Boyd stays busy regardless of how this game goes.
Fearless Week 16 projection
Moore - five catches for 70 yards
Parker - six catches for 77 yards and one TD
McLaurin - four catches for 85 yards and one TD
Perriman - five catches for 68 yards and one TD
Boyd - eight catches for 105 yards and one TD
Jgcrawfish: Need 2 WR and 1 FLEX - WRs Keenan Allen, Tyler Lockett, Cooper Kupp, A.J. Brown AND RBs Austin Ekeler, Joe Mixon, Raheem Mostert?
Although Allen's seems contractually obligated to score no more than six touchdowns each year, owners typically have very few complaints about his weekly consistency. Give me his six-catch floor just about every week, including this one. Lockett returned to the land of the fantasy-relevant in Week 15, suggesting he is finally healthy after dealing with a severe shin bruise and the flu. One game hardly wipes clean the memory of his three-game disappearing act following his Week 10 injury, but it should give us some confidence in terms of playing him this week. Kupp is the overall WR4 for the season, but the combination of his own three-game disappearing act from Week 10 to Week 12 and his 20-snap Week 14 makes him about as trustworthy as the overall WR34 at the moment. One of the Rams' worst games of the season came against the 49ers, and last week's dud in Dallas - despite Kupp's final 6-41-1 line - suggests we need to remember Jared Goff tends to play poorly on the road.
Skipping right past Brown, Ekeler and Mixon, we finish with Mostert, who scored for the fourth straight game in Week 14 but was otherwise held in check in his first real opportunity as the lead back in San Francisco. Tevin Coleman and Matt Breida both handled only four carries versus Mostert's 14. For whatever reason, HC Kyle Shanahan doesn't tend to let any of his backs go over 14 or 15 carries very often, and that's a problem in this case when he will need volume to compete with Mixon this week.
Fearless Week 16 projection
Allen - eight catches for 84 yards
Lockett - five catches for 78 yards
Kupp - six catches for 82 yards
Brown - five catches for 66 yards
Ekeler - eight carries for 38 yards; five catches for 57 yards; one total TD
Mixon - 22 carries for 118 yards; three catches for 32 yards; one total TD
Mostert - 13 carries for 87 yards; two catches for 25 yards; one total TD
Jrokh: Gardner Minshew or Kyler Murray?
With apologies to Jrokh for the short answer, Minshew needed a porous Oakland pass defense and a bad decision by the officials to stop the clock on a Derek Carr rush attempt late in the game to give owners the first decent fantasy performance by a Jacksonville quarterback since Week 11. Perhaps the up-and-down Atlanta defense will return to "down" status again this week, but it's getting hard to figure out if we can trust any Jaguars at this point of the season.
Murray's volume hasn't been all that great for about a month, but he is making the kind of strides in the art of quarterbacking that fans and fantasy owners want to see late in the season - even if the numbers don't necessarily reflect it. Add in the fact the No. 1 overall pick can give his fantasy owners around 10 points with his legs in any given game and I think I'd opt for what I believe is a safe floor for Murray over a limited ceiling this week for Minshew.
Fearless Week 16 projection
Minshew - 211 passing yards, 29 rushing yards, one total TD
Murray - 243 passing yards, 44 rushing yards, two total TDs, one INT
Pipeman: Need an RB, WR, and Flex. RBs Devin Singletary, Raheem Mostert, Alexander Mattison, David Montgomery; WRs Stefon Diggs, Breshad Perriman, Christian Kirk, Golden Tate; TE Mark Andrews?
The decision at running back comes down between Singletary and Mostert. Mattison's status for Week 16 appears to be bleak. The fact the Vikings are playing on Monday night makes it even worse for fantasy owners who would love nothing more than to take advantage of a decision by the Minnesota coaching staff to rest Cook and plug in Mattison. For the most part, workload has not been a problem for Montgomery in two months. The ability to get him past the line of scrimmage and allow him to use his ability to break tackles has. With one total touchdown in his last six contests, I don't like his odds of paying off in fantasy this week.
Singletary and Mostert is the classic floor versus upside conundrum. Singletary has handled at least 16 touches in five straight games and been extremely efficient with them against some difficult competition. Mostert has also been highly efficient, but I think it's pretty clear San Francisco has less trust in any of its running backs than Buffalo has in Singletary. However, Mostert is a better bet for a touchdown given how often Josh Allen finishes off drives for Buffalo and the machine that is often the Niners' running game.
I've come to the realization that Diggs probably isn't going to reach his ceiling in Minnesota. Even if we see the beginning of a decline in the near future for Adam Thielen, who will turn 30 next summer, the Vikings' desire to win with the running game and defense doesn't bode well for Diggs becoming an elite WR1. The volume just has not been there are consistently enough for Diggs, which has resulted in him becoming more of a splash player this year. If he didn't set the fantasy world on fire during Thielen's absence, it's probably not going to happen. The only way I see him blowing up this week is if Dalvin Cook sits, which looks unlikely at the moment.
It's amazing all it took for Tate to become a touchdown fiend was landing in New York and playing for the worst pair of quarterbacks (the jury is still out on Daniel Jones, but Eli Manning doesn't belong in the same group as Russell Wilson, Matthew Stafford and Carson Wentz) he's had for the bulk of his career. Still, it has been four weeks since we've seen a fantasy performance from Tate that wasn't heavily influenced by his ability to score a touchdown in that game. It's clear the Giants are quite high on Darius Slayton, and that he is on nearly equal footing with Tate and Sterling Shepard.
Logic isn't always logical. Andrews has averaged 23 snaps over the last seven games, yet he is the overall TE6 over that time. What is clear is that he is Lamar Jackson's go-to option, especially in the red zone. Is that enough to start him in fantasy over running backs and receivers who are bound to see more volume? I'd personally hate to start any player I knew was going to see so few snaps in my only flex spot, but Andrews has given his owners good return on investment for the bulk of the season.
Fearless Week 16 projection
Singletary - 14 carries for 68 yards; three catches for 25 yards
Mostert - 13 carries for 87 yards; two catches for 25 yards; one total TD
Mattison - DNP
Montgomery - 15 carries for 52 yards; two catches for 13 yards
Diggs - six catches for 81 yards
Perriman - five catches for 68 yards and one TD
Kirk - five catches for 54 yards
Tate - five catches for 59 yards
Andrews - five catches for 58 yards and one TD
Stinky Pete: Going up against the #1 scoring team in the league in the championship. Moore or Perriman (probable stack with Jameis Winston)? (0.5 PPR)
We'll keep this one short because I've addressed both players earlier. The stack with Winston is a nice touch, although something tells me our hopes and dreams of Perriman leading thousands of us to fantasy titles will somehow blow up in our face. Hopefully, the only thing that blows up is Perriman's production for a second straight week.
Fearless Week 16 projection
Moore - five catches for 70 yards
Perriman - five catches for 68 yards and one TD
Keeper/Dynasty
FF816: Would you trade Tyler Boyd and Steelers DST for Russell Wilson, Eagles DST and Browns DST and a 2020 5th?
I frankly cannot remember seeing a trade offer in which so many defense/special teams units were involved. With that said (and not knowing about either teams' roster construction), I like Wilson as a fantasy property more than Boyd long-term. All the other pieces of the trade are nearly meaningless, assuming defense/special teams units aren't prioritized more in this league than most. For what it's worth, I tend to believe A.J. Green returns to Cincinnati in 2020, keeping Boyd as the secondary option. Let's then assume the Bengals draft someone like LSU's Joe Burrow. Even if he hits the ground running, the odds are usually against a rookie quarterback being able to keep two receivers consistently relevant in fantasy his first year, meaning you'd be waiting until at least 2021 to get high-end production from Boyd.
Utilit99: Early thoughts on WRs that are going into their second or third year next year that would be good to keep an eye on? Not based upon their actual numbers this year, but more so upon what they have shown as far as development and who seem ready for a possible breakout sometime next season going into the future.
My easy answers from the 2018 draft class would be Anthony Miller and James Washington, both of whom will likely go a bit under the radar by people who tend to look at year-end numbers and/or take six months off from fantasy football before getting back into the swing of things in the middle of the summer.
As far as the 2019 draft class, I think Washington may have a couple in Kelvin Harmon and Steven Sims. Olabisi Johnson could have some low-end upside moving forward, although he's obviously stuck behind a couple of studs. I'd be stunned if Andy Isabella doesn't see a bigger role next year as well. And even though he didn't get to play this year, I'd definitely keep an eye on Jalen Hurd.
On a lighter note, I can only imagine how good Parris Campbell must be if Ohio State was willing to feed him the ball almost three times as much as it did McLaurin in 2018.


---
Doug Orth has written for FF Today since 2006 and been featured in USA Today's Fantasy Football Preview magazine since 2010. He hosted USA Today's hour-long, pre-kickoff fantasy football internet chat every Sunday in 2012-13 and appears as a guest analyst on a number of national sports radio shows, including Sirius XM's "Fantasy Drive". Doug is also a member of the Fantasy Sports Writers Association.