Bye weeks are a necessary evil for fantasy managers. There will probably never be a perfect system that allows for byes to come at a reasonable time for the players and coaches AND doesn't create a headache for fantasy owners, but the current 4-6-2-4-4-2-2-4-4 setup (or some variation of it) over a nine-week period isn't great for anyone. Among many other questions that could be asked, how does giving 25 percent of the teams a week off after at least 12 consecutive games (byes in Weeks 13-14, in other words) to begin the season help the product or the teams?

While a perfect bye-week solution will likely always remain elusive, fantasy managers have little choice but try to power through a stretch of the season during which we have one or two weeks where half of our regular starting lineup is on vacation or multiple weeks where one or two key contributors get a weekend off. To that end, I decided it might be helpful to look ahead at the next three troublesome weeks (Weeks 7, 9 and 10) and help managers find potential bye-week options that could give a fantasy team the extra win that can often be the difference between a playoff berth and long offseason.

Four teams were on a bye last week (Falcons, Saints, Jets, 49ers). As I laid out in the first paragraph, there are eight more weeks with at least two teams going on a bye. In five of those weeks, at least four teams will be off. The worst one is the upcoming week when six take a break. The worst part about this weekend? Perhaps that four of the six teams have high-powered offenses, meaning many of the foundation pieces of fantasy teams (Josh Allen, Ezekiel Elliott, Dalvin Cook, Najee Harris, Austin Ekeler, etc.) will not be available.

While I acknowledge that Weeks 8, 11 and 12 will be problematic for some, most fantasy managers should be able to work around two teams enjoying a weekend off. Four is challenging and six figures to be highly problematic, so the goal of this article will be to highlight players with good matchups in the assigned weeks over the next month who can be had for free now in the majority of deep leagues.

Let's be clear: many of these players are longshots who can potentially give us 8-10 points at the non-quarterback positions and 15-18 points at quarterback.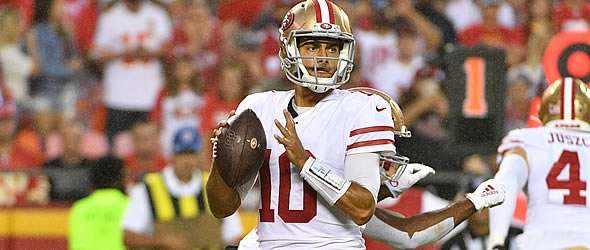 Week 7
Teams on bye - Bills, Cowboys, Vikings, Steelers, Chargers, Jaguars
Quarterbacks
Carson Wentz and Matt Ryan may still be available in some shallow leagues. If they are, they are better options than the two listed below.
Jimmy Garoppolo (vs. IND) - The Colts (fifth-most fantasy points allowed to quarterbacks) have faced six quarterbacks so far, four of which have enjoyed season-best fantasy efforts. LB Darius Leonard has not been operating at 100 percent for most of the season and CB Xavier Rhodes has worked through multiple injuries, contributing to the team's early defensive struggles. The Colts have done a good job against the run - they are allowing 4.1 yards per carry despite having already faced Tennessee and Baltimore. Garoppolo hasn't been anything special in his four starts, although he has managed 19.9 fantasy points in three of them. Indianapolis appears to be finding a groove offensively of late, which means Jimmy G & Co. may need to throw more than usual to keep pace.
Tua Tagovailoa (vs. ATL) - The Falcons have kept a couple of quarterbacks (Daniel Jones and Zach Wilson) in check, but they have allowed 30-plus fantasy points to Jalen Hurts, Tom Brady and Taylor Heinicke. Tagovailoa did not play a particularly good game in London last weekend, but that kind of thing can happen when a quarterback is missing three of his best weapons (DeVante Parker, Will Fuller and Preston Williams). Miami is about as bad as it gets running the ball, so passing-game volume should not be a problem for Tua in this game and perhaps for the remainder of the year.
Running Backs
Kyle Juszczyk (vs. IND) - It is a sobering thought that any bye-week crunch could lead us to consider a fullback, but Juszczyk is the team's designated passing-down back until further notice. He has at least three catches and four targets in each of the last three games and somewhat surprisingly ranks third on the team in targets (16), catches (14) and receiving yards (135). If San Francisco ends up in a negative game script with the Colts on Sunday night, there is a distinct possibility Juszczyk could give managers at least 6.5 fantasy points for the fourth consecutive game.
Malcolm Brown (vs. ATL) - Did we not just establish the Dolphins can't run the ball? Yes. But are we not desperate? While Atlanta has been reasonably good at limiting fantasy production by individual running backs, the Falcons have coughed up at least one rushing touchdown in four of five outings. In the one game a running back did not score against Atlanta, Tom Brady threw for five touchdowns. Brown seems like a reasonable bet for a short-yardage score after the Jets converted a pair versus the Falcons in Week 5.
Wide Receivers
Mecole Hardman and Robby Anderson may be available in some shallow leagues. If they are, they are better options than the two listed below.
Russell Gage (vs. MIA) - Gage has played in two games this season: he was shut out on two targets in Week 1 and followed that with a five-catch, 28-yard effort on seven targets before suffering an ankle injury in Week 2. Olamide Zaccheaus essentially served as his replacement in Weeks 3-5, posting 3-32-1, 1-15-0 and 2-20-0 lines. In short, the No. 2 receiver in this offense has not been a good place to find fantasy production. However, two things are working in Gage's favor this week. First and foremost, he returned to practice this week. Just as importantly, neither Byron Jones nor Xavien Howard played in Week 6 due to injury. If both cornerbacks can't make it back for this weekend, Calvin Ridley and Gage would have the opportunity to go against a secondary that just allowed 18 catches for 234 yards and a touchdown to Marvin Jones, Laviska Shenault and Jamal Agnew.
Deonte Harris (vs. SEA) - The Saints' receiving corps is averaging 25 PPR fantasy points this season - the second-lowest mark in the league (Chicago, 22.1) - so let's not pretend an advantageous matchup is all we need here. With that said, Harris has been the closest thing to a consistent fantasy option that this passing game has offered so far. He has done it despite drawing more than three targets only once. New Orleans-Seattle figures to be a ground-and-pound slugfest between two teams trying to hide their quarterbacks, but the Saints have already proven they are not afraid to take a few play-action deep shots to Marquez Callaway and Harris. Since Callaway is likely on most fantasy rosters following his fluky two-TD game in Week 5, Harris gets the recommendation here.
Tight Ends
Cole Kmet (vs. SEA) - There is no great reason why Chicago is running an offense that averages around 54 plays each week. There is also no particularly good reason opposing tight ends are enjoying the kind of success they are against a defense with as much talent as Tampa Bay has in its front seven. The Bears don't have passing-game volume working in their favor this year, but the Buccaneers once again boast the one defense that can bring running games to a halt. In other words, Chicago may ask Justin Fields to attempt more than 20 passes for only the second time of his brief career. Kmet is getting a healthy target share for a tight end in 2021 (16.6 percent), so he could be poised for roughly eight targets if the Bucs jump out to an early lead and neutralize the Bears' ground game as expected.
Week 9
Teams on bye - Lions, Seahawks, Buccaneers, Football Team
Quarterbacks
Teddy Bridgewater (vs. DAL) - In a couple of weeks, we can assume Jerry Jeudy will be ready to roll, which should serve as a boon to the entire offense. The presence of the Cowboys on the schedule for any quarterback this season is kind of a mixed blessing; Dallas' offense forces the opposing offense to keep pace (good), but the defense is averaging nearly two interceptions per game (bad). It seems reasonable to assume that one or two of four playmakers (Jeudy, Courtland Sutton, Tim Patrick or Noah Fant) will be able to help Bridgewater throw for a couple of scores - as four of six quarterbacks who have faced the Cowboys have done - even if he commits a couple of turnovers while doing so.
Tyrod Taylor (vs. MIA) - At some point, the Dolphins figure to turn things around defensively. After all, this is largely the same defense that yielded only 21 TD passes versus 18 interceptions in 16 games last year. Entering Week 7 this year, Miami is sporting a 13:2 mark. Every quarterback has managed at least 17 fantasy points against the Dolphins, including both rookies they have faced. Taylor has been on IR since we last saw him in Week 2, which means that many fantasy managers have likely forgotten how well he started the season. As will be the case in most weeks this season, there is a good chance Houston will fall behind by multiple scores in this one. If/when they do, Taylor has enough mobility to give his fantasy managers a decent floor. His risk for negative points is slim because he takes care of the ball and he has enough talent at receiver to offer a decent ceiling.
Running Backs
Mark Ingram (vs. MIA) - The Dolphins have perhaps been even more forgiving versus running backs than quarterbacks, allowing nine double-digit fantasy performances to the position. Included in that bunch are season-best efforts by Devin Singletary (17.1) and Peyton Barber (23.2). For all of the Texans' problems this season, they have been able to find a way to give Ingram at least 15 touches in four of six games. In the two games he failed to reach that mark (which were the first two starts of Davis Mills' career), the Bills and Panthers shut down just about everything Houston tried to throw at them. Miami has clearly shown in it is not at that level through six weeks, so it is conceivable that Ingram could be a low-end RB2 in that matchup.
Kenyan Drake (vs. NYG) - The Giants have no excuse to be as bad as they are against the run. Losing LB Blake Martinez for the season certainly did not help, but the combination of Leonard Williams and Dexter Lawrence flanking NT Austin Johnson should make even the most average NFL linebacker look somewhat capable. That does not appear to be happening here, as three running backs have topped 100 yards rushing against New York and seven backs in all have scored at least 10 fantasy points. Drake is probably not a threat to top the century mark given his recent (lack of) usage. However, the combination of Josh Jacobs' continued struggles (3.4 YPC or worse in all four of his games, long run of 15 yards), Drake's big Week 6 and the change in leadership in Vegas would seem to be pointing to more of a role for him moving forward.
Wide Receivers
Van Jefferson/DeSean Jackson (vs. TEN) - Not a lot of fantasy managers know Jefferson is the WR52 in terms of total points. His problem is the same as any other third receiver in any other high-flying offense: consistent opportunity. Cooper Kupp has seen at least 10 targets in every game, which has undoubtedly impacted Robert Woods. It is not hard to imagine if Woods is being impacted, Jefferson would be even more so. The twist in this situation is that Jefferson - known more as a route-running possession receiver - is working in 67/33 (Jefferson/Jackson) kind of split with Jackson as the clear-out receiver in this offense. Not only is this a highly volatile role for fantasy purposes, but the split also makes it nearly impossible to trust either one.
That brings us to the current state of the Titans, who are very good offensively but quickly moving toward a state of emergency in the secondary. First-round pick Caleb Farley is done for the year and Kristian Fulton is on IR, robbing them of two of their top three corners. Breon Borders looked like a fish out of water on Monday night, while Jackrabbit Jenkins has struggled for the bulk of the season. The combination of Tennessee's offense and weak secondary is a good recipe for the Rams to take a few deep shots against either rookie Elijah Molden or 2020 seventh-rounder Chris Jackson.
Elijah Moore (vs. IND) - The start of Moore's NFL journey has not been a smooth one, although that kind of thing can happen when you suffer a quad injury that sidelines you for most of the preseason and follow that up with a concussion in your third professional game. Moore has seen his routes drop each week, so it is not as if we have much of a reason to believe in him at this point. However, the Week 6 bye will be the first time the Jets' coaching staff - especially first-time OC Mike LaFleur - will have a chance to reassess the offense. HC Robert Saleh seemed to admit the need to get Moore more involved earlier this week. Zach Wilson already knows what he has in his draft classmate.
The Colts have been beaten up by wide receivers despite not facing many of the league's best passing games, giving up WR1-level production to DeVante Parker and Brandin Cooks while getting grilled by Marquise Brown in Week 5. Assuming the Jets used their bye week well and found some ways to get Moore working out of the slot more often, there will definitely be an opportunity for him to make this game his coming-out party - assuming he doesn't do so against the Patriots or Bengals over the next two weeks. Indianapolis simply does not have a cornerback capable of matching Moore's speed and quickness, so it is up to LaFleur to use that to his advantage.
Tight Ends
Robert Tonyan (vs. KC) - Yes, we have reached that point with last year's breakout tight end. Were it not for a throw Aaron Rodgers had no business making on a Monday night about a month ago against the Lions, Tonyan would be scoreless for the season and rank much lower than TE35. Tonyan isn't experiencing touchdown regression nearly as much as he is getting ignored, which is a hard thing to grasp one year after a player scores 11 touchdowns and does not drop any of his 59 targets. Nevertheless, the Chiefs could give him an opportunity to revisit the end zone. Six tight ends have managed at least 10 fantasy points against Kansas City, including four in the last three weeks. The Chiefs have surrendered three consecutive TE1-level performances to Dallas Goedert (16.6), Dawson Knox (20.7) and Ricky Seals-Jones (15.8). That kind of a trend is a hard thing for fantasy managers to ignore and something that will undoubtedly show up on tape for HC Matt LaFleur as he plans to attack the Chiefs' defense that week.
Week 10
Teams on bye - Bears, Bengals, Texans, Giants

Quarterbacks

Mac Jones (vs. CLE) - The primary reason the Browns are the third-most forgiving defense versus quarterbacks right now is that they have already faced Patrick Mahomes, Justin Herbert and Kyler Murray - a trio that has combined for 13 touchdowns and zero interceptions against their defense. Cleveland has allowed four touchdowns to the quarterback position in its other three games combined. New England's preference is to run the ball and lean on its defense, but that may not be possible against a Browns' defense that has given up very little to every other running back it has faced outside of Austin Ekeler. As a result, the Patriots could be forced to turn to a pass-heavy attack as they did in losses to the Saints and Buccaneers - two other teams who stop the run well. Jones has not shown much of a ceiling yet, but most fantasy managers are typically happy if they can simply get a lot of volume from their bye-week fill-in at quarterback. Jones should provide that.

Jameis Winston (vs. TEN) - Whereas Jones should be able to give his fantasy managers volume, Winston probably will not. Any game against the Titans this year figures to be a relatively high-scoring affair, so the Saints probably will not have the luxury of leaning on Alvin Kamara as a runner all game long. It might not be a bad thing, however, as the Titans' injury woes in the secondary are unlikely to improve much the rest of the season. By this time (mid-November), Michael Thomas and Tre'Quan Smith will likely have at least one or two games under their belt, which should allow HC Sean Payton to open up the offense. He may need to in this contest. Winston has already proved he has a high ceiling with less than 30 pass attempts per game, which may end up being the path of least resistance versus the Titans. Imagine what is possible if the reins are loosened ever so slightly for Winston as his receiving corps returns to full health.

Running Backs

Kenyan Drake/Peyton Barber (vs. NYG) - As with anything in fantasy, we have to take a few chances when projecting three weeks ahead. Josh Jacobs is a very good running back whose all-purpose talents are being wasted with the Raiders. He also is not getting much help from his line. (Pro Football Focus does not have a single lineman with a run-blocking grade of 60 this season.) However, the harsh reality is that Jacobs is not playing up to his abilities, likely due to injury. Jacobs was among the best backs in the league in yards after contact over his first two NFL seasons. This year, he is tied for 47th among 49 qualifying players at 1.2. Perhaps a Week 8 bye is what he needs to rediscover the form that made him so good in 2019 and 2020. It is also possible the new leadership in Las Vegas decides it makes little sense to keep feeding him like a featured back when he clearly isn't playing like one.

We discussed the Giants' run defense earlier. The last two lead backs to face New York topped 24 fantasy points. Four backs in all have topped 20 fantasy points against the Giants. As long as New York's offense continues to operate as if it is running in quicksand, more running backs will be able to amass the kind of volume necessary to top 20 points. The only question here is the Raiders come out of their Week 8 bye and go with more of a hot-hand approach until Jacobs heals up and/or establishes himself as the unquestioned best back in Vegas.

Ty'Son Williams (vs. MIA) - One of the few reasons I am still holding on to Williams (and adding him in leagues that he was dropped) is because of a recent article/tweet I read that compared how similar Alex Collins' breakout 2017 campaign with the Ravens was to Williams' season so far. Other reasons include watching Latavius Murray and Le'Veon Bell doing almost nothing to threaten the defense whenever they run. The notion that Baltimore has yet to lose since minimizing Williams' role (and making him inactive two of the last three weeks) misses the bigger point: the Ravens could easily be 2-4. Williams' big-play ability makes everything about this offense better. If ball security and/or pass protections issues are the major concerns here, let him work those out in the game. Lamar Jackson has a way of covering up for mistakes anyway.

For all I know, this could be a moot point if Baltimore insists on playing matchups with its running backs as it has insisted. However, there is a possibility that Murray's ankle injury could keep him out of Week 7. In theory, that should lead to Williams being active again. IF Williams can show out against what has been a reasonably good Bengals' defense, then the Ravens will have the bye week to ponder if it might be time to rethink their current backfield arrangement. And if that happens, Williams would come out of the bye against a Miami defense that has yielded at least 19.1 fantasy points to a running back in four straight games.

Wide Receivers

Tre'Quan Smith (vs. TEN) - See Jameis Winston above. The reality of the situation is that Marquez Callaway or Deonte Harris could also be the receiver that hauls in a 50-yard touchdown against the vulnerable Tennessee secondary. Right now, we will go with Smith since he should return to the lineup in the next week or two and assume a prominent role immediately. Further consider that Smith may not be the only Saints' receiver to pay off in this contest, as the Titans have allowed three receivers from the same team to score at least 10 fantasy points four times.

Jamal Agnew (vs. IND) - The second half of what was said earlier about Elijah Moore applies here as well - specifically about how the Colts have performed against opposing receivers - so there is no need to repeat that. Moore profiles as a slot receiver but is inexplicably seeing more usage outside now to accommodate Jamison Crowder, who the Jets considered cutting this offseason if he didn't accept a pay cut. Jacksonville has been forced into playing Agnew more following the loss of D.J. Chark. Considering the Jags' new primary slot receiver recorded consecutive double-digit fantasy efforts in his first two games in his new role, it might be time to acknowledge Agnew might have some staying power. The biggest thing he has working in his favor is Trevor Lawrence, who has targeted the San Diego product on 17.6 percent of his throws since the latter's promotion.

Tight Ends
Tyler Conklin (vs. LAC) - New HC Brandon Staley's defensive philosophy may be difficult to execute, but it is simple in theory: force offenses to nickel-and-dime their way down the field and make them try to be perfect over a 10- or 12-play drive. That means receivers will struggle to get behind his defense. As a result, his defenses tend to give running backs light boxes and tight ends relatively free access over the middle of the field. Unsurprisingly, the Chargers have surrendered an average of 79.3 yards to tight ends and yielded a touchdown to the position in five of six games.

---
Doug Orth has written for FF Today since 2006 and been featured in USA Today's Fantasy Football Preview magazine since 2010. He hosted USA Today's hour-long, pre-kickoff fantasy football internet chat every Sunday in 2012-13 and appears as a guest analyst on a number of national sports radio shows, including Sirius XM's "Fantasy Drive". Doug is also a member of the Fantasy Sports Writers Association.