Perhaps the most important skill to consistently winning in fantasy football - or any fantasy sport for that matter - is having an accurate vision for the future and making proactive - and not reactive - moves. The ability to add pieces via the waiver wire is critical as the bye-week crunch begins in Week 6.

With that in mind, fantasy managers now have three weeks of information to digest. Somewhat reliable trends begin to emerge. In this thing called fantasy football, sometimes that is the best we can ask for.

Over the next few paragraphs, I hope to prepare readers/managers for the weeks ahead by providing 12 names of players that are available in the majority of leagues and could be primed to become a good bench stash or viable fantasy starter.

As per usual, I do not typically write for casual fantasy players. This is not a waiver-wire piece in the traditional sense that recommends picking up Jamaal Williams, Alexander Mattison or Khalil Herbert. All three of these players were ranked inside my top 50 running backs, so none of them should be available outside of 10-team leagues with short benches.

The goal this week is to highlight players that are largely off the radar in most leagues but could be on the verge of having some value soon, hopefully saving us all some FAAB dollars in the process.
Quarterbacks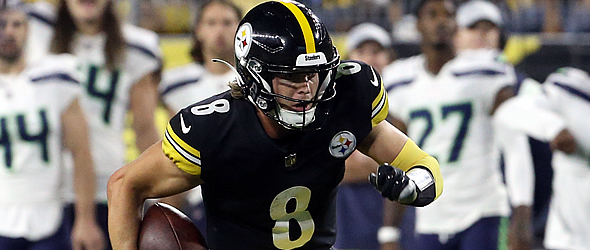 Kenny Pickett, Steelers
Most of the free world wants Pickett under center already. HC Mike Tomlin does not care what you want and it is probably not the best thing for anyone - outside of your teams with Diontae Johnson and George Pickens' shares - that he is named the starter for another month. Tomlin has been around long enough to know how this works, and the last thing he wants is for the team's first-round pick - and likely long-term starter - to lose confidence almost immediately. After this week against the Jets, the Steelers face the Bills, Buccaneers, Dolphins and Eagles before their Week 9 bye. That is perhaps the most brutal four-game stretch for any team this season.
Barring injury to Pickett in November or December, there is a good chance Tomlin already knows Mitchell Trubisky will not be taking meaningful snaps over the second half of the season. He would probably prefer to make it official when the opposition is not so stout and the offensive line has (hopefully) had more time to gel.
Andy Dalton, Saints
(Yeah, it is going to be that kind of article this week.) Dalton played well in the preseason, but that is obviously not why he is being included here. The first reason is that Jameis Winston has not been great in 2022, outside of the fourth quarter of Week 1. The second reason, which may explain the first, is that Winston is playing through broken bones in his back. The third reason is if Winston has to miss time because of injury (or poor performance), Dalton will have a supporting cast that includes Alvin Kamara, Michael Thomas, Chris Olave and Jarvis Landry.
While I realize Dalton as a multi-week starter would be a stretch even for 14-team leagues, he could have matchup-based streamer appeal.
Running Backs
* If either Brian Robinson Jr. and/or Gus Edwards were dropped in your league or have been hanging out on the wire all season, they should be stashed in most leagues. Both players were drafted in all of my high-stakes leagues and have not been dropped.
Zamir White, Raiders
White will go down as one of the most obvious of my recommendations this week, although he will likely be dropped in many leagues after Week 3. Here are the facts: Josh Jacobs has handled much more of the workload than anyone expected. He has also never played a full season. While he is getting it done after contact (his 2.6 YPC after contact is tied for seventh among qualified runners so far), he is not running behind a good offensive line. He is typically not on the field in long down-and-distance situations. Week 3 was the first time he saw more than one target. A bad offensive line and a lack of passing-game work on an offense that looks like it will be working in negative game script a lot this season is not a good recipe for fantasy success.
So why is White a good add? Well, Jacobs is the RB29 through three weeks. That may not be worth much, but it means he is a flex option that will likely start during the bye weeks. White appears to be the future in Vegas, if only because the Raiders appear uninterested in extending Jacobs. Given the Raiders' 0-3 start, the future may be coming sooner than expected. The preseason hype surrounding White was legit; White's power and tackle-breaking ability could be just the thing Vegas needs to make its struggling line look a bit better. He remains a strong stash in fantasy, even if Brandon Bolden has more immediate value given his role in the passing game - specifically in long down-and-distance and two-minute situations.
Jaylen Warren, Steelers
Warren was discussed in this space two weeks ago. Not much has changed since then other than the fact that he consistently looks like the most explosive option Pittsburgh has in the backfield. That is not to say that Najee Harris is going to give up his bell-cow role. He won't. Harris is the kind of all-purpose, powerful runner that the Steelers like. That is also not the point. The Steelers are highly unlikely to be in a position to grind a defense over the next month (Bills, Buccaneers, Dolphins and Eagles) and could benefit from a bit of explosiveness from their backfield. Will he do enough to be worth a flex start in one or two of those games? Probably not.
However, the main reason to add Warren is that he has already achieved - in my mind anyway - the same elite handcuff status that makes the aforementioned trio of Williams, Mattison or Herbert so valuable. We already know Harris has twice injured his foot. Do you want to bet on the possibility he will go another 14 games without another injury or aggravation? I don't.
D'Ernest Johnson, Browns
Johnson has done nothing but ball out just about every time he has been given an opportunity. Unfortunately, he has the misfortune of being stuck on the same depth chart as perhaps the best pure runner in the game right now (Nick Chubb) and another highly capable back who should be a starter in the league (Kareem Hunt). Johnson has only been active for once in 2022 (Week 3) and played all 15 of his snaps in that game on special teams. With that said, Chubb has not made it past Week 5 without a multi-week injury the last two seasons and Hunt missed half of last season due to injury. That is not to say that either back is injury-prone; both players play in an offense that loves to pound the rock. Injuries will happen. What it does mean, however, is that a proven starting-caliber fantasy option is on the wire in virtually every league and one injury to Chubb or Hunt away from being in that conversation. Fantasy managers should try to find room on their rosters wherever possible to stash him. He likely has more value than a WR7 or WR8 in a 12-team league with 18-man rosters or just about any 14-team league.
Justice Hill, Ravens
Now we are talking! OK, it seems a bit ridiculous to recommend a player coming off a career day in the same week J.K. Dobbins made his season debut. After all, Dobbins is coming back to do what Kenyan Drake and Mike Davis could not do: take advantage of the rushing opportunities created by defenses worrying so much about Lamar Jackson. There is also the small matter of Gus Edwards (ACL) returning from PUP soon. Here is the thing: the Ravens showed patience with Dobbins in his return despite two weeks' worth of full practices to get him ready. They can probably be expected to do the same with Edwards.
HC John Harbaugh noted after Baltimore's Week 2 effort that "the arrow is up" in regards to his thoughts on Hill. After his breakout Week 3 performance (60 yards on six carries), Harbaugh went to a much different level with his praise:
"I thought Justice Hill really stepped up. He was kinda the bell cow today. He made some exceptional runs. He and I have been talking about that for a couple of weeks - he was gonna break out and run like a star running back, and he did."
There is no denying that Hill looks more like the explosive running back now that he was at Oklahoma State than at any point during his NFL career. Does that give him league-winning fantasy upside? Probably not. Dobbins will be the lead back in this backfield when he is ready and Edwards will be the sledgehammer that he was pre-injury when he is ready. However, it might take until Week 8 or longer for that to happen. Hill has a chance to make a case for regular playing time in the interim. His snaps have increased from two to five to 14 since the season started and his carries have increased similarly (2-3-6). At least until Dobbins gets back to speed, Hill may be the most dynamic back the Ravens have on the roster. His role should continue to grow for now, enough so that he may be a worthwhile option for D'Andre Swift managers who may be without his services until after Week 6.
Kyren Williams, Rams
Williams has mostly been trending downward since the NFL Combine. His 4.70-second time in the 40 removed whatever chance he had of going on the second day of the draft despite a mostly stellar career at Notre Dame. He experienced a brief positive moment when the Rams used some of their limited draft capital to move up in the fifth round to select him this spring. Just over a month later, however, he broke his foot in rookie minicamp and missed the majority of the offseason program. He was activated from the PUP list in early August and made enough of an impression in his limited practice time that the team held him out of the final preseason game. Williams barely got a chance to justify the faith in him, suffering a high-ankle sprain on the opening kickoff of Week 1.
For anybody who watched him in college, it is not hard to understand what the Rams see in Williams. Cam Akers and Darrell Henderson are both capable receivers (despite how Los Angeles uses them sometimes), but Williams has some Dion Lewis and Austin Ekeler to his game. He could be a handful for most linebackers to cover. It seems unlikely he will get a chance to reach the heights of Lewis or Ekeler in this offense, but fantasy managers should always be on the lookout for backs who could/should play meaningful roles in the passing game. He is that. Williams is purely a stash now for those managers who have IR spots in deep leagues.
Wide Receivers
Wan'Dale Robinson, Giants
The second-round pick was "the star" of the offense during training camp, according to NBC Sports' Peter King. Unfortunately, Robinson lasted all of nine snaps in Week 1 before succumbing to a knee injury. He is still not practicing and details about the injury have been scant. The fact he was not placed on IR after the opener suggests he is probably looking at a Week 5 return. Robinson's return took on an added importance after hard-luck Sterling Shepard tore his ACL at the end of Week 3. Not only does Shepard's injury naturally open up a ton of snaps in the slot for the rookie, but it also creates an opportunity for a receiver like Robinson to absorb the 10 targets Shepard saw in each of his final two games.
Robinson does not belong on this list just because he is the most natural replacement for Shepard, however. Although it is fair to question the legitimacy of such a claim, there was some thought in the preseason he could serve as Saquon Barkley's immediate backup. While it seems unlikely to those who do nothing more than look at his 185-pound frame, Robinson carried the ball 141 times in three college seasons and occasionally served as Nebraska's primary rusher. Any rushing production this year would be gravy, if only because Barkley will not leave the field very often as long as he is healthy. However, Rondale Moore and particularly Curtis Samuel have shown us in recent seasons that the possibility of 200 rushing yards and 1-2 touchdowns out of the backfield does wonders for raising the fantasy floor of a receiver. Those numbers are possible if Robinson returns soon. Add to that the potential for the 8-10 targets Shepard leaves behind and there is some definite upside here.
Cole Beasley, Buccaneers
Forget for a second that Beasley fits the prototype of slot receivers that have flourished with Tom Brady (Julian Edelman, Danny Amendola, Wes Welker, etc.). After entering the season with Mike Evans, Chris Godwin, Russell Gage and Julio Jones, only Evans is a lock to play in Week 4. Injuries to three of the top four receivers have rendered Brady nearly useless for fantasy purposes to this point, while injuries to the new offensive line have increased the importance of Brady getting rid of the ball quicker than ever. If there is one thing Beasley can do well, it might be the fact he can get open quickly.
There is a good chance Tampa Bay will not need Beasley at this time next month, but that would also assume that Godwin, Jones and Gage are at full health. There are no assurances at least two of those three will get there anytime soon despite the fact they are practicing in limited fashion this week. Assuming that at least two of the three make it back and stay healthy for the remainder of the season, the Bucs still need to find a player who can control the middle of the field like Rob Gronkowski did. While Beasley will not run down the seam the same way Gronk did, he could probably move the chains every bit as well. At worst, Beasley is a worthwhile bench stash in deeper leagues. In his best-case scenario, Beasley becomes Brady's No. 2 option if Godwin, Jones and Gage cannot get right physically.
Odell Beckham Jr., free agent
We are probably at least two weeks away from the point where we even need to consider Beckham. With that said, we have a decent idea that he wants to play for the Rams again - assuming his knee checks out. It is anyone's guess how well he can recover from a second ACL surgery, but we already know what he can do in this offense when he is healthy - even as he turns 30 years of age in early November.
The thing about Beckham is that he does not even need to return to the Rams in order to be worth a stash. While teams like the Patriots and Giants make sense from a WR1 need perspective, they seem unlikely matches for multiple reasons. What if Baltimore reached out? What if Dallas wanted to make a splash? There are at least 2-3 potential opportunities that could arise that make Beckham worth a fantasy roster spot now, especially for a fantasy team that has receivers from Arizona, Atlanta, Green Bay, New Orleans and/or Washington - NFL teams with Week 13 or Week 14 byes. It makes sense for those fantasy teams to stash players like OBJ now and see where things go with his knee and employment in the coming weeks.
Tyler Johnson, Texans

There are much better bets out there than the potential third receiver on a bad offense. I know that and I will assume you know that. The difference between Johnson and most other third receivers is that he probably should be a starter somewhere in the league. Johnson is not a special talent per se, but he is very capable. It would help all parties involved if a third receiver emerged in Houston. That receiver was supposed to be John Metchie this season, but his leukemia diagnosis put a quick end to that possibility.
So far, all we know about Johnson as a Texan is that he is still learning the playbook after he was claimed off waivers right before the start of the season. The fact that he has yet to see the field is slightly discouraging, but it seems like it is only a matter of time before that happens. Johnson is admittedly a long shot in fantasy for an offense that sometimes struggles to keep one receiver relevant in fantasy and rarely makes two wideouts viable. However, Brandin Cooks and Nico Collins could both benefit if Johnson simply emerged as a chain-moving threat in the slot (think Jakobi Meyers). Johnson's fantasy ceiling will likely only be reached if Cooks and/or Collins miss multiple games, but there is not much doubt he would be the one to fill in for them once the coaching staff believes he has the playbook down.
Tight Ends
Isaiah Likely, Ravens
The preseason hype on Likely was deafening toward the end of August, but I think we will discover it was deserved at some point this season. The difference between him and someone like Brevin Jordan (from last year) is that Likely was not mothballed until the second half of the season. Likely has been targeted on 19 percent of the routes he has run so far. His role in this offense will almost certainly continue to grow, perhaps at the expense of Devin Duvernay, who ranks third on the team in slot snaps (19) behind Mark Andrews (61) and Likely (34). It is kind of a big deal that Likely ranks third on the team with 11 targets, which is only five behind Rashod Bateman.
How "likely" is it that two tight ends on the same team can have fantasy value - especially in an offense that wants to lean on the run? Not very. Again, that is not the point. In deeper leagues, fantasy managers need to take calculated risks with their upside stashes. Likely will almost certainly be stuck in TE2 purgatory for as long as Andrews is healthy. There simply is not enough volume to make Andrews, Bateman and another option relevant consistently. However, I think it is becoming clear that Baltimore believes Likely could handle Andrews' role should the veteran miss multiple games. If the Ravens believe that, Likely has league-winning upside in fantasy. How many backup tight ends can we say that about around the league?
---
Doug Orth has written for FF Today since 2006 and been featured in USA Today's Fantasy Football Preview magazine since 2010. He hosted USA Today's hour-long, pre-kickoff fantasy football internet chat every Sunday in 2012-13 and appears as a guest analyst on a number of national sports radio shows, including Sirius XM's "Fantasy Drive". Doug is also a member of the Fantasy Sports Writers Association.