So much can happen during the NFL season that trying to predict the future may seem pointless. With that said, it is our job as analysts and fantasy managers to attempt the impossible.

For better or worse, this industry seems more fixated on the macro than the micro. As such, I decided I wanted to give the fantasy football world a look at what each player's year-end statistics would look like if they simply maintained their current per-game production. While we know roughly 99 percent of these averages will change between now and the fantasy playoffs, my hope is this information will shed some light on who is due for a positive or negative market correction.

My hope for this week is to highlight some of the notable outliers at quarterback and running back. Maybe in doing so, I will be able to point out the potential buying and selling opportunities that exist.

Below you will find the statistical totals for every quarterback and running back of note if they maintain their current pace over 17 games. I have adjusted the totals for the players who have either missed time or are expected to because of injury. (For example, Austin Ekeler has missed three games, so his total is for 14 games.) I did the best I could in terms of projecting a realistic timeline for cases such as Kyren Williams, whose projected return to action is unknown at this time.

I understand this is not a one-size-fits-all exercise. For example, when Aaron Jones gets healthy, he will finish with significantly more than the 91 carries he is on pace to get. The point of this exercise is to see if certain hot/cold starts are likely to continue and if others appear will be difficult to maintain.

Jalen Hurts - Hurts is nearly halfway through his third full season as an NFL starting quarterback. Across his first 34 starts (2020-22), he threw 19 interceptions. This season, he is on pace for 20. His interception rate is a career-high 3.3, which is nearly triple what it was last season (1.3). While his interception rate (and pace) is largely a product of the three picks he threw in Week 6 against the Jets, it is worth noting it is only the second time he has thrown that many in a game. It is also worth considering if he can handle another 170 carries. (Do not forget that he missed Weeks 15-16 last season with a shoulder problem.) There is a legitimate case to be made that Hurts is a player we should buy and sell.

Jared Goff - While his home/road splits are not nearly as concerning as they were last year, Goff has boosted (or saved) his fantasy value in a couple of games this season with rushing touchdowns after not scoring one in his first 31 games with the Lions. Goff would seem to be a good candidate to maintain his other pace numbers, including all of his passing numbers above.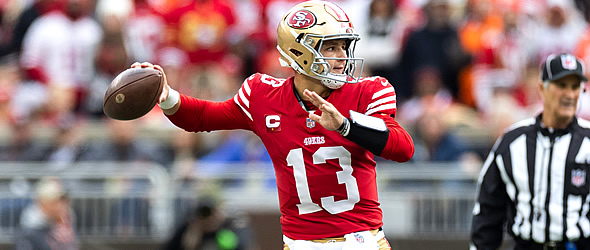 Brock Purdy - People need to start coming around to the idea that Purdy is more than just a Kyle Shanahan puppet. Yes, having Shanahan calling plays helps. There is also little doubt having one of the best supporting casts in the league helps as well. While a 28:3 TD-to-INT ratio appears far-fetched, I am not sure it is all that unreasonable for Purdy. Perhaps the only outlier with him is the fact he is on pace for six rushing TDs. Purdy is a player I would be trying to buy in redraft or dynasty if I need relatively cheap help at quarterback. Unlike Goff, I think his overall statistical pace is not only sustainable regardless of home versus road, but also for the foreseeable future.
C.J. Stroud - Justin Herbert had one of the most productive seasons of all-time for a rookie quarterback in 2020 with 4,336 passing yards, 31 touchdowns and 10 interceptions. Stroud is on pace to beat at least two of those three marks. I don't think he is on the same level as Herbert from a talent perspective. The last three games also suggest defenses are starting to adjust to him and the Texans' offense. Perhaps I would have more confidence in him if he had Keenan Allen, Mike Williams, Austin Ekeler and Hunter Henry to throw to, although his current supporting cast is much better than most anticipated. In the end, however, new OC Bobby Slowik is a Shanahan disciple. One would have to imagine as good as he feels about Stroud's future, he would prefer a more balanced offense - something that might be possible once Houston's offensive line is healthier and has had time to gel.
Trevor Lawrence - One player who has not taken the expected next step into superstardom this year is Lawrence, although there may be some underlying reasons why that is the case. Zay Jones has been in-and-(mostly)out of the lineup. Perhaps a bigger issue is his dwindling intended air yards per attempt, which has dipped from 7.9 in his rookie year of 2021 to 7.4 last year and 7.1 this season. So what is the most likely cause of this decline despite having more talent at receiver than ever?
Perhaps we need to look at the health of the offensive line, which missed starting LT Cam Robinson for the first four games due to suspension. He's back now, but LG Walker Little, who started the season filling in for Robinson before injuring his knee 11 snaps into Week 5, is out. Little moved inside to replace Ben Bartch, who is likely still recovering from a serious knee injury last year that likely contributed to him being largely ineffective through the first four weeks. He has not played since. First-round draft choice RT Anton Harrison has probably performed better than expected, but he has not been dominant by any means.
Perhaps the turnover up front has led OC Press Taylor to go the conservative route when calling deeper shots, which may explain also some of Calvin Ridley's inconsistency to this point. Lawrence's average pocket time is a career-low 2.0 seconds. He is feeling pressure on a career-high 23.4 percent of his drop-backs. None of this information figures to help fantasy managers now, but it might help to explain what we have seen from Lawrence through six weeks. The likelihood is that once Robinson and Little play together a bit more and Harrison proves to be trustworthy on the right side, the passing attack will open up more.
Matthew Stafford - There is virtually no chance Stafford throws for nearly 5,000 yards and only 17 touchdowns. It is also highly unlikely that he continues to pass for only about 220 yards with Cooper Kupp and Puka Nacua both healthy - as has been the case the last two weeks - and Kyren Williams out. There is a distinct possibility the Rams become the most pass-heavy team in the league over the 2-3 weeks Williams is expected to miss - if only because their alternative is handing the ball off to their fourth-string running back or players that have been hanging out on practice squads across the league all year.
As for his touchdown pace, consider this: Stafford's TD rate last season was 3.3 percent - his worst mark in over a decade. He is currently sitting at 2.6. Over his career, Stafford is averaging one TD pass for every 158.5 passing yards. So far this season, that number is at 279.5. Therefore, either the Rams will continue to fall short in the red zone and expect Brett Maher to kick three or field goals per game or Stafford (and HC Sean McVay) will find a way to get two very good receivers into the end zone on a more regular basis.
Geno Smith - Smith is another player who is due for positive regression in a hurry. One of the biggest differences between 2022 and 2023 is that he is feeling pressure on a league-high 31.9 percent of his drop-backs, which is tied with Zach Wilson and slightly higher than Daniel Jones (31.3). Sam Howell is 26.5. Yet, Patrick Mahomes (27.3) is the only player who is getting pressured on at least 23 percent of his drop-backs who has been sacked LESS than Smith (11 sacks to Mahomes' six). Think about that for a second. Wilson has been sacked 19 times, Jones 28 and Howell 34. Getting LT Charles Cross back last week should help his Smith's pressure numbers moving forward.
Despite all of the pressure Smith has been feeling in 2023, his on-target percentage (76) is in line with last season's 78.8 percent. His bad-throw percentage (17.5) is considerably higher than last season (11.8), but the pressure numbers can easily explain that as well. Seattle's offense is a sleeping giant as far as I am concerned, and it only needs some health up front before we see it more consistently. The Seahawks told us what they wanted to be on draft day this spring when they drafted Jaxon Smith-Njigba in the first round. They started using 11 personnel more often in their first game following the Week 5 bye. Unfortunately, they came up short on some of their chances to beef up Smith's fantasy numbers against the Bengals in Week 6. As the pressure numbers start dropping, expect Smith to start looking more like the quarterback he was in 2022.
Raheem Mostert and Devon Achane - Even with Achane's four-game IR stint factored in, this duo is on pace to run for 2,711 yards and score 54 touchdowns. There may not be a word for that, but unsustainable comes to mind. Make no mistake about it: this offense is elite and fantasy managers should do whatever they can to make sure they have a piece of the pie. However, I am not sure we can put a lot of faith in the 31-year-old Mostert holding up with his injury history. I still believe my preseason expectation of Jeff Wilson being the Miami running back to have in fantasy will prove to be the right call, although it may take a bit longer than I had hoped for it to happen. Perhaps I am way off in that belief, but I think there is at least a goal-line role for him in what is the most potent offense in the league right now.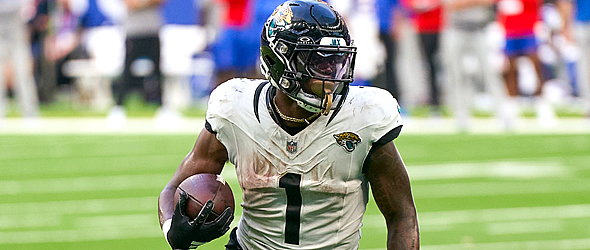 Travis Etienne - Count me among those who do not believe Etienne will maintain a 388-touch pace. Except for David Montgomery (12), Etienne has broken nearly twice as many tackles (16) as any other player in the league. In fact, he is breaking a tackle once every 7.1 carries in 2023 after doing so once every 15.7 carries in 2022. While he is a more physical runner than most give him credit for due to his explosiveness, Etienne is on a pace to break significantly more tackles than Derrick Henry ever has in a season. That also seems unlikely to continue.
Last season's 255 touches were 11 more than he ever had during a season at Clemson. While 300-plus is certainly doable, 400 (or anything close to it) is highly unlikely. What is worse is that his yards per carry has dropped more than a full yard from last season (5.1 to 4.0). Touchdowns have made his fantasy days look better than they probably should have been this season and both of his longest runs (31 and 35 yards) came in the same game against a Buffalo defense that was not only likely adjusting to a trip to London, but also had to play 88 plays. I do not question Etienne's talent. I do question his ability to hold up to such a heavy workload and Taylor's likely desire to rely more heavily on Trevor Lawrence and the passing game when he is comfortable with the protection his quarterback is receiving.
Tony Pollard - The only thing to take note of here is that Pollard is on pace to 343 touches. Do with that information what you will, but I plan on holding Rico Dowdle everywhere I have him and scooping him up off waivers wherever I don't have him.
Josh Jacobs - Is Jacobs a bell-cow back? Yes. Is he going to hold up for another 374 touches this year after 393 last season? Possibly. Will he continue to handle 90.7 percent of the backfield work in Las Vegas if he continues to average 2.9 YPC? Doubtful.
Most fantasy managers understand Jacobs' biggest issue is his offensive line. With that said, it is hard to look at the fact he has broken one tackle on 107 rushing attempts in 2023 and put all of the blame on the front five. After all, he broke a tackle once every 11 attempts last season. That is a problem.
Rachaad White and Dameon Pierce - White and Pierce are on pace for two of the least efficient 230-carry (or more) seasons in recent memory. It should have been expected in White's case because the offensive line that struggled most of last year may be better than the one White runs behind now. (While Chase Edmonds, White, Ke'Shawn Vaughn and Sean Tucker are not exactly generational talents, it is telling that the longest run any of them have enjoyed this season is 14 yards.) What would have been nearly impossible to predict is the degree to which White would be inefficient (3.3 YPC). In his defense, the last three defenses he has faced (Eagles, Saints and Lions) have shut down most of the backs they have faced. The problem for White is that the schedule is not getting much easier anytime soon.
Pierce's fantasy managers have a right to be upset because they have yet to see what he can do behind the offensive line Houston was trying to put in front of him in Week 1 (Laremy Tunsil-Kenyon Green-Juice Scruggs-Shaq Mason-Tytus Howard). While Green is already done for the season, Josh Jones probably was an upgrade before he got hurt. Howard returned in Week 5 and has since replaced Jones, leaving George Fant at right tackle. Scruggs has yet to play. The point to be made here is that the Texans sunk more than their fair share of resources into the offensive line and probably will not get to see the fruits of their labor until next year. To be fair, Pierce's advanced metrics - specifically his yards before and after contact - aren't up to last year's standards, although it is admittedly difficult for a running back to be an elite tackle-breaker when he is typically absorbing contact 1.3 yards into his run (last year was 2.0). There is a 0.7-yard decline in both his yards before contact and yards after contact averages from last year. That is probably not a coincidence. Unlike Josh Jacobs above, Pierce logged 220 carries and 250 total touches last season. He was not overworked, so it is unlikely he lost his ability to power through contact.
Gus Edwards and Justice Hill - At different points throughout their careers, Edwards and Hill have been some of my favorite end-of-bench stashes. Throughout most of Edwards' career, he was the underappreciated 5.0 YPC tag-team partner to J.K. Dobbins. He has seen plenty of action due primarily to Dobbins' inability to stay healthy in recent years and has generally performed well when called upon to do the heavy lifting. Hill flashed at moments last season but has never handled more than 61 touches in a season - a mark he is coming up on quickly this year (47).
The outlier I would like to focus on here is the 13 rushing touchdowns the duo is on pace to score. While Baltimore is highly unlikely to feature one back with Dobbins done for the year, this backfield is screaming for a savior. Somehow, a backfield averaging 22 carries and 26 touches overall - and run by a quarterback as athletic as Lamar Jackson - does not have anything close to a back that is a reliable fantasy option. In other words, it needs a player who can do a lot with a little. Enter Keaton Mitchell.
There is almost zero chance Mitchell handles more than 12 touches per game when everyone is healthy, but we have already seen similar players in De'Von Achane and Jaleel McLaughlin thrive with that kind of workload. Mitchell might be more McLaughlin than Achane from a talent perspective, but he is more like Achane (4.32) when it comes to speed (4.37). Considering Melvin Gordon owns the longest rush by a Baltimore running back this season (22 yards), it is about time the Ravens find a way to get the East Carolina product involved now that he is fully recovered from a preseason shoulder injury. He may not see many of the aforementioned 13 projected rushing touchdowns, but he makes sense as the primary option to punish defenses if/when they pay too much attention to Jackson as a runner.

---
Doug Orth has written for FF Today since 2006 and been featured in USA Today's Fantasy Football Preview magazine since 2010. He hosted USA Today's hour-long, pre-kickoff fantasy football internet chat every Sunday in 2012-13 and appears as a guest analyst on a number of national sports radio shows, including Sirius XM's "Fantasy Drive". Doug is also a member of the Fantasy Sports Writers Association.