Even in fantasy, it helps to remember our past every so often. The second-half stud might as well be considered a bit of a yearly tradition because it seems impossible to have a fantasy football season without having at least one player come out of the woodwork to complete the championship puzzle.

I could have chosen about 20 or 30 different former or current players to serve as the highlighted player in my headline this week, but decided to go with one of the first two or three names that come to mind every year when I think about the phenomenon of the "second-half stud".

For those of you with short memories or too young to remember, Bennett was a former walk-on quarterback at UCLA the Tennessee Titans turned into a full-time receiver after signing him as an undrafted free agent. The lanky 6-5 project totaled 89 catches for 1,311 yards and seven touchdowns through three NFL seasons, unable to top 33 receptions, 504 yards or four scores in any of those years.

Then 2004 happened. More specifically, the legend of Billy Volek began. It is easy to look at Bennett's year-end totals that year (80-1,247-11) and say it was just his time, but a closer look reveals a much different story. Bennett's receiving totals stood at 46 catches, 654 yards and one TD through 11 weeks. Regular starting QB Steve McNair missed the rest of the regular season due to injury, opening the door for Volek.

Bennett's next three lines read like this: 3-124-3, 12-233-3 and 13-160-2.

Volek threw for 11 touchdowns over that three-game span and Bennett accounted for eight of them, tying Jerry Rice for the most TDs over a three-game span in NFL history. Just as fantasy owners were patting themselves on the back for the incredible find they made, Bennett finished the season with a pair of two-catch games (one for 26 scoreless yards in Week 15 and one with 50 yards and a touchdown in Week 16). Bennett went on to play 44 more games over four years following the 2004 season, but only scored 10 more touchdowns and never more than four in a season.

This week's article probably isn't going to uncover the next Drew Bennett, so I offer my apologies in advance. My hope is to give owners a list of possible candidates that I feel have at least a slim chance of becoming this year's second-half stud. Most of these players will need an injury to a player in front of them on the depth chart in order to get a chance, so the majority won't see the light of day on a large number of starting lineups. I am willing to bet, however, that a few of them emerge as every-week options before the end of the season. While some will already be on rosters in deeper leagues, I think it's safe to say that most of them will not.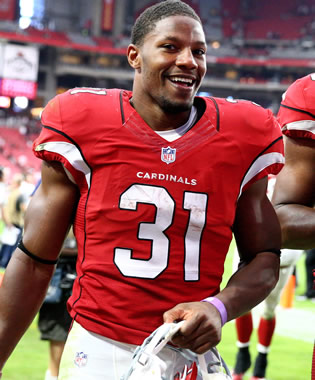 Johnson has flashed the skills to be a second-half stud.
Arizona – RB David Johnson
Chris Johnson has not shown any signs of slowing down yet in his age-30 season and proven to be very durable during his eight-year NFL career. The same cannot be said about Andre Ellington, who would be the next man in line should CJ2K suffer an injury. David Johnson has jumped off the screen just about every time he's been given a chance to play, so I find it hard to believe that even old-school HC Bruce Arians will keep his rookie on the sidelines for very long in the event of a CJ2K slowdown/injury.
Atlanta – WR Justin Hardy
The NCAA's all-time receptions leader has logged at least 53 snaps in each of the last two weeks, but will need Leonard Hankerson's hamstring injury to linger a little bit longer in order for this prediction to pay off. As with any longshot, however, the chances of Hardy turning into fantasy superstar the season are slim, but owners should consider the possibility. Julio Jones has already dealt with a hamstring injury and we've already discussed Hankerson's while Roddy White has been mostly phased out the offense.
Baltimore – WR Chris Givens and RB Javorius Allen
The Ravens rolled the dice on aging veterans Steve Smith and Justin Forsett this season. Smith is already on IR and Baltimore appears to be losing hope that it will get Breshad Perriman back at any point this season. Unlike many other teams, there's probably always going to be a role for a primary deep threat like Givens in this offense because QB Joe Flacco has such a big arm. I would not expect Torrey Smith-like blow-up games from the ex-Ram simply because he's not in the same class talent-wise, but Givens' one trick does complement one of Flacco's primary strengths. Forsett is still producing at a fairly decent clip, although his 4.2 yards per carry is well off of his 5.4 mark from last year. Without harping too much on the fact that Forsett turned 30 in October, it is nonetheless an important consideration for his owners. Allen has held his own in limited duty so far, has little competition behind him and is more advanced in the passing game than most rookies, making it somewhat realistic that he could be a featured back if Forsett misses time.
Buffalo – WR Robert Woods
Woodson is an unlikely candidate to become a second-half superstar because he plays in an offense that will struggle to make more than one receiver fantasy-relevant. However, Sammy Watkins has struggled to stay healthy all year and TE Charles Clay has been more miss than hit since erupting for nine catches and 111 yards in Week 4 against the Giants, who have struggled against tight ends all season. Percy Harvin is now out of the picture as well, removing one more obstacle from Woods' path.
Carolina – WR Devin Funchess
It's hard to know what to make of Funchess' Week 9 effort (3-71-1) because he hasn't played more than 21 snaps in any game since the Panthers' Week 5 bye; his performance last weekend happened despite only 18 snaps. In all likelihood, we probably just witnessed the rookie's best fantasy game of the season since Ted Ginn and Corey Brown have emerged as the clear frontrunners (at least in terms of snaps) at receiver since the bye. The reason Funchess is worth the gamble is because he offers QB Cam Newton the one thing none of the other wideouts do: size.
Chicago – WR Marquess Wilson
Alshon Jeffery appears to be out of the woods regarding his early-season hamstring injury, so the likelihood of Wilson taking the fantasy world by storm the rest of the way is very slim. The second-year Washington State product did have his moment in the sun during a two-week stretch in October and would be worthy of a bench spot if Eddie Royal is forced to miss more time, but we have probably already seen the best he has to offer this year barring another Jeffery injury.
Cincinnati – RB Rex Burkhead
The third-year pro was discussed here three weeks ago and his situation has not changed one iota. He'd be a very worthy add in all fantasy leagues if Giovani Bernard was to miss time and a decent flex consideration if something happened to Jeremy Hill.
Cleveland – TE E.J. Bibbs
Before Gary Barnidge became an unstoppable force, it was Bibbs who was the talk of the preseason for the Browns. He played a whopping two snaps this season, so consider this mention a bit of a public service announcement in order to promote him for next year. I suspect he'll make Rob Housler expendable at the end of the season and be given a chance to move ahead of Jim Dray at that time, unless Cleveland chooses to have him compete with sixth-round rookie Malcolm Johnson at the H-back/fullback spot next summer.
Dallas – RB Trey Williams
Christine Michael was too easy of a selection for this piece and should be on many more rosters across the fantasy world that not. (A person has to be willing to take chances in this crazy fantasy world.) Williams is a 5-7, 195-pound scat back in the Lance Dunbar mode who was signed off the Washington practice squad in early November. The reason this has a chance of happening is simple: Darren McFadden's durability is always a question mark and Michael's inability to capitalize on an opportunity thus far in his NFL career has been as well. It wouldn't surprise me at all if Williams, who was impressive in preseason action, ends up playing the Dunbar role in this offense should an injury force McFadden out and leave Michael as the starter.
Denver – WR Bennie Fowler
Another graduate from the "Buried Treasures" article from a few weeks ago, the undrafted rookie free agent from Michigan State has the most to gain if something were to happen to Demaryius Thomas or Emmanuel Sanders. While I'll admit it's hard to get too excited about a receiving corps that has scored five touchdowns, Peyton Manning has looked much better since the bye than he did before it.
Detroit – N/A
It's hard to believe the depths to which this offense has sunk considering the amount of talent it has. Lance Moore is presumably the most under-the-radar performer capable of going on a run, but consistency is going to be hard to come by with Calvin Johnson, Golden Tate and Eric Ebron all in his way for targets.
Green Bay – WR Ty Montgomery
The third-round rookie out of Stanford has been sidelined with a high-ankle sprain since Week 6, but he was able to make a bit of an impression on Aaron Rodgers while Davante Adams was out. Montgomery is going to be the fourth receiver anytime that Adams, Randall Cobb and James Jones are all healthy, but the Packers may feel the need to start reassessing their offense a bit since Adams and Jones have been unable to create much separation. Also working in Montgomery's favor is the fact that Rodgers has the ability to make four receivers fantasy-relevant when Green Bay's offense is going right.
Houston – WR Cecil Shorts
Of all the names we've discussed so far, Shorts has easily the best chance to contribute to a fantasy contender and doesn't need someone ahead of him to get hurt. In the first three games of the season in which DeAndre Hopkins, Nate Washington and Shorts were on the field together, all three managed to receive at least eight targets in every contest. That time period just happens to be the same stretch in which Arian Foster missed due to his preseason groin injury, so it is very likely that the most pass-happy team in the league during Foster's first absence will challenge for that title again with its top rusher sidelined for the season. The Texans also don't throw much to their tight ends, leaving most of QB Brian Hoyer's 40 or so pass attempts per game to be distributed amongst the aforementioned three receivers.
Indianapolis – QB Matt Hasselbeck
The selection feels a bit like cheating since we just learned about Andrew Luck's kidney injury earlier this week. Nevertheless, owners may be somewhat hesitant to put much faith into a 40-year-old quarterback to perform well over a prolonged stretch. While there is a distinct possibility his effectiveness fades as the season draws to a close, he'll have the bye week to prepare for a less-than-grueling run of defenses: Atlanta, Tampa Bay, Pittsburgh and Jacksonville. If Luck needs more than five weeks to recover, Hasselbeck will finish the season against Houston, Miami and Tennessee. He probably won't be end up being the reason why fantasy owners when their league title, but he certainly is more than capable of being a matchup-based starter against that schedule.
Jacksonville – RB Denard Robinson
"Shoelace" is probably the most obvious handcuff candidate that is readily available in most fantasy leagues and one of several players across the league that have their coach say "we've got to get the ball in their hands more often". T.J. Yeldon battled injuries for most of his final year at Alabama, so it should not be automatically assumed that he will be able to handle his heavy workload all season long. Robinson is one of the few players on this list that has already proven he can carry fantasy teams for a stretch when given the opportunity and it needs to be noted that the 2015 Jaguars are much more explosive than the Jacksonville offense Robinson carried for a short while last season.
Kansas City – RB Knile Davis
Since Alex Smith is unlikely to lose his job, especially in light of the Chiefs' two-game winning streak, about the only other candidate in Kansas City can be Davis. Charcandrick West has performed admirably in two games as the team's clear lead back, but he hardly a proven commodity in terms of withstanding a heavy workload for the remainder the season. Davis is much more of a volume runner, but will likely will play with a chip on his shoulder – if given the chance - in light of being passed on the depth chart by West.
Miami – RB Jay Ajayi
Poor Jonas Gray. (What's a guy got to do to keep a job in this league after rushing for 201 yards and four touchdowns in his only real opportunity?) Ajayi came off the short-term IR list last week and immediately moved into the backup spot behind Lamar Miller while also making Gray expendable. Ajayi's five-carry, 41-yard effort was enough to compel interim HC Dan Campbell to say his fifth-round rookie "earned more carries", which is probably not the news Miller's owners wanted to hear. Miller's spot atop the depth chart is secure, although Miami has shown a frustrating tendency to cap his touches throughout his career – even after he became the clear starter. If Miller succumbs to injury, perhaps the Dolphins will be less inclined to do that with their 228-pound rookie.
Minnesota – RB Jerick McKinnon
We saw this movie play out last year, so there's not a lot of need to go into much detail. McKinnon's fantasy value but will be minimal as long as Adrian Peterson is healthy. In the event that Peterson is forced to miss multiple games again, the second-year freak athlete would likely emerge as the clear lead back in Minnesota while Matt Asiata would probably assume about a third of the snaps.
New England – RB James White
Brandon LaFell should have been added a few weeks ago, so I don't consider him a candidate for this article. Due to the nature of football, it's nearly impossible to do a piece like this and not fall into at least one "well-timed" injury. It be ridiculous for owners to expect White to pick up right where Dion Lewis left off, but entirely reasonable to think he'll be a reasonable flex in PPR formats. White will probably fall short of the value Shane Vereen brought to the table last year and cede much more time to LeGarrette Blount than Lewis did. However, with as much is New England's passing this year, White may be able to put together one or two game-changing weeks for his fantasy owners.
New Orleans – RB Tim Hightower
Given his lack of usage and the fact he doesn't know why that is the case, C.J. Spiller could be a candidate for this article. (Sad, but true.) Spiller saw a season-low six snaps last week in a game in which should have seen him reach a season high in light of Khiry Robinson's season-ending leg injury the week before. HC Sean Payton has not hesitated to use three backs for the better part of the last few years, so it seems reasonable that since Hightower is somewhat similar to Robinson, he'll eventually be in line for Robinson's usual 6-8 touches. The more likely avenue for Hightower to establish fantasy relevancy again is an injury to Mark Ingram, who has played more than 13 games only once in his first four seasons.
New York Giants – N/A
Orleans Darkwa would have been a good candidate for this honor a few weeks ago, but he had his moment in Week 7 and now may be limited with a back injury. Dwayne Harris is another candidate, but he should already be on most deep-league rosters. Victor Cruz may be the best candidate by default, although I have's severe doubts he is going to be the first football player to make a seamless transition to the field following patellar tendon surgery.
New York Jets – RB Zac Stacy
It's a good thing Brandon Marshall and Eric Decker have proven to be durable to this point because there doesn't appear to be much clarity behind them, or else it would've been easy to go in that direction. Instead, Stacy gets the nod since he is the clear top option behind a struggling Chris Ivory. It's not so much Ivory has to worry about Stacy taking his job (he doesn't), but the combination of the former's injury history and the volume with which the Jets throw the ball make any back worthy of second-half standout consideration.
Oakland – RB Taiwan Jones
Jones gets the nod here over Marcel Reece because of the likelihood owners will rush to add the latter first this week in light of Latavius Murray's uncertain status this week. Jones, Reece and Jamize Olawale formed a three-man committee after Murray left with a concussion in Week 9, but it is worth noting that Jones passed Roy Helu on the depth chart a few weeks ago. The 27-year-old was a classic Al Davis draft choice back in 2011 (speed-weight-size specimen) that may be considered nothing more than a change-of-pace back by the current regime, but there's no denying what he can do in space – even with limited touches. Reece will probably get the starting nod this week (in the event Murray cannot go) and do most of the work in between the tackles, although a part of me suspects the coaching staff didn't feel comfortable giving Jones more work last week because he wasn't prepped for a bigger workload.
Philadelphia - WR Nelson Agholor
Agholor is a complete shot in the dark considering he was inactive for Week 9 despite practicing in full leading up to the contest. Common sense would seem to dictate Chip Kelly's first pick, who was seeing a ton of snaps before suffering a high ankle sprain, is going to see his fair share of targets again before long.
Pittsburgh – RB Jordan Todman
Owners are generally pretty quick to write off a 30-year-old back, so it's not hard to imagine what the fantasy community thinks about a 32-year-old runner (DeAngelo Williams) that has logged 89.9 percent of the snaps in the three full games Le'Veon Bell has missed this season. Williams was limited to six games last year with Carolina and, while he looks great after dropping 15 pounds this offseason, his durability issues in his final years with the Panthers weren't all the result of carrying a bit too much weight.
San Diego – N/A
It's almost getting to the point where Philip Rivers may need ask his receivers to wear name tags. Practice squader Javontee Herndon saw playing time at receiver in the Monday Night Football loss to the Bears and Dontrelle Inman was beginning to see significant playing time even before Malcom Floyd went down with a shoulder injury. Keenan Allen is out for the year and Antonio Gates badly needs the Week 10 bye in order to get his knee right. Suffice it to say that I don't feel Donald Brown or John Phillips has even a remote chance to contribute to fantasy teams this year or any other one for that matter.
Seattle – RB Thomas Rawls
I don't want to make it a habit of recommending a player that has already proven he can fill up a fantasy box score, but Rawls has hit the waiver wire in a number of leagues. Along with Jay Ajayi and Knile Davis, Rawls is probably the most likely running back on this list to reward his owners for stashing him, assuming the current starter is injured down the road. With the bye weeks coming to an end, this undrafted rookie free agent is just the type of investment that owners need to make whether they own Marshawn Lynch or not.
San Francisco – N/A
Although Jim Tomsula won't receive any votes for NFL Coach of the Year, it is quite impressive has managed to get three wins out of this squad. That doesn't mean there is much hope in this team for fantasy purposes. Following Blaine Gabbert's promotion last week, I pretty much cut bait on any remaining Niners I had on my redraft squads (Anquan Boldin was on a few of my teams). There's some decent skill-position talent that will be able to develop eventually in San Fran, but it's hard to imagine that any of it is going to make even a little splash in the fantasy pool over the remainder of this year.
St. Louis – RB Tre Mason
There's not many people that were/are higher on Todd Gurley this summer than I was and he has certainly lived up to the hype and then some. Thus, it is safe to say the only way Mason is going to find his way into fantasy lineups is if the No. 10 overall pick gets hurt like he did all too often at Georgia. Even in that scenario, the second-year back would likely cede a lot of passing-down work to Benny Cunningham. It should be noted, however, that Gurley actually has some holes to run through on occasion, making it more than possible that Mason could have some of the same success he enjoyed last year.
Tampa Bay – RB Bobby Rainey
Austin Seferian-Jenkins would be too easy of a pick here. My selection of Rainey has nothing to do with Doug Martin's recent statistical downturn, but rather the likelihood he's going to wear down in December. It seems rather unlikely the Bucs will turn to Charles Sims as a featured back if Martin was sidelined, so it only seems reasonable that Rainey would be the next likely candidate to split the backfield work. Remember, it was less than a year ago that many felt Rainey should be seeing more time than Martin.
Tennessee – RB David Cobb and WR Dorial Green-Beckham
There's a good chance we will look back at the 2015 draft for the Titans and be able to point to it as the beginning of their turnaround. Unfortunately, I'm not going to hold out a lot of hope that either Cobb or Green-Beckham will power owners through the end of the fantasy season. However, there is a chance for that to happen if interim HC Mike Mularkey is willing to play his rookies down the stretch after Tennessee has been eliminated from the playoff race. Cobb reportedly was a bit overweight coming off short-term IR and probably cost himself the opportunity to make a year-one impact as a result, but he is probably the most talented back on the roster. Green-Beckham is the most naturally-gifted receiver the Titans have, but despite his Week 9 "breakthrough" (five catches for 77 yards), Mularkey has suggested his run-blocking needs to improve. It seems very likely he'll return to a lesser role once Kendall Wright returns, which could be in a week or two. In other words, DGB would do well to channel his inner Drew Bennett if Marcus Mariota will let him.
Washington – N/A
The once-proficient running game is a mess and Jordan Reed might as well be the only player running routes in this offense. It's actually almost comical that HC Jay Gruden can't seem to get any production out of a three-time 1,000-yard rusher in Alfred Morris or the team's future feature back in Matt Jones. The Redskins are averaging 1.9 offensive touchdowns, which is just as bad as it sounds. DeSean Jackson, Pierre Garcon and Reed are all going to be owned in just about every league, so there's not a lot else to see here outside of Jamison Crowder in deeper PPR leagues.

---
Doug Orth has written for FF Today since 2006 and been featured in USA Today's Fantasy Football Preview magazine since 2010. He hosted USA Today's hour-long, pre-kickoff fantasy football internet chat every Sunday in 2012-13 and appears as a guest analyst on a number of national sports radio shows, including Sirius XM's "Fantasy Drive". Doug is also a member of the Fantasy Sports Writers Association.