For the third straight year, I want to take a quick peek at some of the other prospects at each of the four fantasy positions who should hear their names called over the first two days of the draft. While I realize it isn't an all-inclusive list, it is still a worthwhile exercise to find how we feel about players before we find out where they are drafted since their landing spot can often inflate our feelings about those players.

I have included a short write-up about each of the players below that I didn't profile and put them in the order I would draft them, all things being equal. (For the players I have already covered, their profile will be linked to their name.) It should go without saying that I cannot account for such things as scheme fit yet, which will obviously play a huge role in how these players will be ranked for fantasy purposes moving forward.
Quarterbacks
1. Kyler Murray
2. Dwayne Haskins, Ohio State
NFL Comps: Jameis Winston/Teddy Bridgewater
Games watched: Oregon State, Indiana, Purdue, Michigan State, Michigan
In talking about Andrew Luck to someone prior to his selection by the Colts as the No. 1 overall pick in 2012, I described his short and intermediate throws as extended handoffs because his ball placement was just that good. Haskins isn't quite at that level, but he is reasonably close. When his feet are set and he's being protected, it's basically a game of pitch-and-catch on throws inside of 20 yards. It's when the throws exceed 20 yards that Haskins' accuracy takes a hit, although it seems to me it's an easier fix with him than it is with most quarterbacks. At some point of their career, every signal-caller needs to learn the art of dropping the ball into the bucket on downfield throws, but most of Haskins' throws are fastballs instead of changeups. (Obviously good for intermediate throws, bad for deeper throws.) Is this the product of him being a first-year starter in 2018, wanting to show off his arm strength, spending too much practice time on the short and intermediate throws or too must trust in the speed of his receivers? Whatever the case, I don't think it's a case of him lacking the ability to hit the deep ball. (Here's an example.)
While Haskins isn't quite the statue he's been made out to be this spring (he has enough mobility to move the chains), he's not someone offensive coordinators will want to run more than 50-60 times per season. Haskins may not be the same kind of dual threat that Murray is and may not have the kind of game experience general managers desire, but he is the kind of pinpoint pocket passer that has always had a place in the NFL. With that said, he struggles in some areas one might expect a first-year starter to struggle. He will panic occasionally when he feels the rush and his mechanics (follow-through, inconsistent release point) as a whole need to improve. While he may never become a star, I think he will be a solid long-term starter.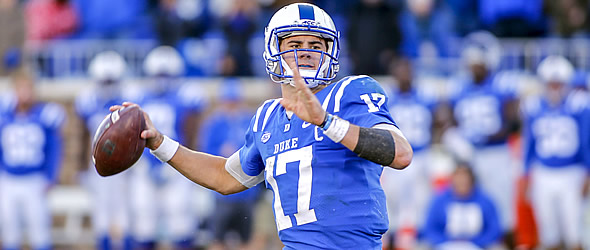 Daniel Jones may be a "safe" pick but has some deep ball concerns that limit his upside.
3. Daniel Jones, Duke
NFL Comps: Alex Smith/Ryan Tannehill
Games watched: Virginia, Pittsburgh, Clemson, Temple
Legendary personnel evaluator and SiriusXM NFL Radio analyst Gil Brandt recently made some waves when he not only stated how much he loved Jones as a prospect, but suggested he sees a fair amount of Peyton Manning in him. I'm not sure I would have went there if I was Brandt, but I see where he's coming from with the comp. Both players are smart, can throw with anticipation and even look similar when throwing from the pocket. Jones is a more nimble athlete than Manning ever was, but the soon-to-be Hall of Famer may not have a rival when it comes to the mental part of the game. We never saw anyone think the game like Manning did and we may never see anyone ever do it again.
Jones' tape against Virginia (Oct. 20) was hard to watch. Most of the things his critics like to roast him on came to fruition in that game, most notably his deep ball and his frustrating tendency to hang the ball in the air on downfield throws. (He wasn't helped by drops from his pass-catchers either, which was a familiar theme all season long - 9.2 percent drop rate per Pro Football Focus, second-worst in this draft class). By the time the Independence Bowl rolled around just over two months later against Temple, Jones looked much more like the man Brandt described. He was markedly better on his downfield throws, although one of his two interceptions was another mid-range floater. Did he force these throws because he didn't have much faith in his offensive line (which would have been an entirely justifiable reason)? Between the 406 career rushing attempts and the 85 sacks he took in three college seasons, it's fair to say he has already proved his toughness. There have been a handful of evaluators who have called Jones a "safe" pick this spring and I think they may have it right, however, so long as his new employer understands he is more in the Smith/Tannehill mode as a player who can help teams win games with a good supporting cast and not someone who is going to put an offense on his shoulders.
4. Drew Lock, Missouri
NFL Comp: Jay Cutler
Games watched: Purdue, Georgia, Alabama, Kentucky
Lock is a tough nut to crack in that there's not just one or two qualities that make him so difficult to evaluate. There's a three-play sequence at the beginning of the Alabama game that might sum him up the best (start at 0:05 and let it run for about 45 seconds). Later in the same half, he uncorks what might be his signature throw. Outside of a forced interception late in the contest, his game tape against Purdue was good enough to support the notion he was the top quarterback prospect in this draft - which he was heading into last season. He showed the arm talent most evaluators have known about for years and displayed poise on every play but the interception. The problem with great arm talent is when it isn't paired up with good footwork and/or good decision-making, and that was a marriage that didn't happen consistently enough throughout Lock's college career. Another issue for many quarterbacks with great arm talent is most of them want to see a receiver come open first - because they trust in their ability to jam it in there - rather than anticipate it happening. Lock is guilty of this as well.
There's something to be said about a three-plus year starter at quarterback who improved every season during his college career. That has to mean something, as should the fact Lock has a number of the physical traits needed to play at a high level in the pros. What is most concerning is that despite all of his experience and the improvements he made in his decision-making in 2018, he still feels like a bit of a developmental prospect at this point. Lock also tends to drift as opposed to staying in the pocket, which is somewhat acceptable at times for an elite athlete at quarterback like Murray but not ideal for someone like Lock with average to slightly above-average mobility. The gap between his ceiling and floor is perhaps as wide as any player at his position in this draft class. Evaluators who fall in love with his physical tools can make the case he is worth a top-10 pick. Others will point the more internal parts of his game and consider him a mid-to-late Day 2 selection.

Predict the top ten picks of the NFL Draft for a chance to win FFToday prizes. Enter our NFL Draft Contest.
Running Backs
1. Josh Jacobs
4. Justice Hill, Oklahoma State
NFL Comp: Marlon Mack
Games watched: Iowa State (2017), Oklahoma (2017)
Hill made people take notice at the NFL Combine when he blazed a 4.4, then set the stage to become a value pick when he injured his hamstring at the end of his run. He was wildly productive in three years as a Cowboy, and the speed he flashed in Indianapolis was a big reason why. Hill is a frenetic runner capable of breaking a big run anytime he makes the first man miss, which is something he can do on a fairly regular basis because he mixes sharp cuts with good stop/start ability. He also boasts more contact balance than one might expect from a 190-pounder. Unsurprisingly, he's not the back teams will want to run into the ground and/or expose the defense to very often in short-yardage situations - although he does run with decent power for someone of his size. Hill holds his own in pass pro, has a season with 30 catches on his resume and did not drop a catchable target last season, so while he wasn't used much last year as a receiver (13 receptions), it is quite possible he will be the more explosive half of a committee who sees more time than his partner in the passing game in the NFL. He also only committed five fumbles on 681 career offensive touches, so he values the rock. Although it would be nice to see him adjust his tempo or add some more muscle, it's not unreasonable to believe he could be a lead back at some point early in his career, especially in an outside zone-running system.
(Give me the 2017 version and he's No. 2 or No. 3 on this list. My "rank" here is reflective of what I saw in 2018.)
6. Devine Ozigbo, Nebraska
NFL Comp: Jerome Bettis/Royce Freeman
Games watched: All
As a lifelong fan of Cornhusker football who has watched virtually every one of Nebraska's games for as long as I can remember, I can honestly say Ozigbo's rise to prominence in 2018 was a shocker. He was pretty much an afterthought for the bulk of his career and justifiably so, serving as little more than a short-yardage plodder. He didn't even begin 2018 as the starter, but it took less than a month into the season to see he dropped some weight, improved his conditioning and gained a ton of explosiveness. In doing so, he became a 235-pound wrecking ball with impressive big-play ability (scored on touchdown runs of 40, 60, and 66 yards under first-year coach Scott Frost). Ozigbo has quicker feet than most backs his size and displays a good blend of patience and decisiveness for the most part, which only accentuates the power he has always had. He flashed better hands than anyone thought he had before the season, but his new team will probably want to stick with using him on swings and screens and replace him on obvious passing downs. He also thrived in 2018 in part because he was a quick study in Frost's zone-running attack, so that may be his best fit for him at the next level as well (although he is more than capable of running in between the tackles in a power-running scheme). Assuming he can maintain his current weight and conditioning moving forward, Ozigbo has a chance to be a low-end lead back.
7. Alexander Mattison, Boise State
NFL Comp: A less explosive Devonta Freeman
Games watched: Troy, Utah State, Fresno State
Mattison may not be the flashiest or most gifted runner in this year's draft, but he could very well be the most polished. While he did his draft stock no favors by running a 4.67 at the NFL Combine, he posted a 10-yard split that was among the top five at the position. Mattison excels in part because he is so fundamentally sound, patient and decisive. He also proved he could handle a huge workload throughout 2018 but especially near the end of the season, topping 20 carries in each of his last 10 game and piling up 77 of his 302 for the year over the last two contests. Mattison is also quite difficult to get down on the ground (per PFF, he recorded the third-most missed tackles of any draft-eligible back this season - a stat that suggests that illustrates why he will probably be his team's top option in short yardage and at the goal line) and more athletic than his testing numbers suggest. Mattison isn't going to line up and serve as a mismatch weapon in the passing game, but his hands are good enough to keep him on the field for all three downs should he ever be asked to carry the load. Complete backs like him typically find their way into the starting lineup before long, but he profiles initially as a high-end NFL backup who should get plenty of work near the goal line and be able to keep the offense on track should the starter miss significant time. He should be a fine fit in either man- or zone-blocking schemes.
8. Rodney Anderson, Oklahoma
NFL Comp: Arian Foster/Latavius Murray
Games watched: Oklahoma State (2017), TCU (2017), Georgia (2017), Florida Atlantic
It seems as though Anderson prefers a power game, and he can do that as much as he wants at 6-1 and 220 pounds. However, that is not all he is. While we tend to think of most power backs as straight-line runners who run between the tackles, Anderson is patient and has loose enough hips to make a defender miss, although that isn't his game per se. We also tend not to think about power backs as capable receivers out of the backfield, but he's got that in his bag as well. (For example, he exploded for 5-139-2 in 2017 against TCU.) For his career, he amassed 283 yards and five receiving touchdowns despite tallying only 16 career receptions. Were it not for a lack of durability (broken leg in the second game of the 2015 season, fractured vertebra in spring of 2016 that caused him to miss the rest of the season and an ACL tear early in 2018), it's quite possible he would be considered on par with Jacobs as the best back available in the draft.
I realize the Foster/Murray comp seem odd at first, but it's as if someone lifted Foster's one-cut ability, patience and lack of durability and put it into Oakland's version of Murray, who was quite explosive early in his career with the Raiders despite being more of a straight-line rusher. (To be clear, I think Anderson is more Murray than Foster.) Anderson's injury history will almost certainly make him an early Day 3 prospect, and it would probably be wise if his new team used him in a committee just to be safe (as well as give its coaches some time to work on his blocking issues). With that said, there is feature-back potential here if he can ever stay healthy for a prolonged period of time.
9. Trayveon Williams, Texas A&M
NFL Comp: Justin Forsett/Danny Woodhead
Games watched: Alabama, Mississippi, NC State
Sometimes it is best as an evaluator to watch what was considered a prospect's worst game first and see if that tape is convincing enough to build a favorable impression. It was clear despite Williams' 31-yard rushing effort against Alabama that he has a future at the next level, as he consistently ran with power and neutralized Crimson Tide pass rushers as a blocker. It's one thing for a 215-220 pound back to do this against linebackers, but Williams does it at 200 pounds. He's not exactly a one-year wonder either, as he became the first true freshman in program history to run for over 1,000 yards in 2016 before leading the SEC with 1,760 yards last season. How did he do it? It's easy to see how much he wants it on just about every run, and his contact balance is what one might expect from a player 15 or 20 pounds heavier. He doesn't have the speed one might expect from a back his size, but he's got enough. He's also well above-average as a receiver, making it a very good possibility he will immediately assume passing-down duties in a committee. If there are concerns with Williams, they would be his vision and change-of-direction skills, making him - among other things - more of a fit in a man-blocking scheme than an outside zone runner. His competitive spirit and impressive skills in the passing game figure to keep him employed in the NFL for quite a while, but his career path may end up mirroring Forsett's in that he produced when called upon but never got much of a chance to handle 15-plus touches year after year.
10. Darrell Henderson, Memphis
NFL Comp: Tevin Coleman
Games watched: Georgia State, Navy, Houston, UCF
Don't be fooled by his 5-8, 208-pound frame; Henderson has impressive contact balance and can run with power. It's fair to question if his new team will want to use him in between the tackles very often, however, considering he nearly lapped the rest of this draft class field in 20-plus yard runs last season (he had 27, 10 more than anyone other running back), which led to a ridiculous 8.9 yards per carry. Defenders need to make sure they get him down when they get their chance because he plays to his 4.49 speed; his acceleration is impressive and reminiscent of Coleman. Somewhat surprisingly, Henderson plays so fast that he is more of a one-track runner than a moves-upon-moves player. Memphis didn't feature him much as a receiver (19 catches in 2018, 63 over his career) and his blocking needs some work, so anyone drafting him will either be putting a lot of faith in their position coach to get him up to speed in those areas quickly or believe he can be their top back on early downs. The major reason he doesn't rank higher on this list is because I think NFL teams will always be hesitant to count on him holding up for more than 15 touches per game and may ultimately decide - like Coleman - that his explosiveness is most effective when used in smaller doses.
11. Devin Singletary, Florida Atlantic
NFL Comp: Justin Jackson
Games watched: Oklahoma, UCF, Wisconsin (2017)
Singletary is what most observers expect from a 200-pound back in that he relies heavily on patience and elusiveness more than straight-line speed (he ran 4.66 at the combine). Where he differs from many smaller backs is that he doesn't have a ton of explosiveness and saw his usage in the passing game decrease year-by-year (six receptions in 2018, 51 in his career). It wouldn't be surprising if this happened because HC Lane Kiffin wanted to keep him fresh as a runner, but the fact of the matter is his ability in this area isn't as much of a sure thing as we'd like for an undersized back. Furthermore, he has piled up 714 carries over his three college seasons. He has been able to overcome his limitations and carry a heavy workload without missing time in large part because he possesses great instincts, body control and vision, which allows him to avoid a direct shot and make the first man miss. Singletary has drawn LeSean McCoy comps throughout the winter and spring, but he's not quite in that class when it comes to his lateral agility (it's good, but not THAT good). I can see him enjoying success in the NFL because I believe he avoids punishment well enough and has untapped potential as a receiver out of the backfield, but the lack of explosiveness may lead to him being a long-term backup.
Wide Receivers
2. A.J. Brown
3. Deebo Samuel, South Carolina
NFL Comp: Golden Tate
Games watched: Georgia, Vanderbilt, Florida, Clemson
For those familiar with the movie "Friday," Deebo was the name of a neighborhood bully played by former professional wrestler Tommy "Tiny" Lister (a.k.a Zeus during his wrestling days). Samuel was given his nickname because he bullied kids growing up, and while he isn't known to be a bully anymore, there's no question he enjoys the physicality of football. The 5-11, 214-pounder offers surprising speed (4.48) for a receiver who plays so much like a running back with the ball in his hands. PFF charted Samuel with 21 broken tackles on his 62 catches, further proving he is a handful for defenders. In his last meaningful college game, he was arguably the best player on the field against eventual national champion Clemson, finishing with 10 catches for 210 yards and three touchdowns. He followed that performance up with a stellar showing at the Senior Bowl.
If Samuel has a concern - he doesn't have many - it would be a lack of durability (2018 was his only healthy season for the Gamecocks). While I think he will be more than serviceable as a perimeter receiver, I believe Samuel is tailor-made for slot work in the NFL. Either way, expect him to be among the leaders year after year when it comes to yards after contact among receivers. In a class full of question marks at his position, Samuel is a high-floor option with a Tate-like ceiling. At worst, he should be a long-term, high-volume second receiver in the league.
4. N'Keal Harry
5. Andy Isabella, Massachusetts
NFL Comp: Wes Welker with a hint of Tyreek Hill
Games watched: Boston College, Georgia, South Florida
It took about three plays into Boston College tape before I saw a faster version of Welker in Isabella. To what degree he lives up to that comp is another story, but it would not be the least bit surprising to me if one of Welker's former teams (the Patriots) views him as Julian Edelman's successor in the slot. Isabella is not limited to slot duties, but it's going to be hard for him to live outside at 5-9 and 188 pounds. The reason I see New England as such a good fit is because I can imagine him dominating on the same option routes that have resulted in so many catches for Welker, Danny Amendola and Edelman over the years. Isabella has more speed than all of them (4.31), which would add a unique wrinkle (go routes out of the slot) that never seemed to be part of the plan with the Pats' most recent slot options.
Let's move past his potential future in the slot and fit with New England for a second. UMass used him regularly on jet sweeps and made sure to keep him away from any potential press coverage, which would be a good recipe for him to have success in the NFL. Isabella's speed and quickness jump off the screen, but he can further accentuate his gifts by learning how to be more efficient with his footwork - which is correctable. He also has 8 3/8" hands, which may explain why he tends to body catch. If it wasn't obvious by now, Isabella isn't going to be a flavor for every team. Coordinators/coaches who keep him on the move and make the defense think about where he is every play - much like the Chiefs with Hill - will get the most out of him. I'm not sure he's ever going to be a team's top receiver anywhere outside of New England, but a wide-open offense that uses him in the ways I've already detailed should see significant return on their Day 2 draft choice.
(If I could trust him consistently holding up at his size, he would likely be No. 1 or No. 2 on this list.)
7. Miles Boykin, Notre Dame
NFL Comp: Kenny Golladay/Donte Moncrief
Games watched: Stanford, Virginia Tech, Vanderbilt, Clemson
The analytics community has predictably fallen in love with this Notre Dame receiver after a showing at the NFL Combine that probably made D.K. Metcalf proud. At 6-4 and 220 pounds, Boykin ran 4.42, jumped 43.5 inches in the vertical, 140 inches (11'8") in the broad and posted the fastest three-cone time (6.77) at receiver. For anyone wondering, those are among the best marks in combine history. He finished his final season with the Fighting Irish with only three drops on 62 catchable targets per PFF. So how is it possible so many people didn't start talking about him before early March? Let's begin with the fact Equanimeous St. Brown was Notre Dame's top receiver in 2017 and add that Brandon Wimbush - who completed less than half of his passes in that same year - bridged the gap between DeShone Kizer and Ian Book. It's probably not a coincidence that Book's late September promotion this season lines up almost perfectly with the emergence of Boykin and sparked his six-game touchdown streak, not to mention the bulk of his most productive games.
His strengths should be obvious from his testing numbers. And if his new play-caller likes his receivers to play above the rim, he's going to do that as well as any receiver on this list. His most pressing concerns: playing to his size (as in imposing his will), a surprising lack of yard-after-catch ability in the short to intermediate passing game and not usually playing up to the same speed he showed at the combine. With that said, a receiver with so much physical talent and such dependable hands is hard to find. He's rough around the edges, but a good coaching staff will likely be thrilled to work with him. It would not surprise me at all if he lives up to the Golladay comp.
8. D.K. Metcalf
(Metcalf possesses the talent to be No. 1, but there are no guarantees he will get paired up with a great position coach and/or be given enough time to round out his game.)
9. Parris Campbell, Ohio State
NFL Comp: Percy Harvin/Tavon Austin
Games watched: USC (2017), Indiana, Michigan, Washington
Rare is the time that a receiver can catch 90 passes in a season and evaluators really don't know what he is. He is fast (4.31), twitchy (4.03 shuttle) and explosive (40" vertical, 135" broad), but Ohio State asked him to run such a limited route tree that we are left to question if the Buckeyes couldn't trust him with more plays or simply felt it was better to just find easy ways to get the ball in his hands and let him do his thing. (To that end, all but 21 of his 111 targets in 2018 came within 10 yards of the line of scrimmage, per PFF.) For a player with his kind of speed, that seems borderline insane. Ohio State used him much like it did Florida used Harvin (not surprising since Urban Meyer coached both players), getting him the ball on jet sweeps, push passes and drags as much as possible. At the moment, he is a dangerous space player with upside to become a huge mismatch weapon out of the slot, although his usage at Ohio State probably set him back a year or two to evolve into a more complete receiver. To his credit, he repeatedly showed a knack for finding the hole in zone coverage and made sure he was in Dwayne Haskins' line of vision as often as possible, so we can conclude he is savvy at the very least. Whatever team drafts him will need to have a plan for him, building off the aforementioned routes and letting him go downfield a bit more often. From there, simply mastering a hitch and/or comeback route could allow him to become a huge headache for defenses.
10. JJ Arcega-Whiteside, Stanford
NFL Comp: Eric Decker
Games watched: Oregon, Notre Dame, Washington State
Whereas announcers liberally use the term "boxing out" when it comes to receivers and tight ends winning contested catches in the end zone (when all they are really do is park themselves in front of the corner and jump), Arcega-Whiteside will actually box out a defender as if a deep ball is a rebound. Perhaps the most amazing part of his execution of this technique is his ability to track the ball as well as he does - much like a center fielder does on a well-hit fly ball or liner. As one might imagine, the ball tracking he exhibits works well on back-shoulder throws. His ability to get the position he wants on a defender also plays nicely in the red zone, where Arcega-Whiteside really excelled in 2018. He also plays well through contact, which figures to give him some staying power. Arcega-Whiteside is not going to be for the measurables crowd, as it is uncommon for a 6-2 receiver to carry 225 pounds and consistently win on deep balls running a 4.5.
Making a living on contested catches - he led the draft class with 19 per PFF - can be a double-edged sword for evaluators because it tells them he is physical and has a "my ball" mentality (among other things), but it also suggests he either struggles or can't create as much separation as highly drafted prospects should. It's entirely possible Arcega-Whiteside makes me look like a fool and becomes a multiple-time Pro Bowler, but I'd have a hard time using a pick in the first two rounds on a receiver I believe might push for eight touchdowns but only catch 45 passes per season. I'd rather roll the dice on the ridiculously athletic players like Boykin and Metcalf and pray my position coach could eventually turn them into complete receivers.
Tight Ends
2. Noah Fant
3. Jace Sternberger, Texas A&M
NFL Comp: Mark Andrews
Games watched: Alabama, South Carolina, LSU
Few college tight ends will ever dominate an opponent more than Sternberger did against South Carolina last season. The former University of Kansas recruit (who transferred to Northeastern Oklahoma A&M after two years) may not appear to be much of an athlete based on his NFL Combine workout numbers (4.75, 31.5" vertical, 113" inch broad), but there aren't going to be many tight ends in any draft class - this one included - that are as dependable or do more after the catch than he does. Texas A&M used him liberally out of the slot and it should shock no one if he spends the majority of his time there in the NFL. Perhaps the biggest surprise is how fluid he is in and out of his cuts, which is something that will make him a nightmare for the majority of linebackers who get matched up with him in man coverage. As one might expect for a "move" tight end, Sternberger has some work to do as a blocker, although the effort and technique are there most of the time. Still, most teams interested in drafting him are going to understand what he is, so he has a realistic shot at contributing his rookie year while he continues to work on his blocking. It's not unthinkable Sternberger outperforms Fant at the next level and emerges as the second-best tight end in this class. He's well worth a second-round pick.
4. Irv Smith, Alabama
NFL Comp: Ian Thomas
Games watched: Arkansas, LSU, Georgia
In a "normal" class, Smith would likely be the top-ranked tight end in the draft. The son of a former NFL tight end by the same name, the younger Smith is good in a number of areas but not great in many. One of those great areas in college was blocking, however, and he was used as an H-back multiple times throughout his career to pave the way for any one of Alabama's three running backs. His blocking and versatility (H-back, in-line, slot, etc.) figure to get him on the field as soon as he understands the playbook, and his good-if-not-great route-running should allow him to become fast friends with his new quarterback. Smith is a bit smaller (6-3, 243) than most teams want to see their tight ends, however, so his showing (32.5" vertical, 110" broad) and measurements (74 7/8" wingspan, 31 1/2" arms) at the NFL Combine may have exposed him as a slightly limited athlete with limited upside. He's very good after the catch as well, but it's fair to wonder how many big plays he will produce after the catch on short and intermediate throws. He also wasn't put in many contested-catch situations; given his size and limited explosion, it might have been just as well. With that said, the tape is strong enough to suggest that Smith - still only 20 years old - is capable of overcoming those shortcomings. The criticisms here are a bit nitpicky, and Smith should be expected to serve as a capable "move" tight end/H-back for several years.

---
Doug Orth has written for FF Today since 2006 and been featured in USA Today's Fantasy Football Preview magazine since 2010. He hosted USA Today's hour-long, pre-kickoff fantasy football internet chat every Sunday in 2012-13 and appears as a guest analyst on a number of national sports radio shows, including Sirius XM's "Fantasy Drive". Doug is also a member of the Fantasy Sports Writers Association.