A significant part of what I do during each summer is identify matchups I want my teams to enjoy (and avoid) in the fantasy postseason. Thus, it makes sense at the midway point of the regular season to take some time to revisit the playoff matchups fantasy managers should be targeting with a little over a month before the fantasy postseason begins in most leagues.

While I realize many leagues will begin their playoffs in Week 15 this season, some will start a week before or a week after. To help as many readers as possible, I took a deeper look at each team's schedule beginning in Week 14. The main purpose of all this was to identify any matchup against a defense/unit that currently ranks inside the top 10 in terms of most fantasy points allowed to that position.

Below you will find every team that has at least two soft (top 10) matchups in the final four weeks of the fantasy season (Weeks 14-17). The number in parentheses in the "multiple playoff matchups" section indicates how many soft matchups that team/player has. The "widely started players" section is for those players/units who could experience more success than usual but will likely be starting in most leagues anyway. The "potential matchup-based starters" section is for those players who likely are not weekly starters but could overachieve due in part to their favorable matchups. That will be the focus of this week's content.
Quarterbacks
Multiple playoff matchups against the 10 most accommodating fantasy defenses: Raiders (3), Steelers (3), Titans (3), 49ers (2), Cardinals (2), Football Team (2), Jaguars (2), Chargers (2), Bengals (2), Eagles (2), Cowboys (2)
Widely started players who get a playoff "bump": Kyler Murray, Justin Herbert, Dak Prescott, Joe Burrow, Jalen Hurts
Potential matchup-based starters during the playoffs
Derek Carr (KC, CLE, DEN, IND) - The Chiefs have been more stingy against quarterbacks of late, but how much of that is a function of facing Herbert, Hurts and Josh Allen (Weeks 3-5) as opposed to Taylor Heinicke, Ryan Tannehill, Daniel Jones and Jordan Love (Weeks 6-9)? The Browns have been beset by injuries in the secondary for most of the season, and it's fair to wonder how advantageous of a matchup they will be if/when Denzel Ward and Greg Newsome can stay healthy for multiple weeks at a time. The Colts are a team that should be a much more menacing matchup than they are, but they have surrendered at least three passing touchdowns to five quarterbacks through nine games.
Ryan Tannehill (JAC, PIT, SF, MIA) - Tennessee has established what it is on offense, so Tannehill isn't going to throw 40-plus times unless he is hit with a negative game script that he hasn't seen much all season. None of these four opponents is likely to jump out to enough of a lead to make the Titans uncomfortable, so he will have to get by on efficiency - as is often the case with him. Efficiency could be enjoyed in at least three of these matchups: the Jaguars have often looked like they have the worst secondary in the league, the 49ers are hopelessly undermanned on the back end and the Dolphins struggle to rush the passer.
Jimmy Garoppolo/Trey Lance (CIN, ATL, TEN, HOU) - By the time Week 14 rolls around, Lance should be starting if only to get him some experience for 2022. If that is the case, I will feel much stronger about this recommendation. The Bengals have shown some signs of cracking lately after getting whipped by Mike White and Baker Mayfield but will likely end up around league-average at their worst. The Titans are quickly becoming a scary matchup, having not allowed more than 24.7 fantasy points to any quarterback (Patrick Mahomes, Carson Wentz, Matthew Stafford) in the last three weeks despite facing at least 48 pass attempts in each game. The same cannot be said for the Falcons (who have allowed four quarterbacks to top 30 fantasy points) or Texans (who often catch a break statistically on pass defense because teams are running on them so often to protect big leads in the second half).
Trevor Lawrence (TEN, HOU, NYJ, NE) - This schedule looks appetizing on the surface. However, the Titans have stiffened up substantially in recent weeks and the Jets and Texans give up so much on the ground that it would not behoove the Jaguars to force the passing game. Still, I would be willing to recommend Lawrence in a pinch because I believe that much in his talent.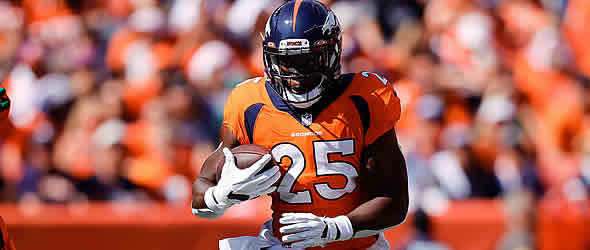 Running Backs
Multiple playoff matchups against the 10 most accommodating fantasy defenses: Broncos (4), Chiefs (3), 49ers (2), Lions (2), Rams (2), Bears (2), Browns (2), Giants (2), Texans (2), Football Team (2)
Widely started players who get a playoff "bump": D'Andre Swift, Darrell Henderson, David Montgomery, Nick Chubb/Kareem Hunt, Saquon Barkley/Devontae Booker, Elijah Mitchell
Potential matchup-based starters during the playoffs
Melvin Gordon/Javonte Williams (DET, CIN, LV, LAC) - I realize Gordon and/or Williams are likely starting in most competitive leagues, but the Broncos hit the motherlode in terms of potentially helping fantasy managers bring home a title. The Lions (second-ranked defense in terms of most fantasy points allowed to the position), Bengals (fourth), Raiders (10th) and Chargers (sixth) have all been very accommodating to running backs. However, the big question is whether Denver will cooperate or not. The running back committee that so many hoped would go away by midseason appears is still going strong, reducing the likelihood either Gordon or Williams is a true league-winner. The division of labor would matter for a less truly elite ground game like Cleveland's, but the Broncos lack the dominant offensive line, commitment to the run game and haven't been consistent enough defensively to believe they will be able to take complete advantage of this soft late slate.
Clyde Edwards-Helaire (LV, LAC, PIT, CIN) - This obviously assumes CEH is ready to go before or immediately after the team's Week 12 bye. (He was designated for return from IR on Nov. 10.) One of the mysteries surrounding Kansas City's struggling offense - there is more to it than defenses playing Cover 2 shell - is HC Andy Reid's decision to give Darrel Williams the kind of heavy workload most fantasy managers have been wanting him to give Edwards-Helaire. And not only is Williams is failing to do anything of note with those touches (averaging less than one fantasy point per touch during CEH's absence despite recording 15 receptions), but Derrick Gore also showed in a brief Week 8 MNF glimpse that he had more juice. While Williams is a serviceable jack-of-all-trades, opponents are not threatened by him.
Before his knee injury, Edwards-Helaire was straddling the low-end RB2/flex line. (He cannot help it that Kansas City does not use him more often as a receiver - arguably the best part of his game.) Perhaps he returns to the same role he had before the injury, but it may be more than mere coincidence that the Chiefs' offensive struggles began right about the same time CEH went down. Even if very little changes when he returns, we have already seen Edwards-Helaire take advantage of soft matchups as a runner (Weeks 3-4). In the Raiders, Chargers and Bengals, he will face the fourth-, sixth- and 10th-most forgiving defenses against running backs. That is enough to make him a solid RB2 option at the very least. If this offense begins to understand that it works better when CEH is more involved, he could have RB1 upside in any or all of those matchups.
Wide Receivers
Multiple playoff matchups against the 10 most accommodating fantasy defenses: Jets (4), Patriots (2), Titans (2), Texans (2), Steelers (2), Saints (2), Dolphins (2), Panthers (2), Jaguars (2), Cowboys (2), Eagles (2)
Widely started players who get a playoff "bump": A.J. Brown, Julio Jones, Brandin Cooks, Diontae Johnson, Jaylen Waddle, DeVante Parker, D.J. Moore, Marvin Jones, CeeDee Lamb, Amari Cooper
Potential matchup-based starters during the playoffs
Corey Davis/Elijah Moore? (NO, MIA, JAC, TB) - There is a lot that needs to go right here, but Davis and/or Moore could lead more than a few patient managers to fantasy championships (or at least to the brink since Tampa Bay's secondary should be healthy by Week 17).
Before missing the last two games with a hip issue, Davis was Zach Wilson's most trusted option. In the two full games Davis and Wilson have missed, Moore is finally getting the chance to show why so many wanted him as a WR4 in the middle rounds this summer. Will Mike White continue to lean on Moore despite the return of Davis? Will Wilson do the same when he is ready to return? Will OC Mike LaFleur put an end to the rotation at receiver? Will LaFleur seamlessly blend the smooth and silky route-running of the smallish Moore with Davis' size and power? The favorite to be the difference-maker in December this year is Davis, but there is at least a 50-50 chance both players will be key contributors during the fantasy playoffs.
DeVonta Smith (bye, WAS, NYG, WAS) - Thank you, Washington Football Team. Prior to last week's bye, Week 8 was the first time that an opponent did not have at least two receivers score 13.6 fantasy points. It has been so bad for the Football Team that three opposing wideouts have reached double figures in the same game against them twice. Meanwhile, Smith is responsible for the three best (and four of the top five) single-game fantasy performances from Philadelphia receivers. All this is to say that if someone from the Eagles' receiving corps is going to take advantage of a favorable matchup, it will be Smith. (Making it even more likely that Smith will shine against Washington is the fact that the Football Team ranks as the seventh-stingiest defense for running backs.) The Giants rank as the 12th-most forgiving matchup against receivers, so Smith could perform at a WR2 level in that one as well.
Jakobi Meyers (bye, IND, BUF, JAC) - Meyers has not had the benefit of an easy slate of late, although New England has established it doesn't care much about the passing attack in any game it feels like it can run 35 times. The North Carolina State product has generally disappointed in any game the Patriots won and been serviceable fantasy WR3 in losses. If that logic holds until the fantasy playoffs, it is reasonable to assume his best game will come against the Bills and his worst will come versus the Jags.
Jamal Agnew (TEN, HOU, NYJ, NE) - Perhaps Marvin Jones should be included here, but the overall WR37 is probably starting in the majority of leagues. At any rate, Jacksonville has somehow become an offense more comfortable leaning on Dan Arnold and Agnew than Jones and Laviska Shenault. Some of that is circumstantial, as Seattle ran away with the teams' Week 8 affair quickly and Buffalo's stout defense locked up Jones in Week 9. Nevertheless, Agnew has become a trusted option in the slot for Trevor Lawrence over the last month, averaging about eight targets in that time. The Jaguars figure to be in negative game script against the Titans, while the Patriots could easily put the clamps on Jones. That means Agnew could be useful for at least two games and maybe a third if Jacksonville decides to take advantage of Houston's soft zone coverage.
Tight Ends
Multiple playoff matchups against the 10 most accommodating fantasy defenses: Browns (2), Bengals (2), Jaguars (2), Chargers (2), Patriots (2), Raiders (2), Chiefs (2), Broncos (2), Giants (2), Texans (2), Saints (2), Football Team (2), Jets (2)
Widely started players who get a playoff "bump": Travis Kelce, Darren Waller, Noah Fant, Logan Thomas, C.J. Uzomah, Hunter Henry, Dan Arnold
Potential matchup-based starters during the playoffs
Evan Engram (LAC, DAL, PHI, CHI) - Much like the other names below, Engram probably will not be the reason teams make it to Week 17. He should be of some use in Week 16, however. In part because the Eagles place such a high priority on limiting wide receiver production and big plays, they cannot stop tight ends. Beginning in Week 6, Philadelphia has allowed O.J. Howard, Foster Moreau, T.J. Hockenson, Stephen Anderson and Donald Parham to score at least 12.9 fantasy points. Maybe some of New York's receivers are healthy enough by then to limit Engram, but that will not change the inability of Philly's linebackers to hold up in coverage.
Adam Trautman (NYJ, TB, MIA, CAR) - Trautman has managed to make Juwan Johnson a non-factor as the season has progressed, although it is fair to wonder how much that actually means in this slow-moving offense being quarterbacked by Trevor Siemian. With 13 targets in his last two games, there is at least some hope for him to emerge as a spot-starter in December.
David Njoku (BAL, LV, GB, PIT) - This is not so much a recommendation as it is an observation. Njoku is the only Cleveland tight end that has shown any upside in 2021, which is sad considering how talented Harrison Bryant is. It seems unlikely that a fantasy team good enough to make the playoffs is unlikely to dig this deep for help, but anything is possible in the COVID era.
Defense/Special Teams
Multiple playoff matchups against the 10 most accommodating fantasy defenses: Saints (3), Seahawks (3), Packers (2), Bengals (2), Falcons (2), Buccaneers (2), Broncos (2), Jaguars (2), Chargers (2), 49ers (2), Titans (2), Jets (2)
Widely started DSTs who get a playoff "bump": Buccaneers, Saints, Broncos, Packers
Potential matchup-based starter during the playoffs
Titans (JAC, PIT, SF, MIA) - Tennessee is still largely unowned in most leagues despite posting some rather impressive fantasy performances against good competition lately. While some of that has come via a bevy of return touchdowns, Tennessee is now also getting after the quarterback (at least three sacks in three of its last four games) and shutting down the run (last four opponents ran for less than 100 yards). San Francisco is the only offense of the final four that is even a bit scary, but the 49ers' offense is not on par with some of the Titans' recent opponents (Bills, Chiefs, Colts, Rams). Even better for anyone who has the foresight to roster this defense: none of its opponents before the Week 13 bye is great offensively either (Saints, Texans, Patriots). If Tennessee can sustain its current level of play until the end of the regular season, it could easily finish the year as the runaway top DST.

---
Doug Orth has written for FF Today since 2006 and been featured in USA Today's Fantasy Football Preview magazine since 2010. He hosted USA Today's hour-long, pre-kickoff fantasy football internet chat every Sunday in 2012-13 and appears as a guest analyst on a number of national sports radio shows, including Sirius XM's "Fantasy Drive". Doug is also a member of the Fantasy Sports Writers Association.