As discussed in this space last week, the remainder of my postseason columns will feature my NFL.com Playoff Challenge roster (for as long as applicable), followed by my weekly league predictions and DFS prognostications.

NFL.com Playoff Challenge Roster
QB: Aaron Rodgers (x2)
RB: Aaron Jones (x2)
RB: Derrick Henry (x2)
WR: Davante Adams (x2)
WR: Cooper Kupp (x2)
TE: Travis Kelce (x2)
K: Harrison Butker (x2)
D/ST: Packers (x2)
DraftKings
Below you will find my position-by-position projections. Please note I have included DraftKings' dollar value for each player, followed by his projected point total. Each position is sorted by my DraftKings' projected point total.

Key for quarterbacks, running backs, receivers and tight ends:
P Yds - Passing Yards
P TD - Passing Touchdowns
INT - Interceptions
Ru Yds - Rushing Yards
Ru TD - Rushing Touchdowns
Rec Yds - Receiving Yards
Rec TD - Receiving Touchdowns
Rec - Receptions


In part because there are not many discount options on the slate, DFS players are going to have to pay up at quarterback this week. Tannehill is the cheapest realistic option on the board, but he is extremely unlikely to go toe-to-toe with the likes of Allen or Mahomes, if only because Tennessee's game plan should revolve around Derrick Henry and keeping the ball away from the Bengals' offense. As we saw last week, Allen and Mahomes have five-touchdown upside. Given the quality of the defenses on both sides, it seems unlikely one of the two - if not both - fail to get there this week, but the game figures to be a shootout anyway. Prior to Burrow's Week 17 effort (446-4-0) versus the Chiefs, the last time Kansas City gave up a blowup performance to a quarterback was in Week 5 against Allen. Much has changed on both sides since then, but it seems unlikely that Allen will post another 40-plus fantasy points against this defense. Brady (Week 14) proved Buffalo could be attacked defensively, but it should be noted that no quarterback threw for more than two touchdowns against the Bills all season. Mahomes will need to be engaged as a runner in this one if he hopes to keep pace with Allen from a fantasy perspective.

For the second straight week, Stafford appears to be the best bargain ($6200). He comes at least $1000 cheaper than either of the top two players above and may be the only other one that has a puncher's chance to throw for more than three scores. Much has been made about the Tampa Bay run defense showing some cracks late in the year, but the way to attack the Bucs is still through the air. The Rams will try to maintain some degree of balance, but the onus will be on Stafford and his receivers to force Brady and his beat-up offense to keep pace. Even if Stafford fails to throw 40-plus times in this one (as I expect Brady to), Stafford should be a better option than his counterpart. Jalen Ramsey should line up across from Mike Evans at least half of the time, and it is not as if Breshad Perriman, Tyler Johnson, Scotty Miller or Cyril Grayson (if he plays) can be asked to make up for the absences of Chris Godwin and/or Antonio Brown.

Perhaps if Rodgers was priced a few hundred dollars cheaper, I could make a stronger case for him as the smartest DFS play at the position. Alas, he lacks the same 300-yard, four-touchdown potential of Allen and Mahomes as well as their rushing upside. At a $400 discount on the former and a $200 discount on the latter, playing Rodgers is only worth it if that minimal discount allows DFS players to get a second stud receiver in their lineups. Burrow is the only other option that will make it on some of my teams, but I can't say I'm overly optimistic about him improving on last week's numbers all that much. The Titans have not faced much in the way of a high-end quarterback over the second half of the season, but the combination of their clock-killing running game and defensive front seven is a bad mix for anyone hoping Burrow will get enough volume to match the big boys at his position this week.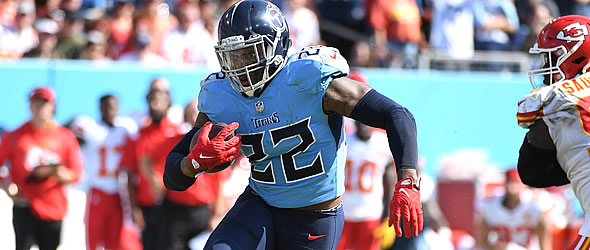 Running Backs
Player
Tm
DK $
Rec
Rec Yds
Rec TDs
Ru Att
Ru Yds
Ru TDs
DK
Derrick Henry
TEN
$7,500
2
20
0
18
110
1
24.0
Leonard Fournette
TB
$5,700
4
30
0
16
65
1
19.5
Devin Singletary
BUF
$5,900
4
23
0
12
62
1
18.5
Elijah Mitchell
SF
$5,800
2
15
0
18
77
1
17.2
Aaron Jones
GB
$6,800
4
46
0
12
57
0
14.3
AJ Dillon
GB
$5,100
2
15
0
11
38
1
13.3
Joe Mixon
CIN
$6,600
3
32
0
16
61
0
12.3
Giovani Bernard
TB
$5,000
6
40
0
2
7
0
10.7
Cam Akers
LAR
$5,500
3
26
0
11
42
0
9.8
Clyde Edwards-Helaire
KC
$5,200
3
28
0
10
38
0
9.6
Jerick McKinnon
KC
$4,800
3
33
0
6
28
0
9.1
Kyle Juszczyk
SF
$4,100
3
18
0
0
0
0
4.8
D'Onta Foreman
TEN
$5,400
1
4
0
7
32
0
4.6
Sony Michel
LAR
$5,300
0
0
0
13
46
0
4.6
Samaje Perine
CIN
$4,500
2
15
0
2
7
0
4.2
Dontrell Hilliard
TEN
$4,300
1
12
0
1
3
0
2.5
Darrel Williams
KC
$4,200
1
8
0
1
3
0
2.1
Zack Moss
BUF
$4,100
0
0
0
1
4
0
0.4

Henry figures to be a popular start this week. No one should be surprised if he returns to his usual insane workload despite missing more than two months with his foot injury. Henry should be in only about 10 percent of lineups just so we can benefit if that ends up being the case and he shows no rust, but the obvious risk is that his workload is capped at 15-18 touches as a way to ease him back into game action. That risk should be enough to keep his ownership down, as should the fact that most DFS players will have to pay up at quarterback and receiver. If other DFS players follow that logic, DFS players should hope that Fournette's participation in Wednesday's walkthrough was foreshadowing for the rest of the week. With Fournette available this weekend - even if it comes behind a potentially shorthanded offensive line - it gives DFS players three quality options below $6000. Bernard may handle some passing-down snaps if the Bucs are facing negative game script late, but Fournette could push for 20 touches (including six or so targets) with Ronald Jones unlikely to go and a somewhat limited group of pass-catchers.

About the only thing that should limit Mitchell's workload - besides a nagging knee injury - is if San Francisco falls behind by two or more scores to Green Bay in the second half. The rookie has handled Henry-like workloads in the last six games he has played. The Packers appear to be strong against running backs if we look at their season-long numbers, but some of their metrics - including how often they give up explosive runs - suggest Mitchell could be poised for a big day. Singletary began to exert himself as the feature back in Buffalo at the start of the fantasy playoffs and has not looked back. With at least 17 touches in five straight games and attached to perhaps the best offense in the league, he has a reasonable chance to score two touchdowns for the fourth straight week.

There is a clear drop-off after the first four. Green Bay may end up with the highest-scoring backfield this weekend, but the threat of Dillon stealing late carries, Jones having about an 18-touch ceiling and a quality San Francisco run defense is enough to lay off one or both for DFS purposes. The Packers have made it clear they like the idea of forcing defenses to tackle Dillon in the fourth quarter - especially when the temperature moves closer to single digits - so DFS players should expect to see that play out yet again if Green Bay continues to live in positive game script this weekend. Travis Homer - largely on the back of his 73-yard touchdown run early in Week 13 - is the only individual running back to have scored at least 15 fantasy points against the 49ers since Week 9. Mixon missed a wonderful opportunity to take advantage of what should have been a soft matchup against the Raiders last week. He now faces a Tennessee defense that has not allowed an individual running back to top 15 fantasy points since Week 10. Given the advantage the Titans' front four has over Cincinnati's offensive line, it seems unlikely Mixon proves worthy of his $6600 price tag barring a ton of usage in the passing game. To that end, no running back has more than five receptions against Tennessee this year (the last time it happened was Week 6).

If Tampa Bay finds itself in a clear negative game script late, Bernard could be a reasonable option for those pinching pennies at the position. Akers looked amazing considering he is roughly six months removed from tearing his Achilles, but he doesn't offer much of a discount over Fournette, Singletary or Mitchell and will likely continue to lose carries to Michel. If CEH remains out this week, I have McKinnon far too low. Darrel Williams' toe injury may have been more of the reason why he was pulled from the Wild Card game, but McKinnon certainly earned a right to lead this backfield (assuming another absence by Edwards-Helaire) with his play against the Steelers. McKinnon would likely slot in right below Aaron Jones if CEH is ruled out.
Wide Receivers
Player
Tm
DK$
Rec
Rec Yds
Rec TDs
Ru Att
Ru Yds
Ru TDs
DK
Cooper Kupp
LAR
$8,600
10
119
1
1
6
0
31.5
Davante Adams
GB
$8,500
9
112
1
29.2
Ja'Marr Chase
CIN
$7,100
7
104
1
1
8
0
27.2
Deebo Samuel
SF
$7,600
5
66
0
8
52
1
22.8
Stefon Diggs
BUF
$6,500
7
89
1
21.9
A.J. Brown
TEN
$6,200
6
86
1
20.6
Odell Beckham Jr.
LAR
$5,300
6
70
1
19.0
Tyreek Hill
KC
$6,600
6
68
1
18.8
Mike Evans
TB
$6,800
7
82
0
15.2
Tyler Boyd
CIN
$4,800
4
46
1
14.6
Byron Pringle
KC
$4,200
4
41
1
14.1
Allen Lazard
GB
$4,400
3
43
1
13.3
Cole Beasley
BUF
$4,000
6
52
0
11.2
Tee Higgins
CIN
$5,700
4
71
0
11.1
Julio Jones
TEN
$4,700
4
55
0
9.5
Van Jefferson
LAR
$4,200
3
58
0
8.8
Brandon Aiyuk
SF
$5,200
4
46
0
8.6
Isaiah McKenzie
BUF
$3,500
3
33
0
2
15
0
7.8
Jauan Jennings
SF
$3,400
4
35
0
7.5
Emmanuel Sanders
BUF
$4,100
3
41
0
7.1
Mecole Hardman
KC
$3,900
2
35
0
1
12
0
6.7
Nick Westbrook-Ikhine
TEN
$3,000
3
37
0
6.7
Tyler Johnson
TB
$3,700
3
31
0
6.1
Marquez Valdes-Scantling
GB
$4,300
2
37
0
5.7
Gabriel Davis
BUF
$4,600
2
31
0
5.1
Demarcus Robinson
KC
$3,600
2
29
0
4.9
Breshad Perriman
TB
$4,000
2
27
0
4.7
Scotty Miller
TB
$3,300
1
22
0
1
13
0
4.5
Randall Cobb
GB
$3,100
2
21
0
4.1
Chester Rogers
TEN
$3,000
1
11
0
2.1

Kupp and Adams are the two best plays on the board, although it is not hard to imagine a scenario in which Samuel challenges them. Kupp (9-96-2) and Adams (12-132-1) each roasted this week's opponent in Week 3 victories, first and foremost. Tampa Bay's run defense more than held its own against Philly last week - outside of a 34-yard TD run from Boston Scott after building a 31-0 lead - once again proving teams have to beat the Bucs through the air. The Rams ran for 76 yards (3.2 per carry) in the first meeting with Tampa Bay, so while the return of a healthy Cam Akers could bump that average up a bit, it probably won't change the overall effectiveness of the running game all that much. Los Angeles will need to throw to win, and it will largely fall upon Sean Murphy-Bunting to keep up with Kupp in the slot. Murphy-Bunting was not active the first time around, but his Pro Football Focus coverage grades have been average at best since he returned from injury in Week 11. Because the slot often allows for receivers to avoid contact at the line of scrimmage and often gives them a "two-way go," Kupp should feast again. Perhaps it makes sense to think of him as an extension of the running game this week.

Emmanuel Moseley saw the most of Adams in the first meeting and held his own (3-23-0 on five targets when Adams was in Moseley's coverage), but the 25-year-old corner does not travel with receivers. While Ambry Thomas has earned the trust of the coaching staff in recent weeks and performed well over the last month on the left side of the defense, it would be stunning if he does not end up lining up across from Adams most of the day. No offense to Thomas, but Adams can make even the best corners look average most weeks. I am hesitant to put too much faith in Chase this week because it could be a Higgins' week and considering how much production the Titans give up in the slot (Boyd). With that said, it is notable Higgins appeared to be at least somewhat limited by his foot injury versus the Raiders, while Boyd hasn't been targeted more than six times in any of his last five games. Furthermore, former LSU teammate Kristian Fulton and 33-year-old Jackrabbit Jenkins could struggle to slow down Chase. If Joe Burrow is going to show the kind of trust in Chase that he did on several occasions last week, there is not much Fulton or Jenkins will be able to do to stop it. Samuel has been a receiver masquerading as a running back for half of the season at this point, essentially guaranteed at least 10 touches each week. He had 14 against Tennessee in Week 16 in the one game San Francisco lost since his conversion. If Green Bay can play with a lead this weekend, expect another high-usage day from him.

Diggs was not needed much in the first meeting against KC or last week, but he will be busy this week if Bills-Chiefs turns into the shootout many think it will. At $6500, he is priced just about right as a WR2 alongside Kupp/Adams/Samuel in DFS lineups that fade Henry at running back. Brown is a huge wild card. If Tennessee can control the clock, he may not be needed all that much. If the Bengals can jump out to a two-score lead, Brown could easily finish as a top-three fantasy receiver this week. There is also at least a small chance Cincy CB Chidobe Awuzie travels with Brown a bit, slightly lowering the ceiling for the dominant third-year wideout and creating a path for Jones (or even Westbrook-Ikhine) to ball out. Not only has he made Van Jefferson mostly an afterthought, but Beckham has also been far too active to ignore. With touchdown catches in six of his last nine games and the Rams unlikely to run the ball with much success versus the Bucs, OBJ seems like a reasonable bet to attract at least seven or eight looks regardless of whether he lines up across from Carlton Davis or Jamel Dean.

We have only seen vintage Hill once since Kansas City's Week 12 bye, which makes him an obvious contrarian pick as well as a risky one. With the Chiefs seemingly embracing a more balanced offensive approach these days, it is much more likely Hill has a high-volume, low-yardage day than the blowup games we have become accustomed to over the years. Evans may begin to get the appreciation he deserves if he hits this week, but the Rams' zone-heavy defense makes it more likely this will be a Rob Gronkowski week. Higgins is a bit lower than most might expect because I did not project him for a touchdown. If the foot is somehow a non-issue this week (he has not appeared on the practice injury report yet this week), he is a very good pivot from those DFS players who are afraid of chasing Chase's points from last week.

Pringle and Jones are the best lower-cost alternatives at receiver, in my opinion. While his two biggest games of the year came against the Steelers, Pringle has taken control of the second receiver job in Kansas City. If this game shoots out as expected, rest assured Hill and Travis Kelce will not be the only Chiefs' pass-catchers finding the end zone. Secondary receivers have consistently hit against Cincinnati of late, which makes a lot of sense because Awuzie has played well while Eli Apple typically has not. Whoever sees the most time opposite Apple (Jones makes the most sense given how the Bengals have deployed Awuzie) should have a field day. My favorite sub-$4000 options: McKenzie and Jennings. McKenzie's snaps have not increased all that much from earlier in the season, but he is a player OC Brian Daboll will utilize five or six times in the 20 or so offensive plays he gets. While it is hard to say Jennings has huge upside when San Francisco is struggling to get George Kittle involved lately, Jimmy Garoppolo also has not attempted more than 30-32 passes much lately. If Green Bay forces the 49ers into negative game script in the second half, it could mean five or more targets for Jennings.
Tight Ends
Player
Tm
DK$
Rec
Rec Yds
Rec TDs
DK
Travis Kelce
KC
$6,500
8
73
1
21.3
George Kittle
SF
$5,300
6
86
1
20.6
Rob Gronkowski
TB
$5,800
6
77
1
19.7
Dawson Knox
BUF
$4,900
5
52
1
16.2
Tyler Higbee
LAR
$4,000
4
42
1
14.2
Anthony Firkser
TEN
$3,100
3
34
1
12.4
Cameron Brate
TB
$2,700
3
26
0
5.6
C.J. Uzomah
CIN
$3,400
2
21
0
4.1
Josiah Deguara
GB
$3,000
2
16
0
3.6
Marcedes Lewis
GB
$2,600
1
7
0
1.7
Geoff Swaim
TEN
$2,800
1
5
0
1.5

Four tight ends scored more than 10 fantasy points against Buffalo this year; Kelce had the best day of that bunch (6-57-1). With Tyreek Hill's explosiveness playing less of a role in the offense than it was earlier in the season, Kelce should be able to exceed his production from the first meeting. The Bills' linebacker and safety play has been very good, however, so he is being projected near his ceiling above. Kittle has delivered four consecutive duds for fantasy purposes, although some of that has to do with San Francisco controlling the game script as much as it has over that time. Another factor is what Kittle brings as a run-blocker. Kittle's recent downturn has coincided with much more consistency from Brandon Aiyuk, who may have his hands full against Jaire Alexander and/or Eric Stokes. If that ends up being the case and San Francisco throws the ball as much as I expect them to, Kittle should have a big day. The best bet of the tight ends priced at $5000 or above this weekend may be Gronkowski. The Rams have done a very good job at keeping tight ends out of the end zone (four TDs), but nine of them have still scored at least 10 fantasy points. With Mike Evans expected to see a lot of attention and Leonard Fournette likely to grab the attention of the linebackers, Gronk has a shot to get behind LA's zone defense a time or two this weekend.

Given the absence of a stud tight end facing a helpless combination of linebackers and safeties this week, it is advisable to pay down this week and focus on the likes of Knox, Higbee and (believe it or not) Firkser. Knox had the biggest day of any tight end this season against Kansas City in the first meeting (3-117-1) and seems to be a favorite of Josh Allen in the red zone. The Chiefs buttoned up their coverage against tight ends over the second half of the year, but ask New England how much elite work against the position in the regular season meant last week when Knox erupted versus the Patriots. If Knox does not fit into your specific DFS plan, Higbee might. Higbee was targeted on four of Matthew Stafford's 17 pass attempts last week and recorded a target share of at least 25 percent in the previous two contests. Tampa Bay allowed Dallas Goedert to run free last week (6-92-0) despite the fact Philadelphia did not have a passer like Matthew Stafford or receiver on par with Cooper Kupp or Odell Beckham. For those looking to spend close to the bare minimum at tight end, Firkser ($3100) may be the best option. Not only did the Harvard product close the regular season with a touchdown in each of his last two outings, but the Cincinnati defense has also struggled against the position. The Bengals allowed 10 double-digit fantasy performances (and 14 fantasy efforts of at least eight points) to tight ends during the regular season.

Key for defense/special teams units:
PA - Points allowed
TD - Defensive/return touchdowns
TO - Total turnovers
PA Bonus - Points allowed bonus for DraftKings
Defense / Special Teams
Team
DK $
PA
Sacks
TD
TO
DK Bonus
DK
Packers
$3,200
24
3
2
1
0
13.0
Rams
$3,000
17
4
2
0
1
9.0
Titans
$2,900
23
4
2
0
0
8.0
Buccaneers
$3,100
27
3
1
0
0
5.0
Bills
$2,600
34
3
1
0
-1
4.0
Chiefs
$2,800
31
2
1
0
-1
3.0
49ers
$2,500
34
3
0
0
-1
2.0
Bengals
$2,700
27
1
0
0
0
1.0

Paying down at running back and tight end may not be enough to fit the Packers or Rams into DFS lineups, but they will be my units of choice wherever possible. There is no obvious pick among the eight remaining teams, but sometimes finding the right DST comes down to taking advantage of average quarterback play or an important injury to their opponent. In the case in Green Bay, Jimmy Garoppolo is probably the most likely of the eight starting quarterbacks to crumble this weekend, especially in what should be another cold day in Lambeau Field. As for the Rams, the expected absence of RT Tristan Wirfs (ankle) could create problems in the likely event replacement Josh Wells struggles to hold up against Aaron Donald or Von Miller. With the Bucs running low on healthy and/or available offensive weapons, this may be one of the rare weeks it is OK to target a Tom Brady-led offense. The 49ers have been getting pressure on quarterbacks at least 40 percent of drop-backs consistently lately despite rushing four defenders much more often than not. It is rarely ever a good idea to line up a fantasy defense opposing Aaron Rodgers, but the 49ers might be able to get 3-4 sacks and strip the ball from him on one of those occasions. If I have no choice but to go with a low-cost option on defense, San Francisco will be my choice.


---
Doug Orth has written for FF Today since 2006 and been featured in USA TODAY's Fantasy Football Preview magazine since 2010. He is also a high-stakes player who often appears as a guest analyst on a number of national sports radio shows, such as Sirius XM's "Fantasy Drive." Doug is also a member of the Fantasy Sports Writers Association.