As I enter my 13th year of writing this postseason column, I hope I have helped some of you along the way supplement your regular-season fantasy prize winnings.

The layout of this column will remain mostly unchanged from last season. As was the case last season, my focus will be mostly on the NFL.com Playoff Challenge and small-slate DraftKings Classic tournaments.

The first part of this week's column will be devoted to those owners who participate in the Playoff Challenge or any other format in which it is best or required to keep the players you draft for the duration of the postseason. The second half of the column is for owners who play in leagues in which you reset your lineup each week, such as a salary cap setup like DFS. Regardless of which format(s) you choose to play in, my goal over the next four articles will be to help each of you through your decision-making process as you attempt to boost your bottom line.
NFL.com Playoff Challenge/Multi-Week Leagues
For a complete rundown of how players will score fantasy points for your team, click on the "Rules & Prizing" link on the NFL.com entry page. Some of the content immediately below is included on the "How to Play" page, although the information I provide below should be more than enough to follow along easily.

NFL.com Playoff Challenge scoring system

The requirements: one QB, two RBs, two WRs, one TE, one K and one D/ST. You will earn fantasy points based on their on-field performance during their game, and if your player's team wins, you will have the option to carry that player over to the next round, where he will earn a bonus point modifier to his score (which will be referred to as 2x, 3x and 4x from here on out).
For example, if you pick Patrick Mahomes in the Wildcard round and the Chiefs win, you can carry him over to the Divisional Round, and earn two times (2x) the points he earns in his divisional round game. If Kansas City wins again, you can carry Mahomes into the Conference Championship round for three times (3x) the points and, if the Chiefs make the Super Bowl, you can earn four times (4x) the points. Additionally, a user can select a player/defense in the Wildcard round even if their team has a bye into the Divisional Round. In this case, the user would not earn any points for the Wildcard round, but be eligible to earn 2x points in the Divisional round, since the player was on the team's roster for two weekly scoring periods. Further bonus point modifiers would also apply as long as that player's team continues to advance in the NFL Playoffs.
Before we get into the picks, let's briefly review the rules and how we may use them to our advantage: 1) passing TDs are worth four points, so passing yards are valued the same as DraftKings; 2) all field goals under 50 yards are worth three points, which means we are more concerned about the volume of field goals than distance – unless we can find a kicker who regularly converts from 50-plus (DraftKings does not use kickers); 3) this is a non-PPR format, which obviously favors the big-play threats (DraftKings is PPR); and 4) team wins are worth five points in the NFL.com Playoff Challenge, so picking a "winning" defense is worth almost a touchdown before factoring in the modifiers.
Let's get the No. 1 rule of this game out of the way right now: if you have a good feeling about which two teams will meet in the Super Bowl, it is advisable to build your lineup exclusively with players from those two teams. Most previous playoff challenge champions' lineups are made up entirely of 4x Super Bowl participants. (In other words, it is important to project the Super Bowl entrants first and figure out what players from those teams to use afterward.) The multipliers are everything in this contest, so playing the week-to-week matchups are nearly meaningless. Think about it this way: if I told you that your regular-season fantasy team's scoring would double in Week 2, triple in Week 3 and quadruple in Week 4 if you simply left it the same, would it affect your draft strategy? Of course it would. The big week your team might post in the first week of this challenge - in the somewhat unlikely event you played the matchups perfectly - is going to seem rather insignificant in early February when every passing touchdown is worth 16 points, every other TD is worth 24 and the top teams in this competition are scoring 200-300 (or perhaps more) points per week.
As noted earlier, the main challenges are (in order): 1) correctly predicting the two conference winners and 2) forecasting the best fantasy players in that hypothetical Super Bowl matchup. This will be the only Playoff Challenge write-up I do this postseason, as I have reached the conclusion that any alterations I make to my lineup in the third and fourth weeks would be in response to a wrong pick on my part, and my analysis of a 1x or 2x player isn't going to matter very much. Much like in daily fantasy, the chalk plays probably aren't going to win. In other words, be bold whenever possible! It's a free contest after all, so crashing and burning - even if it is in front of an audience like what I'm doing - isn't such a bad thing when you consider the reward is much greater than the risk involved.
Below you will find 14 playoff teams ranked in order of the (percentage) odds I believe they have of making the Super Bowl. I'll spend a bit of time after that attempting to nail the bracket before talking a little DFS.
1. Green Bay (35%)
2. Kansas City (30%)
3. Tampa Bay (20%)
4. Tennessee (20%)
5. Buffalo (20%)
6. San Francisco (17%)
7. Cincinnati (16%)
8. LA Rams (12%)
9. New England (12%)
10. Dallas (10%)
11. Arizona (5%)
12. Philadelphia (1%)
13. Las Vegas (1%)
14. Pittsburgh (1%)
With that out of the way, let's next focus on my week-to-week playoff projections and then the players I feel are realistic alternatives for this four-week sprint to the finish:
AFC - Wildcard: Chiefs over Steelers, Bills over Patriots, Bengals over Raiders
NFC - Wildcard: Buccaneers over Eagles, 49ers over Cowboys, Rams over Cardinals
AFC - Divisional: Titans over Bengals, Chiefs over Bills
NFC - Divisional: Packers over 49ers, Rams over Buccaneers
AFC - Conference Championship: Chiefs over Titans
NFC - Conference Championship: Packers over Rams
Super Bowl: Chiefs vs. Packers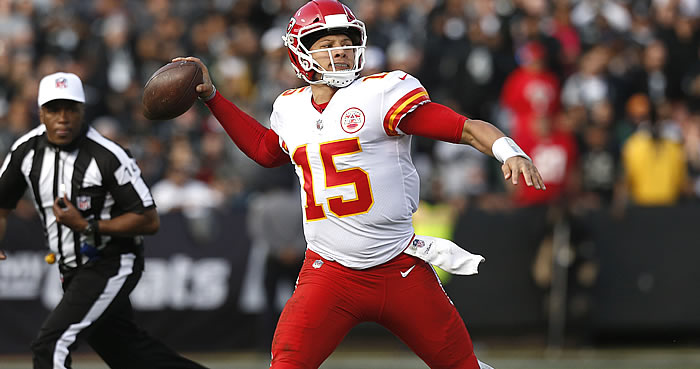 The rankings below are for those readers in similar leagues that require you to draft players this week and keep them for the duration of the postseason. The number inside the parentheses refers to how many games I expect that player/unit to play.

Quarterbacks

Tier 1
1. Aaron Rodgers (3)
2. Patrick Mahomes (4)
3. Josh Allen (2)

Tier 2
4. Matthew Stafford (3)
5. Tom Brady (2)
6. Joe Burrow (2)

Tier 3
7. Dak Prescott (1)
8. Kyler Murray (1)
9. Ryan Tannehill (2)
10. Jimmy Garoppolo (2)

Tier 4
11. Jalen Hurts (1)
12. Derek Carr (1)
13. Ben Roethlisberger (1)
14. Mac Jones (1)

There is not a truly dominant team in the field this year, but Green Bay stands out as the most complete squad and the best bet to make the Super Bowl. While Mahomes could easily play one more game than Rodgers, I will take the quarterback with a healthier supporting cast and a less treacherous road to the Super Bowl. (Assuming my Wildcard predictions are right above, all three teams that remain in the AFC after this week will be teams that have already defeated the Chiefs this season.) Allen belongs in the first tier for the same reason I don't have Mahomes at No. 1: Buffalo could easily beat Kansas City again if they meet next week and he could be the AFC quarterback with four games.

Stafford has a reputation as a streaky quarterback, which can work for him in this kind of competition as much as it can work against him. His 17 interceptions this season are easily his most since 2013 and his seven interceptions over his last three outings qualifies as one of the worst stretches of his career. The Rams scare me as much as any team in the playoffs from a prognostication standpoint in that we haven't seen them at their best in over a month, but I like them more - especially at home - than a couple of shorthanded squads in the Cardinals and (presumably) the Buccaneers. Brady has a strong case to be the fourth quarterback above. Tampa Bay throws as much as any team in the league and could easily knock off the Rams if meet next week. Burrow is the last player above with a decent to good chance to get three games. The Bengals easily have enough firepower to upset the Titans if they meet next week, but a team can rarely go from four wins one year to a conference title game the next.

All of Tier 3 is capable of playing at least one more game than I have predicted for them, but each comes with a fatal flaw. Despite two 50-point games in the last three weeks, the Cowboys are not as good offensively as their numbers suggest. While Prescott could easily light up any opponent he faces, Dallas does not feel like it is long for the postseason. Fantasy managers don't need me to remind them how much upside Murray has, but this offense has not been the same since he returned from his ankle injury. He could be without James Conner on Monday night as well, taking yet another weapon away from him. While Tannehill is probably the best bet of the tier to play three games, he will likely be asked to manage games for however long Tennessee remains alive. If I didn't have the 49ers running into Green Bay next week, Garoppolo would have a decent chance at three (or even four) games. As it stands, I am not entirely sure he can lead his team past Dallas with a bad thumb.

Running Backs

Tier 1
1. Aaron Jones (3)
2. Derrick Henry (2)

Tier 2
3. Leonard Fournette (2)
4. Joe Mixon (2)
5. Elijah Mitchell (2)
6. AJ Dillon (3)
7. Clyde Edwards-Helaire (4)

Tier 3
8. Devin Singletary (2)
9. Sony Michel (3)
10. Darrel Williams (4)

Tier 4
11. Damien Harris (1)
12. Najee Harris (1)
13. Cam Akers (3)
14. Josh Jacobs (1)
15. Chase Edmonds (1)*

Tier 5
16. Rhamondre Stevenson (1)
17. D'Onta Foreman (2)
18. Tony Pollard (1)
19. Brandon Bolden (1)
20. Ezekiel Elliott (1)
21. James Conner (1)

* - Assumes Conner will not play in Wildcard Round

It is not a great sign when a player coming off a layoff of roughly three months (Henry) and a committee back (Jones) are the best options at their position in a 14-team playoff field. Certainly, a long playoff run from the Bucs would allow Fournette to throw his hat in the ring, but the field as a whole is uninspiring because most of the workhorses play for likely one-and-done teams and the others play on offenses that rely more heavily on the passing game.

Cincinnati and San Francisco are probably the two teams most likely to crash the conference championship or Super Bowl party that most of the public could be overlooking. Both teams just happen to have running backs that are workhorses, so there is an advantage to be gained by going with Mixon and/or Mitchell in this kind of competition should fantasy managers have the guts to roll with them. It remains to be seen if the Packers will continue to lean more heavily on Dillon in the playoffs, but the likely answer is probably "yes." After a bit of a rough midseason patch, it appears Jones is going to continue to operate in an Alvin Kamara-like role and Dillon will assume a Mark Ingram role. Playing both in this competition would not be a bad idea and contrarian enough to pay off if both can hit big in the conference championship as well as the Super Bowl. Edwards-Helaire's uncertain injury status makes him just enough of a question mark to put him at the bottom of Tier 2 even though he has a relatively good chance to play four games this postseason.

Tier 3 includes the last options that have more than a remote chance of making some noise in this competition. Singletary has taken over as the primary back in Buffalo and can make a strong case to be in Tier 2 in large part because the Bills could play three or more games. The combination of tough matchups and the looming threat of Cam Akers stealing a few touches makes Michel largely unattractive despite the possibility of playing three games. Williams' range of outcomes is probably the widest of any back listed above. He could play four games and be limited to 25-30 touches OR he could log that many in one or more games if CEH has trouble staying on the field.

Wide Receivers

Tier 1
1. Davante Adams (3)
2. Cooper Kupp (3)

Tier 2
3. Deebo Samuel (2)
4. Stefon Diggs (2)
5. Tyreek Hill (4)
6 . A.J. Brown (2)
7 . Mike Evans (2)

Tier 3
8 . Odell Beckham Jr. (3)
9 . Ja'Marr Chase (2)
10. Tee Higgins (2)
11. Allen Lazard (3)

Tier 4
12. Julio Jones (2)
13. Gabriel Davis (2)
14. Van Jefferson (3)
15. Byron Pringle (4)
16. Brandon Aiyuk (2)

Tier 5
17. Marquez Valdes-Scantling (3)
18. Tyler Boyd (2)
19. Mecole Hardman (4)
20 . Cole Beasley (2)
21. Randall Cobb (3)
22. Emmanuel Sanders (2)
23. Nick Westbrook-Ikhine (2)

Tier 6
24. CeeDee Lamb (1)
25. Diontae Johnson (1)
26. Jauan Jennings (2)
27. Amari Cooper (1)

There is not a lot of analysis needed for Tier 1. Adams is probably the best bet to play three games at his position and has shown the ability to produce regardless of the matchup. Kupp is enjoying a historic season and might be worth using if he only gets two games. Since I have him projected for three, it makes the decision even easier.

The only reason Samuel finds himself in Tier 2 is that I am not overly confident San Francisco will win in Dallas this weekend. The 49ers' reward for pulling that upset is a (likely frigid) road game in Green Bay. Samuel should produce regardless, but he also does not come with the same caliber of quarterback Adams and Kupp have. Diggs is in a similar spot as Samuel. His first-round matchup is a toss-up and the potential second game comes against the team I believe is the best in the conference. Brown falls behind Diggs primarily because I think the Titans could be one-and-done. Furthermore, Diggs' success is probably more important to Buffalo than Brown's is to Tennessee with Derrick Henry expected back. Evans does not figure to catch much of a break from a matchup perspective for however long Tampa Bay stays alive, but he should be a lock for at least eight targets in each game. As is typically the case with Evans, he is about as good of a bet for a touchdown as any receiver after Adams.

Tier 3 and Tier 4 could easily be one big group, but it is not hard to imagine any of the four receivers in the former group enjoying a multiple-touchdown performance in the postseason. The combination of decent volume and that scoring upside separates them from Tier 4. While we are probably past the point in OBJ's career where he will take over a game (especially in his current situation in LA), there is no question he has become a receiver Matthew Stafford looks for in the red zone. We have seen examples of the otherworldly scoring upside of Chase and Higgins in the last month or so, but the best we can probably hope for during a two-game stay is that each wideout has one big day. There is an allure to Lazard because of the likelihood of a 4x game. Ultimately, he is a touchdown-or-bust option most weeks. It is just as likely that Adams, Jones and Dillon hog the majority of the Packers' touchdowns this postseason. Playing him in a competition like this is an understandable risk but probably not one worth taking.

Tight Ends

Tier 1
1. Travis Kelce (4)

Tier 2
2. Rob Gronkowski (2)
3. George Kittle (2)
4. Tyler Higbee (3)
5. Dawson Knox (2)

Tier 3
6. Josiah Deguara (3)
7. Dallas Goedert (1)
8. Zach Ertz (1)
9. Darren Waller (1)
10. Anthony Firkser (2)

Tier 4
11. Hunter Henry (1)
12. Dalton Schultz (1)
13. Pat Freiermuth (1)
14. Cameron Brate (2)
15. C.J. Uzomah (2)

Kelce's production this season is not dramatically different from the numbers he posted during his record-setting 2021 campaign, but it was a much wilder ride this time around. A late scoring binge made this year look better than it did as late as Week 14, but it does overshadow the fact that he has posted 34 or fewer receiving yards in four of his last five outings. With that said, he might be the top play at his position if he was only projected to play two games, so putting him No. 1 with four projected games isn't a hard thing to do.

Gronkowski has a matchup against tight end-friendly Philadelphia this week working in his favor, but the losses of Chris Godwin and Antonio Brown in recent weeks almost lock him into 8-10 targets moving forward. His odds of playing three or more games are slightly better than Kittle's, which is why he gets the nod above. I am not expecting big things from Higbee, but three projected games for him (and roughly six targets in each contest) should be enough for him to rival Kittle's production if things go the Rams' way. Even though we have not seen it much lately, Knox has considerable scoring upside. The only reason he falls behind Higbee is that Buffalo is more likely to be one-and-done than the Rams.

Kickers

1. Harrison Butker (4)
2. Mason Crosby (3)
3. Matt Gay (3)
4. Ryan Succop (2)
5. Evan McPherson (2)
6. Tyler Bass (2)
7. Robbie Gould (2)
8. Randy Bullock (2)
9. Nick Folk (2)
10. Matt Prater (1)
11. Jake Elliott (1)
12. Daniel Carlson (1)
13. Chris Boswell (1)
14. Greg Zuerlein (1)

Defense/Special Teams

1. Packers (3)
2. Chiefs (4)
3. Buccaneers (2)
4. Bills (2)
5. Bengals (2)
6. Rams (2)
7. 49ers (2)
8. Cowboys (1)
9. Cardinals (1)
10. Titans (2)
11. Patriots (1)
12. Raiders (1)
13. Eagles (1)
14. Steelers (1)

NFL.com Playoff Challenge Roster
QB: Aaron Rodgers
RB: Aaron Jones
RB: Derrick Henry
WR: Davante Adams
WR: Cooper Kupp
TE: Travis Kelce
K: Harrison Butker
D/ST: Packers
DraftKings
Below you will find my position-by-position projections. Please note I have included DraftKings' dollar value for each player, followed by their projected point total. Because I went into some detail above, I won't spend a great deal of time explaining each projection here - only some of the more notable ones. Each position is sorted by my DraftKings' projected point total.
Key for quarterbacks, running backs, receivers and tight ends:
P Yds - Passing Yards
P TD - Passing Touchdowns
INT - Interceptions
Ru Yds - Rushing Yards
Ru TD - Rushing Touchdowns
Rec Yds - Receiving Yards
Rec TD - Receiving Touchdowns
Rec - Receptions
Quarterbacks
Player
Tm
DK$
P Yds
P TDs
INT
RuAtt
RuYds
Ru TDs
DK
Josh Allen
BUF
$7,800
278
2
1
12
58
1
29.9
Dak Prescott
DAL
$6,400
352
2
0
4
11
1
29.2
Kyler Murray
ARI
$7,200
301
2
1
9
58
0
27.8
Matthew Stafford
LAR
$6,300
319
3
1
3
6
0
27.4
Patrick Mahomes
KC
$7,400
309
2
0
3
16
0
25.0
Jalen Hurts
PHI
$6,100
259
2
0
12
63
0
24.7
Tom Brady
TB
$7,300
323
2
0
2
4
0
24.3
Joe Burrow
CIN
$6,800
224
2
0
4
17
0
18.7
Jimmy Garoppolo
SF
$5,300
296
2
2
2
4
0
18.2
Derek Carr
LV
$5,500
284
1
1
1
3
0
14.7
Ben Roethlisberger
PIT
$5,200
249
1
2
1
2
0
12.2
Mac Jones
NE
$5,100
205
0
1
3
13
0
8.5
Marcus Mariota
LV
$4,800
0
0
0
2
10
0
1.0

There are 12 starting quarterbacks available to DFS players on Wildcard Weekend. Only four seem highly unlikely to challenge for top honors at the position this week. Of the eight that remain, we can probably eliminate Burrow (the Raiders have been pounded routinely by running backs) and Stafford (seven interceptions over the last three games). Murray's ceiling is always very high, but he is a tough sell if only because he has only flashed his upside once since DeAndre Hopkins has been sidelined. It further hurts his cause that the Rams were the third-stingiest defense against quarterbacks during the regular season. Hurts failed to throw for a touchdown in three of his last five games and wasn't quite the fantasy stud that he was during the first half of the season once Philadelphia transitioned into a run-heavy offense. Does that change now against an elite Bucs' run defense? It could, but I am not sure I want to roll the dice against a Todd Bowles' defense in the playoffs. Philadelphia was picked apart by just about every "name" quarterback it faced this season, but Brady does not feel like a great investment this postseason either considering the losses of two of his top three receivers. While he still has enough weapons, his $7,300 price tag is a bit steep without his usual supporting cast.

We are left with two familiar elite quarterbacks (Allen and Mahomes) and one that may surprise a few (Prescott). Buffalo has typically leaned heavily on Allen just about every time it has been in a big game this year, asking him to throw an average of 42.5 times and run 9.9 times in six outings against this year's playoff teams. If we forget about the blowout win in Kansas City in Week 5 and the abnormal conditions against the Patriots in Week 13, those averages increase to 49.8 and 10.5, respectively. Even with a beat-up supporting cast, Mahomes does not lack for upside. With that said, it is hard to envision him outperforming Allen when he does not run as much as the Bills' signal-caller and does not have Tyreek Hill (heel) at full strength. Additionally, do the Steelers have enough offensive firepower to make things interesting and keep Mahomes in the game? It is always possible the former MVP throws for three scores in the first half as well, but his $7,400 price tag is a bit rich for my tastes given the current circumstances. Prescott ($6,400) is the best value on the board in my opinion. Even though I remain concerned about Dallas' offense despite two 50-point games in the last three weeks, Prescott has been an absolute monster at home this season and gets to face a San Francisco secondary that does not have an answer for CeeDee Lamb or Amari Cooper. Furthermore, the 49ers have been very stingy against running backs for well over a month, meaning the Cowboys will likely need to rely on Prescott even more than usual.
Running Backs
Player
Tm
DK $
Rec
Rec Yds
Rec TDs
Ru Att
Ru Yds
Ru TDs
DK
Joe Mixon
CIN
$6,800
2
18
0
24
122
1
25.0
Leonard Fournette
TB
$5,900
5
36
0
17
70
1
21.6
Clyde Edwards-Helaire
KC
$5,600
3
26
0
12
56
1
17.2
Josh Jacobs
LV
$6,500
3
23
0
15
51
1
16.4
Najee Harris
PIT
$6,600
6
44
0
15
58
0
16.2
Elijah Mitchell
SF
$5,500
1
6
0
17
82
1
15.8
Damien Harris
NE
$6,400
1
6
0
16
86
1
16.2
Chase Edmonds
ARI
$5,000
5
51
0
12
46
0
14.7
Devin Singletary
BUF
$5,700
5
27
0
13
46
0
12.3
Tony Pollard
DAL
$5,300
4
38
0
6
28
0
10.6
Miles Sanders
PHI
$5,100
3
26
0
11
45
0
10.1
Ezekiel Elliott
DAL
$6,100
3
26
0
12
43
0
9.9
Brandon Bolden
NE
$4,300
5
37
0
2
11
0
9.8
Sony Michel
LAR
$5,400
1
5
0
18
67
0
8.2
Eno Benjamin
ARI
$4,000
3
28
0
4
14
0
7.2
Darrel Williams
KC
$5,500
2
18
0
7
31
0
6.9
Cam Akers
LAR
$4,200
2
8
0
6
22
0
5.0
JaMycal Hasty
SF
$4,000
2
18
0
1
5
0
4.3
Rhamondre Stevenson
NE
$4,700
0
0
0
7
41
0
4.1
Giovani Bernard
TB
$4,000
2
11
0
1
4
0
3.5
Kyle Juszczyk
SF
$4,000
2
14
0
0
0
0
3.4
Jalen Richard
LV
$4,000
2
13
0
0
0
0
3.3
Samaje Perine
CIN
$5,000
1
6
0
3
13
0
2.9
Kenneth Gainwell
PHI
$4,400
1
14
0
0
0
0
2.4
Jordan Howard
PHI
$4,300
0
0
0
6
22
0
2.2
Zack Moss
BUF
$4,100
1
4
0
2
7
0
2.1
Jerick McKinnon
KC
$4,100
1
9
0
0
0
0
1.9
Ke'Shawn Vaughn
TB
$4,500
0
0
0
2
7
0
0.7
Benny Snell
PIT
$4,200
0
0
0
2
5
0
0.5

Not only do Mixon ($6,800) and Fournette ($5,900) boast the highest fantasy-point average of all the running backs on the slate this week, but they also come at a reasonable price. Mixon seems like an obvious pick for two reasons: 1) he battered the Raiders for 123 yards and two touchdowns in a Week 11 rout and 2) Las Vegas has consistently been pounded by running backs all season - even during its four-game winning streak to end the regular season. Relying on the running game this weekend also makes a ton of sense given how ferocious the Raiders' pass rush can be. There is an inherent risk starting Fournette, who has not suited up since Week 15 with a hamstring injury. Still, with the aforementioned losses of Godwin and Brown - not to mention Ronald Jones (ankle) being considered doubtful for this weekend - there is also an opportunity for Fournette to handle 20-plus touches against the Philadelphia defense that allowed running backs to average 25.2 fantasy points per week (ninth-most in the league) and tally 114 catches (second-most).

One of the reasons why Mixon and Fournette are the clear top choices in my opinion is because Conner (heel, ribs) may not be able to go Monday night. While Jacobs and Najee Harris should have similar workload expectations as Fournette, it seems unreasonable to pay $600-700 more for backs who belong on lesser offenses than Fournette. The intrigue begins (and maybe ends) at the position after Mitchell and Damien Harris. Ultimately, only two running backs have topped 20 fantasy points versus the Cowboys this season, which makes Mitchell slightly less attractive than his reasonable $5,500 price tag would suggest. Still, he is a worthy (and probably necessary) pivot for those DFS players who want to get Cooper Kupp and Deebo Samuel in their lineups because he is a high-volume back in a Kyle Shanahan offense. Both of the Patriots' meetings with the Bills this year could be considered unusual games. New England's Week 13 win was a game in which the Pats attempted three passes and Week 16's loss was a contest in which Stevenson did not play. Nevertheless, Harris ran for at least 100 yards and scored at least one touchdown in both games. The Patriots will undoubtedly rely heavily on the ground game again in what is expected to be another chilly affair in Buffalo, so volume should not be a problem for Harris (or Stevenson, for that matter). A troublesome hamstring injury is the only real concern with using Harris. Edmonds insists he will play, but he has not produced much very often when handling the featured role. A touchdown seems unlikely with or without Conner.

Below the top nine entries above, there do not appear to be any real value picks as of now. Pollard ($5,300) always brings upside because of his explosiveness, but San Francisco is stout enough against the run that I would rather pay $200 more for Mitchell or $400 more for Singletary. Stevenson ($4,700) would be a great value pick if Damien Harris has a setback with his hamstring before Saturday. Even though he is not guaranteed a workload approaching the one that Harris figures to have, he is still worth using in 20-25 percent of lineups because of the upside he possesses and the possibility Harris aggravates his injury during the game.
Wide Receivers
Player
Tm
DK$
Rec
Rec Yds
Rec TDs
Ru Att
Ru Yds
Ru TDs
DK
Cooper Kupp
LAR
$9,000
10
114
2
1
6
0
37.0
Deebo Samuel
SF
$8,100
5
76
1
7
44
1
29.0
CeeDee Lamb
DAL
$6,200
7
104
1
1
6
0
27.0
Stefon Diggs
BUF
$7,200
7
89
1
21.9
Diontae Johnson
PIT
$6,700
7
69
1
19.9
Tee Higgins
CIN
$6,300
6
72
1
19.2
Amari Cooper
DAL
$5,900
6
72
1
19.2
Mike Evans
TB
$6,900
5
68
1
17.8
DeVonta Smith
PHI
$5,500
5
63
1
17.3
Odell Beckham Jr.
LAR
$5,100
5
63
1
17.3
Byron Pringle
KC
$3,900
5
47
1
15.7
Zay Jones
LV
$3,000
4
54
1
15.4
Gabriel Davis
BUF
$4,600
4
47
1
14.7
Tyler Boyd
CIN
$5,000
4
46
1
14.6
Tyreek Hill
KC
$7,100
6
63
0
1
12
0
13.5
Ja'Marr Chase
CIN
$7,400
5
68
0
1
5
0
12.3
Hunter Renfrow
LV
$6,000
6
55
0
1
4
0
11.9
Van Jefferson
LAR
$4,700
4
78
0
11.8
Jakobi Meyers
NE
$4,500
6
55
0
11.5
Brandon Aiyuk
SF
$5,400
5
62
0
11.2
Cedrick Wilson
DAL
$4,400
5
56
0
10.6
Antoine Wesley
ARI
$3,300
2
23
1
10.3
Christian Kirk
ARI
$5,300
4
62
0
10.2
A.J. Green
ARI
$4,900
4
47
0
8.7
Tyler Johnson
TB
$4,000
4
46
0
8.6
Chase Claypool
PIT
$4,800
3
40
0
1
10
0
8.0
Quez Watkins
PHI
$3,900
3
48
0
7.8
Cole Beasley
BUF
$4,300
5
28
0
7.8
Mecole Hardman
KC
$4,100
3
43
0
7.3
Ray-Ray McCloud
PIT
$3,700
4
33
0
7.3
Jauan Jennings
SF
$3,800
3
43
0
7.3
Kendrick Bourne
NE
$4,500
3
41
0
7.1
Emmanuel Sanders
BUF
$4,000
3
31
0
6.1
Rondale Moore
ARI
$3,700
3
23
0
1
5
0
5.8
Breshad Perriman
TB
$4,700
2
31
0
5.1
Bryan Edwards
LV
$3,400
2
28
0
4.8
Jalen Reagor
PHI
$3,100
2
21
0
4.1
Demarcus Robinson
KC
$3,300
2
19
0
3.9
Isaiah McKenzie
BUF
$3,200
1
11
0
1
8
0
2.9
DeSean Jackson
LV
$4,200
1
16
0
2.6
James Washington
PIT
$3,200
1
14
0
2.4
N'Keal Harry
NE
$3,000
1
14
0
2.4
Nelson Agholor
NE
$3,100
1
13
0
2.3
Ben Skowronek
LAR
$3,000
1
10
0
2.0
Greg Ward
PHI
$3,000
1
7
0
1.7
Josh Gordon
KC
$3,000
1
6
0
1.6

It does not seem very likely that DFS players will be able to find many builds that feature Kupp and Samuel, but just about every lineup should have at least one. Arizona has given up a ton of rushing yards lately but could be getting help in the form of J.J. Watt this week. Even if the three-time Defensive Player of the Year does not make it back in time for Monday, the Cardinals have still only surrendered eight total touchdowns to running backs this season. That makes it likely Kupp will get at least one red zone score. Samuel has touched the ball at least 10 times in four straight and scored in three of those outings. In the one game he did not find the end zone, he went off for 191 total yards. That Week 16 contest was the only time he failed to score since Week 9.

With so many DFS players likely to roll with Kupp and/or Samuel, there should be an opportunity for contrarians to hit big should Kupp or Samuel enjoy anything less than a typical day at the office. Due in part to his not scoring a touchdown since Week 10, I do not have a great deal of conviction in Lamb blowing up. With that said, San Francisco has allowed at least one receiver to score at least 19.6 fantasy points in seven consecutive outings. With Dallas likely to air it out at least 40 times, expect Lamb, Cooper or Wilson to extend that streak to eight. Diggs has had a bit of a down season, but we should all be so fortunate that a 100-catch, 10-TD season could be considered "disappointing." After a bit of a ho-hum first half (at least by his standards), Diggs started cooking as the season wrapped up. Even after lining up across from stud CB J.C. Jackson on the bulk of his routes in Week 16, Diggs was targeted 13 times and still posted a 7-85-1 line. He will need to have another big game if Buffalo hopes to advance. Especially with the Tampa Bay receiving corps not being what it once was, Evans is a good bet for at least eight targets and a touchdown every week. The problem this week is the Eagles' defense is designed to keep the action in front of them and has been horrible against tight ends (the former helps explain the latter), so a big Rob Gronkowski day is coming.

The mid-tier receivers I am expecting to outperform their cost include Beckham and Davis. OBJ has not shown a great ceiling (sub-20 fantasy points in every game since joining the Rams), but he has been enough of a factor in the red zone to pay off for his DFS managers with touchdowns in five of his last six before last week. Beckham's best game since joining Los Angeles may have come against Arizona in Week 14. Ironically, one of his best games with Cleveland this season also came versus the Cardinals. Davis has essentially become a full-time player over the last month. He has at least seven targets in three of four and may be Josh Allen's favorite target inside the 20. Likely to face Jalen Mills more often than anyone else Saturday night, Davis could flirt with 20 fantasy points if the expected frigid game-time temperature doesn't wreak havoc on either offense.

Based almost purely on what they have done down the stretch, the likely two best DFS punts at receiver this weekend are Zay Jones and Byron Pringle. Jones' playing time began to increase (and his special teams work began to decrease dramatically) in Week 13. Starting with the Week 14 blowout loss to Kansas City, he has drawn at least seven targets in every game and at least eight in each of his last four. With at least five catches in each of his last five outings, he is a good bet to reach double-digit fantasy points against Cincy. Hunter Renfrow had one of his worst games of the season in the first meeting with the Bengals, and it is probably no accident he only had four targets in that one. Some other Las Vegas receiver will need to step up. Maybe Darren Waller absorbs some extra targets, but there should be enough volume for another Raider as well. Box-score watchers may lean toward Mecole Hardman this weekend after he torched Denver for eight catches, 103 yards and a touchdown in Week 18. He may have very well earned more playing time with that effort, but his 45 routes in the season finale are more than double the amount he had in any game since Week 9. Before Week 18, Pringle had emerged as the top option at receiver after Hill. It is debatable how much upside there is for any Chief pass-catcher after Travis Kelce and Hill, but it is worth noting Pringle posted a 6-75-2 line against Pittsburgh in Week 16.
Tight Ends
Player
Tm
DK$
Rec
Rec Yds
Rec TDs
Ru Att
Ru Yds
DK
Rob Gronkowski
TB
$6,400
8
111
1
28.1
Travis Kelce
KC
$6,700
7
78
1
20.8
Dallas Goedert
PHI
$4,500
6
72
1
19.2
Zach Ertz
ARI
$4,700
6
67
1
18.7
Darren Waller
LV
$5,700
7
83
0
15.3
George Kittle
SF
$6,000
5
77
0
12.7
Dalton Schultz
DAL
$5,000
5
56
0
10.6
Pat Freiermuth
PIT
$4,200
5
42
0
9.2
Hunter Henry
NE
$3,700
4
42
0
8.2
Tyler Higbee
LAR
$4,100
4
41
0
8.1
Dawson Knox
BUF
$4,800
3
41
0
7.1
Cameron Brate
TB
$2,800
2
20
0
4.0
C.J. Uzomah
CIN
$3,200
2
14
0
3.4
Foster Moreau
LV
$2,900
1
12
0
2.2
Richard Rodgers
PHI
$2,500
1
8
0
1.8
Zach Gentry
PIT
$2,700
1
7
0
1.7
Jonnu Smith
NE
$2,500
0
0
0
1
4
0.4

DFS players have known for at least two months that Philadelphia is the best defense to pick on when it comes to the tight end position. DraftKings knows this as well, which is part of the reason why Gronkowski ($6,400) is only $300 cheaper than Kelce. At that price, it becomes very difficult to do many builds with Gronk, Kupp and Samuel on the same roster. Given how hard it is to find 28-point upside at tight end and the ease of his matchup, Gronkowski is probably a more important DFS staple this week than Kupp or Samuel (although at least one of those two receivers should be in just about every lineup with him).

My favorite pivots as of now are Goedert and Ertz. I would prefer not paying in the mid-4000s for my tight end, but there is no question both players have emerged as their quarterback's favorite targets over the last month or two. The scary thing about Goedert is that he has only scored a touchdown in one game since Week 4. Tampa Bay has shown some vulnerability at tight end this season and may finally be healthy enough at cornerback to keep the Eagles' wideouts in check this weekend. That could lead to very good volume for Goedert, especially if Philadelphia finds itself in negative game script late as expected. The Bengals' defense appears to be a good matchup for someone as good as Waller to take advantage of, but the jury is still out on how healthy he is after catching only two of his nine targets in Week 18. While his $5,700 price tag is a nice discount from Gronkowski and Kelce, I am just as bullish on Goedert and Ertz for $1,200 and $1,000 less, respectively.

Key for defense/special teams units:
PA - Points allowed
TD - Defensive/return touchdowns
TO - Total turnovers
PA Bonus - Points allowed bonus for DraftKings
Defense / Special Teams
Team
DK $
PA
Sacks
TD
TO
DK Bonus
DK
Chiefs
$3,300
$13
2
0
2
4
10.0
Bengals
$3,000
$20
3
0
2
1
8.0
Rams
$2,700
$20
3
0
1
1
6.0
49ers
$2,800
$24
4
0
1
0
6.0
Cowboys
$3,100
$31
2
0
2
-1
5.0
Bills
$3,200
$16
2
0
1
1
5.0
Buccaneers
$3,400
$20
3
0
0
1
4.0
Cardinals
$2,900
$27
2
0
1
0
4.0
Eagles
$2,500
$27
1
0
1
0
3.0
Patriots
$2,600
$24
1
0
1
0
3.0
Steelers
$2,400
$30
3
0
0
-1
2.0
Raiders
$2,900
$30
3
0
0
-1
2.0

Finding the right defense/special teams unit each week often ends up being more about luck than skill. Which defense will return a turnover for a touchdown, force four turnovers or record seven sacks? Kansas City is priced about right given the matchup and will probably be on more of my DFS rosters than any other DST. With that said, I could easily see using any of the top eight options.


---
Doug Orth has written for FF Today since 2006 and been featured in USA TODAY's Fantasy Football Preview magazine since 2010. He is also a high-stakes player who often appears as a guest analyst on a number of national sports radio shows, such as Sirius XM's "Fantasy Drive." Doug is also a member of the Fantasy Sports Writers Association.