Over the past two weeks we've looked at efficient and inefficient quarterbacks and running backs, so this week it's time to put the wide receivers under the microscope.

We will analyze wideouts based on their ability to score every time a quarterbacks turns one loose in his direction … fantasy points produced per target. By using FPts/T it peels away the cover that some receivers have from massive volume. Of course, wide receivers are extremely dependent on having a competent quarterback and most of the guys near the top of the list catch balls from Pro Bowlers.

Below are five highly efficient receivers.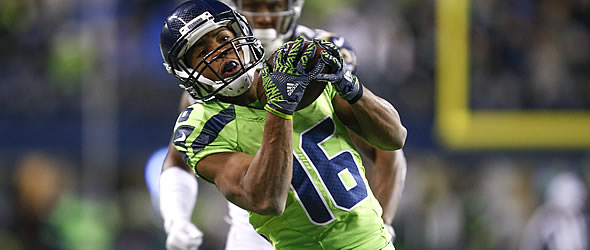 1) Tyler Lockett, Seattle – Despite a miniscule 71 targets (4.4 targets per game), Lockett nearly racked up 1,000 yards, while averaging a career-high 10.2 FPts/G. How did he do it? Touchdowns! After just three scores over two seasons he produced 10 last season. And these weren't the short range variety that a tight end or running back could hijack next season. He averaged 31 yards on those 10 scores. That put him on top of this list averaging 2.301 fantasy points per target. While there are question marks now that he's the primary guy instead of getting single coverage across from Doug Baldwin, his speed should still work while his targets increase even on a "run-first" offense like the Seahawks. He should easily outpace his current ADP 52.1 (22nd WR off the board).
2) Mike Williams, LA Chargers – Like Lockett, Williams amassed his fantasy points by getting into the end zone. He scored 10 times on just 66 targets, but unlike Lockett, six of the 10 were from inside the 10-yard line. His size (6-foot-4, 220 lbs.) makes him a great target in the red zone and that won't change, however, the return of tight end Hunter Henry will cost Williams red zone targets and have a larger downward pull on his fantasy production than the increase in targets he might see from the absence of Tyrell Williams (in Oakland). As the 25th receiver off the board (ADP 58.5), I'd much rather have Lockett six picks earlier.
3) Tyreek Hill, Kansas City – Hill was the highest-scoring receiver in the league and it wasn't particularly close 241 points (15.1 FPts/G). He finished third on our list at 1.759 FPts/T. His quarterback will only get better in his second year as a starter and the running game, without Kareem Hunt, might force Hill to line up in the backfield more often. The only thing that can derail Hill is the commissioner. Hopefully, we will know the length of any suspension before draft day.
4) Cooper Kupp, LA Rams – I had Kupp on multiple teams last season and love what he brings to the table. He scored six touchdowns in eight games and averaged 11.9 FPts/G on just seven targets per game. And Jared Goff seemed to be more potent when Kupp was in the lineup. Given the question marks concerning the Rams' running game, if Kupp is healthy he should produce as well, or better, than last season when he ranked 10th in FPts/G and 1.698 FPts/T. Going off the board at No. 20 (ADP 47.8), makes him a bargain.
5) Will Fuller, Houston – Like Kupp, Fuller spent most of the season watching from the sidelines, playing in only seven games. Also like Kupp, Fuller was highly productive when on the field averaging 10.6 FPts/G on just 6.4 targets per game). With all eyes rightfully on DeAndre Hopkins, Fuller can take full advantage of single coverage. If management was success in helping the OL in front of Deshaun Watson Fuller will have more time to break free behind the secondary. Coming off an ACL injury in October, it will all be about the health report. He's currently the 34th WR off the board. So do you feel lucky?
And five unproductive guys.
1) Willie Snead, Baltimore – It was just a few years ago that Snead was a solid WR3 seeing 100+ targets in New Orleans and catching 70 of them for 900-1,000 yards. Of course, that was with a future Hall of Fame quarterback under center. In Baltimore last season he didn't produce much with his 95 targets "amassing" just 651 yards and one score (0.762 FPts/T). Joe Flacco is gone, but Lamar Jackson simply isn't ready to help his receivers be big-time fantasy options.
2) DeVante Parker, Miami – Parker has been teasing fantasy owners (read disappointing) for the last two seasons after posting interesting numbers in 2016 (56-744-4). Last season's 11-game "production" was simply ugly as failing to catch 23-of-47 targets will clearly indicate. Sure, the quarterback play wasn't good and if Ryan Fitzpatrick is under center should improve, but he could also be working with Josh Rosen by midseason. Even at an ADP of 157.2, that's hard to justify.
3) Randall Cobb, Dallas – If you can't produce with Aaron Rodgers as your passer (0.826 FPts/T), why would anyone think he'd improve in Dallas with Dak Prescott. He'll still be fighting for usage behind Amari Cooper and Michael Gallup and a running back in Ezekiel Elliott, who we saw from last week's numbers, needs high volume to produce his statistics.
4) Jarvis Landry, Cleveland – He's not a surprise showing up on this list, as he's produced under a 1.000 level in four of five seasons. In 2018 he saw top-10 targets and finished 33rd in fantasy points produced (0.903 FPts/T). Now, with Odell Beckham Jr. on the roster, he'll see a lot fewer targets making his job tougher.
5) Michael Gallup, Dallas – When the Cowboys drafted him in the third round they hoped his raw talent would develop into a quality No. 1 option. Then they made a midseason trade to obtain Cooper. Somewhere along the line they must think either he's not that guy or he's going to take a while to develop. They brought in Cobb and coaxed Jason Witten out of retirement for 2019. Gallup might have to fight to see the 4.5 targets a game he saw last season and he didn't do much with them (0.922 FPts/T).
2018 WRs: FPts Per Target
Rk
Player
Tm
Tgts
Rec
Yds
TDs
Ru
Yds
Ru
TDs
FPts
FPts/G
FPts/Tgt
1
Tyler Lockett
SEA
71
57
965
10
69
0
163.4
10.2
2.301
2
Mike Williams
LAC
66
43
664
10
28
1
135.2
8.5
2.048
3
Tyreek Hill
KC
137
87
1,479
12
151
1
241.0
15.1
1.759
4
Dante Pettis
SF
45
27
467
5
-2
0
76.5
8.5
1.700
5
Cooper Kupp
LAR
56
40
566
6
25
0
95.1
11.9
1.698
6
Tre'Quan Smith
NO
44
28
427
5
0
0
72.7
5.6
1.652
7
Will Fuller
HOU
45
32
503
4
0
0
74.3
10.6
1.651
8
Anthony Miller
CHI
54
33
423
7
26
0
86.9
6.2
1.609
9
Robert Foster
BUF
44
26
522
3
0
0
70.2
6.4
1.595
10
Calvin Ridley
ATL
92
64
821
10
27
0
144.8
9.1
1.574
11
Curtis Samuel
CAR
65
39
494
5
84
2
99.8
8.3
1.535
12
Tyrell Williams
LAC
64
41
653
5
15
0
96.8
6.5
1.513
13
Rashard Higgins
CLE
54
39
572
4
0
0
81.2
6.2
1.504
14
Marquise Goodwin
SF
43
23
395
4
9
0
64.4
5.9
1.498
15
DeSean Jackson
TB
75
41
774
4
29
1
110.3
9.2
1.471
16
David Moore
SEA
52
26
445
5
5
0
75.0
5.8
1.442
17
Mike Evans
TB
139
86
1,524
8
0
0
200.4
12.5
1.442
18
Kenny Stills
MIA
64
37
553
6
0
0
91.3
6.1
1.427
19
Brandin Cooks
LAR
116
80
1,204
5
68
1
163.2
10.9
1.407
20
Josh Gordon
CLE
71
41
737
4
0
0
97.7
8.1
1.376
21
Robert Woods
LAR
131
86
1,219
6
157
1
179.6
11.2
1.371
22
A.J. Green
CIN
77
46
694
6
0
0
105.4
11.7
1.369
23
Sammy Watkins
KC
55
40
519
3
52
0
75.1
7.5
1.365
24
DeAndre Hopkins
HOU
163
115
1,572
11
-7
0
222.5
13.9
1.365
25
T.Y. Hilton
IND
120
76
1,270
6
0
0
163.0
11.6
1.358
26
Tyler Boyd
CIN
108
76
1,028
7
3
0
145.1
10.4
1.344
27
Chris Hogan
NE
53
35
532
3
0
0
71.2
4.7
1.343
28
Josh Reynolds
LAR
53
29
402
5
8
0
71.0
6.5
1.340
29
Amari Cooper
OAK
108
75
1,004
7
20
0
144.4
9.6
1.337
30
Chris Godwin
TB
95
59
842
7
0
0
126.2
7.9
1.328
31
Michael Thomas
NO
147
125
1,405
9
0
0
194.5
12.2
1.323
32
D.J. Moore
CAR
82
55
788
2
172
0
108.0
6.8
1.317
33
Alshon Jeffery
PHI
92
65
843
6
0
0
120.3
9.3
1.308
34
Marvin Jones
DET
62
35
508
5
0
0
80.8
9.0
1.303
35
Antonio Brown
PIT
169
104
1,297
15
0
0
219.7
14.6
1.300
36
Davante Adams
GB
169
111
1,386
13
0
0
216.6
14.4
1.282
37
Julio Jones
ATL
170
113
1,676
8
12
0
216.8
13.6
1.275
38
Adam Thielen
MIN
155
113
1,373
9
30
0
194.3
12.1
1.254
39
Emmanuel Sanders
DEN
98
71
868
4
53
1
122.1
10.2
1.246
40
Julian Edelman
NE
108
74
850
6
107
0
131.7
11.0
1.219
41
Chris Conley
KC
52
32
334
5
0
0
63.4
4.2
1.219
42
Mohamed Sanu
ATL
94
66
838
4
44
0
112.2
7.0
1.194
43
Keenan Allen
LAC
137
97
1,196
6
75
0
163.1
10.9
1.191
44
Phillip Dorsett
NE
42
32
290
3
29
0
49.9
4.5
1.188
45
Robby Anderson
NYJ
93
50
752
6
-8
0
110.4
7.9
1.187
46
Christian Kirk
ARI
68
43
590
3
35
0
80.5
6.7
1.184
47
Kenny Golladay
DET
118
70
1,063
5
8
0
137.1
9.1
1.162
48
Odell Beckham Jr.
NYG
124
77
1,052
6
19
0
143.1
11.9
1.154
49
Courtland Sutton
DEN
84
42
704
4
-1
0
94.3
5.9
1.123
50
Juju Smith-Schuster
PIT
166
111
1,426
7
13
0
185.9
11.6
1.120
51
Dede Westbrook
JAC
101
66
718
5
98
0
111.6
7.0
1.105
52
Antonio Callaway
CLE
81
43
586
5
7
0
89.3
5.6
1.102
53
John Ross
CIN
58
21
210
7
9
0
63.9
4.9
1.102
54
Kendrick Bourne
SF
66
42
487
4
0
0
72.7
4.5
1.102
55
Demaryius Thomas
DEN
89
59
677
5
0
0
97.7
6.5
1.098
56
Stefon Diggs
MIN
148
102
1,021
9
62
0
162.3
10.8
1.097
57
Adam Humphries
TB
104
76
816
5
11
0
112.7
7.0
1.084
58
Jamison Crowder
WAS
50
29
388
2
30
0
53.8
6.0
1.076
59
Sterling Shepard
NYG
107
66
872
4
33
0
114.5
7.2
1.070
60
Allen Robinson
CHI
94
55
754
4
9
0
100.3
7.7
1.067
61
Corey Davis
TEN
112
65
891
4
55
0
118.6
7.4
1.059
62
John Brown
BAL
97
42
717
5
4
0
102.1
6.4
1.053
63
Zay Jones
BUF
102
56
652
7
0
0
107.2
6.7
1.051
64
Nelson Agholor
PHI
97
64
736
4
32
0
100.8
6.3
1.039
65
Marquez Valdes-Scantling
GB
72
38
581
2
29
0
73.0
4.9
1.014
66
Devin Funchess
CAR
79
44
549
4
0
0
78.9
5.6
0.999
67
Cole Beasley
DAL
86
65
672
3
0
0
85.2
5.3
0.991
68
Larry Fitzgerald
ARI
112
69
734
6
0
0
109.4
6.8
0.977
69
Tajae Sharpe
TEN
47
26
316
2
16
0
45.2
3.2
0.962
70
Seth Roberts
OAK
65
45
494
2
5
0
61.9
4.1
0.952
71
Golden Tate
DET
113
74
795
4
34
0
106.9
7.1
0.946
72
Donte Moncrief
JAC
90
48
668
3
0
0
84.8
5.3
0.942
73
Taywan Taylor
TEN
56
37
466
1
0
0
52.6
4.0
0.939
74
Taylor Gabriel
CHI
93
67
688
2
61
0
86.9
5.4
0.934
75
Michael Gallup
DAL
68
33
507
2
0
0
62.7
4.2
0.922
76
Jarius Wright
CAR
60
43
447
1
39
0
54.6
3.4
0.910
77
Jarvis Landry
CLE
148
81
976
4
60
1
133.6
8.4
0.903
78
Zach Pascal
IND
45
27
268
2
10
0
39.8
3.6
0.884
79
Keke Coutee
HOU
41
28
287
1
0
0
34.7
5.8
0.846
80
Chester Rogers
IND
72
53
485
2
-4
0
60.1
4.0
0.835
81
Randall Cobb
GB
61
38
384
2
0
0
50.4
5.6
0.826
82
Josh Doctson
WAS
79
44
532
2
0
0
65.2
4.3
0.825
83
DaeSean Hamilton
DEN
45
30
243
2
0
0
36.3
5.2
0.807
84
Danny Amendola
MIA
79
59
575
1
-2
0
63.3
4.2
0.801
85
Keelan Cole
JAC
70
38
491
1
0
0
55.1
4.2
0.787
86
Michael Crabtree
BAL
100
54
607
3
0
0
78.7
4.9
0.787
87
DeVante Parker
MIA
47
24
309
1
0
0
36.9
3.4
0.785
88
Ryan Grant
IND
51
35
334
1
0
0
39.4
2.8
0.773
89
Pierre Garcon
SF
45
24
286
1
0
0
34.6
4.3
0.769
90
Willie Snead
BAL
95
62
651
1
13
0
72.4
5.2
0.762
91
Ryan Switzer
PIT
44
36
253
1
21
0
33.4
2.1
0.759
92
Quincy Enunwa
NYJ
69
38
449
1
0
0
50.9
4.6
0.738
93
Laquon Treadwell
MIN
53
35
302
1
0
0
36.2
2.4
0.683
94
Bruce Ellington
HOU
42
31
224
1
2
0
28.6
4.1
0.681
95
Maurice Harris
WAS
47
28
304
0
10
0
31.4
2.9
0.668
96
Kelvin Benjamin
BUF
67
25
380
1
0
0
44.0
2.9
0.657
97
Jermaine Kearse
NYJ
76
37
371
1
0
0
43.1
3.3
0.567
98
Chad Williams
ARI
46
17
171
1
9
0
24.0
2.4
0.522